Date nights are crucial for the health of any relationship. Whether you're married or still dating, it's essential to get in plenty of one-on-one time with your partner to communicate and connect. Unfortunately, date night can also be expensive. If you're broke and need free date ideas, you've come to the right place.
As I've explored before, many cheap date ideas work great for special occasions like Valentine's and anniversaries, but what if you have absolutely zero money right now? Should you cancel date night? How can you show someone how special you think they are without spending a fortune (or even a dime)?
I've found the best free date ideas out there that will get you both in a romantic mood and help you connect. Ask your date to join you for some of these fun and easy, totally free date nights!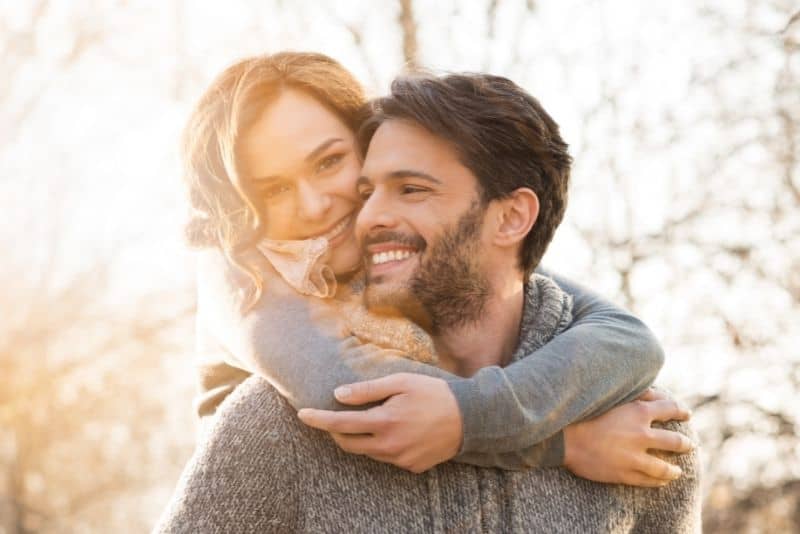 #1 Make a Pantry Dinner
No money for a restaurant, or even a trip to the grocery store for fancy ingredients? Don't worry! Take a "Chopped" approach to dinner with a pantry challenge as one of the best free date ideas. When you approach the situation like a game, you'll have fun and feel adventurous.
Yes, maybe you won't get to have lobster mac or chocolate-covered strawberries, but a creative rice bowl, soup, or sandwiches can still be delicious. The romance comes in making the meal together and getting creative.
---
Related Posts:
---
#2 Go for a Nature Walk
There are probably plenty of spots nearby where you could take in some nature. If you live in a city and have limited transportation, you could go to a corner park and take a walk there with your sweetie. For those who live in more rural spots, try going to the nearest nature preserve or just a pretty location close to your home.
As you walk together, hold hands and talk about all the things you see. Make an effort to really notice nature—look at the flowers and animals that you pass. Notice the weather, feel the sun and the breeze. You could even do a little research before through the Audubon to discover native plants and birds. These date night walks can be incredibly romantic at sunrise or during sunset.
#3 Have a Snack Picnic
When you head on your nature walk (or visit the park), pack up a picnic for another fun, free date idea. Again, you don't need a gourmet grocery list or fancy foods to enjoy snacks outside. Bring any snacks that you have in your pantry or cupboards.
Spread a blanket out on the ground in the park (or even in your yard). Sit together and enjoy the treats you've packed up, even if it's just a few pickles, popcorn, or some leftover candy. The important part of successful free date night ideas is to enjoy something with your special someone.
#4 Dance Party!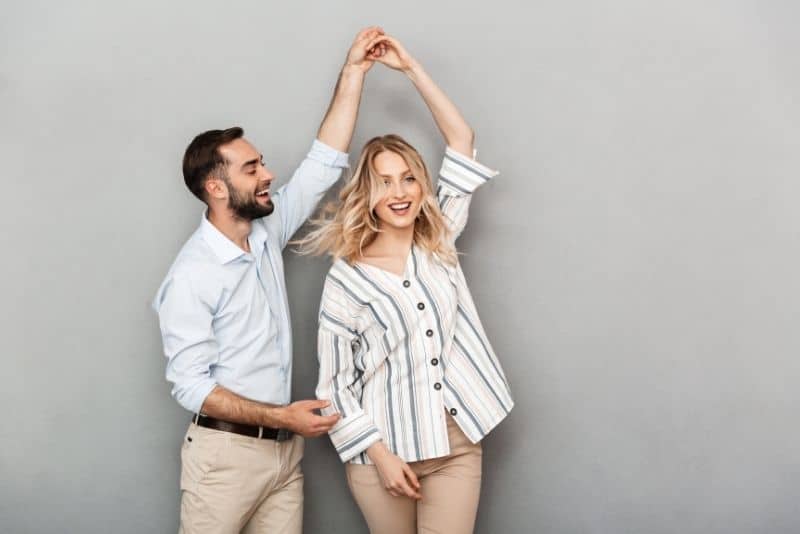 Play some music and dance! Maybe you don't have money to head out to a dance club or attend your favorite concert, but you can still listen and groove together. Put on some fun jams or songs that are meaningful to you both. Play YouTube videos of your favorite artists. Sing along and dance around the house for a cute free date idea.
Ask your significant other to join you in a few slow songs while you sway in the kitchen or living room. Are the kids in bed? Share a set of headphones and dance close. Free date ideas don't get much more romantic than that!
#5 Play Games
Are you looking for simple, fun free date ideas? Break out the board games and cards! If you have a closet full of games or a deck of playing cards, you've got all the makings of a great evening. Card games like Uno, SkipBo, and Phase10 are entertaining and easy free date night ideas.
Get some friendly competition going by betting on household chores. Whoever loses has to do the dishes for a week! Board games, cards, and even puzzles are fun and simple to connect, and really enjoy dates together.
#6 Snuggle and Nap
Do you know what's totally free? Taking a nap! If you are the parents of young kids, the chances are high that you rarely, if ever, get a chance to snuggle and nap. If you have an opportunity to make a date night (consider swapping babysitting with another couple so you can enjoy time without kids), take full advantage by snuggling with your partner.
A nap may not sound like a great free date idea, but you can make it memorable and fun (and if the mood takes over, it can be VERY romantic). Turn off your phones, draw the curtains, put on some white noise, and take the time to rest together without interruptions ("Mom, I had a bad dream, I need a drink, I feel sick…").
#7 Camp Out in the Yard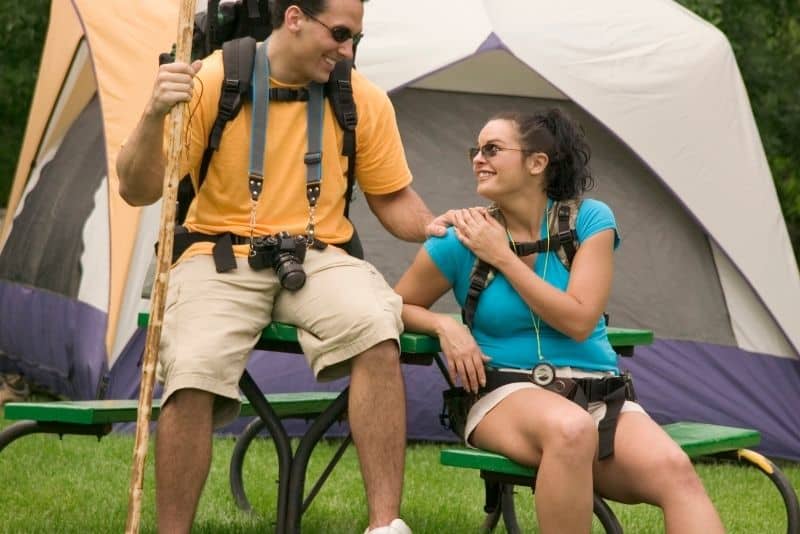 Nothing is quite as romantic as spending time under the stars outside. Whether you decide to fully camp out in the backyard in a tent or sleeping bags, or you just spread out a blanket a stargaze, outdoor time makes a great free date idea.
Do some research before you camp. Use Google Sky to figure out the constellations viewable from your backyard. Choose a night with a full moon or when there's a special event like a meteor shower. Enjoy the sounds of nature and "camp" in your yard (without paying campground fees or figuring out transportation).
#8 Enjoy Arts and Crafts
Creative pursuits make great free date night ideas. All you need is a pencil and paper to do some sketching together. If you have other art or craft supplies, the two of you could try to tackle all sorts of projects. Look for upcycled craft ideas and turn trash into treasure.
There are all sorts of pricy "wine and paint" date spots that you can check out, but why not save your money and enjoy the project at home? With YouTube tutorials, you can figure out almost any project in no time. Plan out what you want to do, gather some supplies, and enjoy a fun free date night.
#9 Try Couple's Yoga
Fall in love while you twist and turn. Yoga is a great way to build flexibility, enhance your sense of calm, and enjoy a cute date idea with your sweetheart. You could take a class, but there are plenty of free yoga resources online to help you get a handle on the moves.
You don't need a lot of fancy equipment to do yoga (making a great free date activity). You can use beach towels instead of yoga mats. Slip-on some loose clothes and take off your shoes. Enjoy the experience, and don't worry about getting it all right—it's about having a good time and trying something a little different with your date.
#10 Look for Free Music Events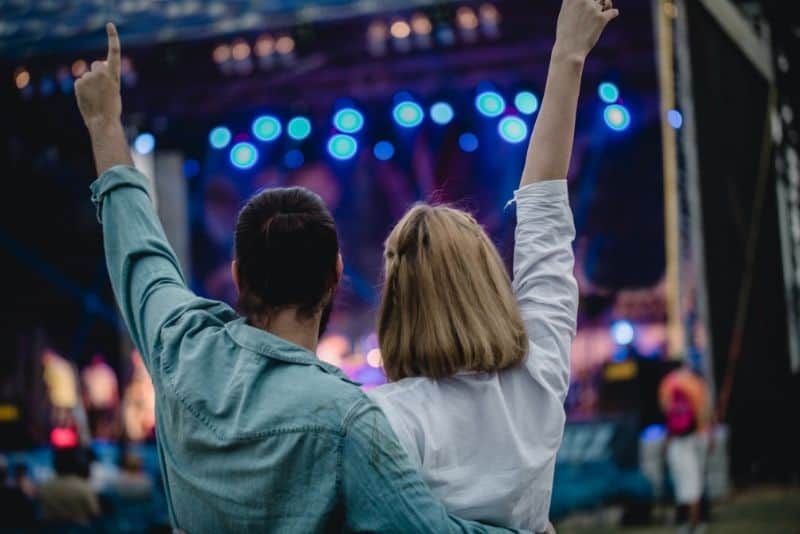 Your favorite band might not be playing free concerts in your town, but chances are there are at least a few free musical events nearby. Depending on where you live, there may be a music night at a local park or outdoor spot.
If you have free city events or festivals, they can also be an excellent opportunity to catch some free musical acts. Sit outside, listen to the tunes, and grab your date and do some dancing if the mood strikes. Music events make great free date nights.
#11 Window Shop
Window shopping is an especially great free date idea if you live near a city or metropolitan area. Of course, many small towns feature great main streets too. Walk through town and browse. Look in the shop windows or go in and check out the wares.
The great part of window shopping is that it doesn't cost a dime and you can see all kinds of interesting and cool items. If you know you aren't going to buy anything, the pressure is off. You could even leave your wallet at home. Simply wander and imagine.
#12 Ride Bikes
If you and your spouse have bikes, a bike ride makes a great free date! Plan a route using Google Maps or tool around and see where the day takes you. Biking is an excellent way to stay fit and healthy, and you'd be surprised at how far you can go on a bike.
Not a biking pro? That's totally okay, especially if you're looking for free date ideas and not a new hobby or exercise plan. Plan out a route that's easy and relatively flat. Only go out a few miles on your first ride and remember that it's about having fun with your sweetheart, not doing the Tour de France.
#13 Take a Bath
If you have a bathtub, fill it up and take a romantic date night bath together! Get some bubbles, light scented candles, and make it a "spa" type experience. You could even do a facemask, a body scrub, or enjoy some massage before the bath.
If you like this free date night idea, you could bring in your laptop or tablet and prop it up near the tub to enjoy a movie while you soak. Have some snacks or drinks and put on music—cheers to a very romantic free date night.
#14 Watch a Movie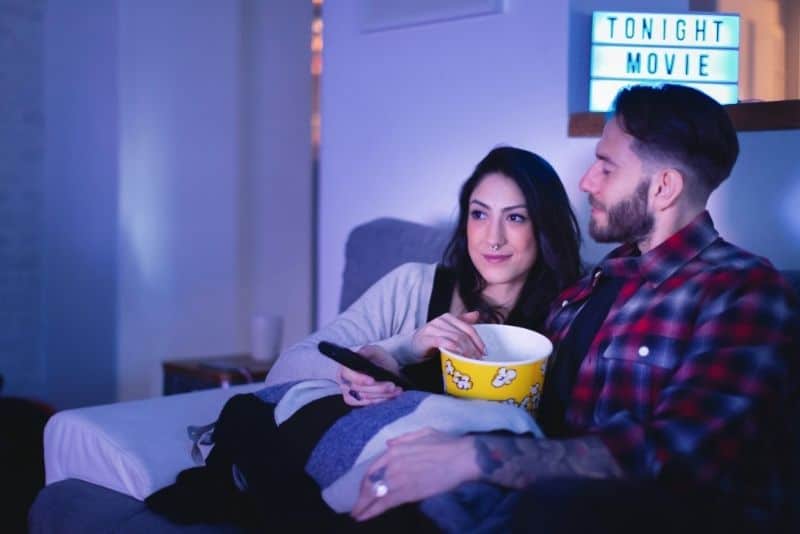 If watching movies in the bathtub isn't for you, you can still enjoy them from the comfort of your couch or bed. Set up a DVD to play on your laptop or TV (get free movies at the library, borrow something from a friend, stream on YouTube or break out your favorite old movies from your stash).
When you're trying to save money, you might not have a streaming service like Netflix or Hulu, but there are still plenty of movie choices that you can find online that don't cost a thing. Pop some popcorn, get out blankets, and chill on the couch for a cozy romantic date.
#15 Go to the Library
The library is a great free date spot. If you and your date enjoy reading, the library is a treasure trove of books that you can explore for free. Look for cookbooks to get dinner ideas, check out poetry books or art books, and read them together, or peruse the DVDs, periodicals, and music.
Many local libraries also offer lecture series, classes, and free events that can be interesting free date night ideas. Enjoy learning about local history, discovering a new skill, or hearing an inspiring speaker, all without spending a thing.
#16 Play with a Pet
If you have a dog or cat, you have the perfect free date night activity right at home. Get out the leash and take your pup for a walk together. Play with your dog at the park or give the pup a bath and groom him together. Cat parents can enjoy a date night while they build an obstacle course, play with feathers, or simply snuggle with the cat.
Not (yet) a pet parent? No worries! Consider taking on a dog walking or pet sitting job together with your date. Offer to spend some time with a friend's pooch and visit the dog park or play fetch. You could even visit pets at your local shelter. You and your partner will bond over the fun time with a furry friend.
#17 Ask 20 Questions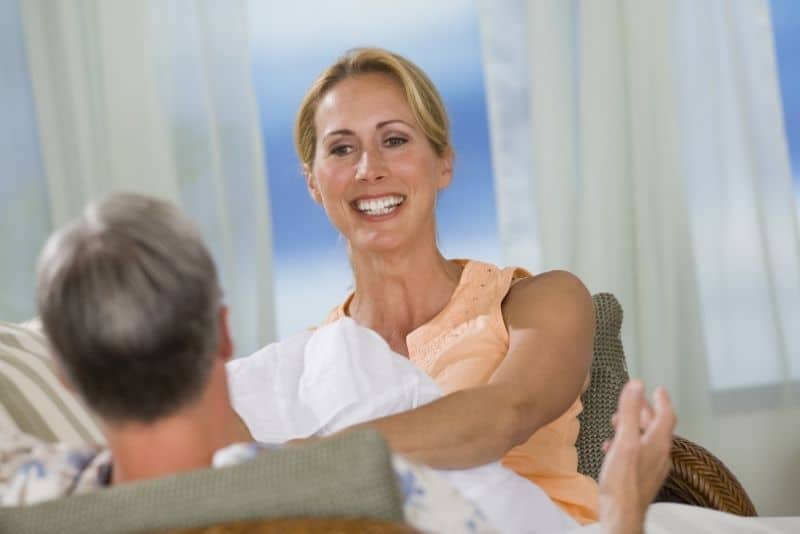 A simple free date night idea is just to enjoy great conversation. Intimacy is built through communicating, sharing, and connecting. Talk about something that you've never brought up before. Share a story from the past or reminisce about experiences from growing up.
Not quite sure where to begin? Look for couple's question prompts online. It may feel a bit strange at first, but chances are, once the two of you start to talk through the first few questions, you'll both find yourself enjoying the opportunity to share. Everyone loves to be heard, and opening up to another person is the best, free way to really build a close bond.
#18 Visit a Lake
If you have transportation or live close to a body of water, it can be an excellent locale for an awesome free date night. Visit a lake or river. Walk along the banks of the water. Wade in and feel the sand and gravel beneath your feet. Skip rocks or collect interesting pebbles as you meander along.
There's something very soothing and romantic about being near the water. If you live near a free spot to swim, take advantage. When the two of you get into the cool water, all your cares will wash away. Bring along a few pool noodles or floating devices if you have them—you can spend hours floating along and relaxing.
#19 Volunteer Together
If you want to really connect with your partner, consider taking on a challenge like volunteering together. When couples give back, they often feel closer and more connected. Volunteering together gives you a great chance to discuss your shared values and might give you a stronger appreciation for how adorable your partner is when they're helping others.
If you're really struggling financially, it might be hard to feel like you have the bandwidth to give back, but sometimes that's the best time. Volunteer your time through your church or community center, and you'll gain a stronger appreciation for the wonderful things you have in your life. You might walk away from the free date activity, realizing that you are richer than you thought.
#20 Dress Up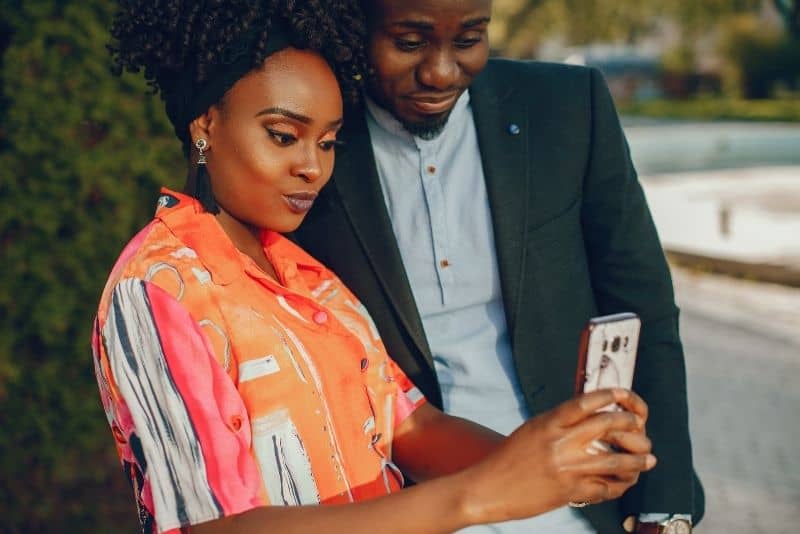 If you're trying to go on a date without spending any money, it may feel silly to get dressed up. After all, if you're watching movies on the couch, why bother with makeup and hair, right? But when you dress up for your date, you'll feel more confident and sexier. Your spouse will appreciate the effort, and you'll both get a boost
You can make an at-home free date night feel special by dressing up for a "theme" like a spooky costume for a scary movie or a 1950s look for a retro-themed dinner. Celebrate holidays or special days with your dressy attire, even if you usually work from home and rarely get out of your yoga pants.
#21 Workout
If you're looking for free date night ideas, use your data as an excuse to break a sweat. Get your endorphins going with some exercise. You and your spouse might enjoy taking a brisk walk, a jog, or doing some free online workouts.
Take on the workout as a challenge that you tackle together. Set a goal—even a fitness goal—and then work towards it with your partner. Often when you take on something with the help of another person, you become a team, and it strengthens your bond. You'll both feel good that you're doing something healthy for yourselves.
More Free Date Ideas?
Going on a date with your sweetie shouldn't cost a lot. In many cases, you can enjoy dates for cheap (even if you do go out on the town) or free. There are so many great free date night ideas out there, and if you mix it up and have a positive outlook, you'll both enjoy the experience.
If you have more free date ideas, let us know in the comments!
For more money-saving ideas, don't miss:
Pin to Pinterest:
Pin to Pinterest so other moms can find out about these free date ideas too!