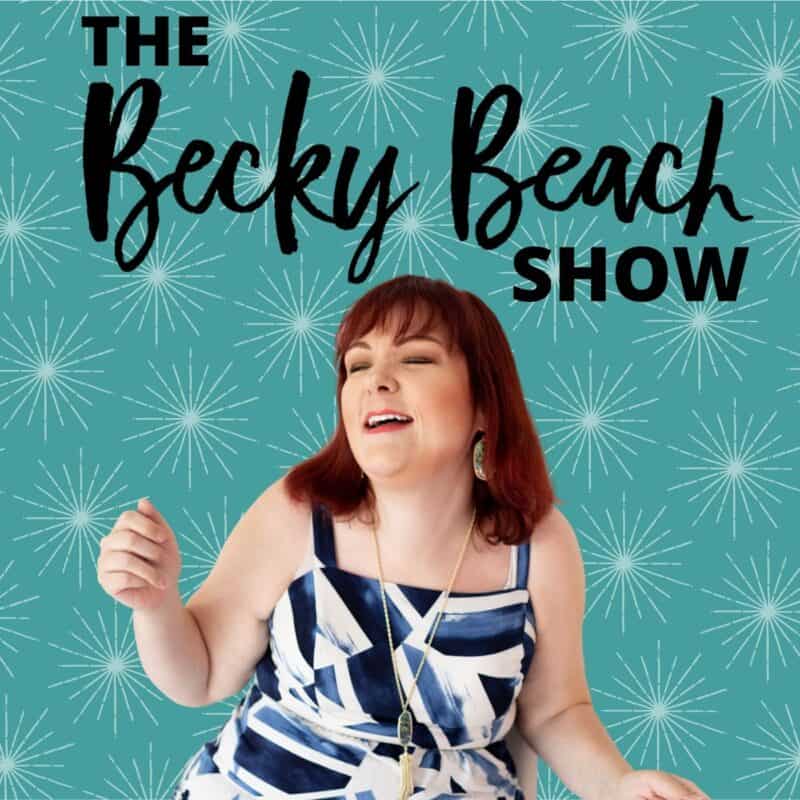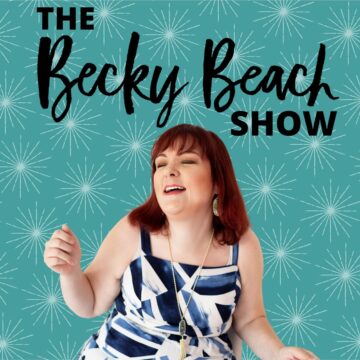 Welcome to the Becky Beach Show Podcast! In this podcast, I help you design your dream life and overcome limiting beliefs.
Each week, I record and publish a new episode. You may see a video of each episode on my YouTube channel here.
Find my podcast on Apple Podcasts, Spotify, IHeartRadio, Amazon Music/Audible, and any other place you like to listen to podcasts.
To subscribe or leave a review, view my Podcast Page on Buzz Sprout here!
If you want to be a guest on my next show, fill out this form. If we are a match, I will reach out to you.
Episodes
Episode 23 – Creating Printables for Kids with Special Needs
Summary: In this podcast, I'm talking about the importance of creating printables for kids with special needs.
Get the course here! Use coupon SN100 to save $100 off Friday, the 5th of August, through the 12th of August!
---
Episode 22 – Become a Virtual Assistant with Katherine Rosenblatt
Summary: Katherine owns a virtual assistant company called Mom to Virtual Assistant. She takes moms, dads, and everyone else in her business. If you are looking to be a virtual assistant, then she can hook you up!
---
Episode 21 – Passive Income Ideas to Make Money Online
Summary: In today's episode, I'm showing you how to create passive income so you can earn money while on vacation and while you sleep!
---
Episode 20 – Side Hustle Business Ideas While You Work Your 9 to 5 Job
Summary: In today's episode, I'm sharing several side hustle business ideas.
Watch this podcast on YouTube here!
Get hosting for $3 a month with BlueHost here!
Create a Shopify store with a 2 week free trial here!
---
Episode 19 – How to Grow Your Business with YouTube with Marcy Patterson
Summary: In today's episode, Marcy Patterson who is a popular YouTuber joined me. She has over 1,000 subscribers to her channel. Marcy explains how she grew her channel and how she uses it to promote her printables business.
Check out Marcy's Channel here!
Get a free printable for commercial use here!
---
Episode 18 – How to Start a Printables Blog
Summary: In today's episode, I am telling you about my new course, Printables Blog Academy. PBA shows how to make a blog to promote your printables.
Buy Printables Blog Academy here and save $50 now through Wednesday the 27th.
---
Episode 17 – Stop Bullying with Bryn Todd
Summary: Today's guest is Bryn Todd who has created a course to help kids from being bullied.
Click here to purchase Bully-Proof Your Child Toolkit
---
Episode 16 – Starting an Online Preschool Business with Ellis Annichine
Summary: In this episode, we are talking to Ellis Annichine about her online preschool business, New Sphere.
Click here to subscribe to New Sphere!
Use coupon themombeach to save!
---
Episode 15 – How to Pitch for Podcast Interviews with Kim Parkinson
Summary: We are talking to Kim Parkinson, a podcast expert. She has a new course on pitching to podcasts!
Check out Pitch and Get Booked now!
---
Episode 14 – How to Get People on Your Email List to Buy From You
Summary: In this episode, I share how I managed to get my email list to buy from me.
Check out my Facebook group here for my birthday at 4 pm CST on Sunday, February 20th. There will be games and prizes!
---
Episode 13 – How to Create and Promote an Online Course
For the transcript, click here!
Summary: In this episode, I'm revealing how I made $15,000 from my latest online course, Transformational Printables. I explain how I created my online course and how you can make and promote an online course too! Sorry, in the podcast I said that PowerPoint is $99 a month. I actually meant $99 a year when purchased with Microsoft Office.
---
Episode 12 – Why Business Tracking is Important
For the transcript, click here!
Get your free Business Tracking Spreadsheet for Q1 here.
Summary: It is a Google Sheets document so you must have a free Google account. Click the "Make a copy" button to save a copy of the spreadsheet in your Google Drive, which is free with a Google account.
---
Episode 11 – Transformational Printables and Leaving my 9-5!
For the transcript, click here!
Summary: In case you didn't know, my 9-5 job was the Lead User Experience and Product Designer at American Airlines. I quit my job in September because I am making so much money from my printables. That wasn't always the case. I used to struggle to sell my printables. No one was buying and I didn't understand why. I almost gave up because my friends and family kept saying I should just focus on my 9-5. They said I was wasting my time chasing a "pipe dream". Then, I realized that I could use training from my job designing mobile apps and websites for Fortune 500 companies. When I applied user experience and product design techniques, my printable sales skyrocketed! I earned over $10,000 from my personal use printable Shopify store in November of 2022! I packed all of the training from my 20-year career into Transformational Printables so that you can learn the product design secrets of Fortune 500 companies.
Buy Transformational Printables here!
---
Episode 10 – How to Not Be a Cheesy Salesperson!
For the transcript, click here!
Summary: Are you afraid to sell because you think all salespeople are cheesy? This is the podcast for you! I teach you how to craft your own unique selling style so that you never sound cheesy again! Join my membership here!
---
Episode 9 – Building a Tiny Course Empire with Cindy Bidar
For the transcript, click here!
Summary: Cindy Bidar is a 6 figure course creator that creates a "tiny course" each month. I am creating my own tiny courses and you should too!
Check out Cindy's signature course, Tiny Course Empire here. To learn more about Cindy's membership, Six-Figure Systems, click here.
---
Episode 8 – Staying Healthy for the Holidays with Holli Rovenger
For the transcript, click here!
Summary: In today's episode, Holli Rovenger, a dietician and wellness expert, tells us how to avoid bad foods around the holidays and promotes heart health!
Check out Holli's free helpful resource on heart disease prevention. Use BB30 to get 30% off on all products on SelfCareWhisperer.com
If you are interested in Holli's private coaching, click here!
---
Episode 7 – Building a PLR and Course Business with Faith Lee
For the transcript, click here!
Summary: In today's episode, Faith Lee of Faith's Biz Academy joins me to discuss how she built her 6 figure business by selling PLR and courses.
Faith is a mom of three and has been blogging since early 2018. She currently makes a monthly 5-figure business revenue creating and selling PLR printables, courses, and mentorship programs. Her main passion is coaching other aspiring entrepreneurs through her signature Boost Your Sales Mastermind program so that they, too, can build a thriving online business to achieve their financial goals.
Click here to visit Faith's Shop!
---
Episode 6 – My Experience with MLMs (Multi-Level Marketing)
For the transcript, click here!
Summary: In this episode, I'm discussing my experience with joining 4 MLM companies. I get asked a lot by other women what I think about MLMs and if they should join one to make money. I do not recommend anyone join an MLM to make money. They are a predatory business model. If you are being recruited to join an MLM, please don't do it. You will thank me later!
---
Episode 5 – Selling Printables to Grow Your Business with Larissa Russell
For the transcript, click here!
Summary: Larissa Russell of Creative U Healing is a coach that uses printables to earn passive income. Stop trading hours for dollars and start selling printables and other digital products. Find Larissa at www.CreativeUHealing.com or www.CreativeU.ca .
Larissa is running a Gratitude Sale! Click here for the sale! Use coupon code 'GRATEFUL' valid now through the 25th of November, 2022!
Check out my Shopify course, Printables Ecom Academy!
---
Episode 4 – Self-Care for Mom Business Owners
For the transcript, click here!
Summary: In this episode, Kim Mickelsen, a self-care expert, shares with us 5 tips on caring for yourself while having a business. As business owners, we can stress ourselves out. Visit Kim's site: JourneywithKim.net
---
Episode 3 – Blogging to Success with Debbie Gartner
For the transcript, click here!
Summary: Debbie Gartner, a six-figure blogger, tells us how she got out of debt with the income from her blog. She is an SEO expert and gets 500k pageviews a month to her blog, The Flooring Girl. I hope you will enjoy today's episode as much as I have!
Debbie's SEO Ebooks: "Easy Backlinks for SEO" and "Easy On Page SEO". Get both books bundled to save $20.
Debbie's SEO course: Easy SEO Revamp
---
Episode 2 – How to Stop Living in Fear
For the transcript, click here!
Summary: In this episode, Kristen Roush, a mom, and store owner is afraid to list products in her store. Becky helps her overcome her fear and helps her to put herself out there. With the right mindset, anything is possible! Kristen's store: https://shop.kristenroush.com/
---
Episode 1 – My Money Story: How Side Hustling Helped Me Get Out of Debt
For the transcript, click here!
Summary: Becky Beach talks about her Money Story and how she overcame poverty and was $150,000 in debt. Trigger warning: There is content about mental health and suicide attempts.
Subscribe to get a free Blogging Planner