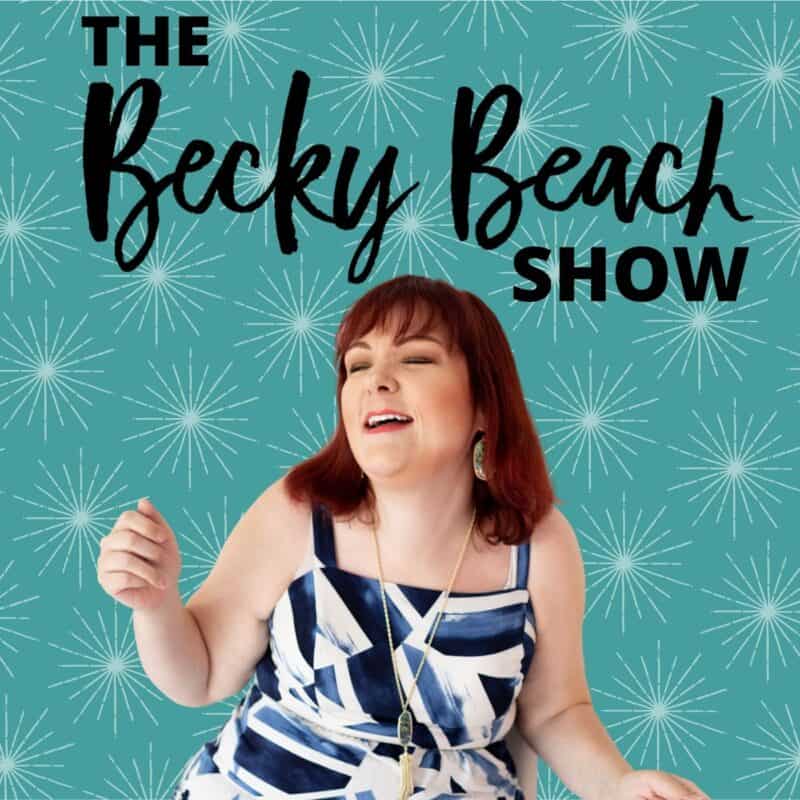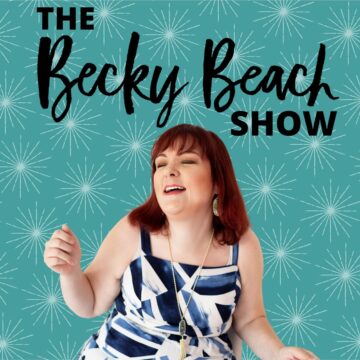 Welcome to the Becky Beach Show Podcast! In this podcast, I help you design your dream life and overcome limiting beliefs.
Each week, I record and publish a new episode. You may see a video of each episode on my YouTube channel here.
Find my podcast on Apple Podcasts, Spotify, IHeartRadio, Amazon Music/Audible, and any other place you like to listen to podcasts.
To subscribe or leave a review, view my Podcast Page on Buzz Sprout here!
If you want to be a guest on my next show, fill out this form. If we are a match, I will reach out to you.
Episodes
Episode 8 – Staying Healthy for the Holidays with Holli Rovenger
Summary: In today's episode, Holli Rovenger, a dietician and wellness expert, tells us how to avoid bad foods around the holidays and promotes heart health!
Check out Holli's free helpful resource on heart disease prevention. Use BB30 to get 30% off on all products on SelfCareWhisperer.com
If you are interested in Holli's private coaching, click here!
---
Episode 7 – Building a PLR and Course Business with Faith Lee
Summary: In today's episode, Faith Lee of Faith's Biz Academy joins me to discuss how she built her 6 figure business by selling PLR and courses.
Faith is a mom of three and has been blogging since early 2018. She currently makes a monthly 5-figure business revenue creating and selling PLR printables, courses, and mentorship programs. Her main passion is coaching other aspiring entrepreneurs through her signature Boost Your Sales Mastermind program so that they, too, can build a thriving online business to achieve their financial goals.
Faith is giving us offers!
1) 2 Bonus Trainings when you sign up for Design Your Biz Mastermind even without purchasing the Early Bird Bonus Pass.
Journey To 6 Figures ($97 Value)
Busy Less, Work Smart, Earn More ($47 Value)
The bonus trainings will be added to their accounts after they sign up for Design Your Biz Mastermind when it's launched on Black Friday.
2) $20 coupon code for use on any regular priced PLR products and PLR training on

Faith

's PLR Printables Shop.
Use code – BECKYSHOW
The code is valid until 31 December 2021.
Click here to visit Faith's Shop!
---
Episode 6 – My Experience with MLMs (Multi-Level Marketing)
Summary: In this episode, I'm discussing my experience with joining 4 MLM companies. I get asked a lot by other women what I think about MLMs and if they should join one to make money. I do not recommend anyone join an MLM to make money. They are a predatory business model. If you are being recruited to join an MLM, please don't do it. You will thank me later!
---
Episode 5 – Selling Printables to Grow Your Business with Larissa Russell
For the transcript, click here!
Summary: Larissa Russell of Creative U Healing is a coach that uses printables to earn passive income. Stop trading hours for dollars and start selling printables and other digital products. Find Larissa at www.CreativeUHealing.com or www.CreativeU.ca .
Larissa is running a Gratitude Sale! Click here for the sale! Use coupon code 'GRATEFUL' valid now through the 25th of November, 2021!
Check out my Shopify course, Printables Ecom Academy!
---
Episode 4 – Self-Care for Mom Business Owners
For the transcript, click here!
Summary: In this episode, Kim Mickelsen, a self-care expert, shares with us 5 tips on caring for yourself while having a business. As business owners, we can stress ourselves out. Visit Kim's site: JourneywithKim.net
---
Episode 3 – Blogging to Success with Debbie Gartner
For the transcript, click here!
Summary: Debbie Gartner, a six-figure blogger, tells us how she got out of debt with the income from her blog. She is an SEO expert and gets 500k pageviews a month to her blog, The Flooring Girl. I hope you will enjoy today's episode as much as I have!
Debbie's SEO Ebooks: "Easy Backlinks for SEO" and "Easy On Page SEO". Get both books bundled to save $20.
Debbie's SEO course: Easy SEO Revamp
---
Episode 2 – How to Stop Living in Fear
For the transcript, click here!
Summary: In this episode, Kristen Roush, a mom, and store owner is afraid to list products in her store. Becky helps her overcome her fear and helps her to put herself out there. With the right mindset, anything is possible! Kristen's store: https://shop.kristenroush.com/
---
Episode 1 – My Money Story: How Side Hustling Helped Me Get Out of Debt
For the transcript, click here!
Summary: Becky Beach talks about her Money Story and how she overcame poverty and was $150,000 in debt. Trigger warning: There is content about mental health and suicide attempts.
Subscribe to get a free Blogging Planner