Editors Note: Today's guest blogger is Samatha Vélez! She has amazing tips on how to save money on groceries for your family. Maintaining a grocery budget is paramount if you'd like to work on getting out of debt and be financially free. If you combine side hustles like blogging, freelancing on Upwork, or starting your very own online boutique and budgeting then you will be free from debt before you know it!
BONUS TIP: Use the Ibotta App to learn how to save money on groceries! You get cash back on every day purchases from your favorite stores.
Another BONUS is to use Instacart to purchase groceries online in order to avoid impulse buy purchases. Instacart helps you stick to a shopping list much better since you are buying online from your favorite stores.
Samantha's Journey on How to Save Money on Groceries
Two years ago, I was at Denver International Airport with my fellow graduate students waiting to board a plane to a regional English conference. Our plane was delayed and we were all tired and hungry, having woken up early to drive three hours to the airport from our small town.
I come from a pretty big family, I've grown up babysitting my little cousins, and I'm the big sister to an adorable 7-year-old brother. On top of that, after surviving three years of grad school, I know what it's like to have to feed mouths on a modest budget.
That's why I was shocked when I was the only student with snacks I prepped at home, knowing that I wasn't going to break my budget on airport food that's expensive and unappetizing. I was totally shocked when I realized I was the only one who packed snacks that morning! My classmates were very grateful when I shared my apple slices and bite-size carrots.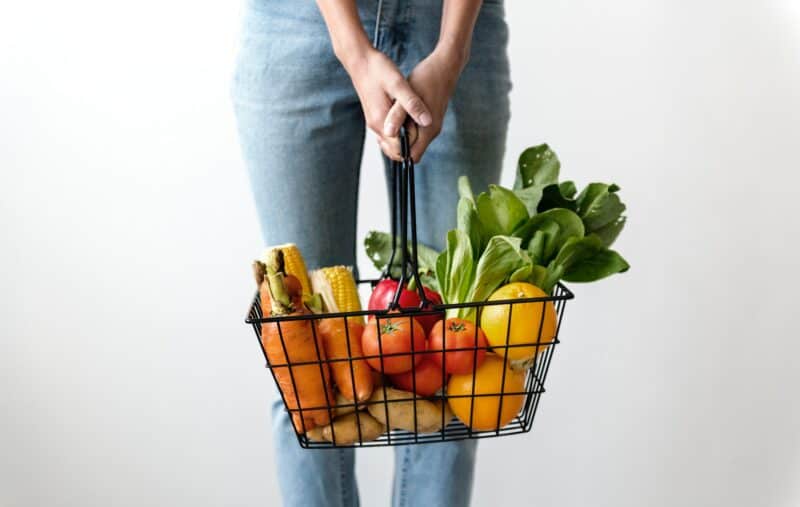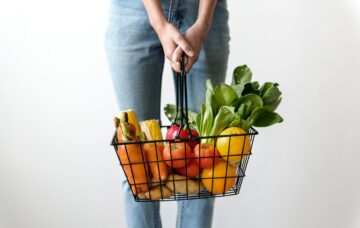 Adventures In Grocery Budgeting
My first grocery budgeting adventures started when I returned to school to complete my master's degree. Initially, I had no idea how I was going to feed myself and my furry friend while staying under my modest graduate assistant income. Along the way, I've learned a lot through trial and error.
Over the years, I've had fun experimenting in the kitchen and seeing what works and what doesn't. I learned that I can in fact still be a foodie and enjoy amazing meals by making my own food in my home kitchen. So, I feel confident saying that, even when you have a house of family members to feed, you don't have to break the bank to have happy taste buds.
Here are some fantastic frugal tips for feeding a family on a grocery budget:
Tip #1: Always Know How Much You Can Spend on Your Grocery Budget: How to Save Money on Groceries
Whether you're working with a modest grocery budget or an average grocery budget, the first step for cooking for any family is to know how much money you can afford to expend on grocery bills. First thing's first – the mortgage or the rent has to come out of your pay check before you head to the supermarket. Next comes utilities and other expenses related to shelter. To add up your expenses, I recommend a grocery budget calculator like this one from Smart Asset.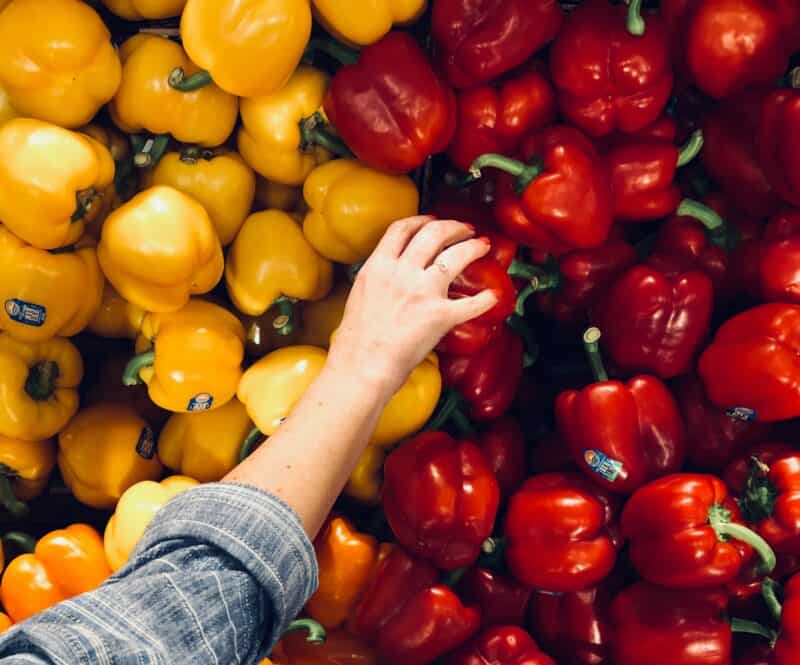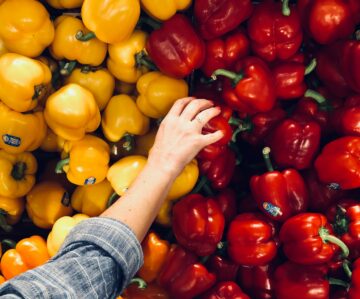 Once you've deducted your high-priority expenses, you can find out how much flexibility is available for your food budget. If you know how much you can spend, then you can plan what to buy and what your limits are. The average family food budget available from the USDA is a helpful tool and baseline for those who are new to budgeting for their family's meals.
The USDA breaks the averages down into four different categories – the thrifty plan, the low-cost plan, the moderate-cost plan, and the liberal plan – which makes it even easier to compare your budget to that of other families in America. A second helpful tool is a grocery budget calculator, like this one from Iowa State University.
Now that you have a number, it's time to go to the store.
Tip #2: Never Enter the Store Without a Plan for Grocery Budgeting: How to Save Money on Groceries
You've probably heard, "Never go shopping while hungry," but walking into the supermarket without a game plan can be even more detrimental to your grocery budget. Not only does having a plan mean you'll spend less money on unnecessary expenditures, but you'll also avoid buying too much food and wasting it. Have you ever noticed that you never got around to using that floppy bundle of celery in your crisper, that bag of moldy bread, or the tenth can of SpaghettiOs taking up space in your cabinet?
Grocery Store Preparation List
A food menu for your family – Write up a menu of the recipes you are going to cook for your family over the next week, several weeks, or month (whichever works best for you). This will outline the recipes you're going to cook. Not only does it help you stick to a shopping plan, but it will also help you keep variety in your family's meals.
A detailed grocery list – This is your shopping list for the items you'll need to cook the menu you've prepared. Make sure you include each item and the quantity needed. Otherwise, if you don't have everything to cook your menu, you may be tempted to order out.
Carry cold, hard cash – Carry the exact amount of cash for your food budget for that week on you, so you can only spend what you have budgeted. Temptation in the grocery store is real, and with cash in hand, you won't be able to make impulse purchases.
Grocery budget apps on your smart phone – If you're a techie like me, you will want to download your budget app of choice before heading to the store. Apps like Out of Milk and Mint have become pretty popular with individuals and families on a budget. Some apps allow you to track your shopping in real-time and share shopping lists with other family members to avoid making duplicate purchases.
You're now ready to tackle your grocery shopping! While on your mission, keep your eye on the prize, stay focused, and stick to the list. As you shop, look at the price per unit for each item. Sometimes it's worth it to buy bigger items for a lower cost per unit. You may have to pay more up front, but you'll save more in the long run.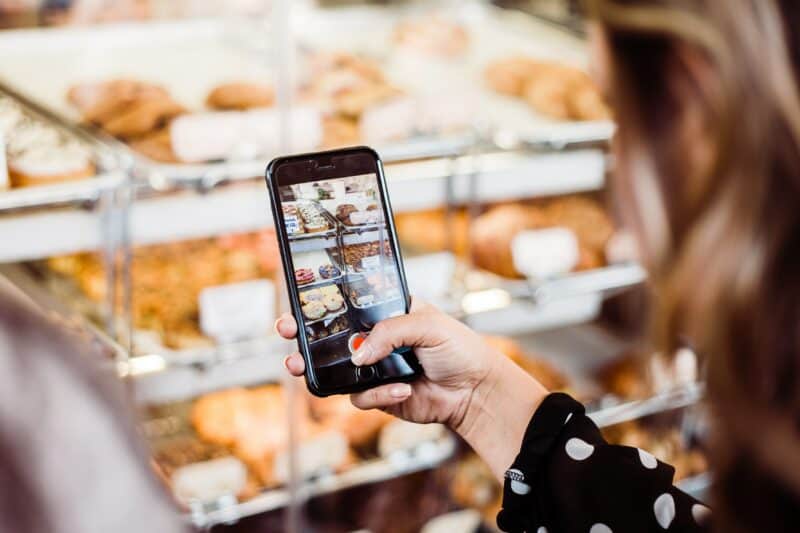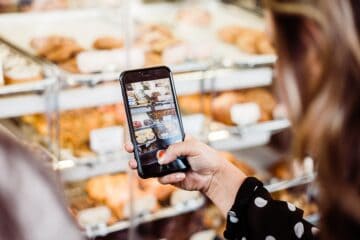 Don't forget to equip your kitchen with the staples, especially if you haven't been cooking at home. Items like eggs, milk, cheese, bread, spices and seasonings, butter, olive oil…You get the idea!
As you become a grocery shopping pro, you'll want to save extra money left in your food budget on non-food items that are essential to your cooking routine, like foil, plastic wrap, or Tupperware. You may even be able to save up and splurge for appliances that make food prep faster and easier, like a Magic Bullet or a food processor.
Tip #3: Get in the Kitchen!: How to Save Money on Groceries
I'm going to be honest with you. You're never going to create a realistic food budget without getting in the kitchen. Eating out is expensive, especially when you include tip, and it's a luxury most families can only afford for special occasions. Growing up, we rarely ate out unless it was someone's birthday.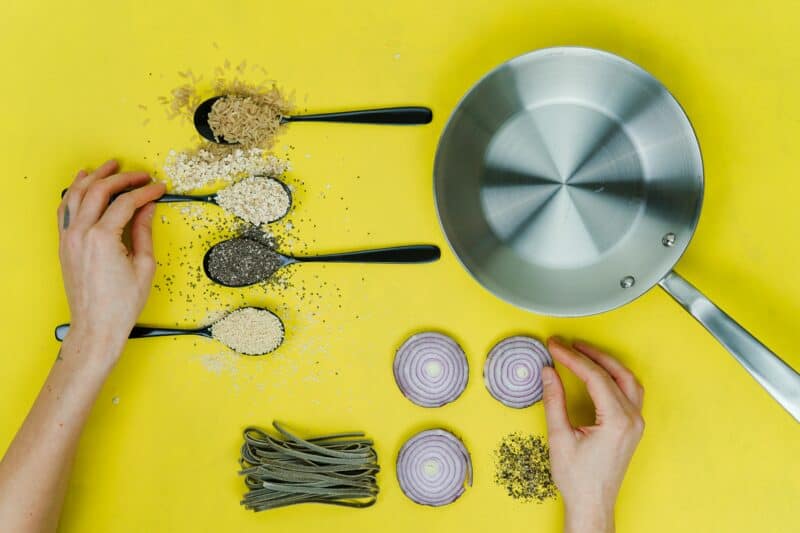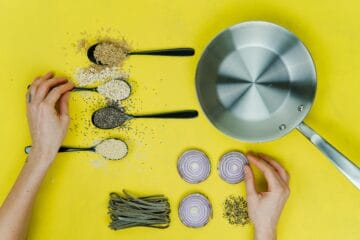 Tips on Cooking for a Family on a Grocery Budget
Prep those meals! – When it comes to cooking for a family with multiple children, I cannot stress enough how much I recommend meal prepping. It's not just for body builders! Even just chopping up veggies and fruits ahead of time and packaging them for your family's meals and snacks can make a huge difference, especially for families with little ones who need fuel when you're on-the-go.
Find the right containers – These are the

meal prep containers

I own, and I'm really happy with them. They're dishwasher-safe, and you can fit a lot of food or leftovers in the fridge by stacking them. One day I'd like to upgrade to a glass meal prep container set, but at least I can't break these!
Instant Pot (or other electric pressure cooker) – Mine was a gift from my mom last Christmas, and I use it at least every other day. Feel like popcorn? Put it in the Instant Pot! Want to cook but your meat is frozen? Cook it in the Instant Pot! Trying to save money by cooking rice and beans, but you forgot to soak the beans over night? Cook it in the Instant Pot! Need a quick snack like hardboiled eggs? Cook it in the Instant Pot! Seriously, they aren't paying me to write this, but they probably should!
Stretch your food – Grocery budgeting is important. When you have a lot of mouths to feed, you'll soon learn that it's best to make meals that stretch your food and get you the most bang for your buck. Soups are one way to stretch your meat by cooking with ground beef and shredded chicken to expand portions. Soup recipes also add lots of veggies and healthy broth to your diet. Casseroles and one pot meals are another way to make your food rations last longer. Work these into your menu!
Freezer crockpot meals – Cut down on the food prep and cleanup work by putting together

freezer crockpot meals

ahead of time. These are great for when you score extra food that's on sale and need to save it for future meals.
Spices and seasonings are your best friend – Spices are everything when it comes to a home-cooked meal, and they're really where you will get the most flavor out of your food. Any food can taste bland without the right blend of spices. You'll need a full spice rack and some dried herbs (which are much cheaper than the fresh versions). Soon you'll be crafting your own taco seasonings and Italian seasonings.
Even an inexperienced cook can become a great home chef with the right food and enough practice.
Tip #4: Include the Entire Family in Grocery Budgeting and Planning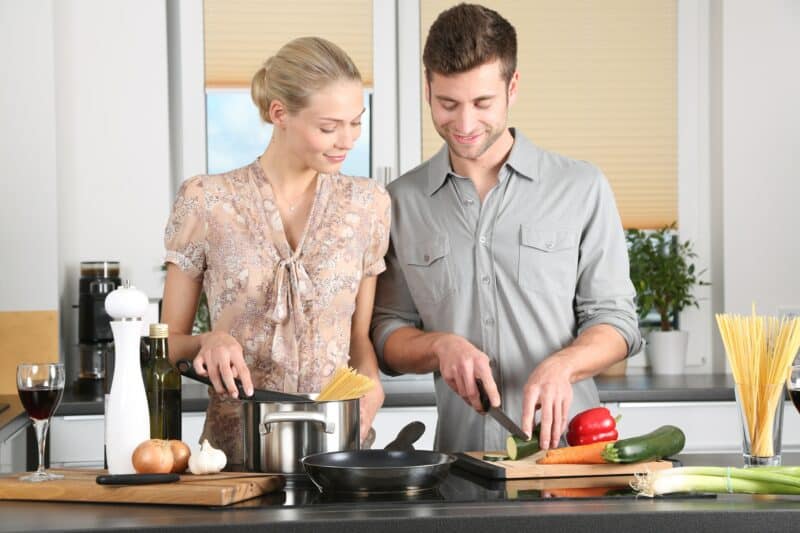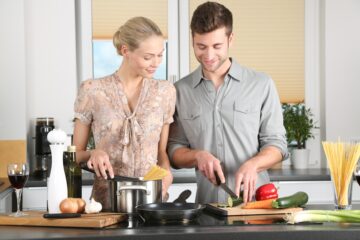 Give your children the chance to help you in the kitchen! The extra help will go a long way and it will teach your children how to budget and cook for themselves one day. Plus it's a great way to bond together over cooking. They can handle easy jobs that don't require using a knife like separating bulk items into smaller portions for meal prepping. Chop up the ingredients for a freezer crockpot meal, and your kids can fill Ziploc bags with the ingredients. (It's okay if they don't get it perfect; it will still taste great!). It's a great way to bond together in the kitchen while practicing engaging their passions and saving money.
Feeding a family on a grocery budget is not easy task, but with patience, practice, some trial and error, and love, you'll find that you can eat well and save money!
Comment below if you have some grocery budgeting tips of your own or have questions.
**Some links may be affiliates