Once you take that first sip of your morning coffee, it starts to feel like a good day. The most popular coffee chain is, of course, Starbucks. We all know that Starbucks coffee is a little bit expensive, but we don't think about it when we swipe our card or hand over that $10.00 bill because, hey, we need the caffeine. Isn't there a way to get a free Starbucks drink?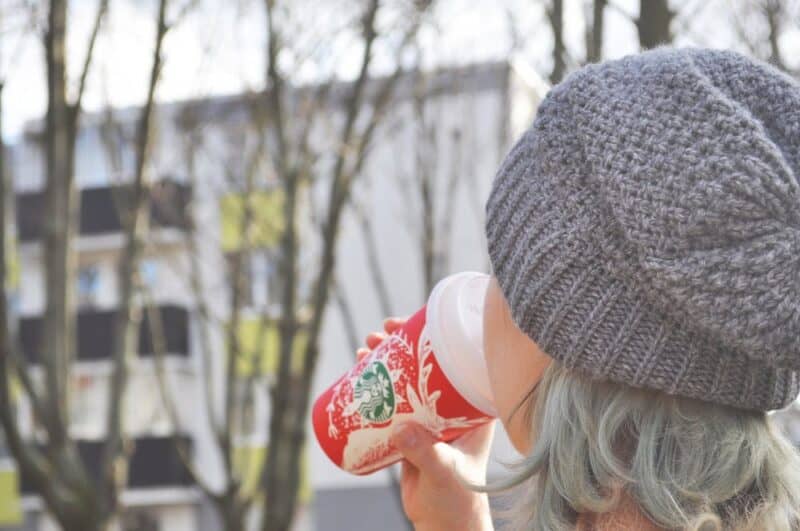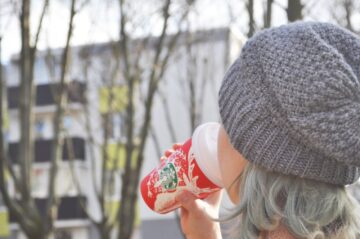 When the winter comes and the Peppermint Mocha is back, I have one almost every day. According to a few studies, the average American spends around $1,100.00 a year at Starbucks. When I read that number, I was shocked. I love to travel and I started doing the math to see what trip I could take if I hadn't spent that kind of money.

I could have purchased a round trip ticket to Hawaii for that! By no means am I telling you to stop going to Starbucks; I'm giving you tips and tricks so that you can be smart about it and get FREE coffee! If I had found these tips and tricks earlier, I could be lying on those white sandy beaches with a Bellini in my hand instead of being at my office right now.
#1 Free Coffee on Your Birthday
You read that correctly. Starbucks gives out Birthday gifts! Who doesn't love getting a birthday present? If you are a member of their Starbucks Rewards Program, you get a free Starbucks drink on your birthday.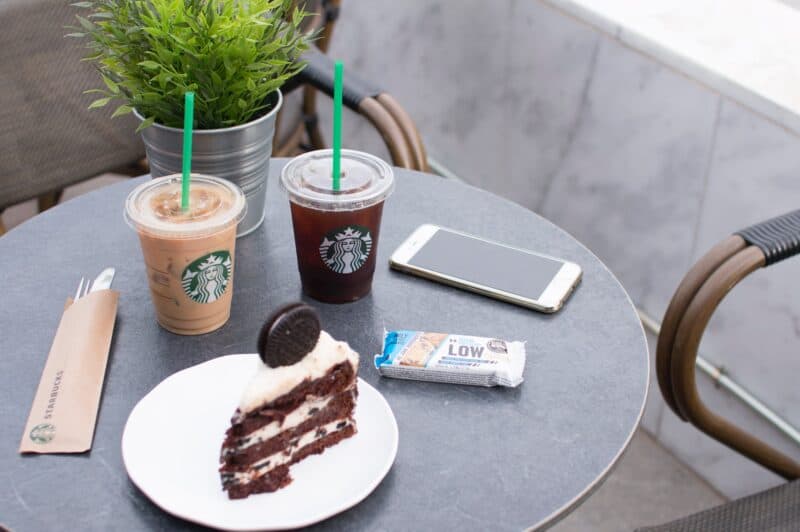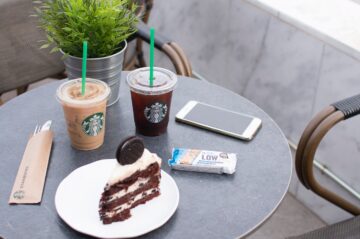 The program is simple, all you have to do is download the app or go to a local Starbucks and get a physical card, sign up, and put money on the card (don't worry; the money is yours to spend. You're not paying a membership fee). If you're using the app, the money is on your digital card which can be used just the same, all you have to do is show the card on your phone to the cashier. Make sure that you sign up for this at least 30 days before you birthday, otherwise they may not be able to give you a free cup!
---
Related Posts:
---
#2 Free Starbucks Drink Refills
There are even more benefits for signing up for the Starbucks Rewards Program, you don't just get free coffee on your Birthday, you also get free in-house refills! If you're working away at your local Starbucks and that last iced coffee you got just wasn't enough, all you have to do is go back to the register, tell them you're a member of the rewards program, and ask them for a refill.
This benefit is limited to Iced Coffee, Roast Coffee, and Tea, but if you get an iced Passion fruit tea, you can return to the register and get a different kind of tea, like a cool lime refresher! I don't know about you, but I love getting out of my office and going to a quiet place where my coworkers can't pop in and distract me from what I need to do; especially when I'm facing a deadline.
#3 Chase Credit Card Rewards
This is my favorite little secret because it's not commonly known. If you have a Chase rewards card, you get money back on your purchases.
For each 1000 points, you get $10.00. The points add up faster than you would think and once you have 1000 or more points, you can trade them in for a Starbucks gift card! Chase has this really cool thing where they offer more cash back on certain things for certain months.
Some months will give you 5% back on all grocery purchases or 5% back on purchases from a pharmacy like CVS or Walgreens. If you do a lot of online shopping, Chase is also linked to a lot of retailers for online purchases. All you have to do is click the link from the Chase website and purchase with your chase card, through that link.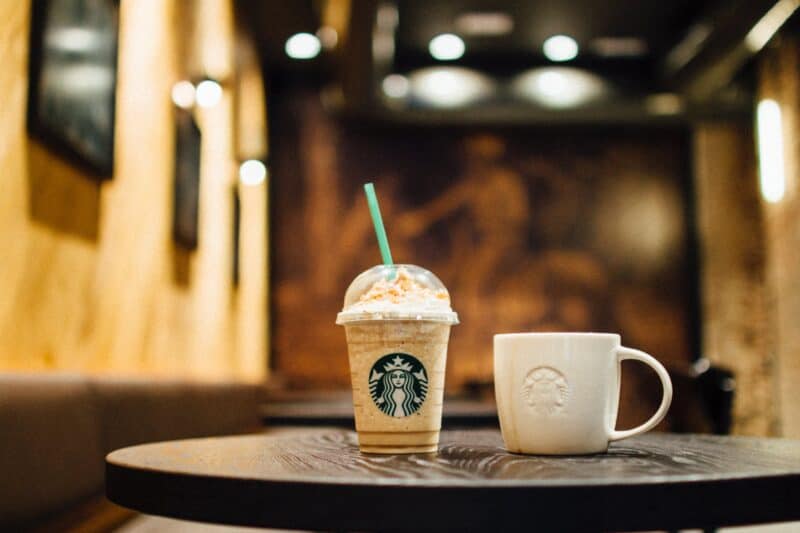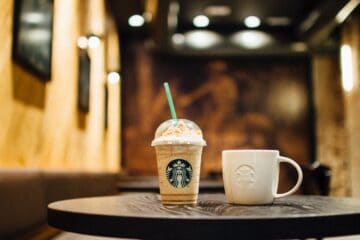 For example, I bought a new bed frame recently. The bed frame was $650.00. The rewards percentage for Target was 3% so I got almost $20.00 back, just for using a different route to purchase something I was already going to buy. Like I said, the points add up quick and before you know it, you've got $20.00 to put on a Starbucks gift card to cover your coffee for a full week or more! I can just taste that Caramel Macchiato now. It tastes even better when it's FREE; trust me.
Click here to sign up for a Chase Rewards Card to start earning free Starbucks!
#4 Use Swagbucks For a Free Starbucks Drink
I'm all about making small amounts of money with minimal efforts, you'd be surprised how quickly the 'small amounts' add up to big amounts.
Swagbucks is a survey service app that you can earn money from just by giving them your opinions on movies, stores, radio stations and more. The more you do, the more you get; you even get $3.00 for every person you refer!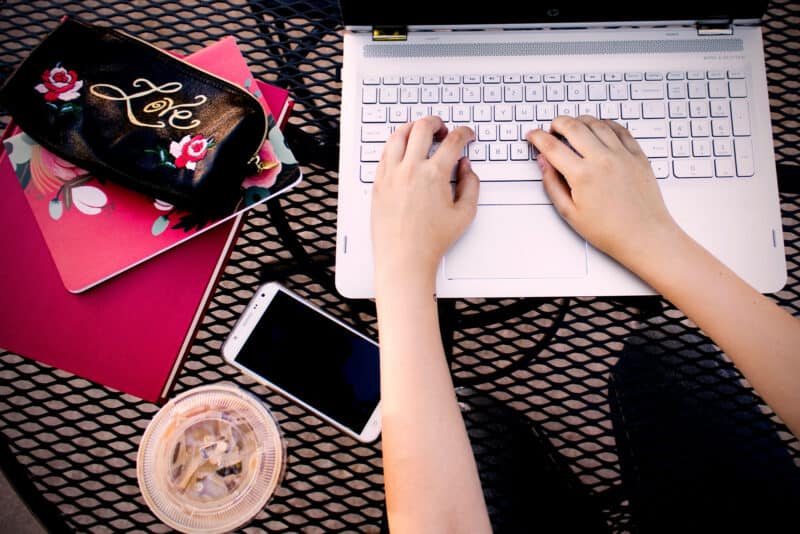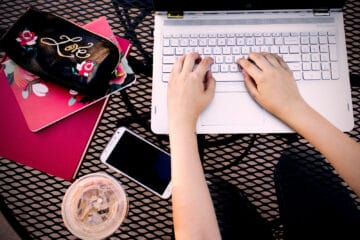 Once you get up to a certain amount, you can trade in your money for a Starbucks gift card! If you do this more often, you can have free Starbucks all the time!
A couple examples of Surveys I took from Swagbucks were about the stores I shop at most frequently. I go to Target on a weekly basis. Some of the questions I was asked were, "Does this store carry everything you need so that you don't have to go to another store for a specific item?" and "Do you find the staff to be properly trained?" Survey sites are a great option and are easy to use for when you want free Starbucks drinks!
Click here to start earning free Starbucks with Swag Bucks!
#5 Survey Junkie Helps You Get a Free Starbucks Drink
Survey Junkie is one of the most popular survey sites and works exactly the same way that Swagbucks does.
The more surveys you take, the more money you get for free Starbucks drinks! Lets be real here, who doesn't want to get paid for giving their opinions?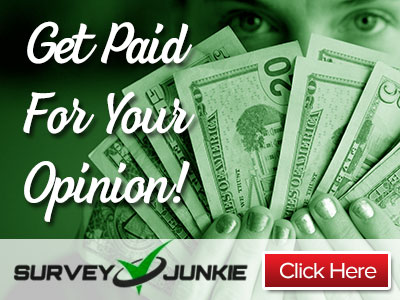 I'll give you a couple examples of the surveys that I've taken with Survey Junkie, too. I was asked about my local radio station; if I liked the music they were playing, what commercials resonated with me, if I liked the DJs. They do this kind of survey so that when they run reports, they know what commercials they need to cut, what songs they should play more, and what DJs are doing well in their field. I was also asked to review a TV show that I had seen!
I told them what characters I liked, which episode had the best storyline, and if I would watch season 2 if it came out. These are all things we talk about in our daily lives with our family, friends, and coworkers, why shouldn't you get paid for it?
Click here to start earning Free Starbucks with Survey Junkie!
#6 Ibotta Can Get You a Free Starbucks Drink!
This app is one of my absolute favorites!
Here's how it works:
You register on the app and select your favorite local stores. Stores on the app may include grocery stores, Wal-Mart, Target, GNC, Booking.com, and so many others that you would never even think to get rewards from!
When you're about to shop, select the retailer that you're going to be shopping and scroll through the offers and participating items.
Once you've selected the participating items, (which are usually items you were already going for!), all you have to do is purchase them and take a picture of the receipt for proof.
Within 48 hours you will see your reward! Once you reach $20.00, you can put that money on a variety of different gift cards, including Starbucks!
I used Ibotta last week at Target and two of the participating items were my favorite mascara and the laundry detergent I needed! I got money for spending money at Target!
Click here to start saving money with Ibotta!
#7 GetUpside Can Earn You Free Starbucks Drinks
GetUpside is an awesome app that you should absolutely download right away. This app PAYS you to fill up your tank.
Well, the gas stations pay you through the app. They want you to fill up at their station so badly that they will pay you to do it! Just think about how often you have to go to the gas station, especially if you have more than one car.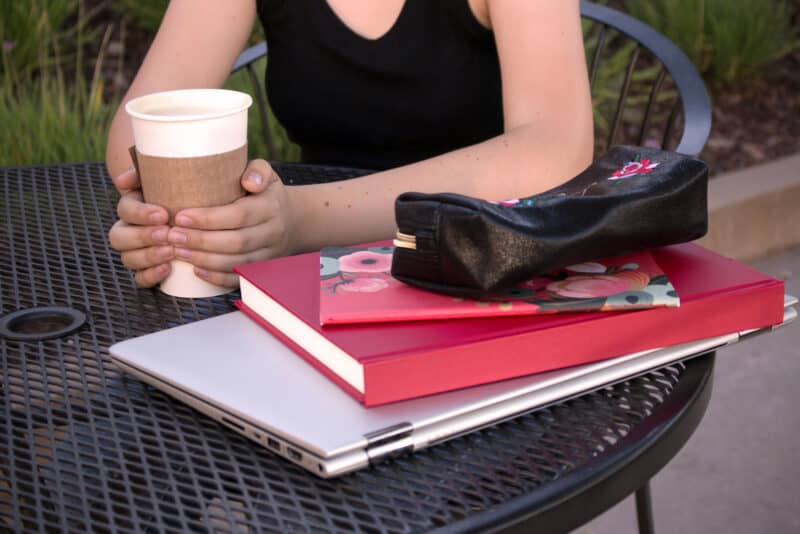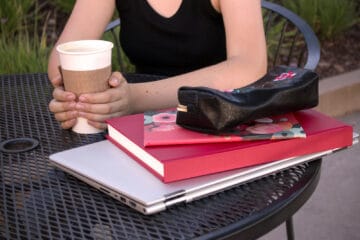 You're just sitting there and watching the numbers go up while you're filling your tank. $13.00… $15.00… $20.00… then you hit the final number of how much it cost you just to be able to drive to work. Now look at that number, with GetUpside, you can get up to $0.25 a GALLON back!
That means if your gas costs $3.65 a gallon and your tank needs 22 gallons, you can get up to $5.00 back from that one fill up. Just for getting gas like you do every week.
In a month, you could have $50.00 from doing nothing more than standing there and holding the gas pump; even more if you have two cars. This money can be traded in for gift cards, Like Starbucks.
Recently, we did a review that has more details on GetUpside.
Click here to start saving with GetUpside! Use Promo Code SJE89 to save BIG!
Adding Up All Your Free Starbucks Drinks!
I want to talk to you about this for a second. Lets break down an estimate of how much money I have just saved you.
Free birthday coffee you get once a year. $3.45
For free Refills we'll estimate 1 refill, 3 times a week
For a month $10.35
For Chase Credit Rewards, I'll just use $10.00 since that's the minimum you need to get the reward: $10.00
For Swagbucks, lets say you take 30 surveys for $0.25 each and refer 4 friends for the $3.00 per person reward: $19.50
We'll use the same 30 surveys at $0.25 for Survey Junkie: $7.50
Ibotta's minimum payout is $20.00 so we'll use that for our estimate: $20.00
And our estimated $50.00 (a month) for GetUpside: $50.00
When we add all of this together, we are looking at over $120.00 in FREE STARBUCKS DRINKS.
In a year that could double, triple, quadruple or MORE depending on how much you utilize these special tricks.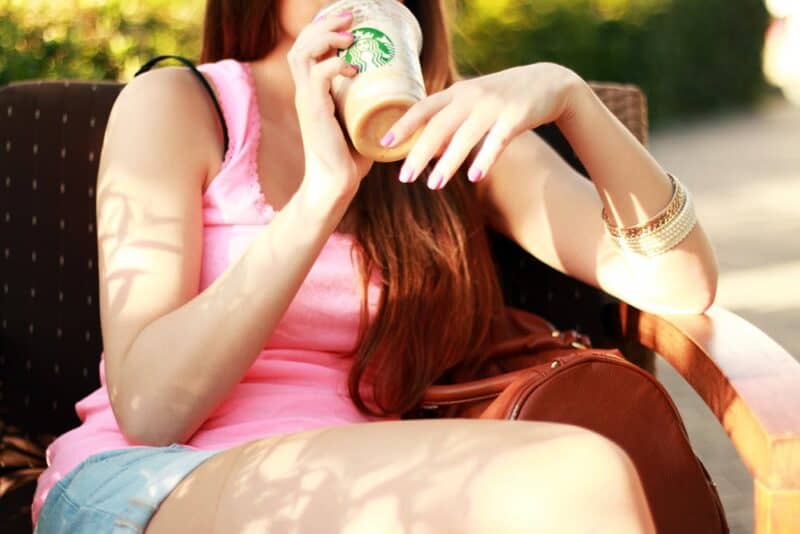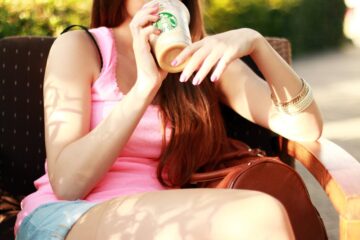 Become a Starbucks Humanitarian With All Your Free Drinks!
As I'm writing this article, I'm drinking coffee that I paid for with my Starbucks gift card that I got from GetUpside. I can promise you, the coffee tastes even better when it's free.
If you're feeling generous, you can even use one of the gift cards to get coffee for your kid's teacher, your husband or wife, even your whole office! Just imagine waking your spouse up with a nice warm cup of Starbucks coffee and making them smile wide because that was the start of their day, or walking into a teacher's classroom with a fresh iced coffee and, lets be real, seeing the relief wash over their face.

Spread the love, as they say. You don't even have to tell them you got it for free. You know that trip to Hawaii I mentioned before? That $120.00 will help you get there much faster and all you had to do was take surveys, shop online, take pictures of your receipts, and fill up your car with gas.
Do you know more ways to earn free Starbucks drinks? Let us know in the comments!
Related Posts:
Pin to Pinterest:
Help others earn free Starbucks drinks too by Pinning to Pinterest!