You may be wondering, "How can I start my own business? I have kids so would I have enough time?"
I'm here to tell you that it is easy and yes, you do have enough time. How much time do you waste watching the latest TV show or playing on your cell phone? You could be working on your business and doing something productive instead. Be a creator instead of a consumer!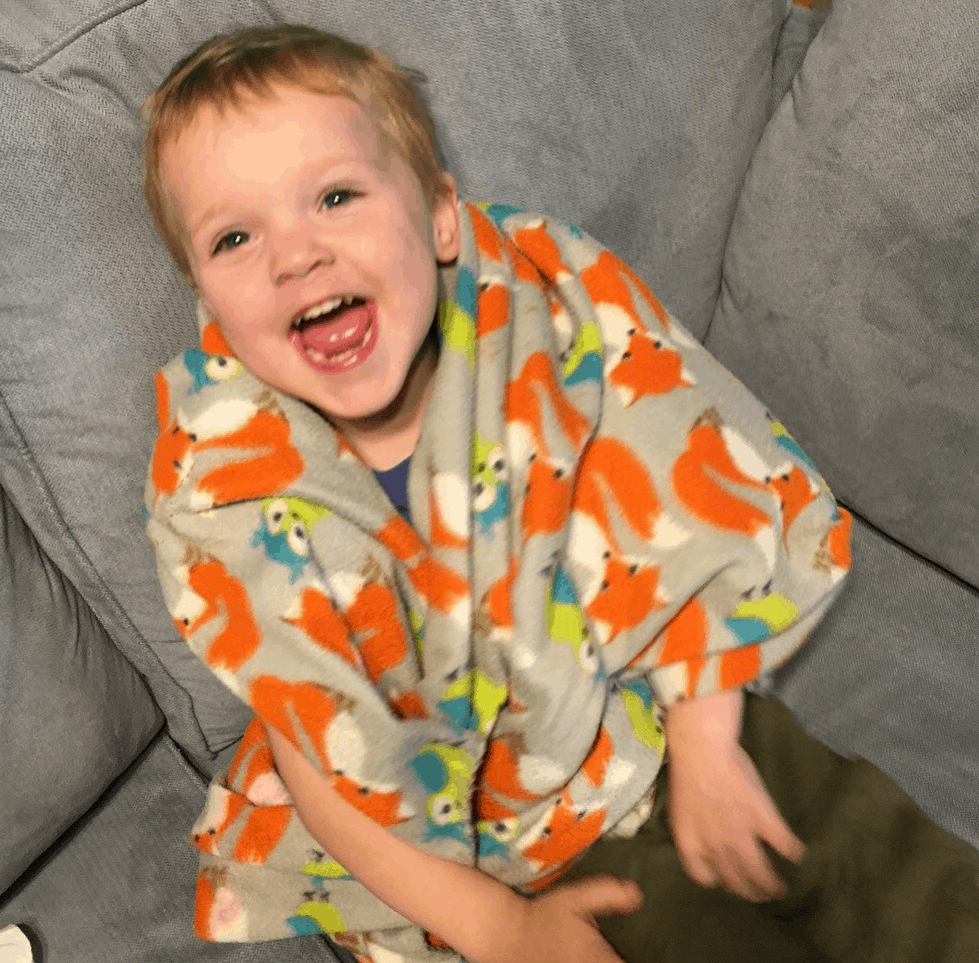 I work on my own blog and eCommerce businesses while my 3 year old son, Bryan, naps during the day on the weekends. The lil darling will sometimes sleep for 3-4 hours straight and I'm like "Business time!" Sometimes, I get up in the early morning and stay up at night while every one else is asleep and spend some time on my businesses then. I also work a full-time job as a UX Designer.
I'm sure you can find the time too.
You need to make starting a business a priority if you are serious enough about it. Who wouldn't want to have financial freedom, be able to work on their own terms and do what they love?
What are you good at doing and love? You can turn that into a business!
For example, if you enjoy making jewelry then you could sell your crafty goods on sites like Amazon, Shopify, Etsy or Ebay to earn income on the side. Another example is if you love to write, then you could start your very own blog like me! If you want to learn how to start a Shopify store for free, then click here.
How do I do become a mompreneur?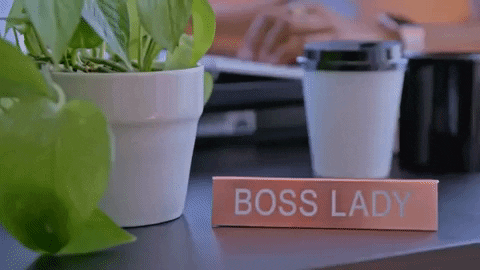 "Isn't it hard?" you may be asking me. I grab you by the shoulders gently. No, it isn't. YOU CAN DO THIS!
The good news that I need to share with you is that the barrier for business entry has never been more transparent.
Before you take the leap into starting a business, take the following caveats into consideration:
How can I add value?
What is holding me back?
Adding value is highly important to having a successful business venture. There are people who create businesses for selfish reasons without taking into consideration who their customers will be.
"How can I help people?" is a good question to ask yourself. If you create value then you create money. It is as simple as that.
What may be holding you back is lack of funds to get started. To be honest, it is tough to get start up capital or to even get on Shark Tank!
Business Types
Sole Proprietorships
Did you know that sole proprietorships are free in most states? A sole proprietorship is held by a single person that does not wish to incorporate their business.
In Texas, where I live, it is 100% free and it might be free for you too. Check out IRV.gov for details.
All I did was sign up online to get my tax ID at the local comptrollers website when I started a sole proprietorship for my eCommerce selling license. The tax ID certificate for my store was then mailed to my home in 5 business days.
LLCs
If you wanted more of a tax shelter, you could form an LLC like I did for my own business. A friend of mine told me about Legal Zoom, a company that works to get your business licensed quickly. I signed up and found out for myself how easy it was to get started. I had thought at first that I would need to shell out a ton of money for a lawyer to draw up the papers for a business license. If my business ever runs into any problems then I may consider hiring a lawyer then.
Legal Zoom walked me through the steps on their site and also followed up with a phone call from my very own adviser. I was able to secure a tax ID (EIN) as well so that I can sign up for wholesalers and other vendors. You need to make sure your business name isn't taken so it is a good idea to provide Legal Zoom or whoever else you use with an alternative name.
The cost to get my LLC was about $300, plus the cost of my tax ID (EIN) which was around $150. I live in Texas so it was $300 standard for me. See the below infographic for you own state: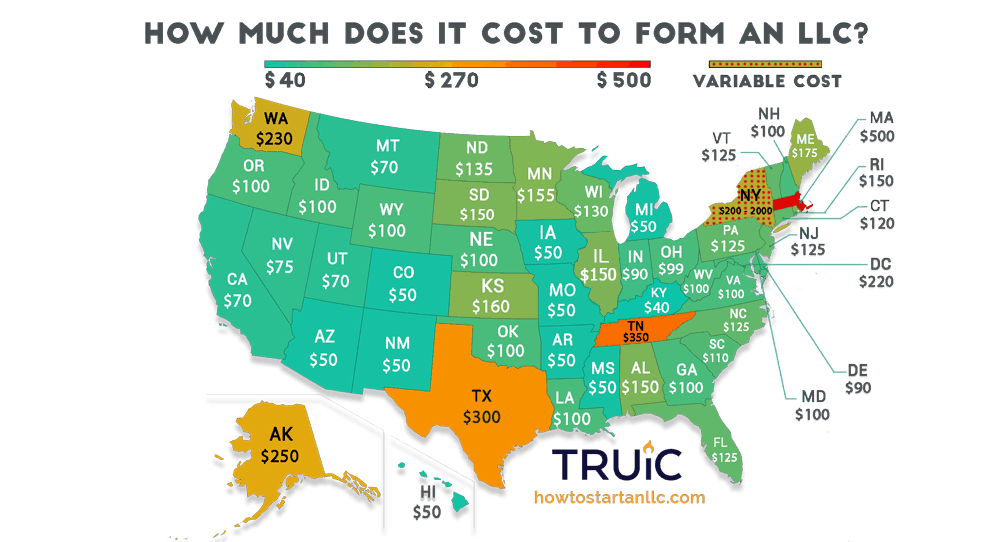 How to start a Business: Partnerships and Corporations
There are other options like a partnership, which you can form with a friend or family member. Corporations are another viable option, but it is more for a larger enterprise. I found an LLC the best fit for what I am accomplishing with my business goals. I may incorporate later, but for now, I am comfortable with an LLC.
How to Start a Business: Getting the money
If you can't come up with any money to purchase an LLC or other business type, then I recommend the easy task of doing surveys with Survey Junkie in your spare time. If is possible to make $1,000 or more a month by spending at least 3 hours a day doing the surveys. That is earning $33.33 a day for 30 days. I have taken a survey that gave me $50 for 2 and a half hours of my time so this is doable.
How to start a business: How long does a business license take?
You need to wait for the business license to be processed unless you get a sole proprietorship. The time varies by state for an LLC, corporation or partnership but it took me 3 weeks to get fully instated with my LLC.
What else do I need to start a business?
How to Start a Business: Business Checking Account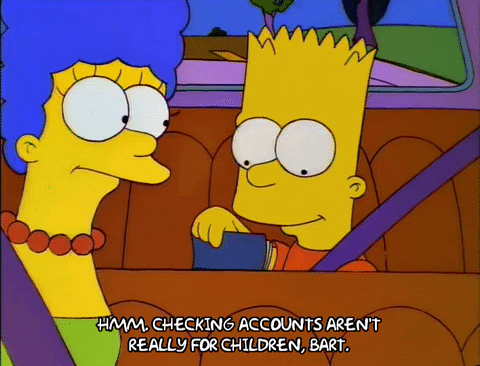 After you have secured your business, you need to get a business checking account. You need to keep your business and personal accounts separate as it is highly important come tax time. You don't want your baby girl's new coat and your new office chair in the same account. Come tax time, you can deduct the office chair as a business expense so save money. It would be difficult to remember what was an expense and what wasn't if you only use one account.
Book-keeping
I use Quickbooks for Small Business to keep my business account up to date. It is really easy and the team are very supportive if I have any questions or need help. Make sure to save your business receipts someplace where your baby girl or boy won't color on them!
Domain Name and Website
Make sure you get your own domain name and web hosting for your business. Bluehost is an excellent solution and they are highly recommended. I use WordPress for this blog but for my freelance business site, I use a Bootstrap theme from WrapBootstrap.
It is very important to have an online presence for your business, whether you are blogging or selling real or digital products via eCommerce. How else can your customers find you on the web?
How to Start a Business: Social Media Accounts
Having and maintaining a Twitter, FaceBook, Instagram, etc. for your business is a viable option. This lets you interact with your customers and receive free traffic to your site. The big social media companies rank high on Google, so this also helps your SEO (Search Engine Optimization). You should make the branding of your social media accounts similar.
How to Start a Business: Brand Identity
Consider a brand identity for your business so that it looks different from other people's. Hiring a graphic designer would be a good idea if you have no design skills yourself. Fiverr.com is a resource to hire low-cost designers for your logo.
With a brand identity package, everything looks so much more professional.
You may want the following:
logo
color scheme
package design (if selling items)
stationary design
website design
How to Start a Business: Marketing Strategy
Once you are open for business, you need to start promoting your products or services. Google Ads or Facebook Ads are a popular way to drive traffic to your site. However, they can be quite costly. I have used Facebook Ads personally to bring people to my freelance website so I can sell my services. It ended up costing too much so I stopped doing it.
Another way to generate more traffic organically would be to start a business blog. You can learn more about it in my post, Get 60% More Customers With a Business Blog.
How to Start a Business: Business Plan

A failure to plan is a plan for failure! You should consider creating a business plan to meet your goals each month. This article at Entrepreneur really helped me, so I recommend it highly.
How To Start a Business: Final Thoughts
All in all, having your own business can be highly rewarding. If you are currently working, then I advise you to keep this new business as a "side hustle" until you are making a full time living off of it. Having to provide for a family can be tough, so this side hustle could earn more income for you. Keep in mind that most start-ups fail within the first year, but don't let that discourage you.
You need to educate yourself constantly on running a successful business.
Some business books I have read and found helpful are:
The Millionaire Fastlane
Start With Why
Mom Beach is here to help you with your new business and we have your back. Free yourself and pursue your dreams and natural talents.
What business do you want to start? Comment below if you have any questions or need more guidance.
Best wishes to you and your new business,
Beck

**Some links are affiliates