Whether you are living in a dorm room, small apartment or just need to make the most of the small space that you have; storage is a great way to make more room to work worth. Combining a few household items and a bit of do-it-yourself magic you can get the extra space you need with storage projects. Here are some storage ideas for small spaces on a budget that work great no matter your needs.
#1 Baskets Serve Many Purposes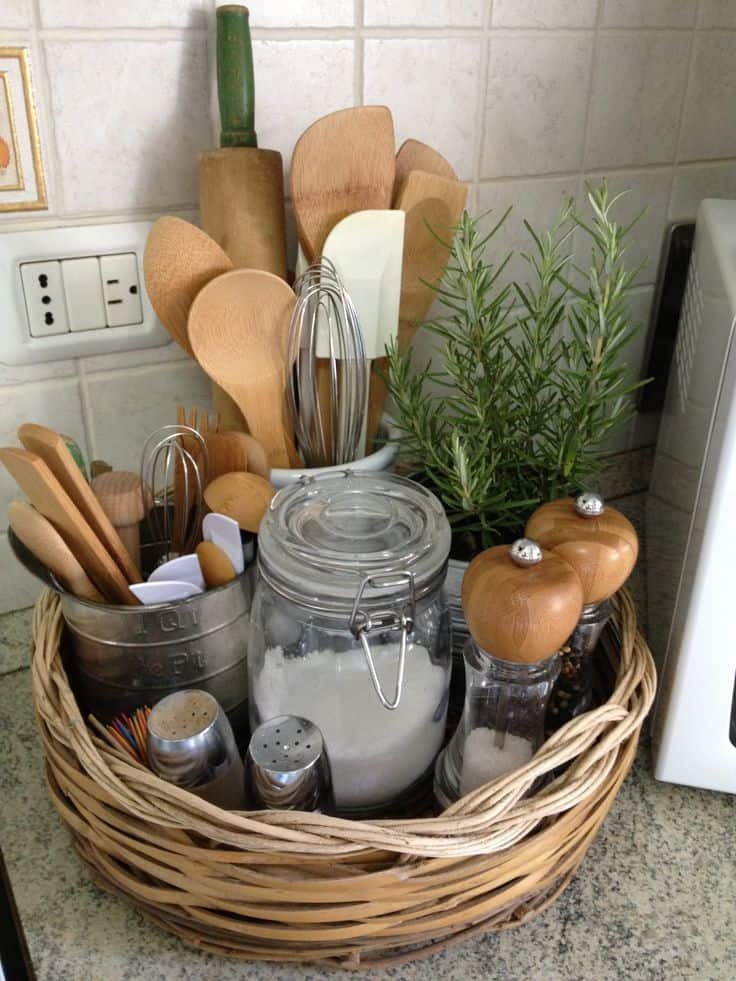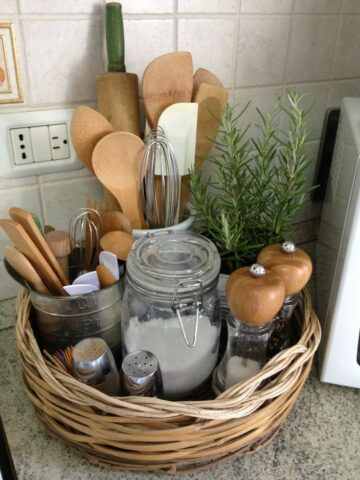 Photo credit: Uncluttered Simplicity
One of the greatest ways to save space in any part of your home is with baskets. They are a versatile storage unit that works on the floor, hung on the wall, or stacked on shelves for organization. Here are some do-it-yourself ideas of how you can use baskets to make your small space a little roomier.

Basket Shelves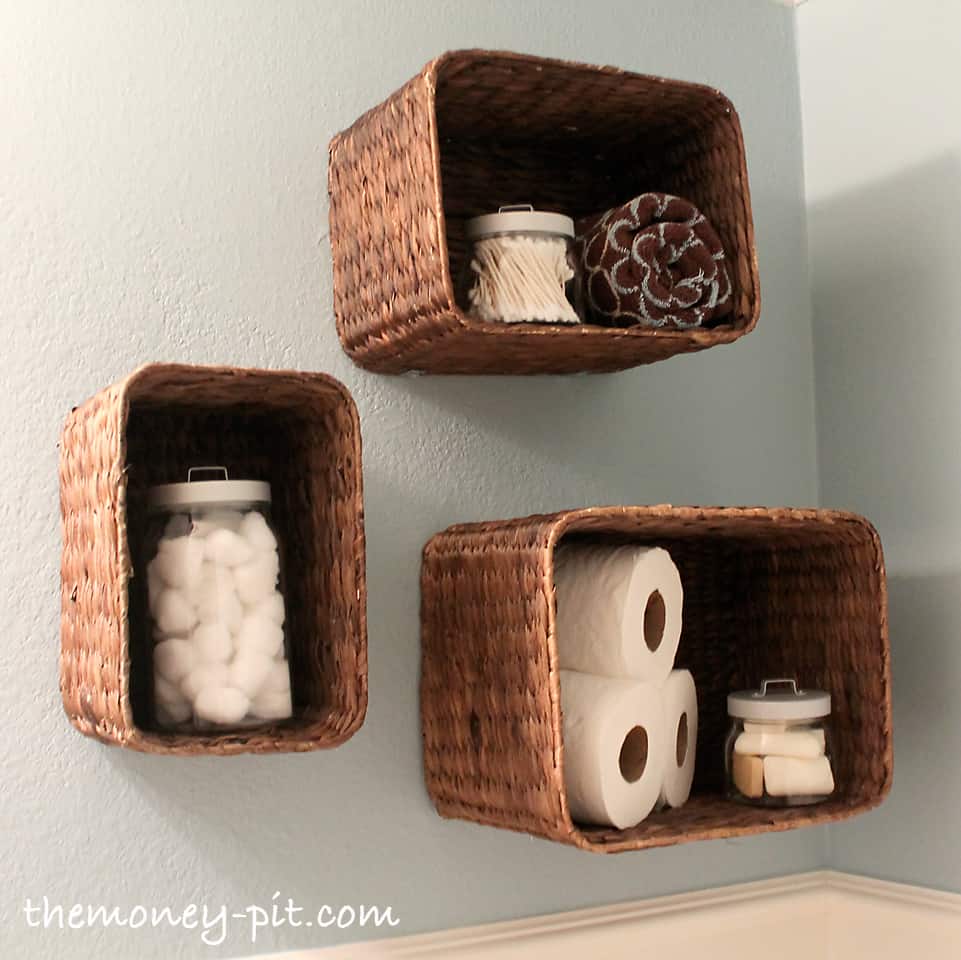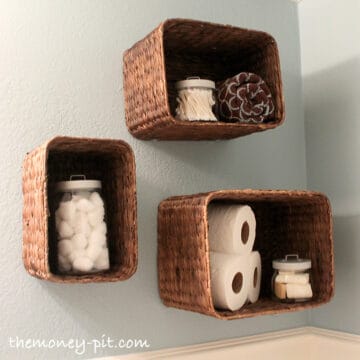 Photo credit: The Money Pit
Hanging baskets sideways and affixing them to the wall is a budget-friendly way to add storage to any room. You can utilize these baskets for towel storage in the bathroom or as bookshelves in a child's bedroom. Adding some spray paint to baskets, picked up at a yard sale or after Easter sales, can become the perfect accent to any room.
---
Related Posts:
---
Organization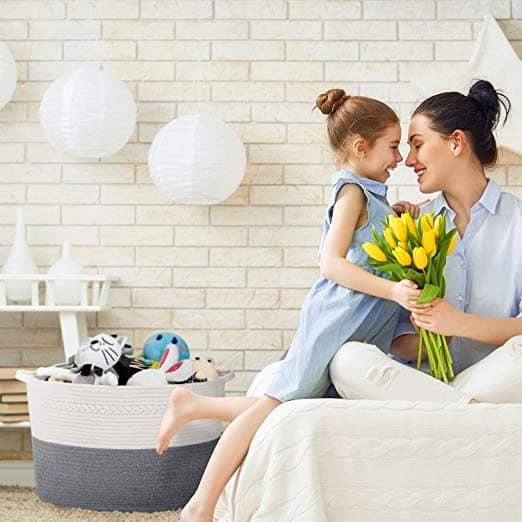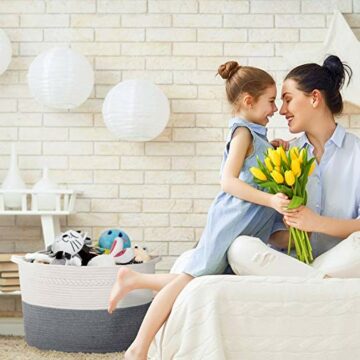 Photo credit: Amazon.com (click to purchase)
Baskets are easy to find in many different sizes and generally for meager prices, making them the perfect organizational space saver. By using baskets for many different needs around your home, you can organize and add space at the same time.
You can sort your child's toys and make neat pullout bins that are easy for them to retrieve and replace toys.
Another idea would be to organize your bathroom with stacking baskets and using one for towels, one for washcloths, one for toilette paper, and so on. The possibilities are endless.
#2 Wipes Containers Can Be More Than Trash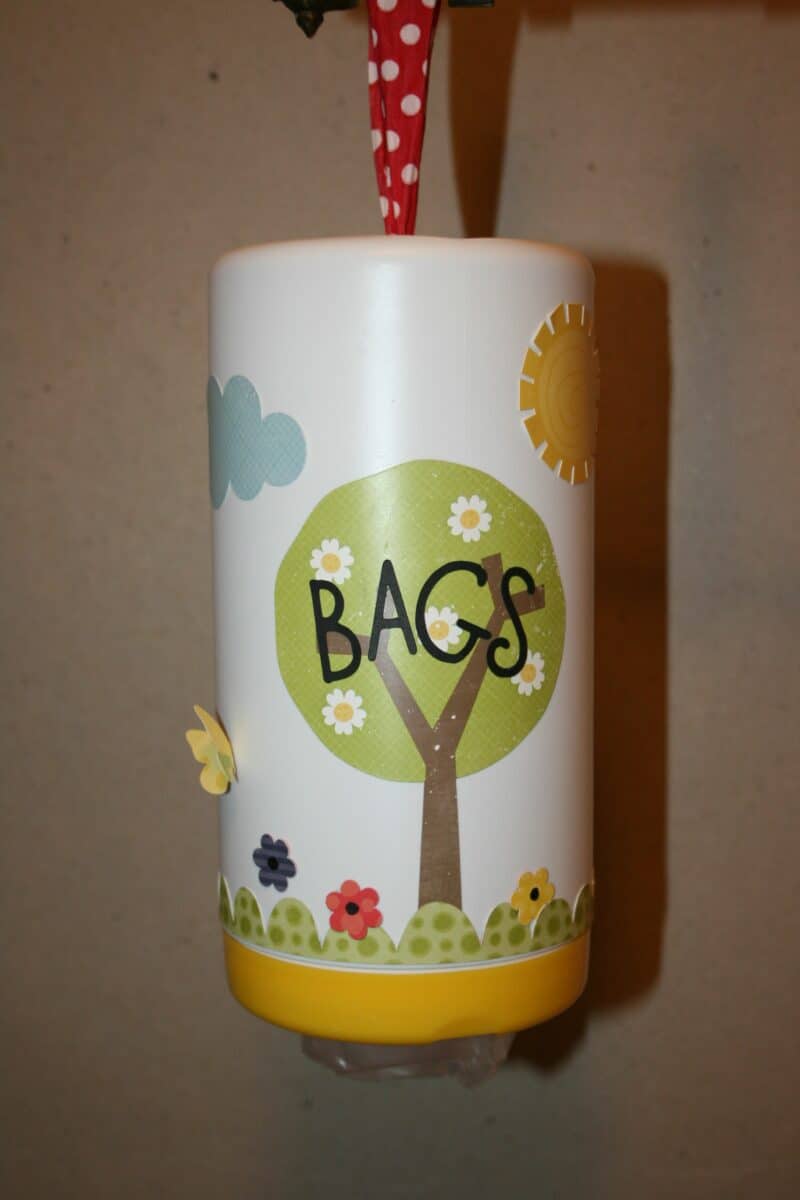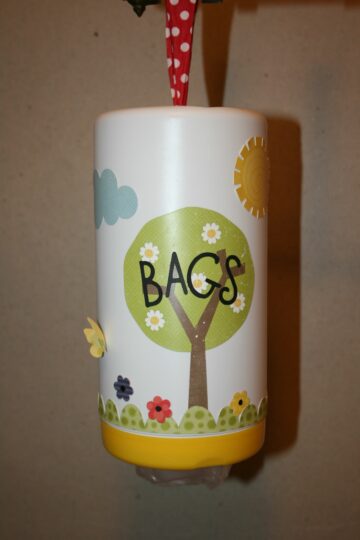 Photo credit: Spotted Canary
Anyone with children knows the number of wipes containers that accumulate and most of the time end up in the recycling or trash. These handy containers can easily be turned into a number of different storage projects. From school supplies to crafting tools these containers are the perfect fit.
Children's Rooms
Using a wipes container in a child's room to organize their art supplies or small toys is the perfect project to do with your child. Clean out the container and use fabric or crafting paper to let your child decorate it to their tastes. It is one of the many great storage ideas for small spaces on a budget.
Leaving the lid on the container will leave the small opening that is just large enough for one or two objects to be removed at a time, making clean-up time more manageable as well. If they need to get more out the whole lid can be opened with ease.
Garage Organizers
These containers can make great use of limited space in a garage as well. By labeling each container, you can easily separate screws and nails, screwdrivers and wrenches, and they make the perfect place for all of those sockets that end up everywhere.
They can be painted or covered to match your husband's style too. Making the garage look a little less like a mess and more like a part of your home.
#3 Move up for Extra Space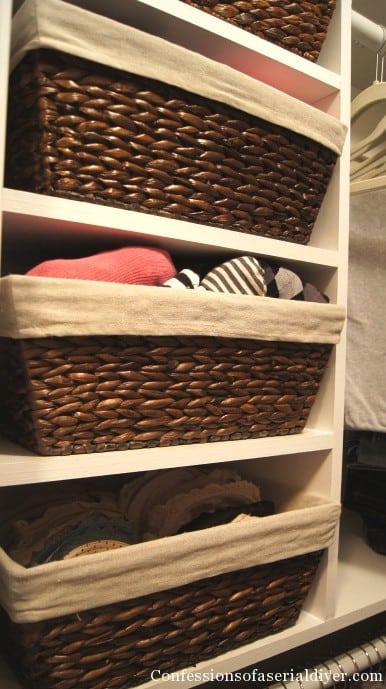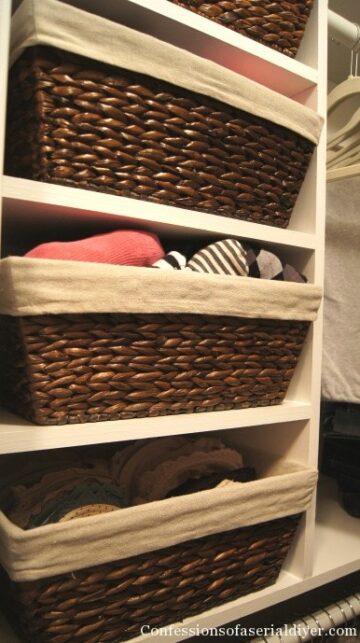 Photo Credit: Confessions of a Serial DIYer
When it comes to small spaces an often-overlooked area is the upper portions of the walls. Most people do not think of this area as usable space because it is hard to reach and may even require a stool or chair to get to. This space, however, is perfect for fulfilling your storage space needs without taking up living space you use.
Seasonal Clothes Storage
Utilizing the baskets from above you can make shelves on top of closets to store the clothes you will not need for the season. Putting shorts or sweaters up out of the way gives you more room for the clothes you will be wearing and leaves more room in the bottom of your closet for other storage projects.
Above Cabinet
You can use this same concept to utilize the space above your kitchen cabinets as well. This space is perfect for items that are only used occasionally like seasonal table clothes or holiday adornments. These baskets can be decorated to allow them to blend in or as an accent piece to your kitchen.
Metal Shelves
Metal baskets can be hung in these higher areas to utilize the space for things like books, collectibles, photos and other things that are nice to be seen but can get in the way.
#3 Use Hideaway Combos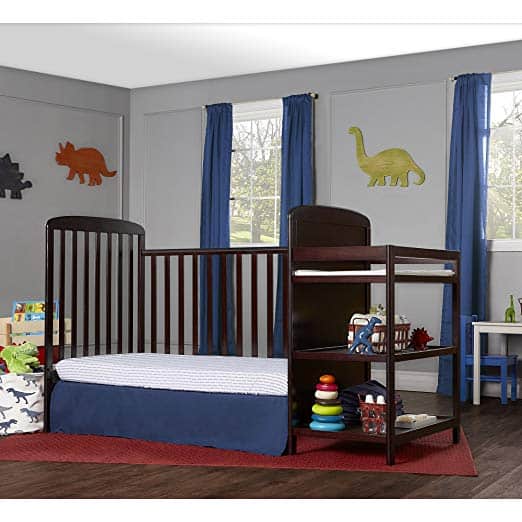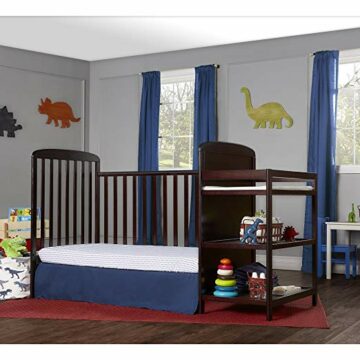 Photo Credit: Amazon (click to purchase)
More great storage ideas for small spaces on a budget are utilizing hideaway combos. These combos can be utilized for any number of purposes. From coffee cabinets to bed table combos, the possibilities are endless and inexpensive.
Table-Bed Combos
These storage ideas for small spaces on a budget are excellent for spaces that have a half dividing wall. With a foldaway cot and a folding table, this space can quickly become your hideaway space. Opening one section of the dividing partition will allow you to attach the cot mattress and folding legs inside to close flush and fold out into a bed when opened.
On the outside portion, you can connect one side of the table to a hinge flush against the wall. When you are not using the table, you can fold it down — giving you functionality and space at the same time.
Coffee Table With Cabinet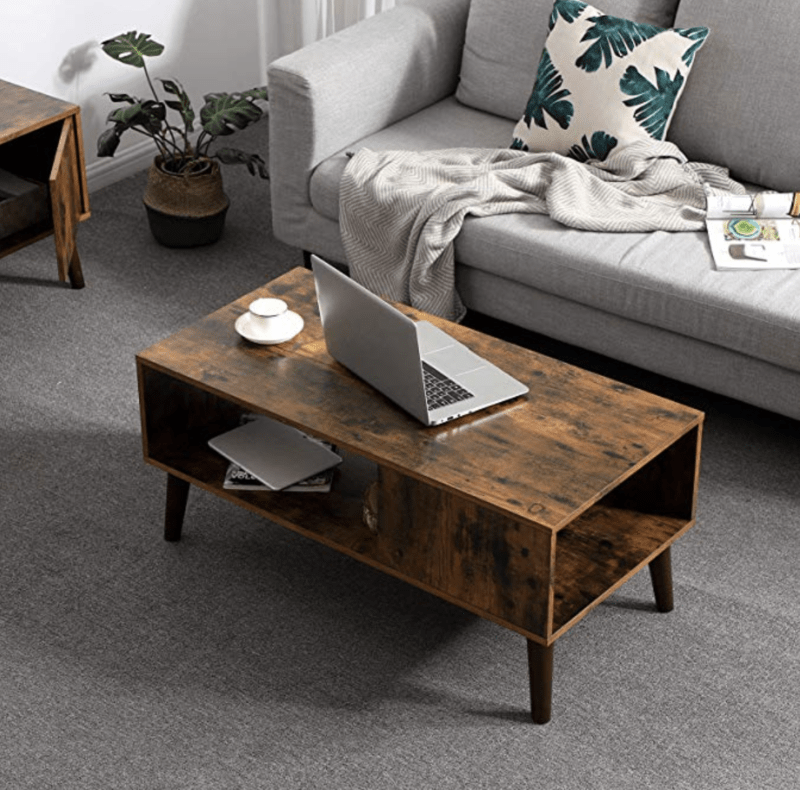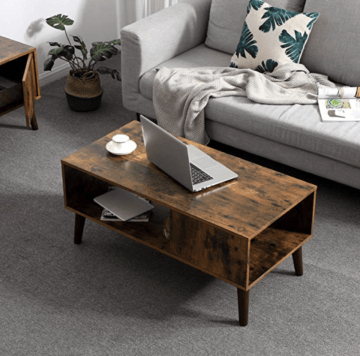 Photo Credit: Amazon (Click to purchase)
When you live in an apartment or home with a small kitchen counter, space is limited. It is hard to find a place for the necessities much less anything else. For this reason, making or purchasing a coffee cabinet gives you storage for an item when not in use that is easily accessible for daily things like a coffee maker. You can find inexpensive sliding shelves at most hardware stores.
Affixing this slider into your cabinet will allow you to slide the coffee maker out to enjoy that hot cup of joe in the morning and slide it out of the way when you are done.
#4 Pallets Do More Than Move Stuff
Pallets are easily accessible items just waiting to be put to good use. These wooden gems get piled out of the way by many stores after they receive shipments. Then they are left taking up space, so when you see them behind a store ask, they might give you a few or let you buy them for next to nothing. Wooden pallets are another multi-purpose do-it-yourself item that works well with most budgets.
Bookshelves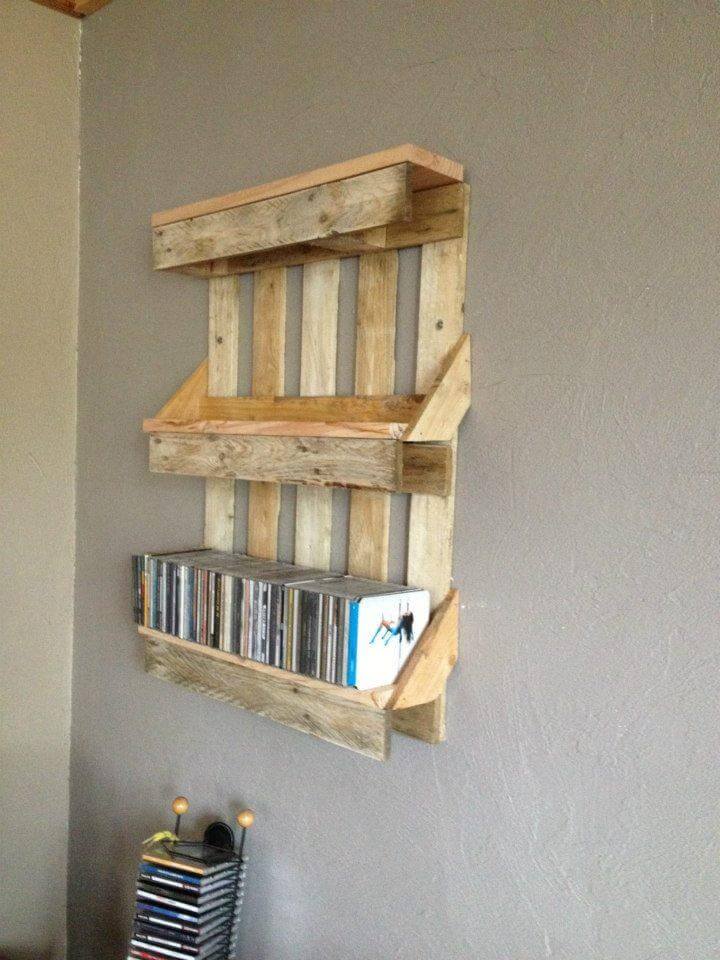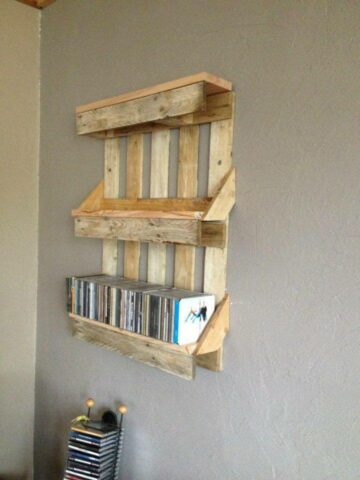 Photo Credit: Easy Pallet Ideas
By cutting a pallet in half and then connecting the two sides, you can make shelves for your home that will give it a rustic feel. Alternatively, add a couple of coats of spray paint, and you have a great accent piece.
You can affix these shelves in staggering patterns up your wall to make a unique place to store those books that are piled on tables and in corners.

Sliding Shelves
Utilizing the double sides of a pallet, you can turn the boards on one side into shelves that connect to the backboards. Standing it upright you can attach gliders to the bottom.
Painting the pallet, the color of your kitchen wall and filling it with spices and cans or jars will give you a perfect hideaway pantry. Sliding it in between the cabinets and refrigerator allows you to make room while still keeping everything easily within reach.
Coffee Table
Making a coffee table out of pallets gives you many storage possibilities. Making the top hinged would allow you to store items in the center of the base of the table. Another idea would be making hidden shelves inside the bottom that opens with an unseen door.
Using a pallet cut into the shape of your desired table and covering it with a board will give you a unique table as well as storage for books and magazines in between the slats of the pallet's layers.
#5 Use Wall Hangers
Going back to utilizing the space on your walls for extra room, making wall hangers can give you many different options for decluttering and adding space to those small areas of your home like your bathroom or kitchen counters.
Bathroom Declutter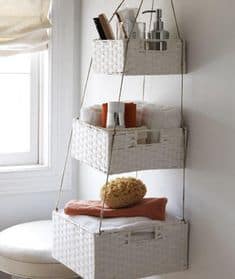 Photo Credit: Womans Day
Small bathrooms can be annoying. You never have enough room for everything you need. Utilizing your wall space will give you the extra space you need and keep the essentials close.
Using baskets, you can make unique wall hangers for all of your bathroom essentials. Start with the basket of your choice and cut it in half. This will give you two shelves for each basket.
Attach each basket in a pleasing design, and you will have an excellent place to store toothbrushes, makeup, brushes and hair elastics, razors, and many other items. These shelves will clear up your minimal counter space and give you much-needed room.
Kitchen Space-Savers
Using the same concept in the kitchen will allow you to make counter space for food preparations instead of storage. Using baskets on the walls in the kitchen is excellent for sink sponges or making spice racks.
Attaching mason jars of differing sizes will allow you to use this space for cooking utensils and knives. Attaching the mason jar lids to the underside of your cabinets and filling the jars, then attaching them to their tops will give you another great place to store spices.
#6 Bunk Bed Space Savers
When you think of bunk beds, you probably remember your older sibling always getting the top bunk you wanted. Well, bunk beds can be so much more than a shared sleeping space.
Bed and Desk Combo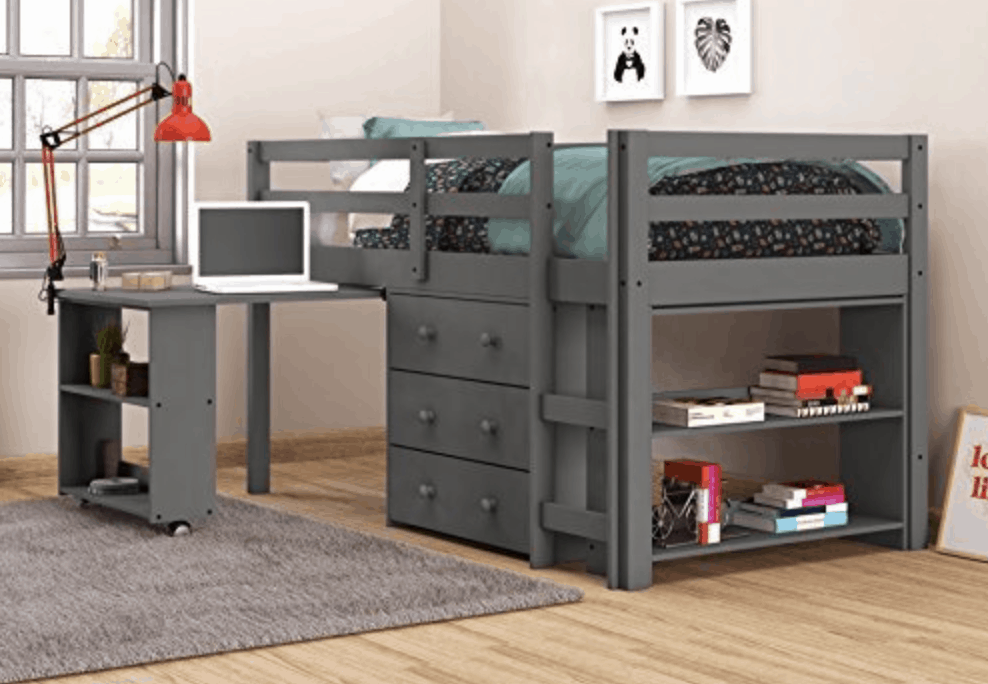 Photo Credit: Amazon (Click to purchase)
Bunk beds are not the expensive luxury they once were. With their popularity waning they have become more affordably attainable. By converting the traditional two-bed bunk beds into an upper bed sleeping space and a lower level desk, you can have space and convenience in one item.
This bed and desk combo is a great idea for dorm rooms or converting a child's small bedroom into a space fit for a teenager. You can customize for bookshelves or whatever features your child needs. Not only making more space but space that is uniquely theirs.
Bed and Play Area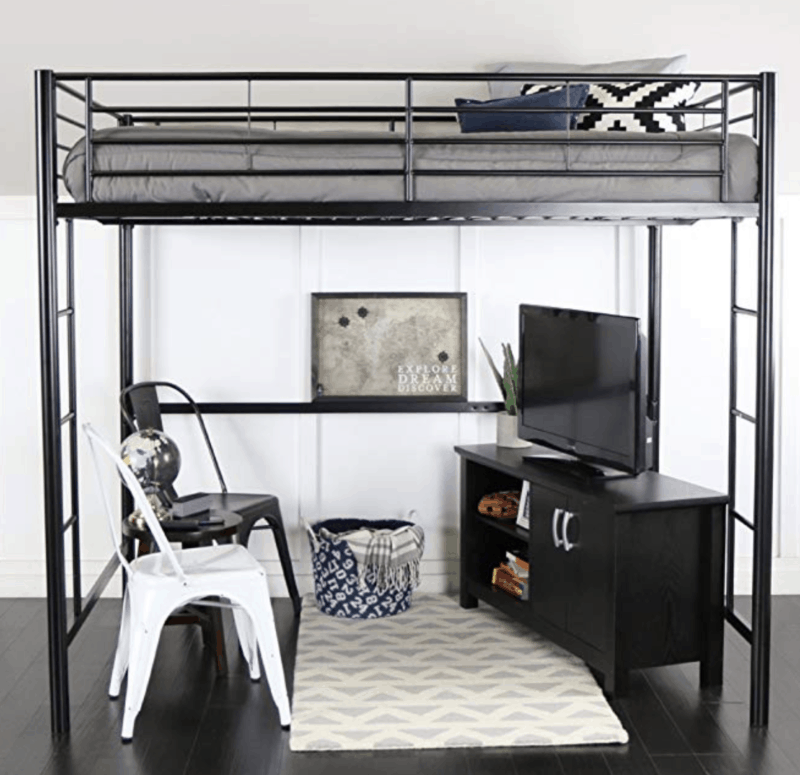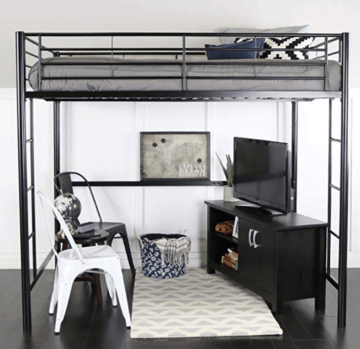 Photo Credit: Amazon (Click to purchase)
If your child does not yet need a desk area, you could also use the lower space of the bunk beds as a play area specially designed for your child's imagination.
For boys, this would be a perfect fit for that fort they are always making out of your sheets and chairs. It would give them their own personal hideaway in the safety of their rooms.
For the little princess in your life, you could turn this space into her own little castle. Whatever your child can imagine can be made in this space, giving you room in the rest of your house for living instead of toys. This is a great storage idea for small spaces on a budget!
#7 From Cardboard Box to Useful Storage
Nothing fills up the recycling bins quicker than cardboard. Many of the products you buy daily are packaged in them. Finding new uses for these discarded boxes is convenient and eco-friendly as well.
Twelve-Pack Upcycling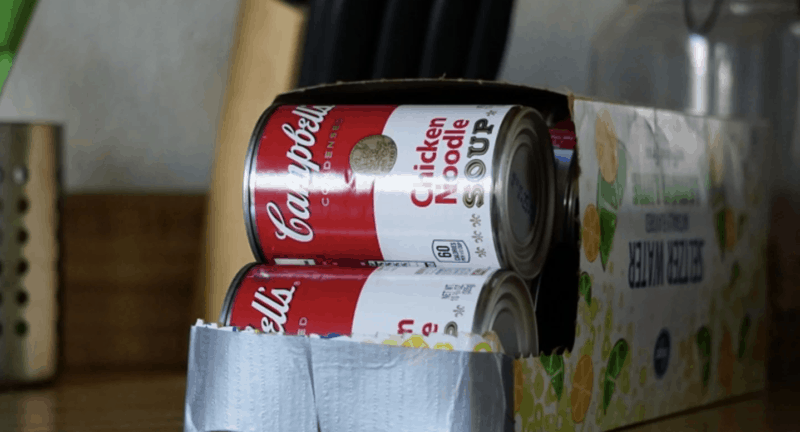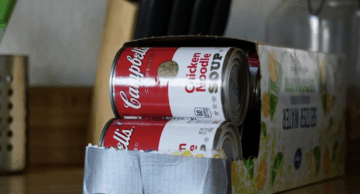 Photo Credit: Life Hacker
Buying soda for your family can be a treat for your family, but if you buy very many, you end up with a recycling bin full of cardboard. So, what do you do with these boxes?
Turn them into storage containers that help organize while giving more room. These soda boxes are the perfect fit for all of the vegetable cans that fill up your pantry.
By filling the boxes with these cans, you can easily organize your pantry and make space for new items. By lining and stacking each neatly, you will have space for more food or other things.
Cereal Box Organization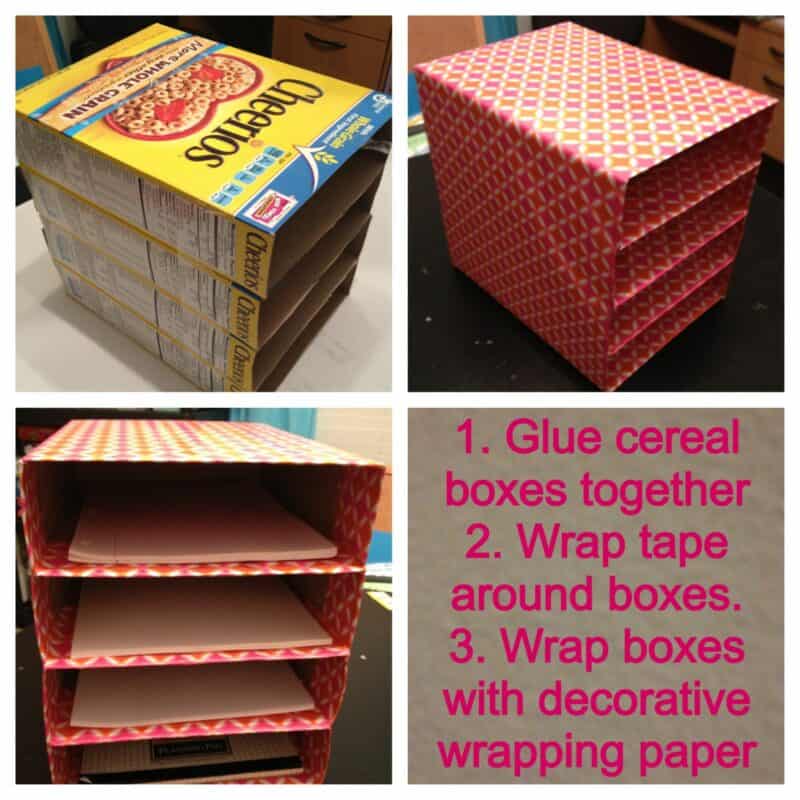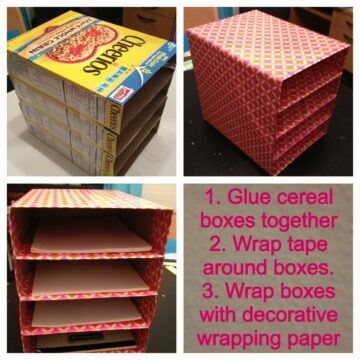 Photo Credit: Pinterest
Cereal boxes can be turned into many different storage containers. One idea is to cut it diagonally and make a paper stray for your desk. You can cut it in various sizes to be used for mail, papers, and many other items.
More Storage Ideas for Small Spaces on a Budget?
No matter the space you have or in many cases don't have, you can find some budget-friendly projects to help make better use of it. These easy do it yourself projects will give you the storage you so desperately need and space to do more in your home. Making life a bit more comfortable and much more livable.
Do you have any more storage ideas for small spaces on a budget? Let us know in the comments!

Related Posts:
Pin to Pinterest:
Please help other moms out too by pinning this to Pinterest!