We all know what it's like to come home to a messy house after a long day at work or at school. Hopefully, with some of these DIY organization ideas in your pocket, you won't have to worry about coming home to messes. Challenge yourself to take charge of some of the disorder by implementing some of these tools and hacks for your home spaces.
#1 Utilize pegboards for organizing small items
Rather than dropping small, hard-to-find items in a large drawer, use a pegboard for organizing crafts supplies and/or home office supplies.
---
Related Posts:
---
This simple tip will prevent you from spending an hour looking for that particular color of thread or that one pair of fabric scissors when you really need them at a moment's notice. It'll be more fun to craft or work from home when you're able to find what you need and everything has a place. And not only is it a practical way to organize your home office, but it also looks really cool when you can see everything side-by-side and color-by-color.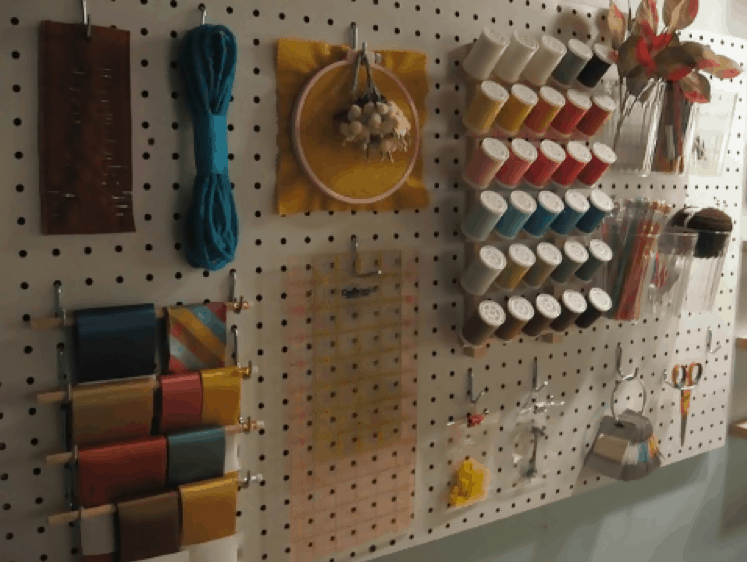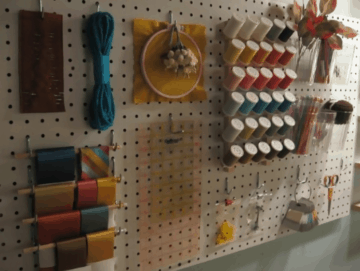 Photo Credit: DIY N Crafts

#2 Creatively use shower hooks in your closet
Shower hooks aren't just for the bathroom! Outfit your closet with shower hooks to organize items that are hard to fold and put away, like handbags, scarves, ties, belts, and wraps.
These items are usually hard to keep tabs on, but with this organization tip, you will be able to find every scarf and belt you need right away. When you can see everything lined up side-by-side, you'll save time getting dressed in the morning.
This is also a great organization hack, because it's affordable! Just find some shower hooks at a local home goods store or at the thrift store. You'll never go back to storing your scarves, belts, and handbags on hangers or in baskets once you try it.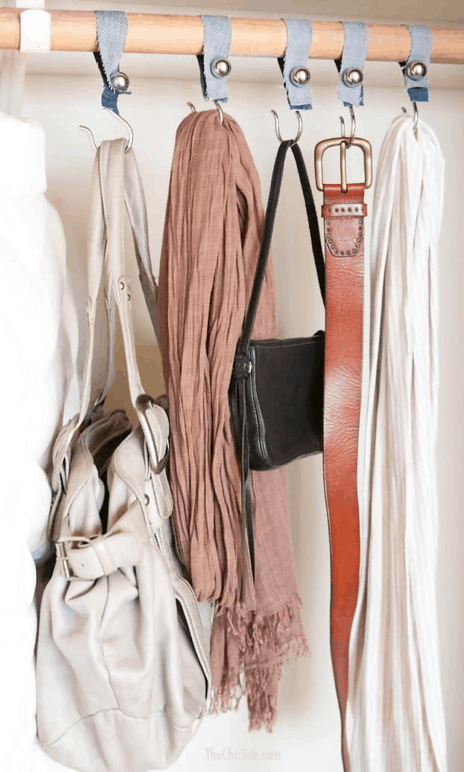 Photo Credit: DIY Projects
#3 Don't leave your wall space unused – DIY Organization Ideas
One organization tip that all organization junkies know is that you don't want to leave any unused space that could be better utilized for home organization. Create storage spaces that utilize wall space. The example below is perfect for illustrating this DIY organization idea.
In the photo below, shoes aren't just kept on the floor, where they can get jumbled and disorganized. They're stored safely and neatly in wooden boxes that are transformed into home shelving units. The additional splash of color in the example below also shows how home organization can fit in nicely with home décor. You don't have to give up your sense of style to have an organized home!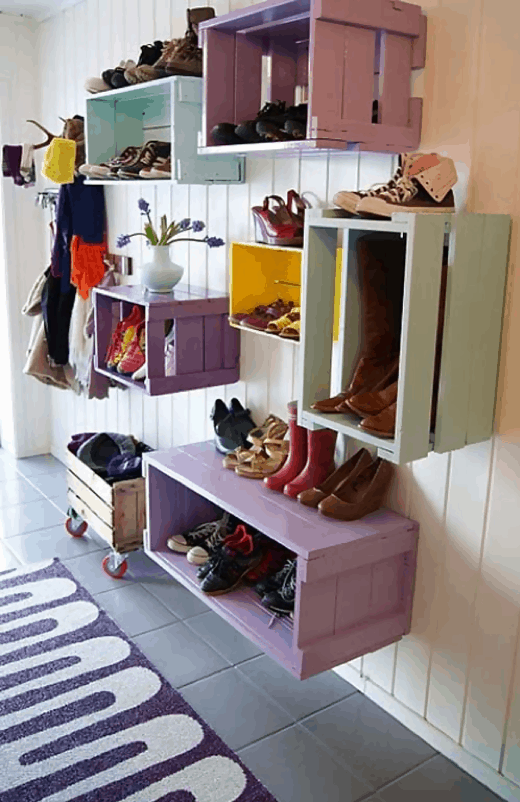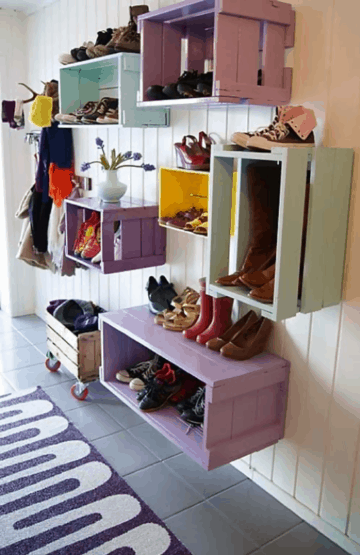 Photo Credit: One Crazy House
#4 Upcycle items into a homemade knife block – DIY Organization Ideas
For those book lovers and/or home cook enthusiasts out there, this DIY organization idea is a gem. Turn books into a homemade knife block by standing them upright and tying them together with string or twine. Then, simply insert your knives into the top of the books.
This is a simple, stylish, and affordable way to store your kitchen knives. You can pick up some books at a thrift store or at a secondhand bookstore in your hometown. Plus, now you can clear out the knives in a kitchen drawer and utilize that drawer for organizing other kitchen items and gadgets.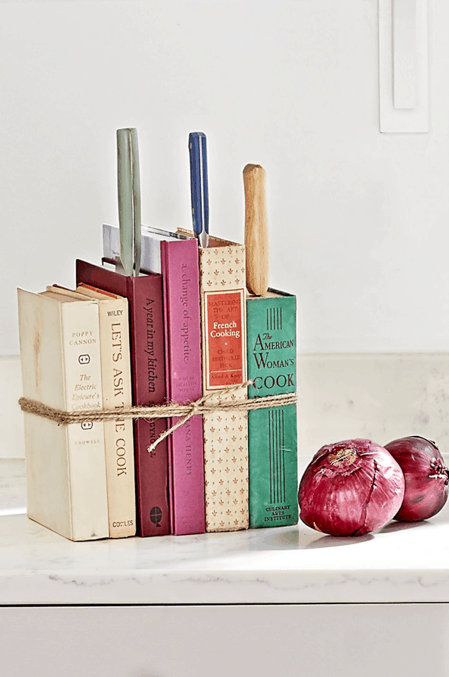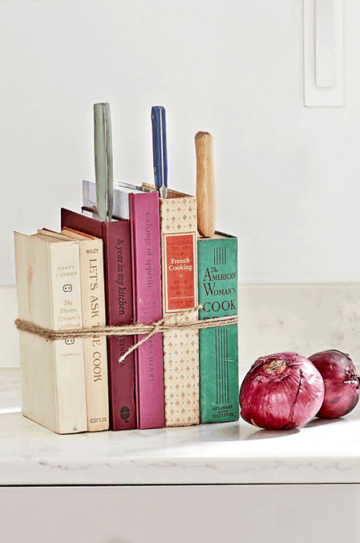 Photo Credit: Country Living
Use affordable over-the-door organizers to make room
Turn the back of a closet door into an organizer for shoes, gloves, hats, etc. by finding an affordable, plastic organizer. These organizers are easy to install and are typically very affordable. All you have to do to install it is hang the plastic sheet with hangers and place those over the top of the door.
Now you have a place to store shoes for every type of occasion and weather. You can take this DIY organization idea further by using these organizers for a multitude of items. They're excellent for storing gloves, headphones, beanies, gardening supplies, bottles of cleaners, etc.
The possibilities are really endless. Whatever you need to get up off the floor, just throw it into an over-the-door organizer!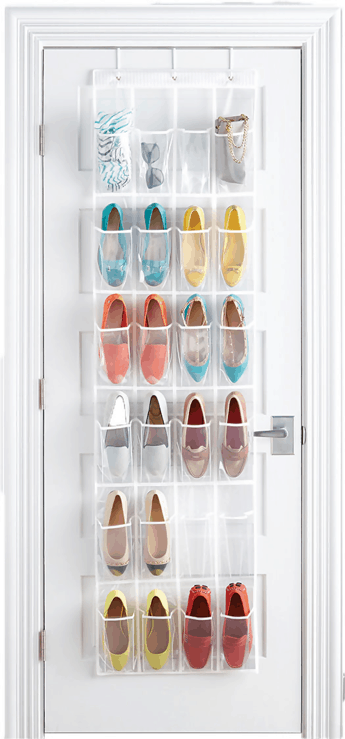 Photo Credit: Real Simple
Store your remote control in a sofa organizer
Tired of looking for the remote? Look no further. With a DIY sofa organizer, you can safely and easily store your remote controls, and anything else you want near you on the couch, in a caddy that sits on the arm of the sofa or couch.
This DIY organization idea is perfect for preventing remote controls from falling in-between sofa cushions, falling underneath the sofa, or getting lost in stuff on the coffee table.
If you create a large pocket in your sofa organizer, you can also store a book for reading on the couch, knitting for crafting during your favorite TV shows, your favorite pair of warm socks for wearing on the couch, etc. This is one DIY organization idea you can customize to your own needs and preferences!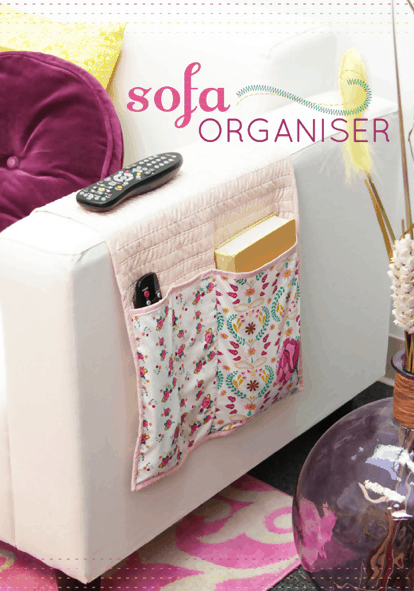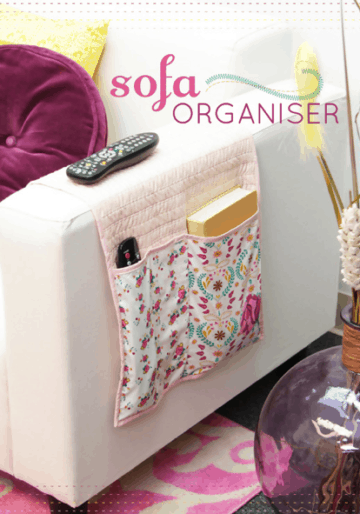 Photo Credit: DIYs
Use your pillow cases to organize your bedding – DIY Organization Ideas
Bed sheets are a pain to organize, whether you store them in a linens closet, tubs, or dresser drawers. They always seem to pile up into disarray no matter how neatly you fold them. Oftentimes, they even look very similar to one another, and it's hard to keep different sets separated.
If this has been an organization problem in your home, then look no further. This is the DIY organization idea for you. Simply fold your bed sheets and insert them into one pillow case. This creates a shape that is easy to store and it is easy to pile these on top of one another.
Now, when you go to find a bed sheet, it will be neatly folded within its respective pillow case. You'll also be able to tell different bed sets apart! This DIY organization idea will have you completely hooked.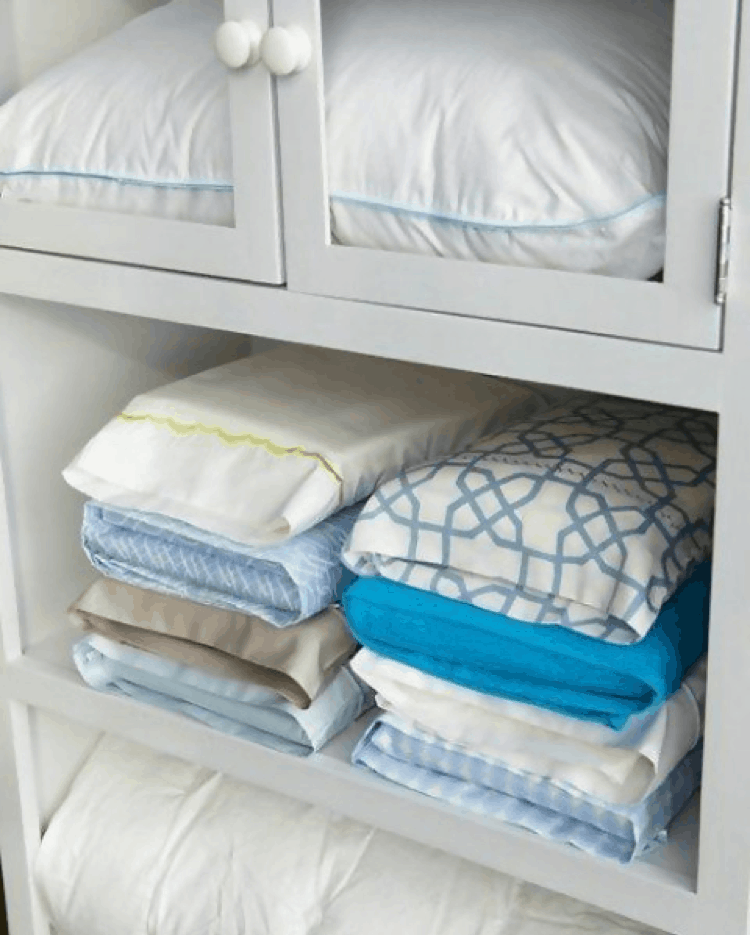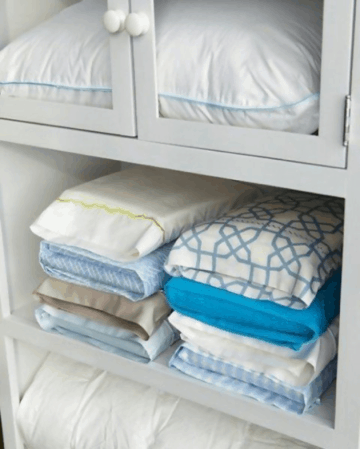 Photo Credit: DIY N Crafts

Home organization can be a daunting task, but it doesn't have to be with some of these simple, DIY organization ideas you can use to transform your home.
We hope that you are able to implement these ideas as you tackle disorganization. Here is a decluttering checklist to further help your endeavors.
Our friend Ali from Cut, Cut, Craft has ideas on organizing your craft room. Check it out here!
Do you have more ideas on how to tackle disorganization? Let us know in the comments!
Related Posts:
Pin to Pinterest:
Help others get inspiration too, Pin to Pinterest. 🙂