The latest way to save money online is through a new app called Ibotta so I will provide you with a thorough Ibotta review today. Is Ibotta legit or a scam?
When I was growing up on a low income, I learned how to save money with coupons that I gathered from the Sunday paper and from home mailers. Later on, I used the internet to locate coupons online through Coupons.com and other sites. It's great we have this cool app, Ibotta nowadays.
Click here to sign up for Ibotta and claim your $20 Ibotta welcome bonus!
Ibotta Review: What is Ibotta and how does it work?
Ibotta is a free coupon and cash-back app for your Android or IOS Smart Phone. You have the opportunity to earn cashback on products by doing easy tasks or purchase the products and providing proof of purchase. I have earned over $50 in gift cards by using it myself when planning out this Ibotta review over the course of 3 months for Mom Beach readers!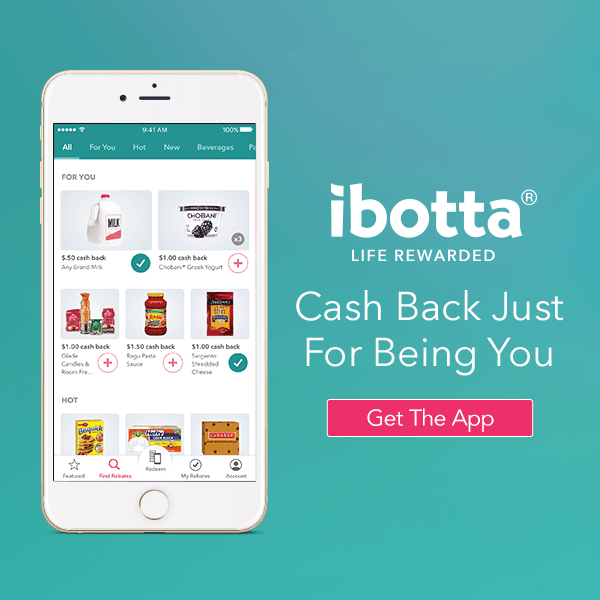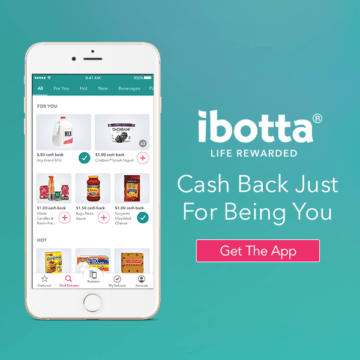 Here are some easy steps to use Ibotta today!
Download the Ibotta app for free on your phone or your computer.
Browse through and unlock rebates once you have opened the app. To unlock the rebate, tap the plus sign.
Go shop at the qualifying store as you would normally.
Scan your receipt once you are finished shopping with the app.
Earn gift cards from popular stores such as Target, Walmart, Sephora, iTunes and more with Ibotta credit that you have earned.
It is so easy to use and you can start earning credit to use towards gift cards today. Now, you may be asking if it is a scam so I will answer that one next.
Ibotta Review: Is Ibotta a scam?
No, Ibotta is not a scam. I have personally earned $50 in gift cards from the app myself and several friends of mine have also earned gift cards. I have also gotten no spam from Ibotta after signing up with my email so I can vouch for Mom Beach readers that this is a legit company.
Now you know that it isn't a scam and you can actually earn gift cards through the app, then let's tackle its ease of use.
Ibotta Review: Is Ibotta hard to use?
No, it is very user-friendly and easy to use. I didn't have any trouble figuring out what to do. The steps and instructions are clear upon using the app for most everyone.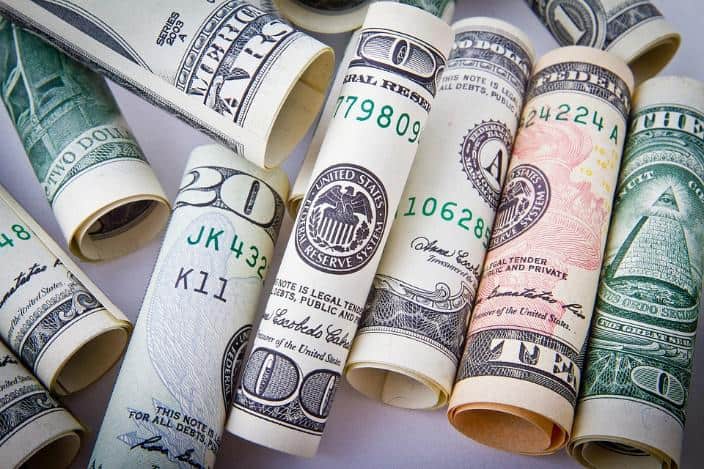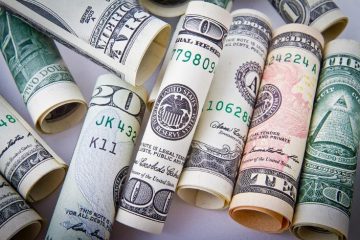 Ibotta Review: How do you get money from Ibotta?
Here are the 3 easy steps you can take to start earning money with Ibotta!
Open the app and select the "Withdraw Cash" option from the Account section of Ibotta.
You can then select available gift card options from stores such as Sephora, Target, Walmart, iTunes and more.
Select the gift card that you want, verify your ID and then confirm your payment. You will get your digital gift card within 24 hours.
That's all there is to it to be able to get your gift card from Ibotta. If you rather have money, then you could sell the gift card on Ebay or through the Facebook marketplace.
Ibotta Review: How do you get the $20 BONUS on Ibotta?
Once you download the Ibotta app through my special link here, on your mobile phone you will receive your $20 bonus within 7 days of signing up. You can use this money towards redeeming gift cards at popular stores like Target, Sephora, Walmart, iTunes, etc.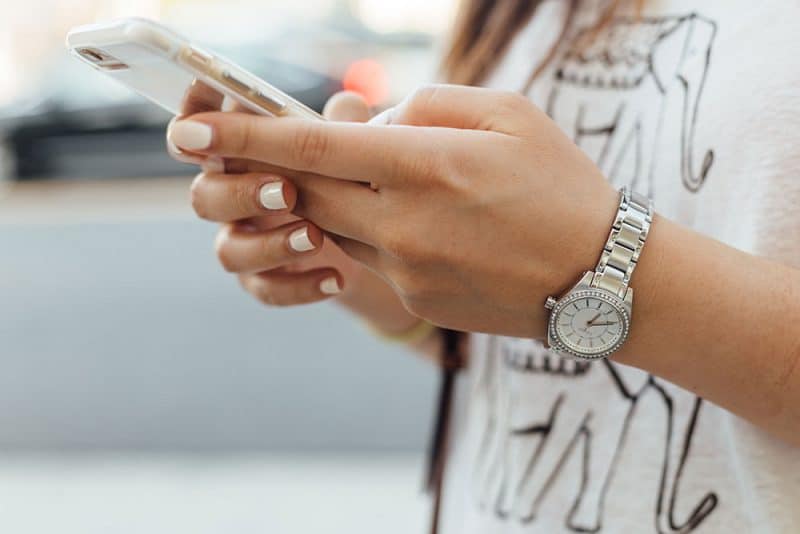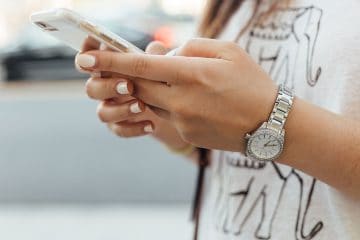 That's all and good, but where can Ibotta be used?
Click here to sign up for Ibotta and claim your $20 Ibotta welcome bonus!
Ibotta Review: Where can I use Ibotta?
Ibotta can be used at several different stores such as grocery stores, clothing stores, restaurants, home improvement stores, pharmacies and online stores. It is surprising that Ibotta has so many different store options to choose from.
Every time I go grocery shopping, I find myself saving $5 on average per week that I use the app. I have used it at non-grocery items at stores too with no problem.
I went to Target two weeks ago and used a rebate where you save $5 for spending $30 and purchased a new computer chair since my cat scratched mine up!
So far, I have gotten $50 in credit from Ibotta after using it the last three months. The app is so easy to use and works for what I was already going to purchase.
When you check the app, you will see there are bonus rebates available each and every month. Always keep current with the app and check to see what new rebates are coming out each day.
Next, we will go over a detailed tutorial with screen shots on how to use Ibotta.
Ibotta Review: Ibotta Detailed Tutorial
If you want more details on how Ibotta works, I have provided a more in-depth guide for you. You should click here to get Ibotta and claim your $20 reward as you follow along with this tutorial.
#1 Browse the app for available offers
Select the maginifying glass icon and browse the offers by category or search for categories in the search bar at the top.
These categories in Ibotta include:
Grocery
Online Shopping
Beer, Wine & Spirits
Pharmacy
Beauty & Wellness
Specialty
Restaurants & Bars
Convenience
Crafts & Gifts
Travel
Home & Electronics
#2 Select offers from the categories
After selecting a category from the list or using the search bar, it gives you a list of nearby stores in your area or you can choose a list of all stores. For this tutorial, I am selecting Grocery and then Walmart as my store for viewing offers.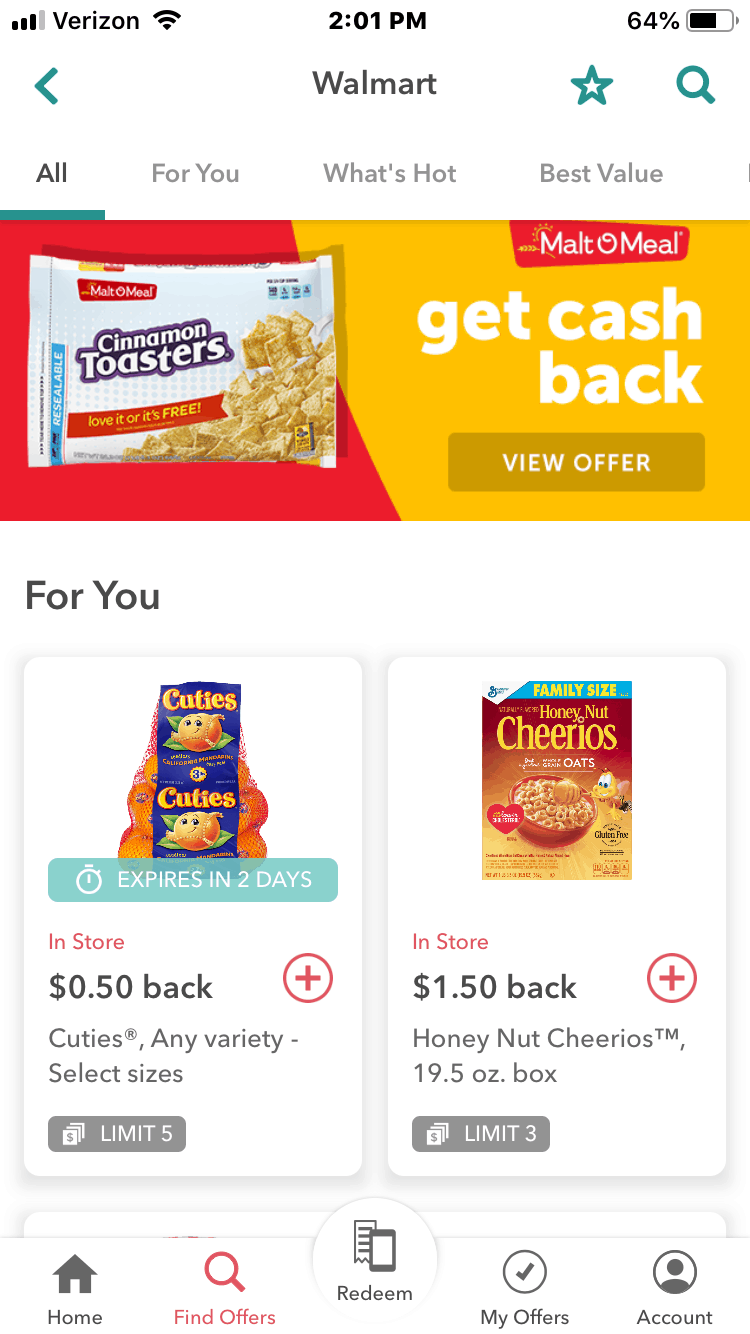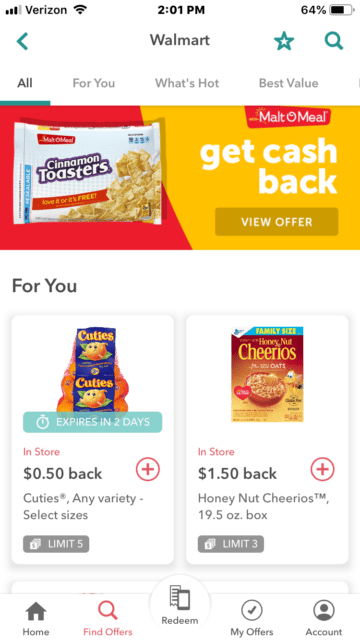 I see there is a deal on Cuties mandarin oranges, which my 3 year old toddler absolutely loves! I can get $.50 cash back on this popular grocery item. I usually purchase this item every time I go shopping so it makes sense to add it to my list. I tap the red plus sign on the offer to add it.
Once I have added the item, the red plus sign becomes a green checkmark on the offer so I know it has been selected!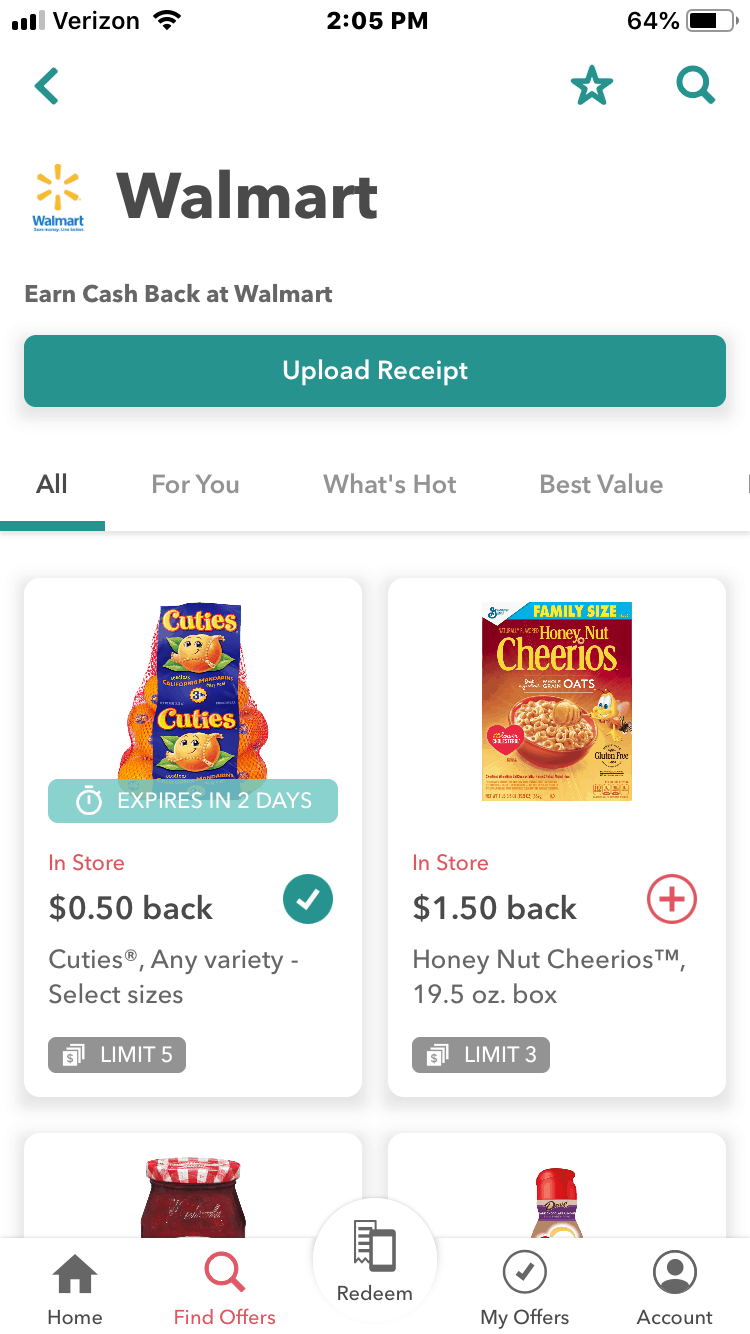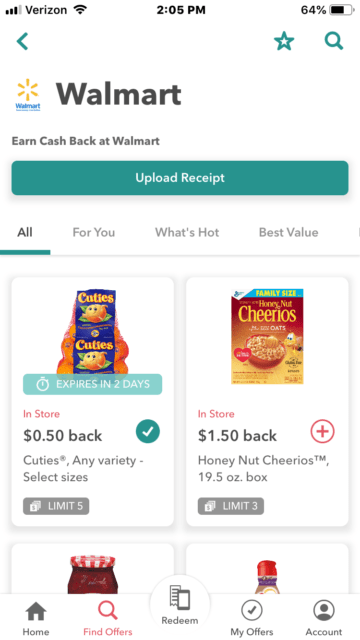 I am also going to select Smuckers Strawberry Jam, because my toddler loves that too in his peanut butter and jelly sandwiches. I'll add some more items too!
Pay attention to the green time alert because some items say they will expire and gift you a time allowance. If you don't buy that item within the time frame, then you will lose out on the rebate.
#3 Go Shopping with Ibotta!
To see the offers you have selected, tap the "My Offers" icon. It will give you a list of stores and then select the store you are at to view the offers you have selected.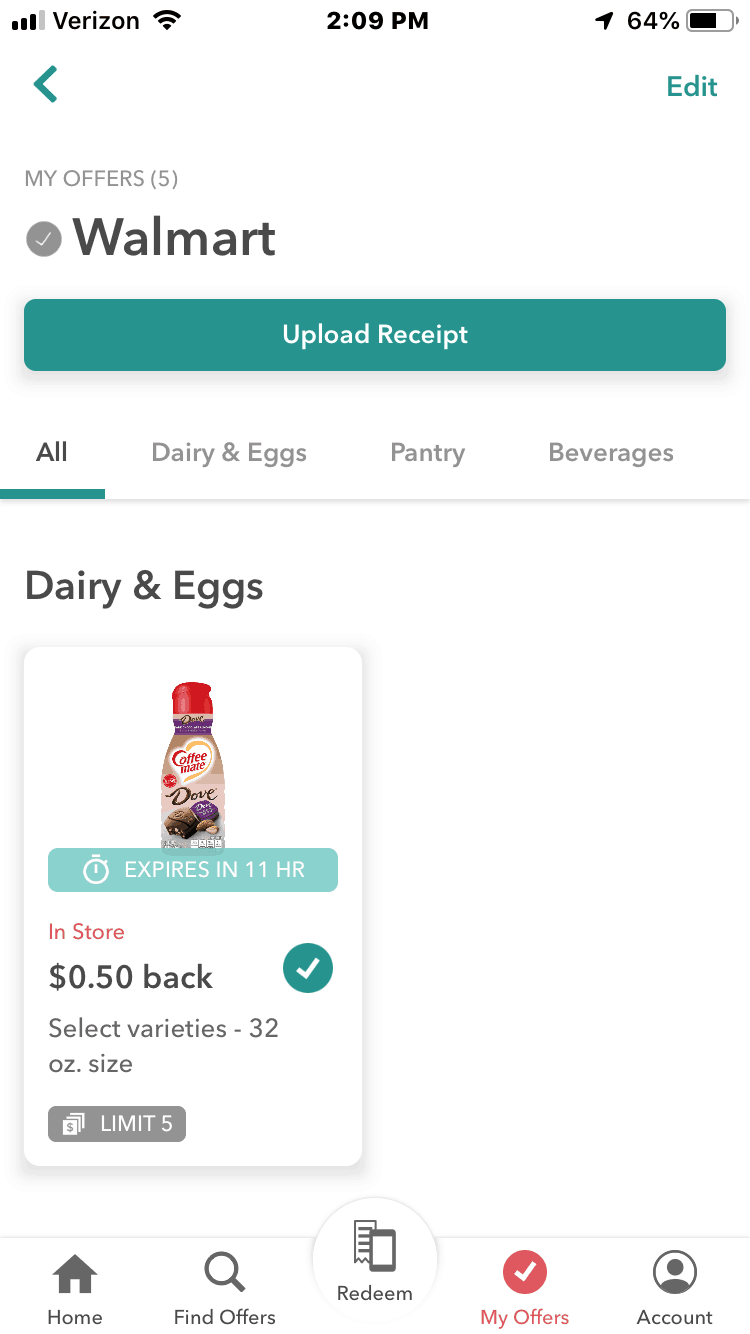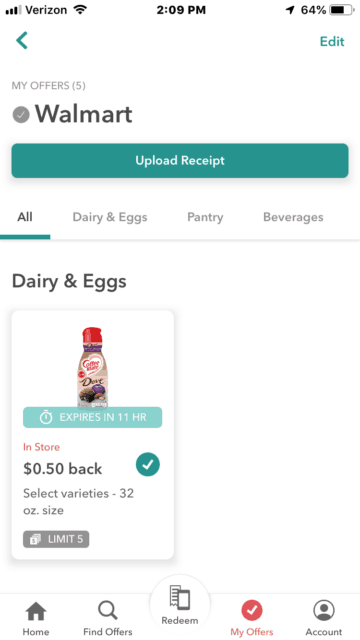 In the "My Offers" it will list the food into 4 categories:
All
Dairy & Eggs
Pantry
Beverages
This makes it super easy when you are going through the store into each aisle so you can keep track of your offers. Make sure to purchase as many as you'd like and pay attention the brand names.
#4 Upload your receipt
If your receipt as a QR code at the bottom, then you can scan that easily. However, some receipts won't have the QR code so you will need to scan the whole receipt item list.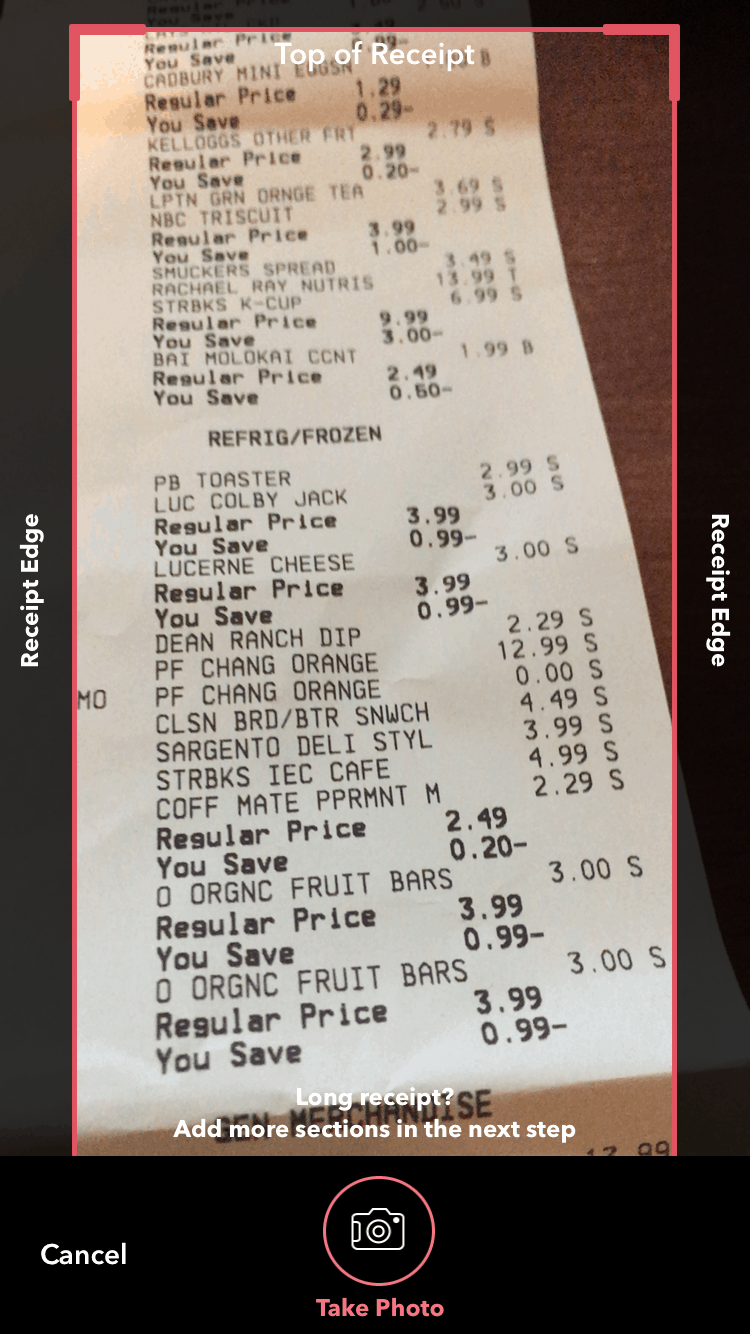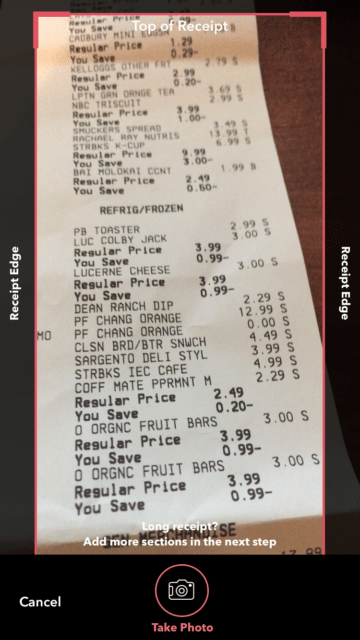 You will get a list of items from your offer list.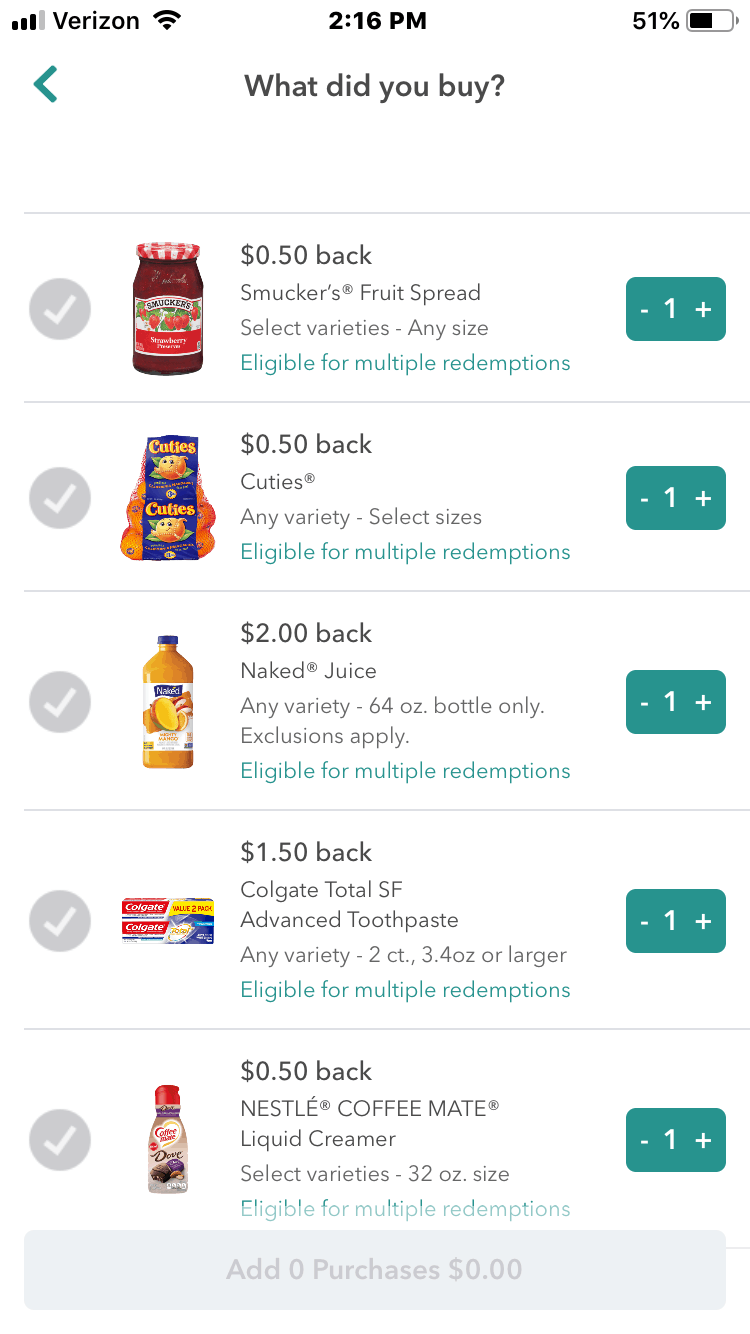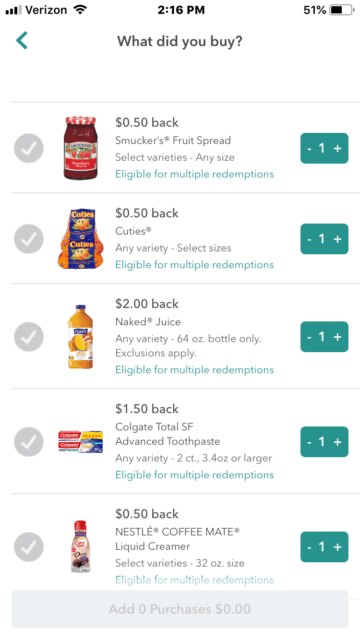 Select each item and scan the barcode to verify proof of purchase.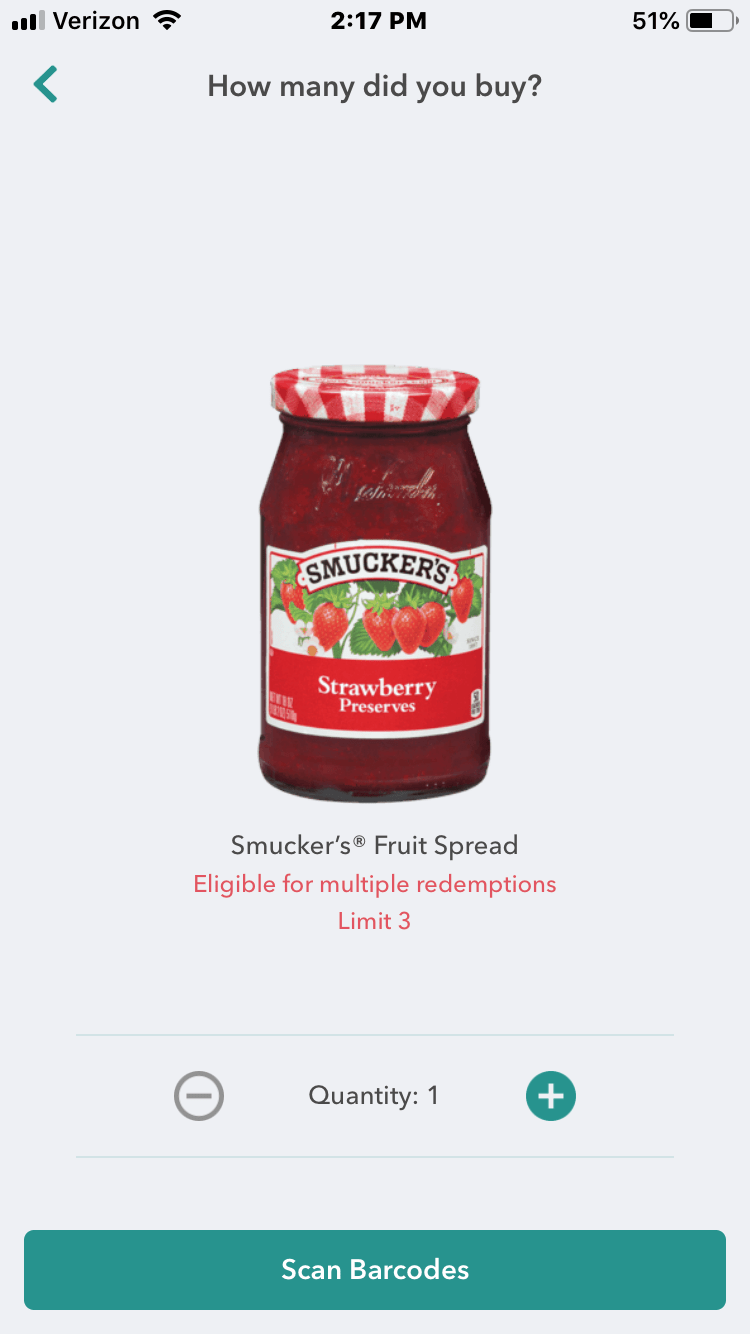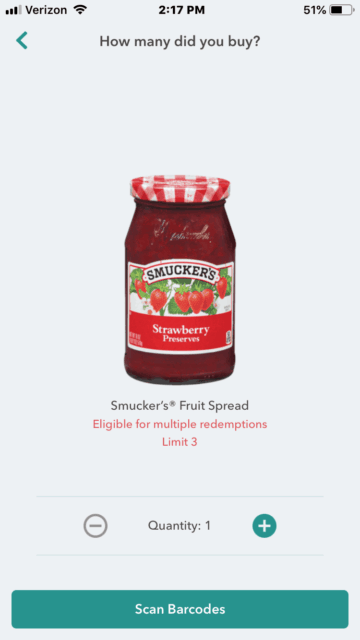 Sometimes, the scanner won't scan so you have to manually enter the barcode in.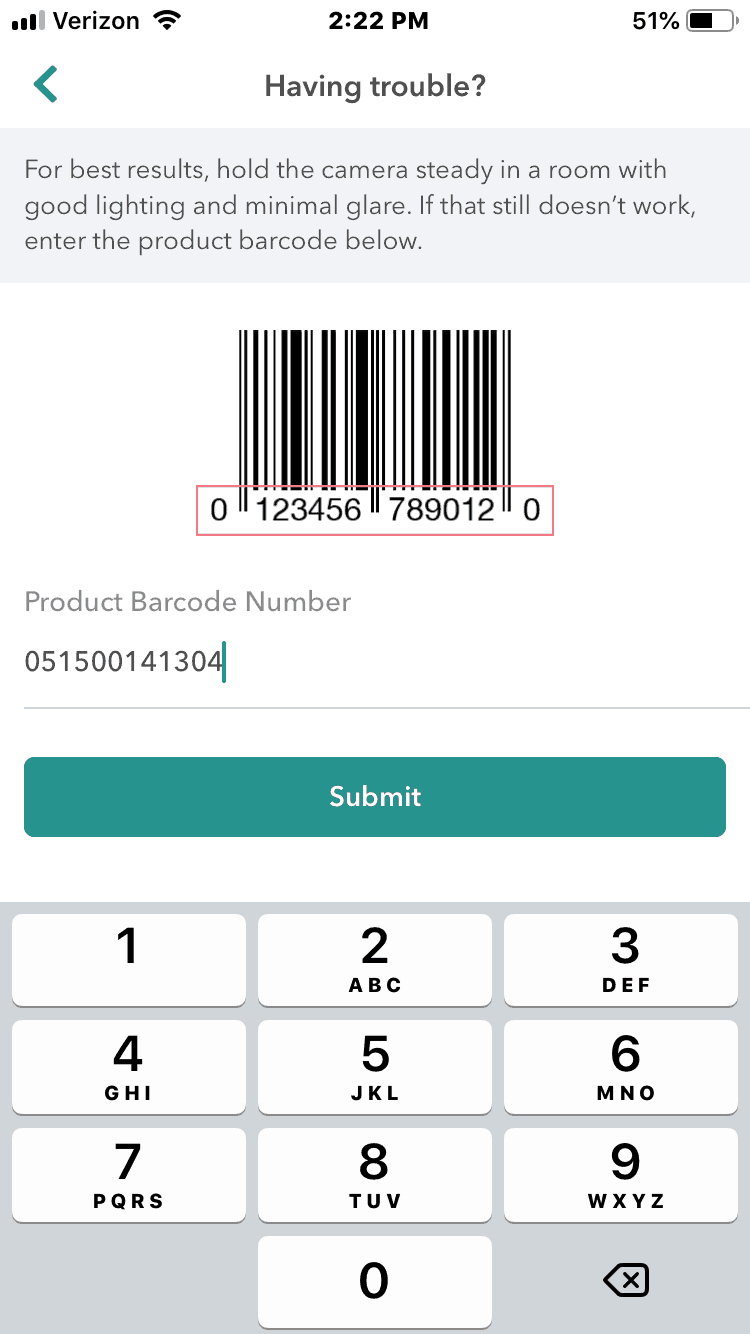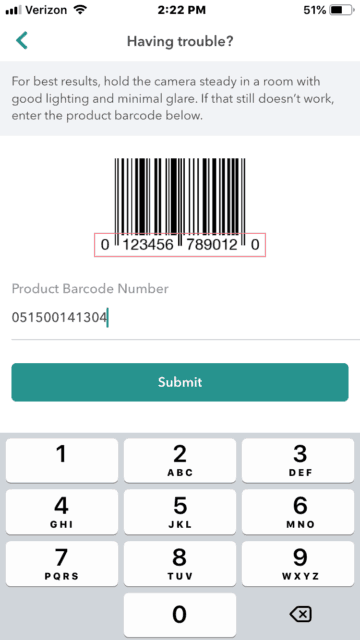 #5 Get Paid
Add up the purchases and then redeem for gift cards at Target, Walmart, Sephora, iTunes, etc once you have earned enough points!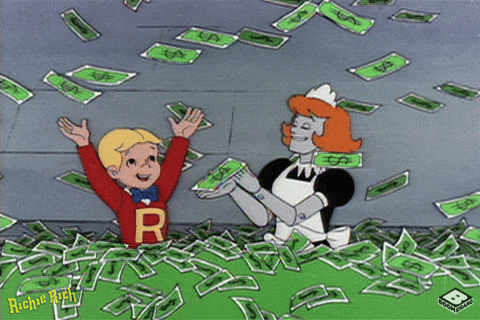 The Ibotta app is so awesome as you can see. Let's go over some pros and cons to using this service.
Ibotta Review: Pros and Cons to Using Ibotta
Pros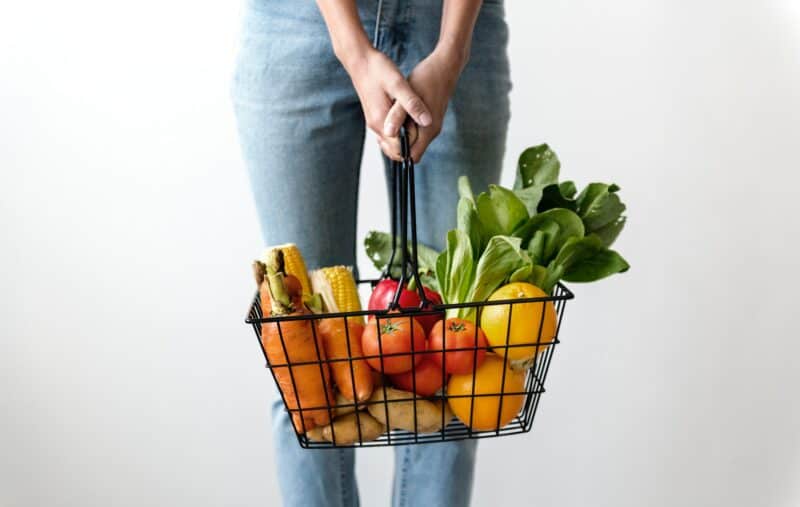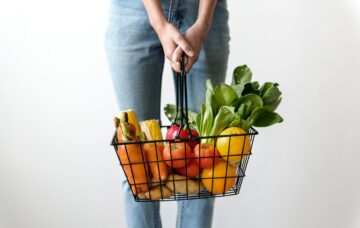 Rebates for healthy food
It is always tough to afford perishable food on a small budget. You have to buy these weekly or they will go bad fast. With Ibotta, you can save on perishable healthy food.
Rebates for store brand and generic items
This enables you to save even more money. These items usually lower than name brands by a lot so a discount on those is quite helpful for a budgeting family.
Rebates for household items
Items that you need like toilet paper, paper towels, tissues, etc can be easily rebated with Ibotta.
Rebates for hard to save items
I always found it hard to save money on diapers and alcoholic beverages. With Ibotta's help, you can save on these items too!
Cons
You may spend more money on things you might not have bought
There is a temptation to try new things with Ibotta that you might not have bought or even heard about. If you are staying to a strict budget, I recommend making a list of items you want before turning over to Ibotta to check for offers on those items. Fight the temptation to add an offer on something that you don't need at all.
Click here to sign up for Ibotta and claim your $20 Ibotta welcome bonus!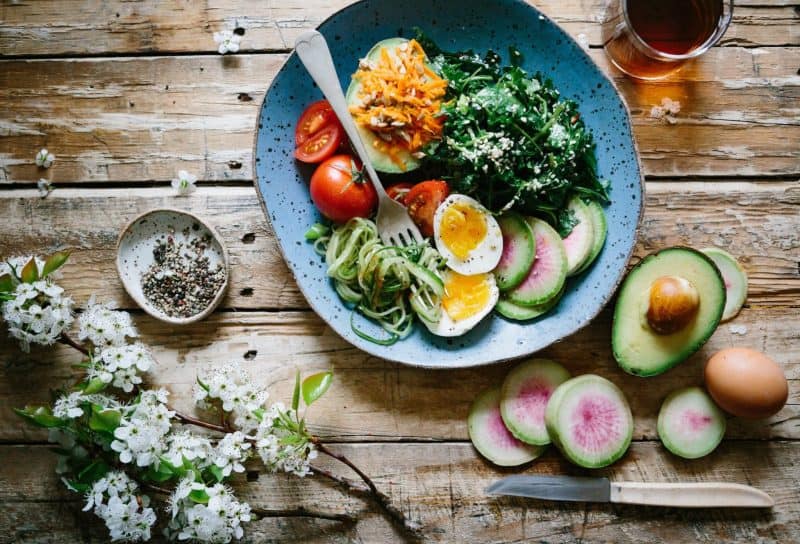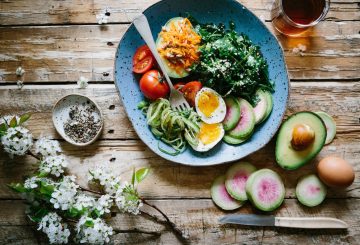 Is Ibotta worth it?
It may take time to scan your receipt and then your items individually, but I believe that Ibotta is worth the effort. All the scanning would take under 15 minutes, depending on what you have purchased that day. If you earned $5, then you certainly would be paid fairly for your time. This amount of money would rack up depending on how much you went shopping and used the app. Think of all the great gift cards you could earn from stores like Target, iTunes, Sephora, Walmart and more. In conclusion, I believe Ibotta is a great app to download and use.
Check out this helpful video to learn more about Ibotta!

If you have used Ibotta, then shout out below. How much have you earned from it? Can I answer any more questions for you about the app?
Related:
Check out my other article more ways to save money on groceries through budgeting!
Pin to Pinterest: