If you're trying to save money, your grocery bills can be a great place to begin. Perhaps you've already set up a grocery budget, tried meal planning, but yet you still aren't saving as much as you'd like. The secret might be in your plan! Following these frugal meal planning tips can help you really cut back on your budget.
The average cost of groceries for a family of two is between $400-800 per month. Of course, it's more if you have kiddos. If you're hoping to save a lot of money, you may need to adjust your thinking. There's a mindset that goes along with frugal meal planning that really helps you find new ways to save money.
So if you're trying to come up with a monthly meal plan on a budget, here's how to start saving even more on your grocery bill.
How Frugal Meal Planning Can Help You Save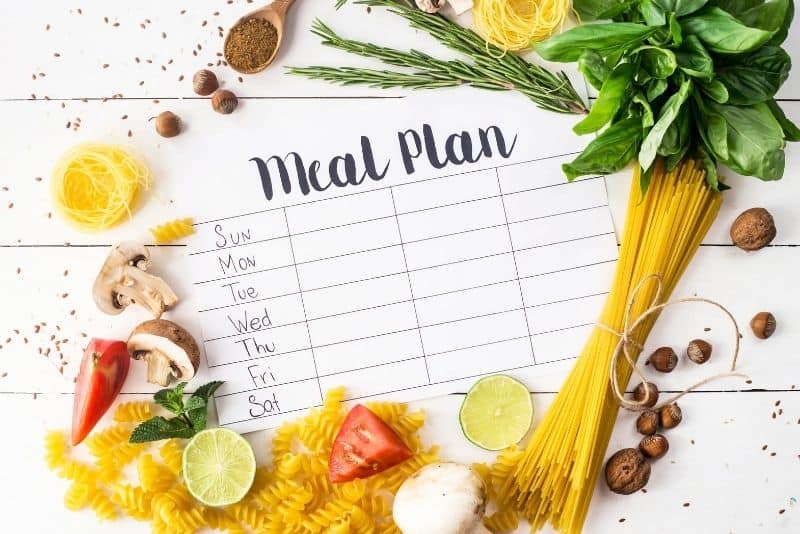 Is all this planning and prepping really worth it? Will you actually save money on groceries if you plan?
Yes, but you need to be disciplined about your approach. I'll be honest, doing meal prep and following a budget meal plan isn't exactly a pleasure cruise. There are times when you might find yourself craving something that's not on your plan. If you're on a tight budget, there will be less variety—no spontaneous "treats" at the grocery store for a while.
But if you really look at your last several grocery bills, you can likely identify areas where you may have splurged a little too much. There might be extras that took you off-budget or fancy specialty ingredients you bought for just one recipe. Maybe there are new items that you tried that didn't "wow" your family. These are all excellent places to start working on your frugal meal prep plan.
The other way that meal planning and prep helps you save is by making it easy to follow a monthly menu. So many of us are used to eating whatever we're craving that day. Usually, this is a great approach that keeps us happy and satisfied, BUT it comes at a cost. How many times have you bought ingredients for a particular recipe only to put off making the meal and having the ingredients spoil? It's happened to all of us, and when it does, we probably beat ourselves up and feel wasteful.
Food waste is a big concern. Americans waste around 80 billion pounds of food per year! It's astounding when you think about it. That's so much money thrown in the trash because people didn't eat it in time.
When you do frugal meal prep ahead, everything will be planned and prepared. You're setting yourself up for mealtime success. You don't have to think about what to make for dinner or what you're craving for lunch because it's already ready to go. It's a tough mentality shift, but at least you won't feel guilty about items going to waste. You'll be using what you bought and sticking to your budget.
Frugal meal planning and prep isn't for everyone. Not everybody loves following a monthly meal plan on a budget. Your spouse and kids might not be on board at first. I will tell you that kids seem to come around faster than adults. Kids often have favorite foods, so if you can include those in your monthly meal plan, they'll likely be happy to go along with the plan.
---
Related Posts:
---
If you're ready to start saving, here are 9 tips for following a monthly meal plan on a budget.
9 Tips for the Ultimate Monthly Meal Plan on a Budget
If you're looking for frugal meal planning tips and ideas, here are 9 essential secrets for meal planning success.
1. Start with a Plan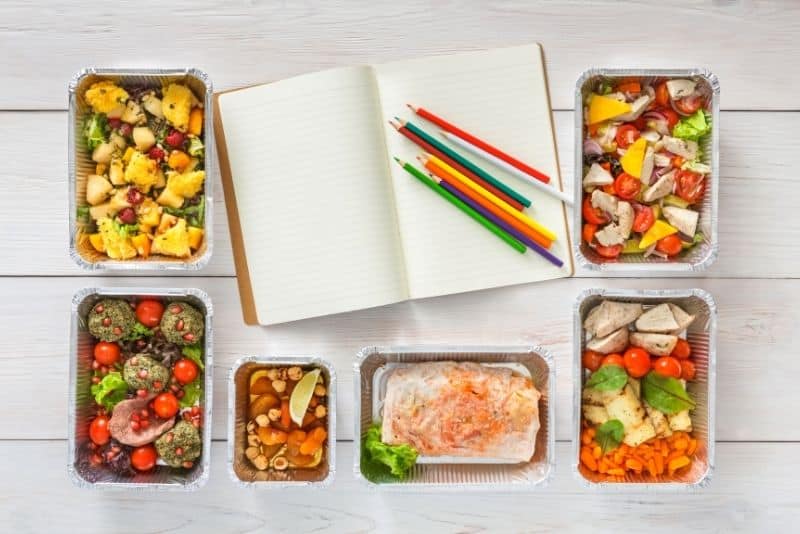 It may sound obvious, but one of the biggest parts of meal planning and prep is simply coming up with a plan. There are many pay-for plans online, but I suggest saving your money and just looking at the foods your family already likes to eat. Many of us have become enamored with the idea of endless variety in our diets, but trying new and different recipes all the time can get expensive.
If you know your kids love macaroni and cheese, chicken nuggets, and green beans, then keep that on the menu regularly. If your family loves to go out to eat, then add in one meal at an inexpensive spot each week (provided it fits in your budget). Alternatively, look for a recipe for similar foods that you can make at home on the cheap as part of your frugal meal planning.
2. Shop Sales & Stick to Your List
Once you have a plan, visit the websites of the stores your regularly frequent. Look at their sales flyers for the week and start to get a feel for when they run certain specials. These items will go on your grocery list and become part of your frugal meal plan for the month. For example, if there's a special on ground beef, see if you can work it into several dishes for the month.
The free app, Ibotta, is great for saving you money fast and easy. Check out Ibotta here to get a $20 welcome bonus!
When you go to the store, stick to the list you created precisely. I find it's easier to shop by myself sometimes because then I can move fast and resist temptation. You may also want to have a snack before you shop. It's true what they say about never shopping on an empty stomach (some studies show shoppers spending as much as 64% more when hungry). You will almost always be drawn into delicious-looking sales.
3. Don't Dismiss the Dollar Store and Aldi
Now, many people struggle with the idea of grocery shopping at Dollar Tree, Aldi, or even Walmart. But the truth is that you can find a decent variety of reasonably healthy staple foods at these stores (especially Aldi and Walmart).
If you're grocery shopping at discount stores, look for deals on canned vegetables, condiments, frozen fruits and veggies, and starches like rice, pasta, and grains. You can often find salt, pepper, flour, and essential baking ingredients there too. You may not get the variety of brands and choices at Aldi or the dollar store you would at a super grocery chain, but the savings can be worth the tradeoff.
4. Commit to Following the Plan for at Least a Month
It takes a while to see if your frugal meal planning is paying off. Try not to give up on the plan too quickly (or dismiss it after one trip through the drive-through). We all go off track sometimes, but if you really want to save money on meals for the long haul, meal planning will help.
Frugal meal prep works best if you can cook in batches for a couple of weeks. You can make casseroles, soups, and other freezer-friendly items using sale ingredients and then put them away to enjoy over the next month. There are a lot of pre-made meal plans, but you'll be most successful when you pick dishes that your family will enjoy eating for a month.
5. Let Go of Spontaneity (for a While)
On a similar note, if you want to save money on your food budget, you might have to let go of the idea of being spontaneous (for a while). Breakfasts are an especially easy meal to make "routine." Many of us are in a hurry in the mornings, and it doesn't feel like a chore to eat the same bowl of cereal, hardboiled egg, or banana.
Leftovers will also help you stay successful at frugal meal planning and prep. Many casseroles and soups are large enough to feed a family of four at least twice, plus they reheat very well and require almost no effort on weeknights. Stick to the regular items—spaghetti, tacos, ramen, and simple soups.
6. Keep it Simple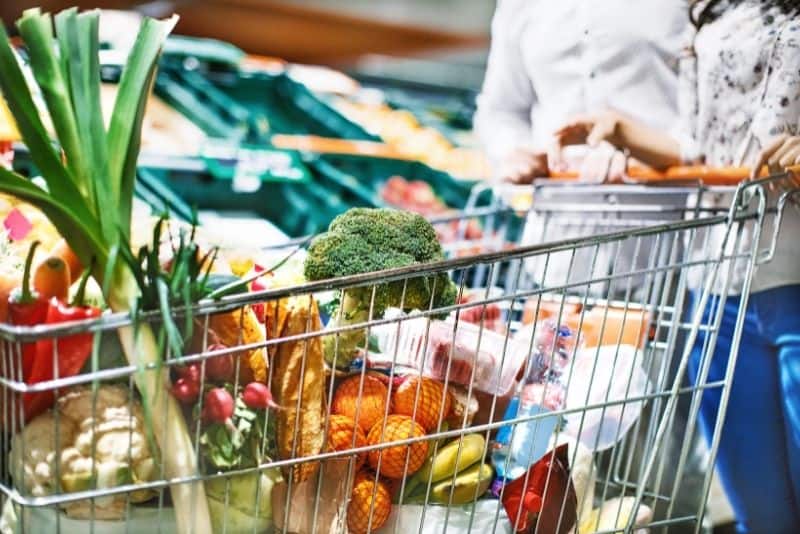 When you're looking for frugal meal prep ideas, keep it simple. If you know your kids aren't fans of fish, then making a baked salmon dish is probably going to be a waste. Choose meals that your family is comfortable with and find creative ways to stretch them—for example, adding rice or lentils to ground beef for sloppy joes or adding in veggies to macaroni and cheese.
Spicy foods like curries and stir-fries can be inexpensive, but they may also be hit and miss for some family members. Either make dishes mild (and let each person season to their level) or hold off on the new dishes for a while. Sandwiches or crackers and soup are a perfectly fine dinner.
7. Cut Back on Meat
If you're wondering how to save money on your meals, cut back on meat! Shoppers saved on average $23 when they didn't buy meat. Dried beans are often extremely inexpensive (and you can even find them at the dollar store). Lentils, chickpeas, and even tofu offer easy, savory swaps for regular meat meals at a fraction of the cost. Eggplant, zucchini, mushrooms, and squash can also be great options for a hearty main dish.
Now, buying prepackaged meat substitutes can also be a little less expensive than ground beef or chicken (in some cases) but price it out. Often the savings are nominal. Instead, look for "naturally vegetarian" soups and dishes that use alternative proteins like eggs, cheese, and beans.
8. Plan with Double Duty Ingredients
As you do your frugal meal plan for the month, be sure to consider areas where you can use a sale ingredient multiple times. For example, if you find a great deal on chicken thighs, you may want to swap them for chicken breasts in several recipes or use them in a soup as well as a baked recipe.
Ground beef, beans, chicken, and in-season produce are often items that go on deep discount. Stock up on these, and don't be afraid to mix them into your recipe plan. Remember that adding some vegetables to pasta or including beans in your taco recipe can take one meal into two or three.
9. Add Something Special
Finally, if you're sticking to a monthly meal plan on a budget, then don't give up on every treat. Include something special in your meal planning to give you a little boost (and help keep you motivated to stick with it). You may want to make cookies include an inexpensive cake mix or plan in a fast-food meal (sticking to the dollar menu).
Drink and pudding mixes are inexpensive treats. Popcorn is another item that you can make savory or sweet for just pennies (and it's healthy). Watch for prepackaged and pre-made items like individual pudding cups, single-serving chips, and fruit snacks. Any time you can buy items in bulk and then repackage them yourself, you're likely to save.
Frugal Meal Prep: Breakfast Ideas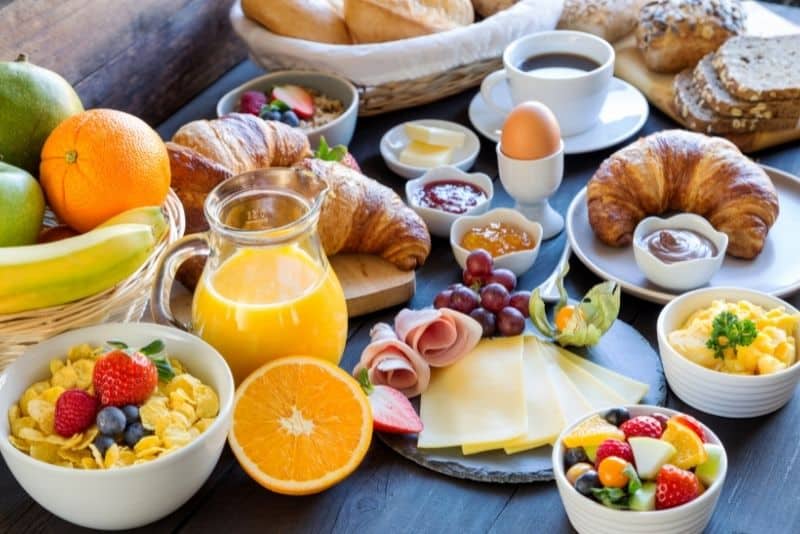 I've included quite a few breakfasts, lunch, and dinner ideas in my guide to beginning meal prepping. If you're trying to do a monthly meal plan on a budget, you may want to stick with one or two meal ideas for at least a week (and possibly even the month).
Easy budget breakfasts include:
Homemade "egg bites."
Hardboiled eggs.
Oatmeal (make-ahead overnight oats, or even baked oats).
Cream of wheat.
Homemade bran muffins.
Frugal Meal Prep: Lunch Ideas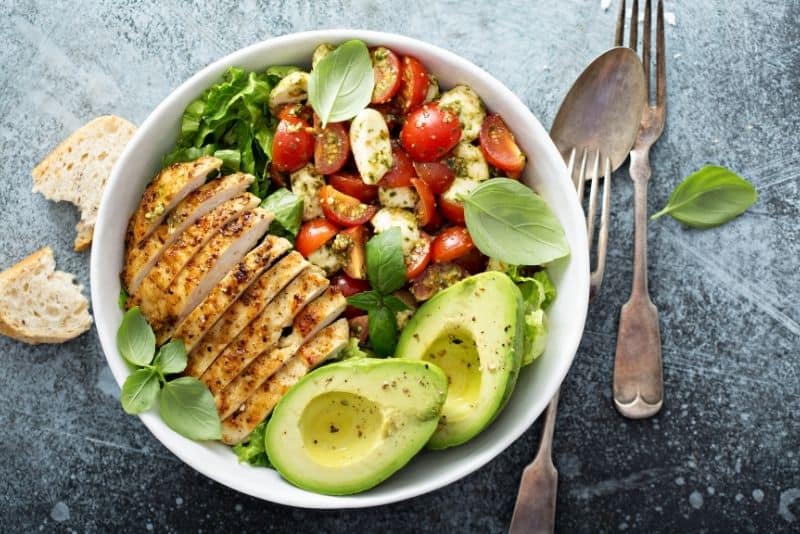 For lunches, again, it's easiest to stick with a regular menu. While it might not be the most exciting plan, it will help you save a lot of money. Buy your sides (chips, crackers, popcorn, whole vegetables) in bulk and then prepare by bagging or cutting them up.
Simple lunches include:
Peanut butter and jelly sandwiches.
Egg salad sandwiches.
Hummus and crackers.
Cold cut sandwiches.
Seasoned beans and rice.
Noodle salad.
Bean burritos, or quesadillas.
Soup and crackers.
Hot dogs on bread.
Macaroni and cheese.
Salad topped with tuna or chickpeas.
Prepare the lunches for the week when you can. Most items will stay fresh when they're stored in the fridge for a few days. Include a variety of side options like apples, oranges, carrots (chop your own carrot sticks), dried fruit, string cheese, hardboiled eggs, nuts, or applesauce.
Frugal Meal Prep: Dinner Ideas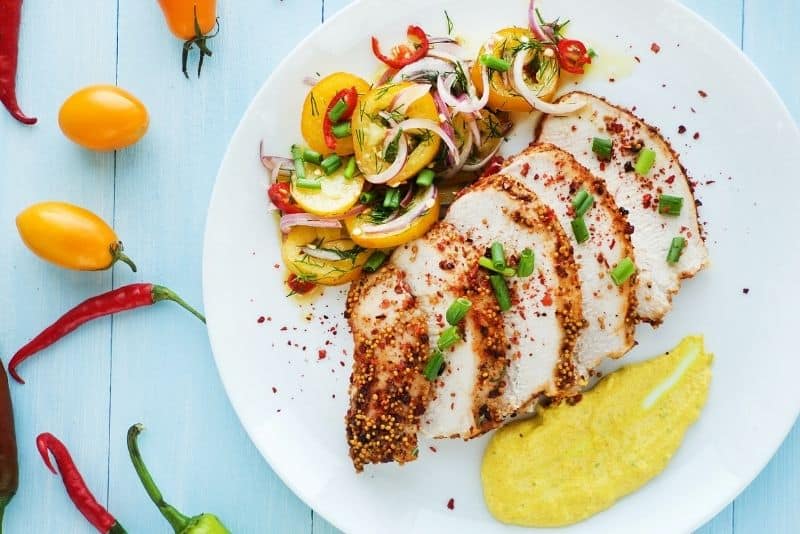 Dinner is often the biggest meal of the day, and it can be the most expensive. When you're a busy mom, you probably don't have much time to cook elaborate weeknight meals. That's why preparing meals ahead with a monthly meal plan will help set you up for success.
I have an archive of great Instant Pot recipes. Check out my chicken crockpot recipes and my healthy, cheap dinners too. Many of them can be made or prepared ahead and then frozen for use over the next month.
For some more basic, make-ahead budget dinner ideas, consider:
Simple casseroles made with rice, protein, creamed soups, and vegetables.
Baked pasta (ziti, lasagna, or even a spaghetti bake).
Pot "pies" using soup, vegetables, and topped with instant rolls.
Soups like chicken noodle, minestrone, tortilla, lentil, and chili.
Beans and rice.
Sloppy joes.
Frozen burritos, or enchilada bakes.
Stir-fries and "fake out" takeout (prepare ahead and freeze, serving with instant rice or ramen noodles).
Choose about eight make-ahead options and prepare enough for at least two servings. Look at meals that call for repeat ingredients (like ground beef, chicken, or beans), so you can buy on sale and prepare multiple dishes with the same basics.
As you prepare the dinners, don't hesitate to swap or substitute. For example, if you make sloppy joes, enjoy them on regular sandwich bread rather than buying buns. Tortillas are a great staple, and you can use them for burritos, wraps, casseroles, or tortilla soup. Rice and pasta are also essential frugal meal planning staples to keep on hand.
I often like to include a sweet treat each week, like cookies made from an inexpensive cake mix or brownies. Often the mixes are only $.99, and they make enough for multiple days. Fresh fruit is a nice healthy option too. Popcorn is so cheap (buy the jarred kernels instead of the microwave-type). It's easy to make on the stove, and it really goes a long way.
More Frugal Meal Planning Ideas?
Saving money on your food budget is a challenge, but it's one that you can easily take on with the right meal prep skills and plan. I'd love to hear your favorite ways to do monthly meal prep on a budget.
What are your favorite frugal meal planning ideas? Let me know below in the comment!
Related Posts:
Pin to Pinterest:
Pin to Pinterest so other moms can learn these frugal meal planning tips too!