Are you looking for a quick and easy gift idea that isn't too expensive? There are so many dollar store gift ideas that would be perfect for anyone on your gift list.
When you think of the dollar store, you probably don't think of gifts, but there are so many excellent Dollar Tree gift ideas out there. I've found ideas that would be perfect for a birthday, Mother's Day, Father's Day, Christmas, or a gift of appreciation.
The best part of these dollar store gifts is that they don't look like cheap presents. When you bundle a few items together, you can build a really useful and thoughtful dollar store gift basket that will still come in under $10. If you're looking for some great gift ideas, don't miss these 35 dollar store gifts for any occasion.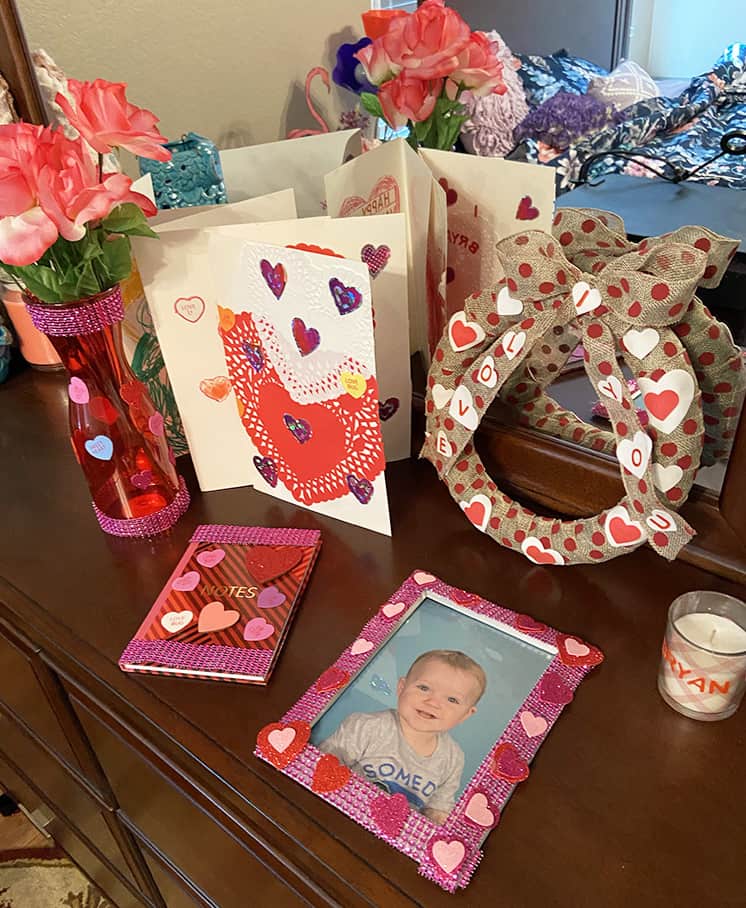 Check out these Valentine's Dollar Store crafts that I made with my son, Bryan. We made a picture frame, candleholders, a wreath, cards, and more amazing dollar store craft ideas together. These gifts are great for kids to do.
If you know someone is moving into a new home (or apartment) and starting fresh, this kitchen essentials basket is the perfect starter kit for a new kitchen. Includes kitchen utensils, kitchen towels, and even a homemade hot cocoa mix jar—all found at the dollar store. As far as dollar store gift ideas go, this one is the perfect way to say, "welcome home!"
---
For more great dollar store ideas don't miss:
---
Here's another dollar store gift idea for housewarming kitchen essentials. This dollar store gift makes the towels a creative pocket for the kitchen utensils. Customize the towels for the season or occasion with the dollar store's extensive seasonal stock. This dollar store gift is a great housewarming option because you can customize it completely. Whether you gift kitchen utensils, baking supplies, or some cleaning supplies, the recipient can put the items to good use.
This Dollar Tree gift basket is perfect for a friend or loved one with a green thumb. Put together some seed packets, gardening gloves, and simple tools into one thoughtful and functional gift. A gardening basket is perfect for anyone who loves to grow their own vegetables, flowers, or nurture their houseplants throughout the year. It's an excellent gift for any occasion, but especially for the spring and summer months. This would be a lovely Mother's Day gift idea!
Homemade cookie cutter candles are an adorable and easy DIY gift for any occasion. All you need are some dollar store cookie cutters, wicks or candle ends, and some crayons or even scented wax melts. Create these candles and gift them on their own or as part of a larger basket. These would also be a great DIY dollar store gift idea for older kids to make.
If there's one thing the dollar store has no shortage of, it's white coffee mugs. You need just a few supplies for this cool marbled mug look. This homemade dollar store gift is perfect for any coffee or tea lover, or pretty much anyone—who doesn't love a good coffee mug?
These tall votive candles are an easy dollar store find you can turn into a decorative gift with some Mod Podge and decorative paper. Candles always make great gifts, and if you have a Cricut or other paper cutter machine, you can get creative and decorate these candles with even more customized decorations! Include lettering, cook cut-out shapes, or special moments captured in pictures.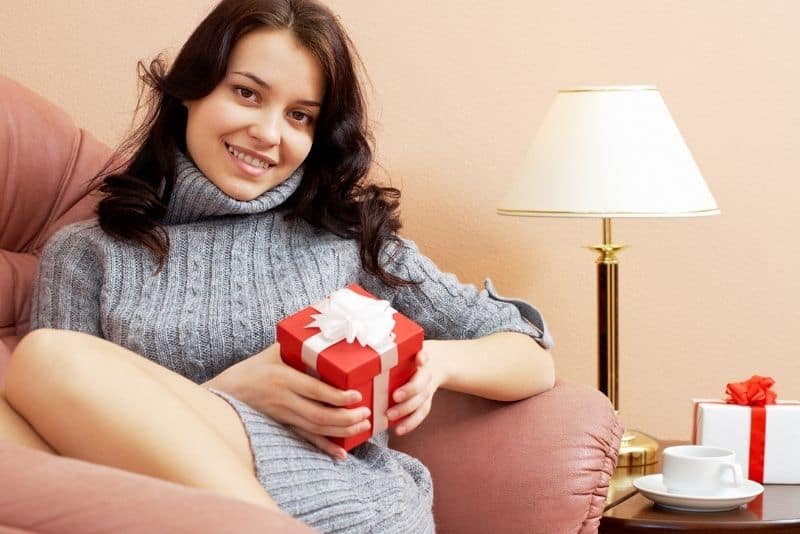 These small candy bouquets are perfect dollar store gift ideas for anyone, any age, any occasion. From Valentine's Day gifts for kids or your special someone to birthday parties and hostess gifts, these simple candy cups are easy to put together for a quick gift basket idea that's affordable and adorable.
Thumbtack art is a unique gift that's perfect for any home decor lover. This tutorial creates an ampersand (an "and" sign), but with a quick stencil and creativity, you can DIY just about anything—from initials to flowers or anything you like. This Dollar Tree gift idea is perfect as a housewarming present, birthday, or holiday gift. With endlessly customizable options, thumbtack art makes a thoughtful gift that adds a personal touch to any home decor.
Bath salts are a quick and easy DIY dollar store gift that's perfect for just about anyone that loves a little self-care (a great gift idea for pregnant friends). You can make these bath salts as part of a spa gift basket or as a stand-alone gift. Use your (or their) favorite essential oils, toss on some ribbon, and you've got a great pampering gift.
If you're a crafter that owns a Cricut die-cutting machine, take a trip to the dollar store and make these fun customizable gift baskets! This tutorial shows you how to make a cozy basket, relaxation basket, a coffee lover's basket, and a baker's basket—all put together with dollar store supplies and customized with simple Cricut die-cutting templates.
A spa basket is a sweet option for anyone who needs a little beauty boost. Put together this dollar store gift with just a few easy-to-find items like candles, spa tools like a loofah and pumice stone, and even include sweet lotions, bath salts, or body wash. Spa gifts are thoughtful and practical, perfect for anyone who needs a little "me time."
This blogger took plain ol' dollar store mugs and turned them into extra unique mugs for her kids with some vinyl lettering (easy to do if you have a Cricut or other crafting machine). This dollar store gift is an easy way to give a special, personalized gift—it's a perfect option for hostess gifts, birthdays, or bridal parties!
This personalized dollar store gift bucket is perfect for kids. Pick a simple plastic bucket and use your Cricut or Silhouette machine to cut out vinyl lettering for their names. Fill the bucket with their favorite goodies like candy, craft supplies like markers or crayons, stickers, little trinket toys, and more! For just a few bucks, you can create a dollar store treasure basket any kid will love. The buckets can be used as easy Dollar Tree organizers after gifting.
How cute are these DIY whiteboards? If you know someone who loves to schedule, meal plan, or jot down reminders, this picture frame whiteboard is a great DIY dollar store gift! All you need is a picture frame (this tutorial uses an 8 x 10 frame), scrapbooking paper, and some dry erase markers—all things you can snag at Dollar Tree. Gift this whiteboard on its own or part of a "work from home" gift basket or a crafters bundle.
This "movie night in a tin" basket is the ideal inspiration for an easy dollar store gift basket you can create yourself! This blogger includes a homemade caramel corn recipe, some sweet candy treats, and a gift card (which you can sub out for another dollar store movie night find). A movie night gift basket is the perfect gift for a friend, partner, college kid, or a sleepover. There's so much you can do with the movie night theme to pull together an easy dollar store gift.
This "busy in the kitchen kit" is perfect for busy moms that want to make dinner in peace! If you have kiddos that love to mull around while you cook, keep them occupied with this easy gift. Toss together some activity books, crayons, markers, and a book or two, and watch as the kids sit quietly at the kitchen table while you prep dinner. This easy dollar store gift basket is perfect for a busy mom (or dad), or even as a gift for your kids (earning their silence is a gift to yourself)!
I love this Dollar Tree gift idea—a vacation fund bank made with a dollar store picture frame! If someone you know is saving up for a vacation, this is a great idea. To make this vacation fund bank, pick up a dollar store frame bank (which you can usually find in the crafts section), give it a vintage-style paint job, and add some craft paper or ribbons, and it's ready to start banking coins! You can customize this dollar store gift by making it a savings bank for just about any occasion—spring break, vacation, honeymoon, a simply a "because you earned it" getaway.
Another dollar store picture frame hack, this earrings display is a cute craft to gift (or even a fun DIY idea to keep for yourself). All you need is a picture frame, wire, and paint to create this functional and chic earring display. This tutorial shows you how to create a distressed look with a few coats of acrylic paint, which gives the earring display a stylish vintage look!
Here's another fun and pretty dollar store mug hack! Make these colorful Sharpie dotted mugs with just a few supplies. All you need for this dollar store craft is some oil-based permanent markers, white cups, and some cut-out paper letters to use as a stencil. You can create colorful works of art that are perfect for everyday use. If you want to include these mugs as part of a dollar store gift basket, pick up some coffee and cookies, hot chocolate, or kitchen supplies to go with the mugs.
Etched glass is a simple yet personal gift you can DIY for anyone on your list. These etched glass jars were creating using etching cream, a simple stencil, and glass jars from the dollar store. There are SO many ways to personalize these jars, and it only takes a few minutes! Create these thoughtful etched glass jars as part of a gift basket—you can gift candy, bath bombs, or even a cookie mix in these jars on their own or as part of another gift.
This Dollar Tree gift basket is perfect for that hard-to-buy-for man or teenage boy in your life! The dollar store often has a great selection of car care products, including all-purpose auto cleaner, tire shine, and a protectant! Pair these items with a terry cloth towel, a sponge, some multi-purpose wipes, and a car air freshener, and you've got a car wash in a basket. If you want to make the gift extra special, include a gas card or a gift card for a free oil change.
I love the idea of welcoming new neighbors to the neighborhood with a thoughtful gift basket! With these dollar store gift basket ideas, you don't have to break the bank to greet a new family that's just moved in across the street. This blogger created two adorable dollar store gift baskets—one for the kids and one for the parents. For the kids, include activity books, crayons and colored pencils, some stickers, and chocolates. For the parents, include items like candles, houseware (mugs, kitchen utensils, or towels), lotions, and chocolates. These gift baskets are an affordable way to show kindness to new neighbors.
Back to school sneaks up on all of us, but especially for teachers! Gift a teacher friend this emergency back-to-school kit, and they're all set for whatever the school year brings! You can source just about all the items in this teacher gift basket at the dollar store. Include items like a planner, pens, and Sharpies, Post-It notes, hand sanitizer, bandages, wet wipes, scissors, and of course, some chocolates!
This family sundae kit is such a cute gift to bring a family together for a special night! To create this gift basket, include some ice cream syrups like chocolate, caramel, and strawberry, and of course, ice cream toppings! Include sprinkles, Reese's Pieces, chocolate chips, caramels, and more—all candy toppings you can find at the dollar store. If your dollar store doesn't have ice cream cones or dishes, swap those out for a few small sundae dishes. Complete this dollar store gift basket with an ice cream scoop, and all your giftee needs to buy is some ice cream.
This gardening gift basket is a great way to say "thank you" to any friend or loved one that loves to work in the garden. There are so many lovely gardening items you can include in this budget-friendly gift, including gardening tools like sheers and a shovel, flower and vegetable seeds, gardening gloves, and a gardening knee pad. The Dollar Tree also usually has many other decorative gardening items to choose from, like small planters, garden decorations, seeds, and more. Put the finishing touches on this dollar store gift basket with a thoughtful gift tag attached with some ribbon.
If you're hosting guests in your home, what better way to welcome them than with a guest's gift basket? This dollar store gift basket idea has everything your guests could need during their stay, including snacks, toiletries, waters, spa slippers, and candles. Include a note with the Wi-Fi password, and this gift basket is a thoughtful and affordable way to bring some comfort to your guests during their stay.
I love the idea of this second-semester teacher's survival kit! When coming back to school from a holiday break, it can be hard to get back into the swing of things. This dollar store gift is perfect for any teacher that needs a little pick-me-up during one of the most challenging times of the year. Necessities like hand sanitizer, lotion, pens, an energy boost, and some snacks are a great way to show your appreciation to those teachers that help our kids learn!
Are you wondering what to gift to the crafter in your life? This crafter's tackle box is a fun and creative way to inspire your crafter friend to DIY! This dollar store gift idea repurposes an old tackle box into a crafting station, but you can use any container you'd like to create this gift. Popular craft supplies include glitter glue, crayons, markers, colored pencils, paintbrushes, beads, and construction paper. This crafter's box is also great to have around for kids as well. It's the perfect play station for creative minds!
College is HARD. Make university life a little bit easier on your college kid with this college student care package, all from the dollar store! What I love about this idea is gifting items in a single-color scheme. This gift basket idea uses all yellow things—like honey, peanut M&Ms, lotion, and citrus air fresheners. Browse around your Dollar Tree for items that fit whatever color you choose! Any college student will appreciate the surprise care package that helps get them through to the end of the semester.
Know someone that just landed a new job? Congratulate them with this thoughtful new job dollar store gift basket! You'll never know what you'll need on your first day on the job. Office supplies like pens, paper clips, highlighters, and some note pads come in handy. Snacks, coffee, and a cute travel coffee mug are great for office commutes. Finally, include a picture frame for your newly hired friend to add to their desk.
Dollar store double-wall plastic tumblers are the perfect multi-functional gift because there are just SO many ways to gift them! Include them as part of a larger dollar store gift basket, decorate them, or fill them with goodies like candies, pens, or crayons. These plastic double-wall tumblers are perfect for anyone who takes their drinks on the go. The double-wall prevents condensation, and the secure lid and straw make it easy to bring your favorite iced drink, coffee, or water on the road with you. It's a must-have in just about any dollar store gift basket idea.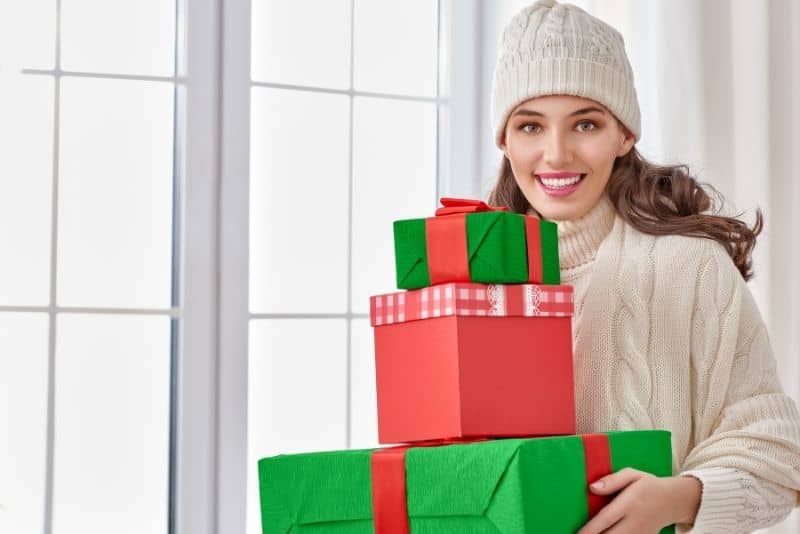 Brighten up the day of a senior friend or loved one in a nursing home or assisted living facility with this senior dollar store care package! There are so many items you can include in this gift basket. The dollar store has a selection of large-print activity books like crossword puzzles and word searches. Include necessities like lip balm, toothpaste, lotion, socks, hand sanitizer, and face masks. Add some final touches with playing cards, some snacks, and a sweet "thinking of you" greeting card.
You can't forget your pets when you're thinking about dollar store gift ideas! Our furry friends deserve to be spoiled just as much as our human friends and family. Put together a simple gift basket for your pets with items you can find in your local dollar store. Find anything from pet toys, homemade and healthy treats and snacks for cats and dogs, leashes, training pads, and more! This gift is perfect for new pet owners and gives them some necessities to welcome their pets to their forever homes.
Here's another college care package that's all about function and necessity! This dollar store gift basket idea is perfect for the college student that needs a little help with the "adulting" side of university life. Take a trip to your local dollar store and stock up on some necessities like dish soap, laundry detergent, cleaning supplies, and more. Toss in some snacks and personal care items and package this gift basket in a reusable container that can function as a laundry basket or storage for your college kid.
This Christmas-themed hostess set includes an oven mitt (or include two to make a set), candles, and a cute seasonal ornament. These items are all available at the dollar store and are great hostess gifts to give out after a dinner party, Christmas party, or friend's get-together. The best part? You can customize these dollar tree gift baskets for just about ANY season or occasion, as these items are almost always in stock.
More Dollar Store Gift Ideas?
The next time you need to give a thoughtful gift, run to the dollar store! You'll be amazed at the inexpensive and beautiful presents you can find without spending a bundle.
Do you have any dollar store gift ideas? Let us know in the comments!
For more great dollar store ideas don't miss:
Pin to Pinterest:
Pin to Pinterest so other moms can find out about these amazing dollar store gift ideas!