When I visited the Dollar Tree to pick up some Summer crafts for my 3 year old, Bryan, I couldn't believe how many organization baskets and containers there were. Since it is the Dollar Tree, everything in the store is only $1 so I stocked up. I came up with so many Dollar Tree organization hacks and I can't wait to share them with you. 🙂
My Trip to the Dollar Tree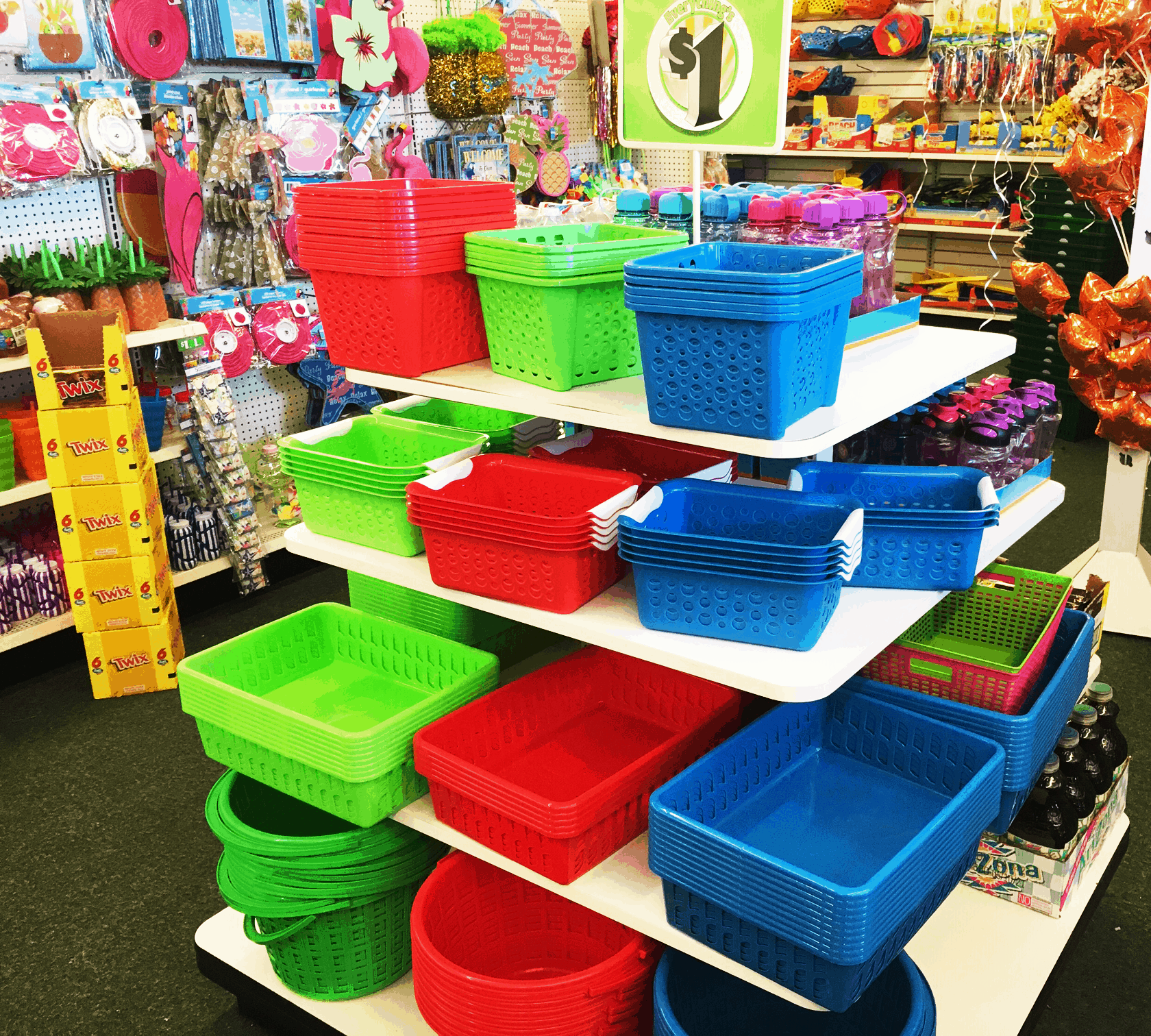 When I first came into the Dollar Tree, I was greeted by a giant colorful display of organization containers and baskets. My favorite color is blue, so I picked up a bunch. They also had green and red for fans of those colors.
---
Related Posts:
---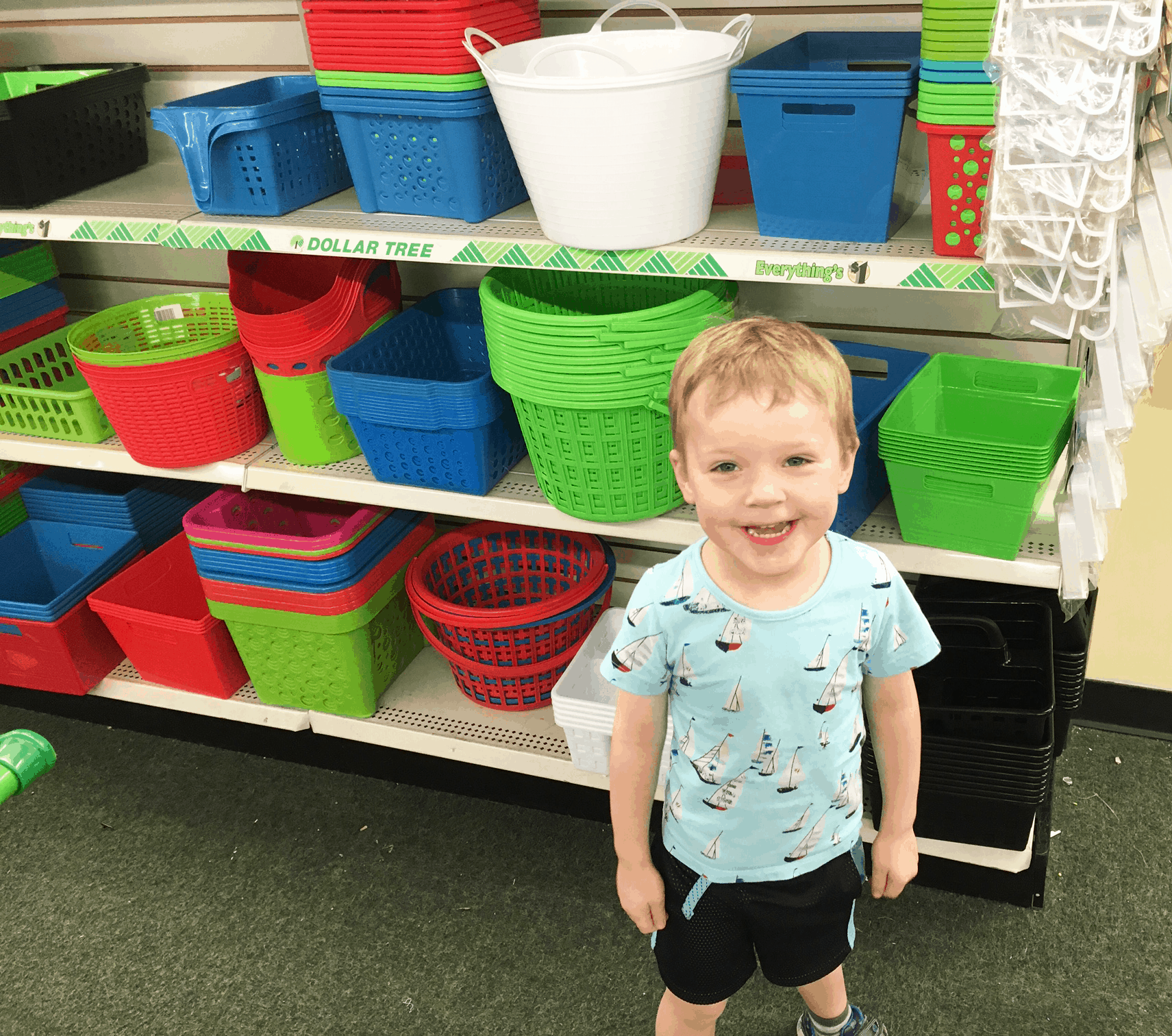 My son ran ahead and said, "Look what I found, Momma!" There were more containers of smaller sizes in the same colors. The cart started getting full.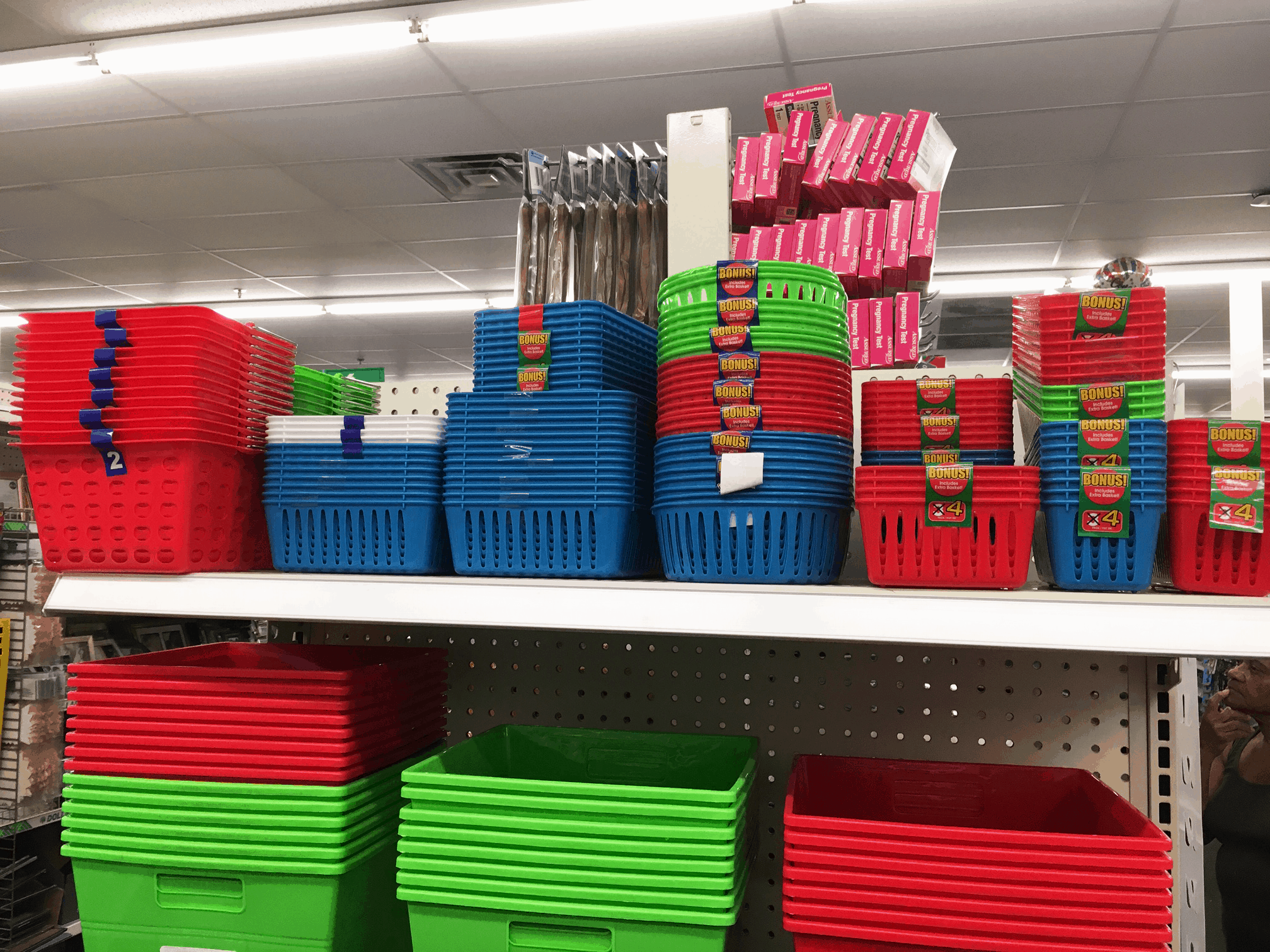 There were small containers at 4 for a $1. These would be awesome to organize my cluttered bathroom drawer!
I spent under $20 for my Dollar Tree organization containers and baskets. All of this would be much higher at stores like Target or the Container Store.
Dollar Tree Organization Hacks For the Bathroom
When I got home from the Dollar Tree, I got started on organizing my home with the budget baskets and containers I bought. There were so many ideas floating around my head and I didn't know what to declutter first! The bathroom was a hot mess so it needed the attention right away.
#1 Budget Bathroom Drawer Organization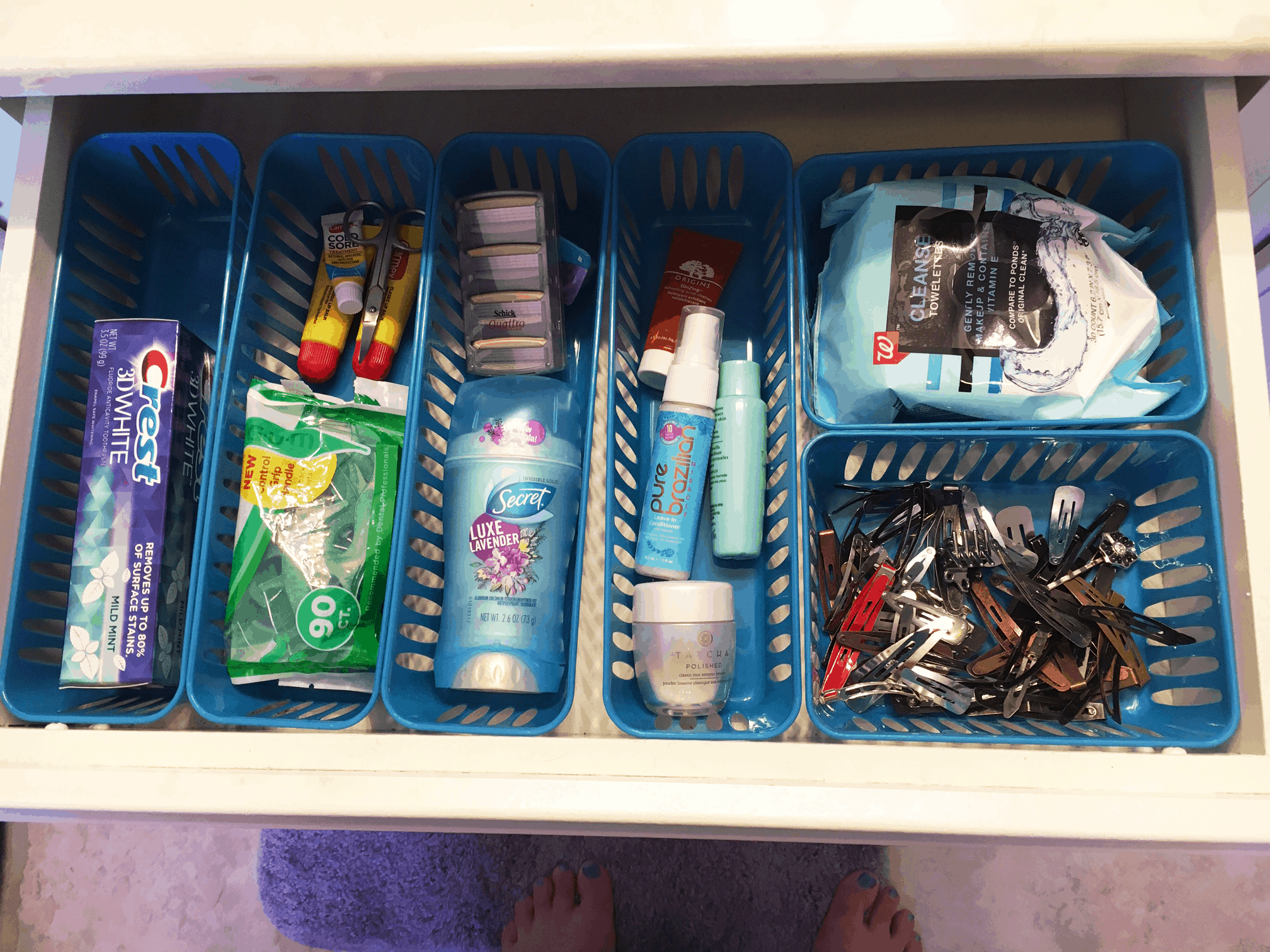 Remember those small baskets that came 4 in a pack for a $1? Those fit so snuggly in my bathroom drawer to organize all of my self-care items. It is so satisfying how everything fit. Don't you think?
#2 Under the Sink Decluttering
When I went over to the bathroom sink and opened the cabinets, I was shocked at how dirty and cluttered it was under there. My husband shares the bathroom with me and he can be very messy. There was trash and odds and ends thrown in there. I got the trash can and set to work on this disaster.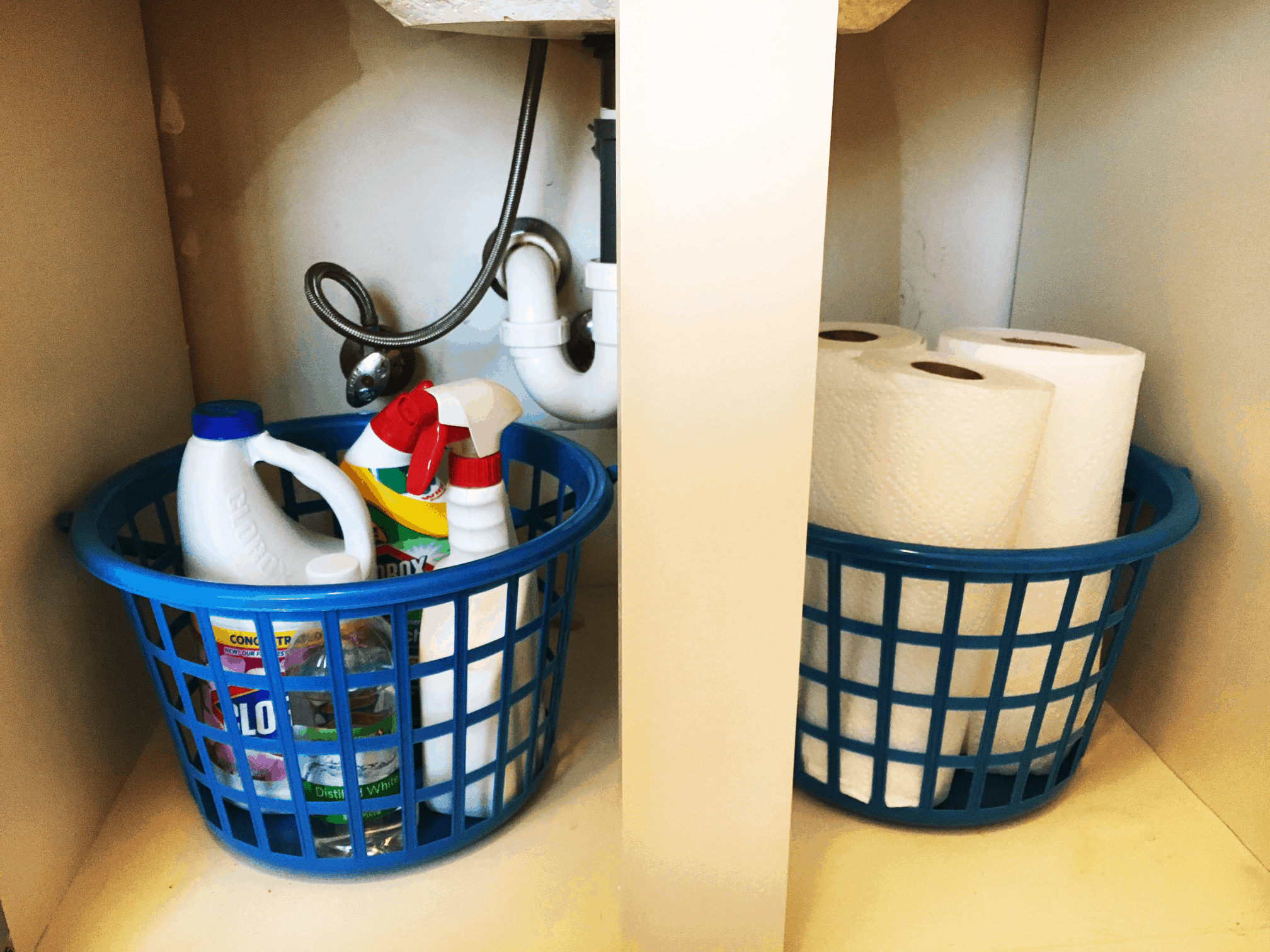 The two blue baskets fit perfectly under there, so I put the cleaners in one and the paper towels in the other. I'm always having to go downstairs to get the paper towels whenever I am cleaning. It helped having them upstairs in our bathroom for ease of use.
#3 Kid's Bath Tub Toys and Soap Organizing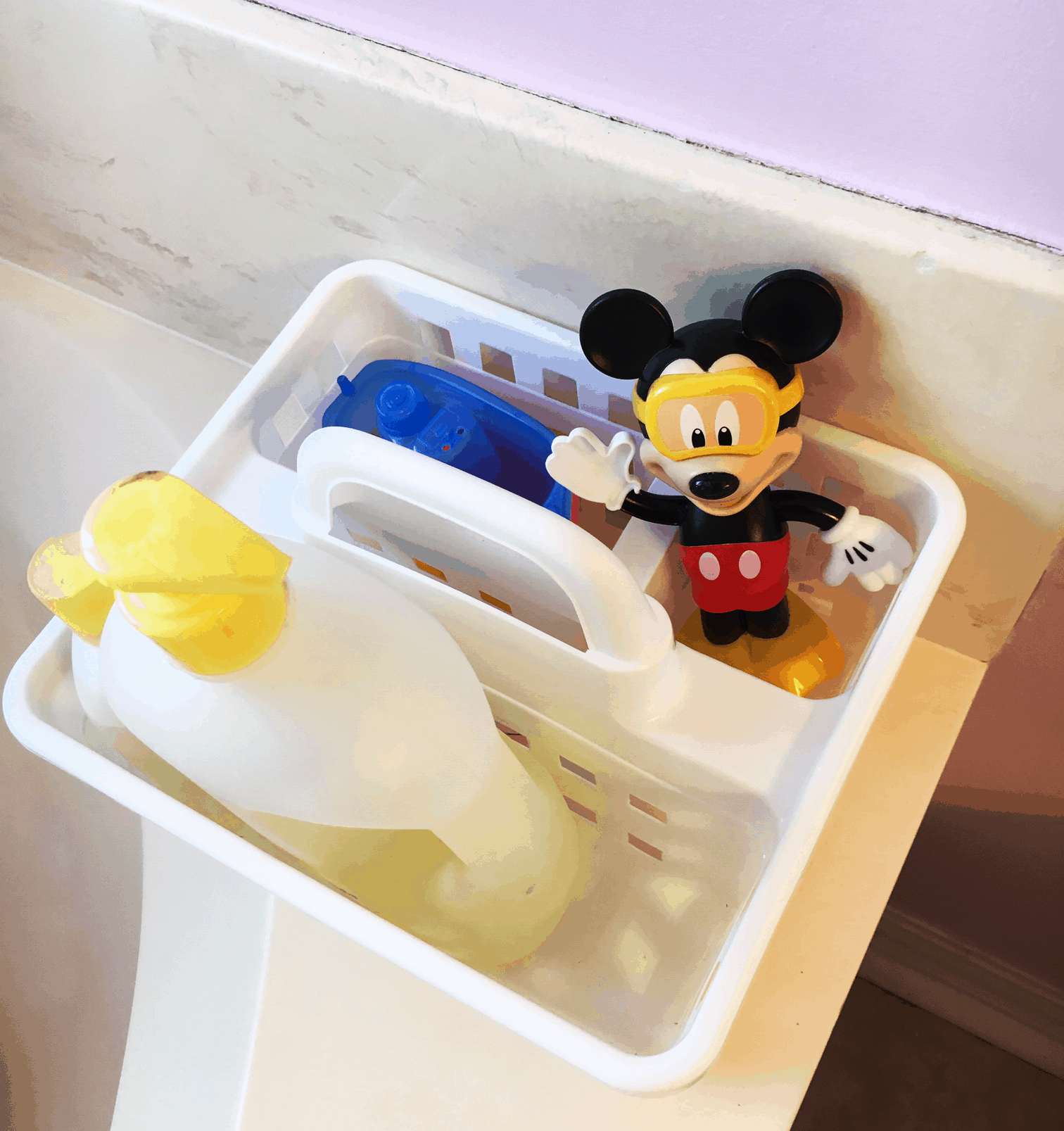 These caddies are great to store small items in. There is a handle so you can move it from room to room easily. This is great because Bryan sometimes takes a bath in our master bathroom in the garden tub. We can move his toys and soap easily with this container!
Dollar Tree Organization Hacks for the Kitchen
My kitchen is another hot mess with stuff being so hard to find. I used several of the Dollar Tree baskets and containers to get things organized and looking better.
Since I have a full time job, I just don't seem to have much time to keep things tidy. I'm sure you can relate! 🙂 However, I devoted only 30 minutes to organize today on a Saturday and before I knew it, I was finished.
#4 Kitchen Cabinets Cups Organization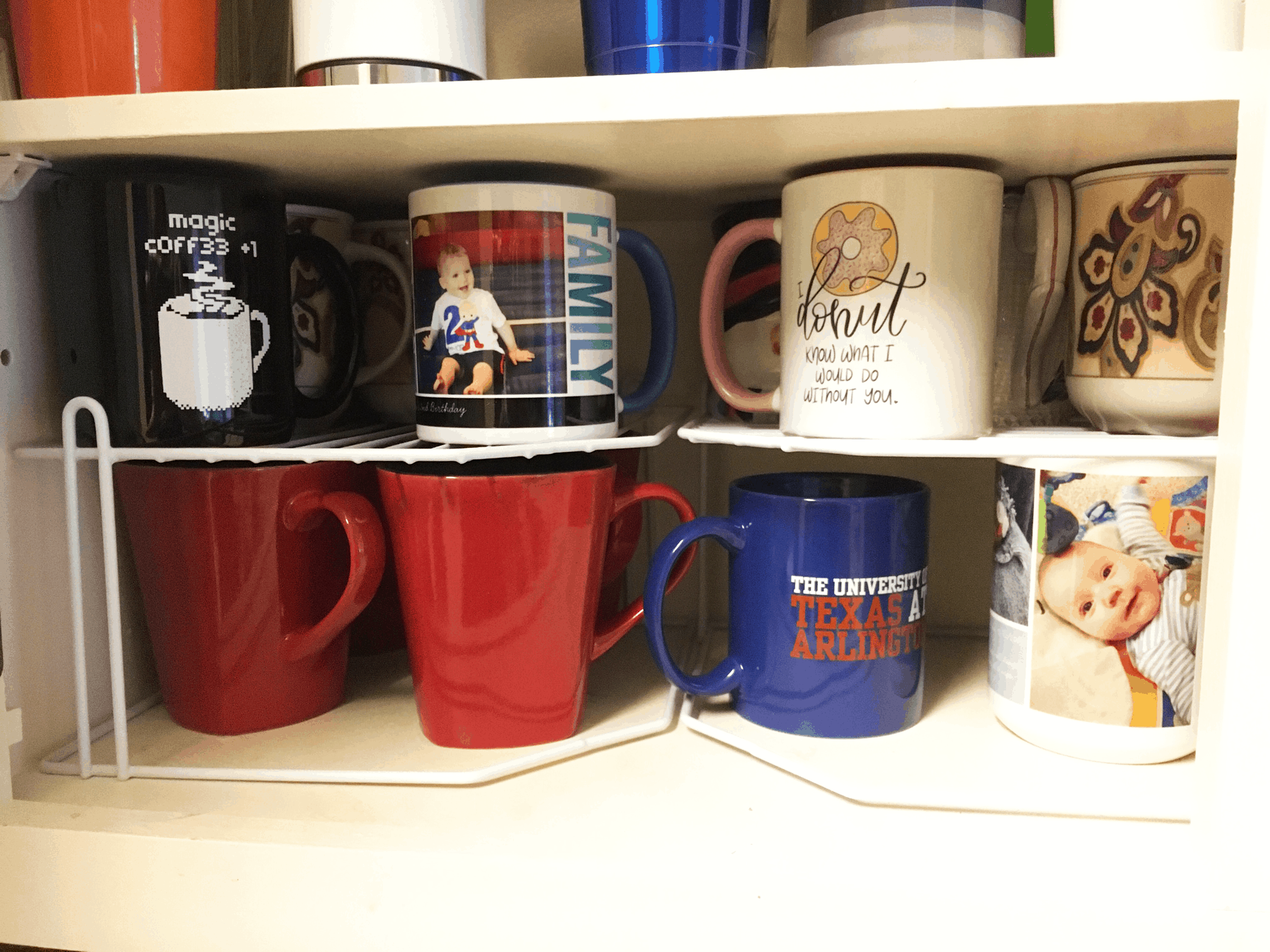 The mugs are kept organized by using the white wire cabinet shelves. You can stack one row on top of the other to maximize space if you have small cupboards like I do.
#5 Under the Kitchen Sink Decluttering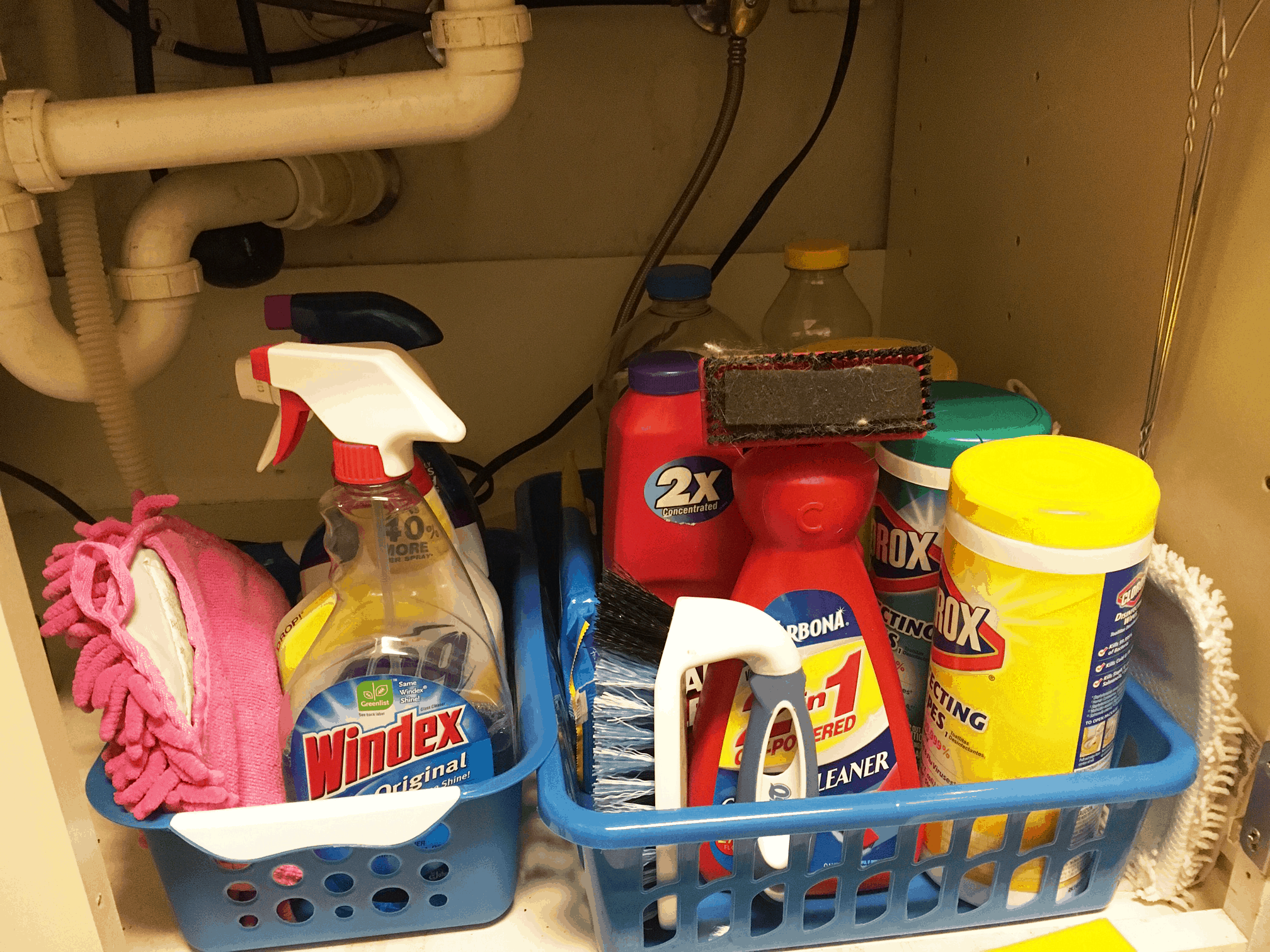 There was so many plastic grocery bags under here before I go started on the declutter. In the recycling bin they went. I guess we stash them under here for whatever reason after we get back from the grocery store. Do you do the same? What do you use those left over grocery baskets for? Let me know in the comments.
These slotted plastic storage baskets made the under the sink look so much better and tidier. Now, it is easier to find things! Hurray!
#6 Counter Spice Rack Organization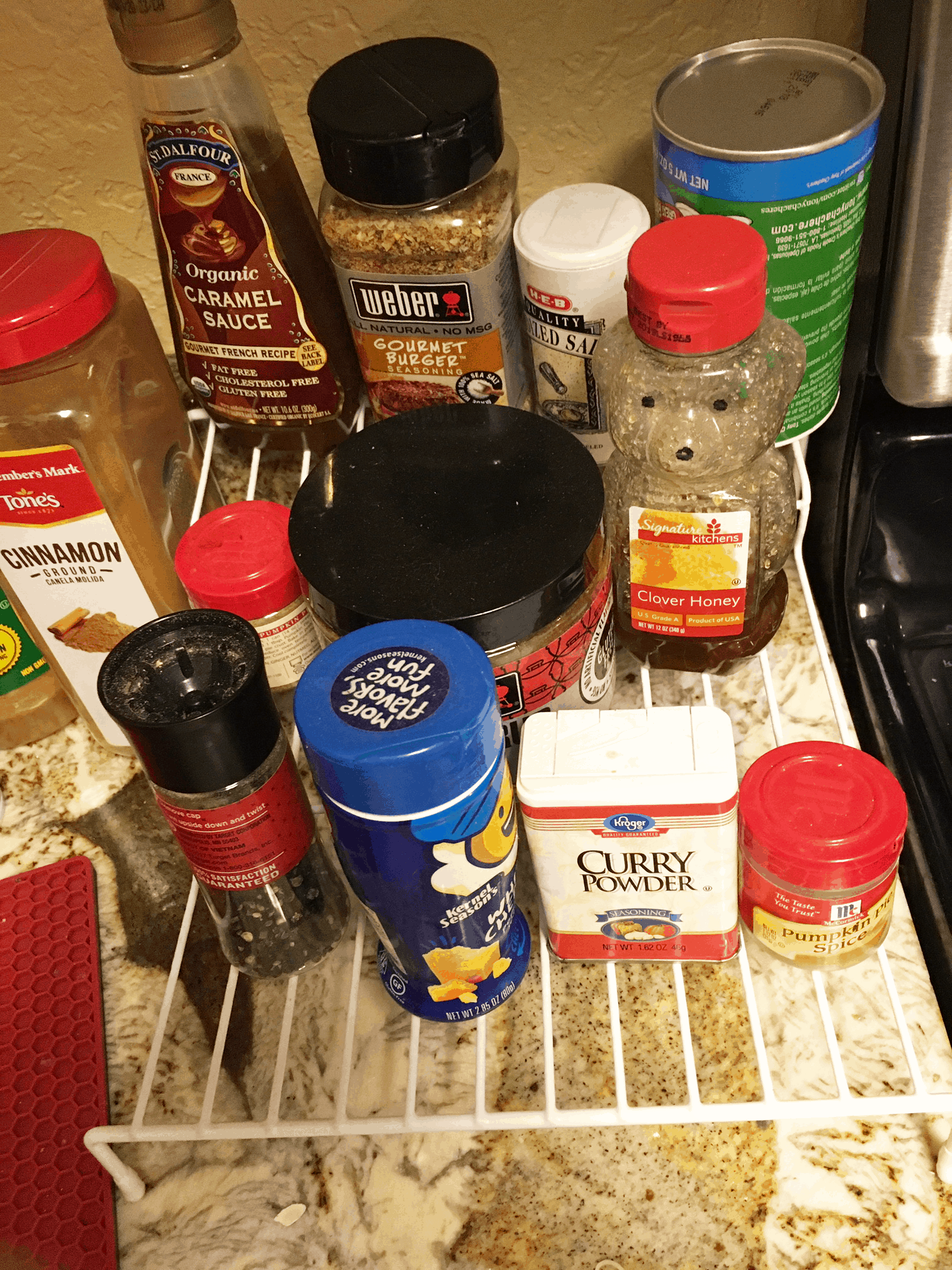 Near the stove were so many spices just sitting around in a cluttered mess. They look so much nicer neatly stacked on this wire step storage rack!
#7 Dog Treats and Keto Products Organization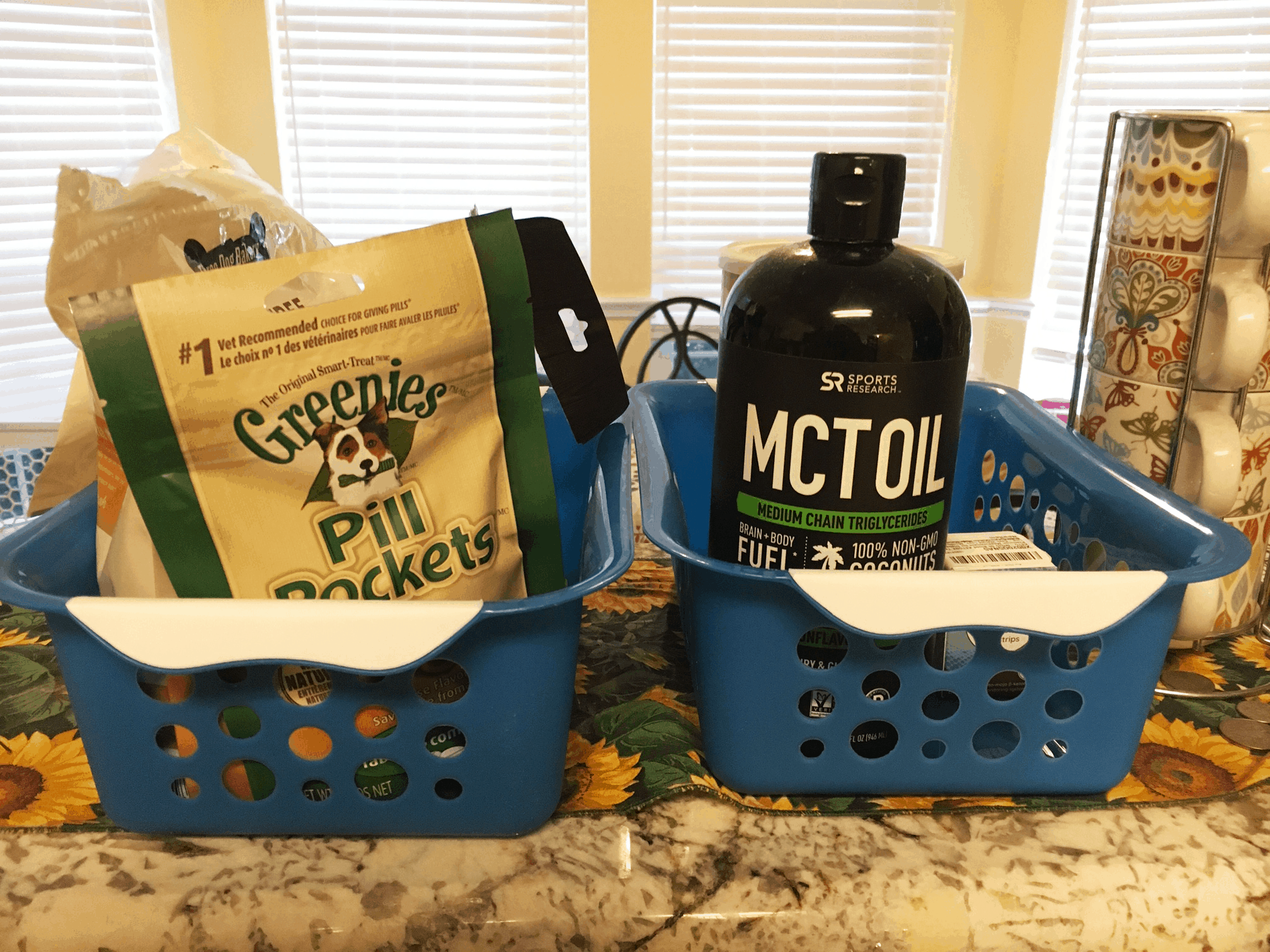 Right now, I'm in the process of training my dog so I like to have dog treats handy. The treat bags were scattered all over, so I put them all in one convenient place.
I'm doing the keto diet so I have lots of products I am using like MCT oil and ketone strips. It is good to have the MCT oil handy especially, because I put it in my bulletproof coffee every morning.
#8 $1 Fruit Basket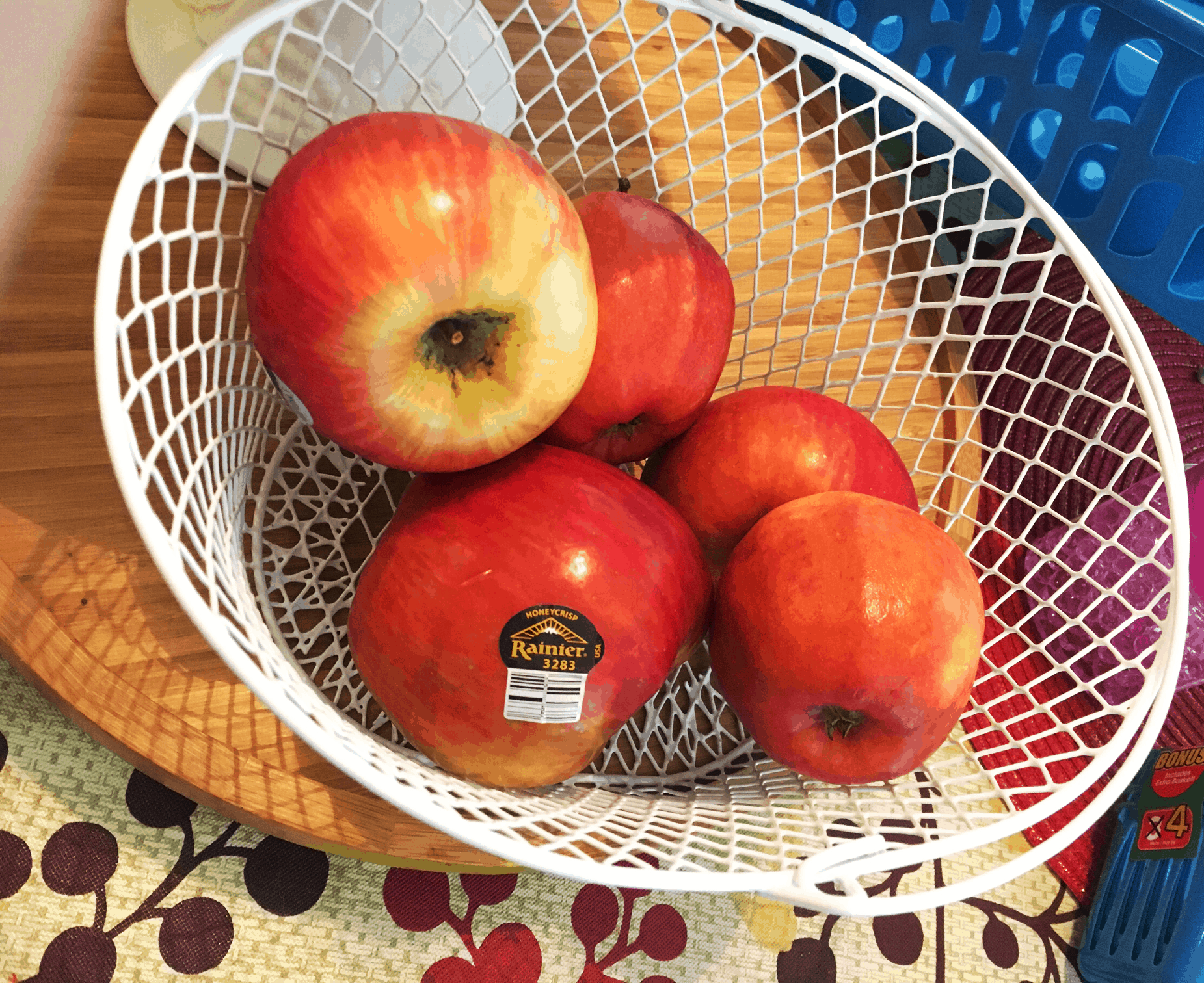 Bryan broke my expensive porcelain fruit basket when he was trying to get an apple last week. I been meaning to buy another basket so had to get this $1 wire basket with handles. It looks sturdy enough so it won't get broken any time soon. *fingers crossed*
#9 Organized Pantry on a Budget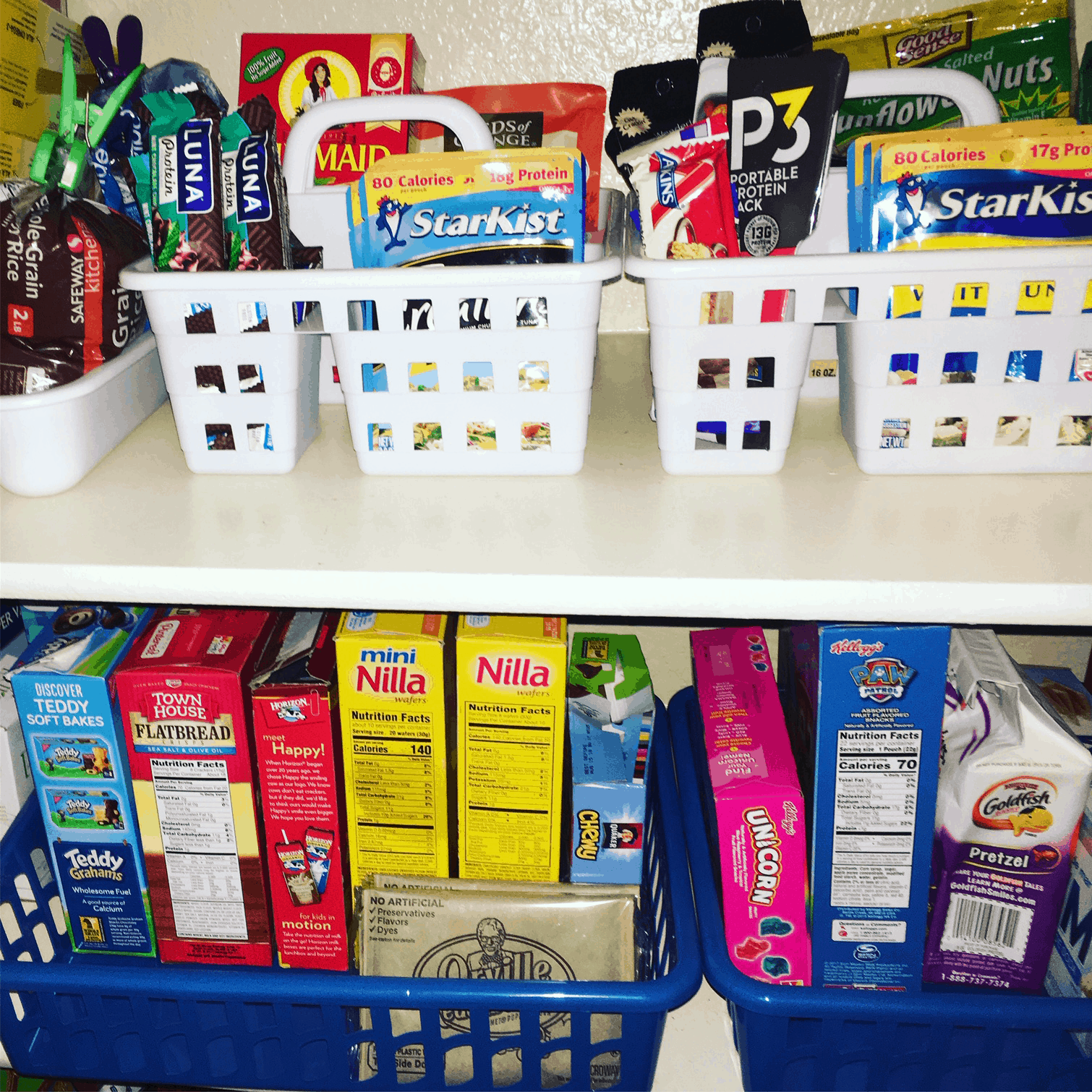 Our pantry was a mess on steroids before I got cracking with the decluttering. There was food that was super old and some that we won't be eating. After getting rid of all that, I put healthy snacks in these plastic caddies.
A tip on trying to stay on a diet is to always have low-carb snacks close at hand. I'm 6 foot tall so these shelves with the healthy snacks are at eye level. I won't be reaching for my son's snacks, placed a lot lower.
#10 Dollar Tree Organization Hacks for the Laundry Room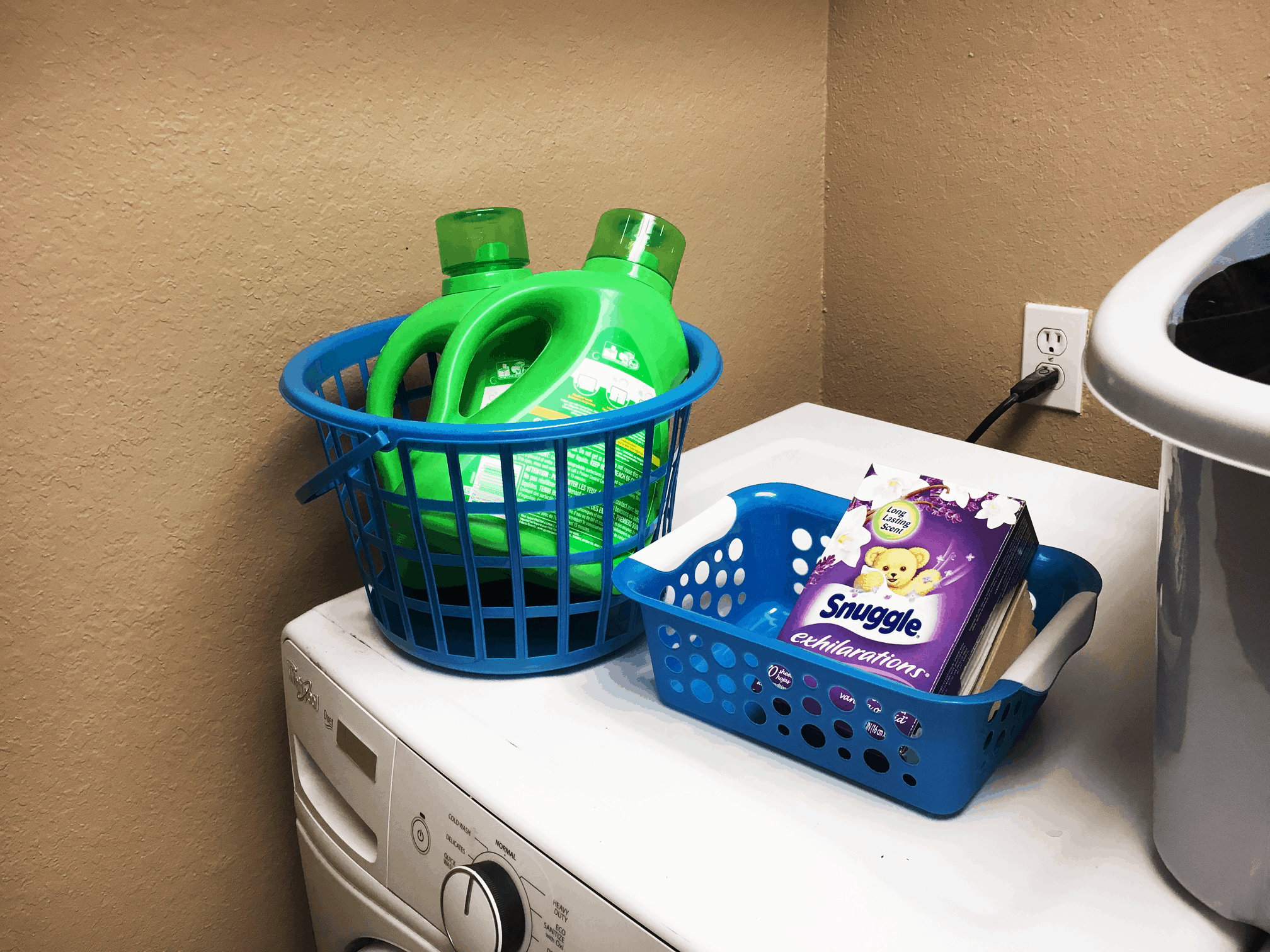 The laundry soap and dryer sheets keep getting misplaced in the laundry room whenever we have large amounts of clothes to wash. A few times, we brought up the dryer sheets upstairs in a laundry basket and then I couldn't find them. I decided to make things tidy by using the blue organizing baskets for the laundry soap and then a smaller container for the dryer sheets.
#11 Dollar Tree Organization Hacks for the Closet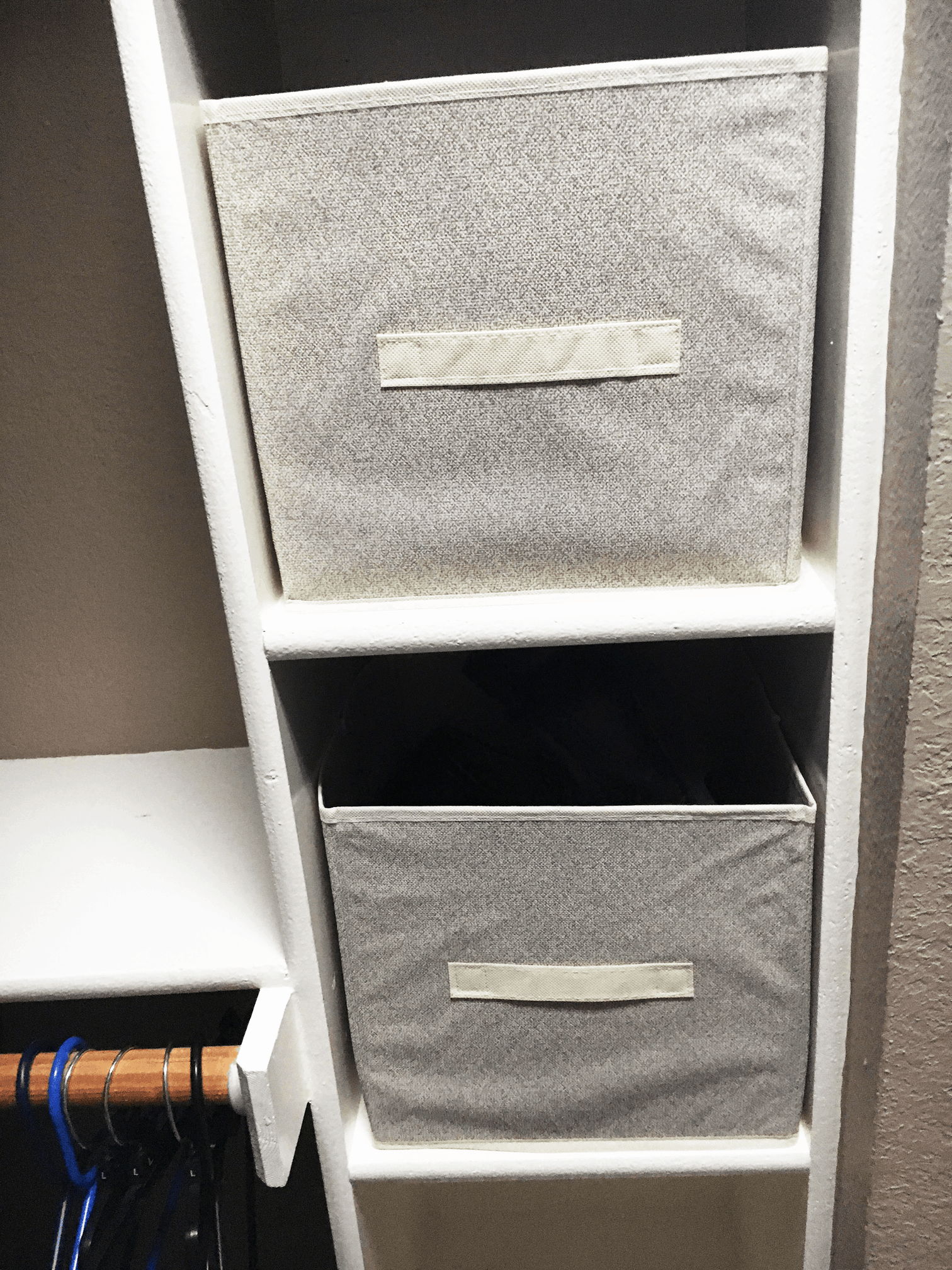 These collapsible storage containers fit perfectly in my husband's side of the closet. He had shoes that kept falling on the floor, so I put them all in these containers. We have a dog, so I don't want his leather church shoes getting torn up from being on the floor.

More Dollar Tree Organization Hacks?
I'm going to go back and get containers to organize my make up soon. Why go shopping at the Container Store or Walmart when the Dollar Tree only charges a $1 for the same items.
What have you bought at the Dollar Tree that has saved you money? Do you have any organization hacks that you have tried? Let us know in the comments.
Related Posts:
Picture Sharing Disclaimer:
These pictures are © Mom Beach LLC. You may share these pictures in your round up posts, but give MomBeach.com the photo credit and link back to MomBeach.com. You do not need to contact me in order to share my photos on your site.
Pin to Pinterest:
Help others save money by organizing with Dollar Tree containers and baskets by pinning to Pinterest!