Home is a place where you rest after a long day. It's where you can find peace and quiet, hidden away from the hustle and bustle of the world outside. That's why you need to feel that this space is full of good energy, relaxing vibes, and peace. Creating a beautiful home for yourself doesn't have to cost a fortune. There are several cheap home decor ideas that we will explore in this post.
It doesn't matter whether you're renting an apartment or own a house, it's very important to feel good in your home. Funnily enough, when friends and family are very happy to visit, it's a sign that you have created a magical space where everyone feels at home.
How can you improve your house? We know some cheap yet effective tricks you can use in your home to make it look more cozy, classy, and stylish.
Today's guest post is by Rachel Connolly!
#1 Add more light
Light can change the vibe of your house. A dark and cold room can be transformed into a very cozy and warm space with just some bedside lamps, floor lamps, and candles.
Space like this is perfect for laying under a wool blanket, drinking tea, and reading your favorite book. Moreover, people rest more effectively when the light is subdued and its intensity is reduced.
Consider adding more lamps to your space and you will feel the difference immediately.  You can also increase the amount of natural light by adding more mirrors and highly reflective glass objects. There are several inexpensive lamps that will add beauty to your home.
---
Related Posts:
---
#2 Decorate the windows
Whether you want to switch up the style of your patio or balcony, awnings are a perfect idea. If you enjoy spending time outside, consider a sun canopy for house and don't worry about the weather anymore. You can both cover yourself from the sun, and unexpected heavy rain.
It will also add a style to your house, giving it a more elegant and unique look.
Choose between traditional Victorian awnings, or, if you prefer technologically advanced solutions, choose automatically open cassette awnings. Impress your friends during a barbecue on the terrace and improve your house with canopies. Also, adding soft and long curtains to your bedroom and living room will make those spaces look even cozier.

#3 Buy new pillowcases
Bed accessories can drastically change the interior. Adding new pillowcases, soft blankets, and a bedcover will give the space a new style. If you prefer light colors and a Scandinavian interior, choose beige, white, and gray accessories. This is one of the great cheap home decor ideas!
If you are a big fan of colours, decide on one main colour, e.g. pink, and match the shades of the accessories to it. Blue, gray, and purple perfectly harmonize with pink.

You can also decide on patterned materials but be careful so as not to make things chaotic. Home decoration is equally important as furniture and appliances. Therefore, always pay attention to the quality of fabrics. Decoration has a big impact on your mind when you need to rest and relax.
#4 Give the staircase a new look
If you live in a detached house, you probably use the stairs every day. That's why they need to be comfortable, modern, and made with attention to detail in order to stay relevant for years. Not only is new staircase decor a great solution for you and your family, but it also adds more style to the house. Decals are inexpensive and give life to an existing staircase.

If you have a bigger budget, then consider getting a new staircase if you hate the current one. The diversity of staircases is enormous. For example, modern floating stairs can completely change the look of the hall. Choose from a range of materials, such as natural oak, glass, and metal. Moreover, you can choose that your stairs will be designed with a sliver linear LED located under each step. You can choose to DIY to save tons of money.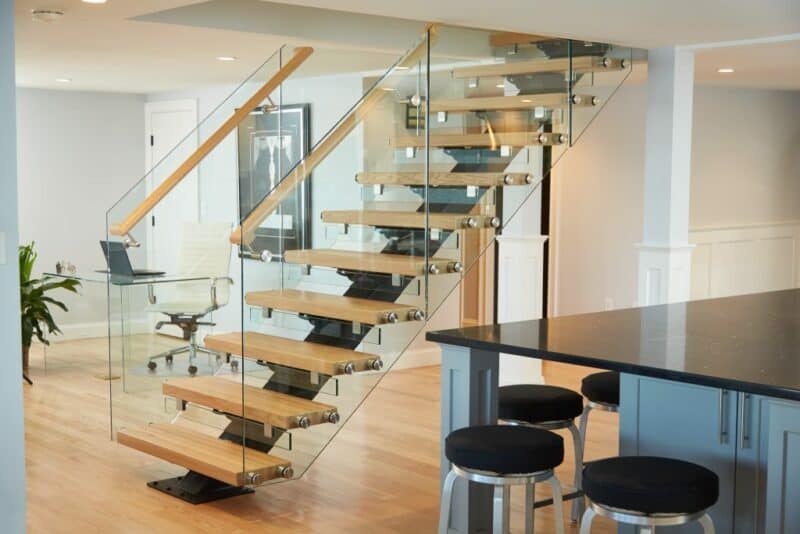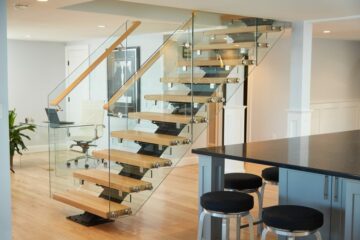 Photo Credit: View Rail
It makes the space look brighter and provides you with additional security at night. The second important aspect is the handrail and balustrade which can be made, for example, using glass and metal. Improve your house with a rustic, industrial or modern staircase.
#5 Place down a stylish distressed rug
Distressed rugs are all the rage right now, but some can be hundred of dollars! There are cheaper alternatives that still look stylish for your home.

More Cheap Home Decor Ideas?
Stores like Tuesday Morning, Big Lots and Ross have tons of home decor items for super cheap. If you have any cheap home decor ideas of your own then please comment below!

About Rachel Connolly:
Rachel is a freelancer who lives in the London area.
Related Posts:
Pin to Pinterest:
Pin to Pinterest so others can find out about these cheap home decor ideas too!