There's no doubt about it – being a stay at home mom is simultaneously one of the most demanding and rewarding jobs there is. While it certainly comes with a lot of perks, one thing it doesn't come with is a paycheck. Not earning a paycheck makes it difficult for moms who want to stay home with their kids but have no idea how to make that work financially. Flexible jobs for moms are hard to come by, especially ones for moms with small kids at home.
This is a guest post by Bridget Sielicki. Take it away, Bridget!
The idea of a flexible job for a busy mom might seem like a pie-in-the-sky dream, but many moms have created just that for themselves. Thanks to the internet, many moms work from home with convenient hours, and they're making good money without shuffling the kids to daycare or suffering a long commute.
The idea of a flexible job for a busy mom might seem like a pie-in-the-sky dream, but many moms have created just that for themselves.
While remote work has seen a significant rise in all job sectors, not every work from home job is suitable for moms. After all, if you have young kids, chances are you won't be available for a conference call in the middle of the day or be able to set aside time to speak to a client at a particular hour. If you have young children and no alternative childcare, there's no telling what your day will look like.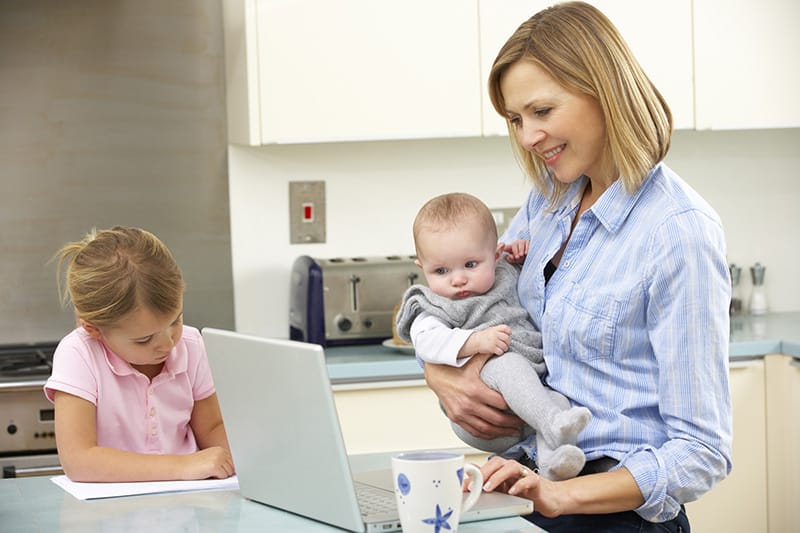 Luckily, there are still plenty of options if you want to work from home. While not every work-from-home job is practical when you have small kids underfoot, there are some things you can do to bring in some much-needed cash while you're caring for your children. Consider one of these flexible jobs for moms to supplement your income while your kids are young.
1. Work as a Freelance Writer
Working as a freelance writer is genuinely one of the most flexible work at home jobs there is. It's how I've been making money from home for the past ten years, even while homeschooling my four young children.
There are a wide variety of content needs that you could fulfill as a freelance writer. Blog posts, long-form articles, company newsletters, product descriptions, and eBooks are just a few examples of the many different kinds of content you could offer. Fiverr is a great place to find freelance writing jobs that are perfect for stay at home moms.
The best thing about working as a freelance writer is that you can work whenever you have free time. Since most client or customer interaction is done over email, you don't have to worry about being available during certain hours of the day. Generally, you'll just be given a content deadline, which means you can work on a schedule that's convenient for you.
✅Check out Fiverr to find freelance writer jobs!

2. Become an Editor or Proofreader
Just as writers are needed to fulfill content needs, editors and proofreaders are required to give that content a proper once-over before it goes to print. If you have an eagle-eye and a good grasp of grammar, this might be the perfect job for you.
The scope of your work depends on how involved you want to be. An editor will be responsible for a lot of critiquing and rearranging content to make sure that the final product makes sense and flows beautifully.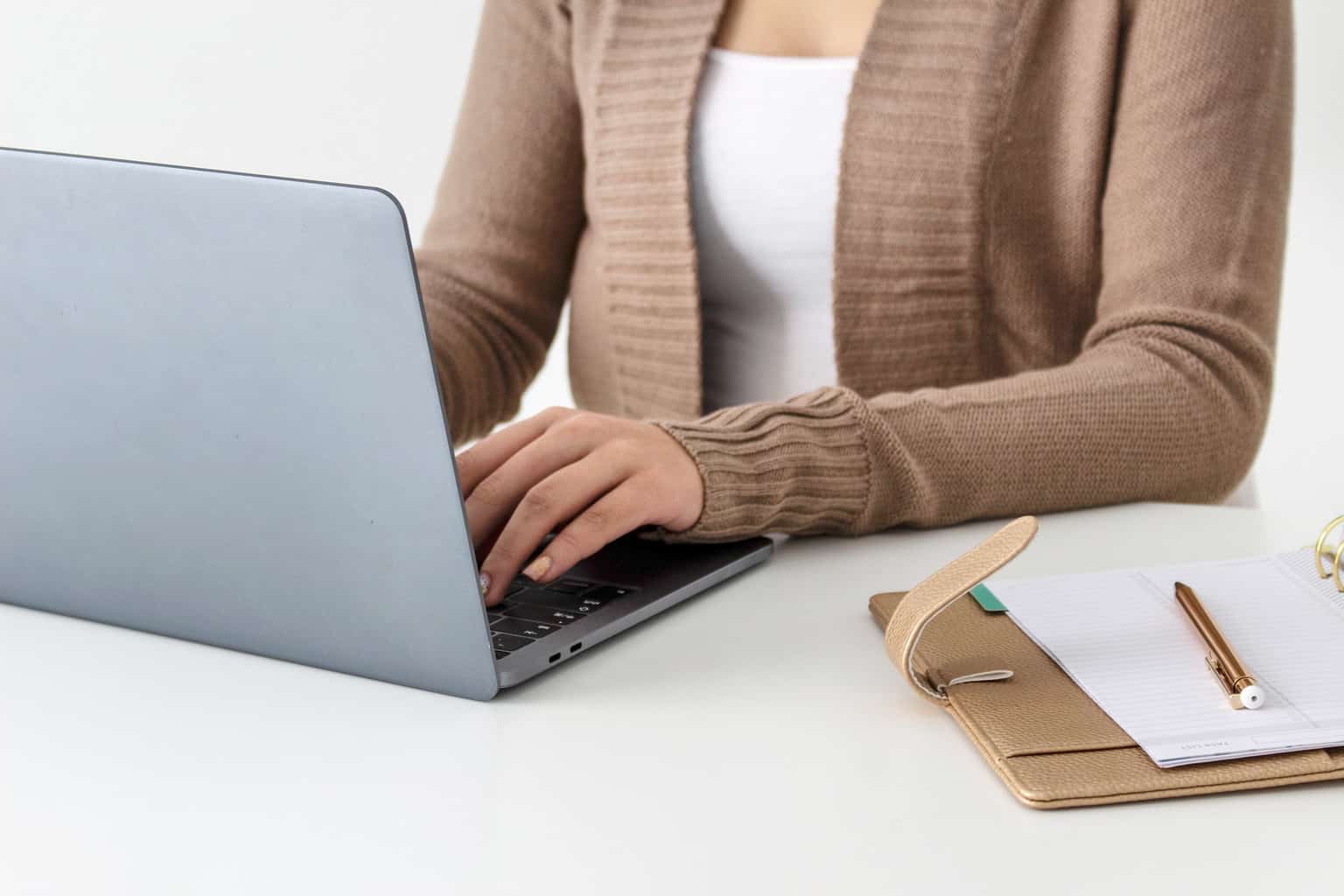 In contrast, a proofreader will serve as the last eyes on a piece, looking it over to make sure there are no typos. Both these jobs are incredibly flexible and can be done whenever you have free time.
✅Check out Proof-read anywhere to start your own proofreading business from home!
---
Related Posts:
---
3. Become a Virtual Assistant
A virtual assistant provides a wide variety of tasks, from answering emails to delivering customer service to managing a company's social media pages. One of the best things about this flexible work at home job is that you get to decide what it is you want to offer. You can then package those services and offer them to businesses or entrepreneurs who are often more than happy to outsource these kinds of tasks.
If you're a mom with kids at home, you'll want to be mindful of the services you're offering. Tasks that involve being on-hand at certain times or providing a timely response to customer service problems might not work if you have other responsibilities at home. As a virtual assistant, you'll simply want to make sure you only take on duties you know you can handle.
Those who love Pinterest might consider learning how to become a Pinterest Virtual Assistant and work from home. Some Pinterest VAs make over $1,000 a month.
✅Learn how to become a Pinterest Virtual Assistant now!
4. Work as a Transcriptionist
A transcriptionist listens to audio files and then turns them into written documents. Generally, you'd work for a transcription company for this kind of work, which means you could wait and pick up projects when you're available to do them.
While this probably isn't the kind of job you'll be able to do while your kids are awake easily and under your care, you could easily do tasks when they're napping, or you have help at home.
If you're skilled as a transcriptionist (or train for this position), you'll find there are plenty of remote transcription jobs available. With a marked rise in YouTube videos and podcasts, there are a lot of entrepreneurs and business owners who want these kinds of audio files transferred into written transcripts. While the work is flexible, it's also very consistent.
5. Do Data Entry Jobs
If you love sitting and typing and don't mind work that others might consider a little boring, you could earn doing data entry jobs. While the type of data entry you'll do varies from one company to the next, it generally involves compiling information into a concise, readable format for these companies to use.
To find one of these jobs, your best bet is to scour job search sites like Indeed.com or Monster.com. Look for job titles like "data entry keyer" or "data entry clerk."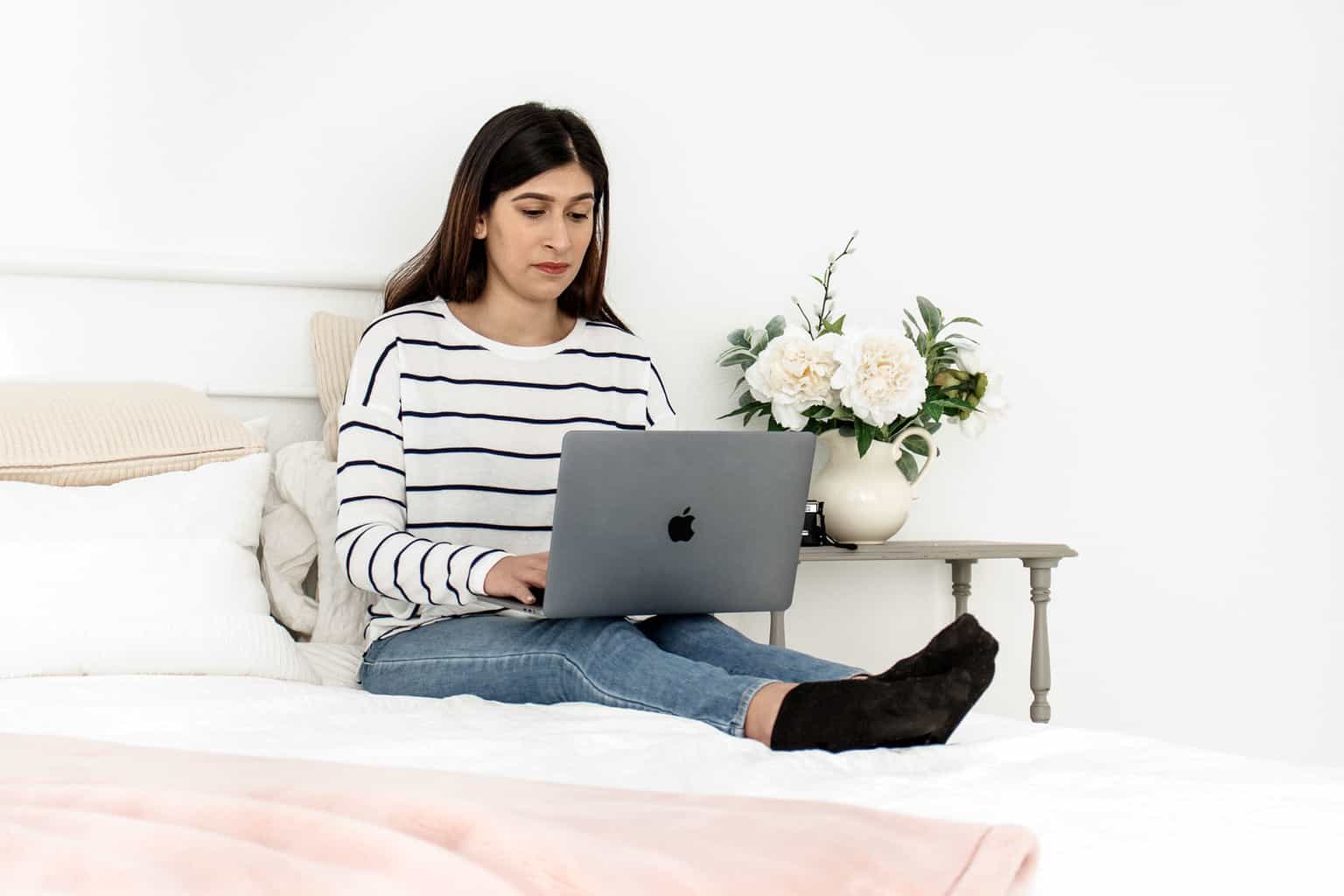 There are lots of legitimate data entry jobs out there, but there are also plenty of scams in this job field. Before you sign on with anyone, do a little research to make sure it's a valid company. Also, never pay any money to start working with a data entry company, as that's a sure sign it's a scam.
6. Deliver Groceries
Finding a flexible job doesn't mean you need to be tied to your computer. If you love getting out and about and don't mind shopping, why not deliver groceries for others?
Grocery shopping is one of those necessary things that just has to get done week in and week out, but many people hate to do it (myself included). If you love it, you'd be providing a beneficial service to many people. Grocery shopping is a job you can do with your kids in tow, and it's also a great way to meet a lot of different people.
✅Check out a service like Instacart to deliver groceries for money!
7. Perform Odd Jobs and Errands
You don't need to limit yourself to delivering groceries. Another great way to interact with people and get out of the house is to perform odd jobs and errands on TaskRabbit.
On the TaskRabbit app, you'll find a variety of jobs, like cleaning, home repairs, or even planting flowers. Simply browse the app and apply for a job if you think it's a good fit for your talents and schedule.
8. Work as a Tutor
Do you have teaching experience? Are you looking for something rewarding? Consider making some extra cash working as a tutor. The great thing about tutoring is that you can do it either in-person or online, giving you the flexibility to choose what works best for your family.
There are many different kinds of tutoring positions available, from teaching English online to school children in Asia to helping local high schoolers prepare for the SATs.
Some online tutoring companies require you to commit to a set number of hours each week, while others allow you to log in and pick up shifts whenever you're available. The wide variety of tutoring positions available makes it one of the most flexible jobs for moms out there. VIPKid is a great service where moms can make extra money working as an online tutor from home.
✅Click here to check out VIPKid now!
9. Work as a Test Scorer
If you need something part-time, one way to earn extra cash is to work as an online test scorer. The specifics of this position depends on what company you get a job with, but in most cases, you'll provide scoring for standardized tests or the written portion of the ACT or SAT.
To get this kind of job, you almost always need to have at least a Bachelor's degree. The pay is hourly, and the work is seasonal – don't expect many summer assignments – but it's very flexible, as you can work when you're able. To find out more about working as a test scorer, check out some of the top test scoring companies like Measurement, Inc., Pearson, and Write Score.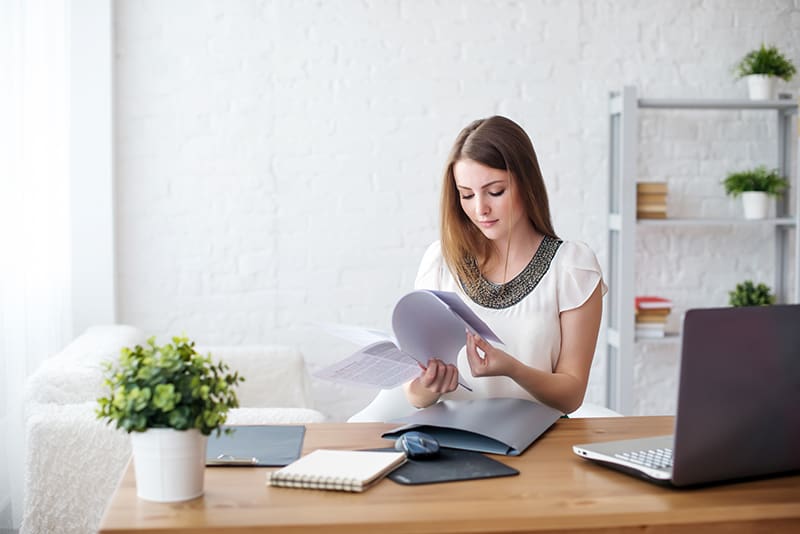 10. Become an Online Stylist
You don't need to give up your love of fashion now that you're a mom. If you've always had a knack for putting together great-looking outfits, you can use that skill and make money as an online stylist. When you work as a virtual stylist, you get all the fun parts of the job, like putting together the latest fashion trends without the hassle you might otherwise experience in a retail environment.
With the rise in popularity of subscription clothing boxes, there's a greater need than ever for online stylists. To find one of these jobs, look at companies like Allume or StichFix, or simply browse virtual stylist positions on major job boards.
11. Offer Pet Sitting or Dog Walking Services
Do you love pets? Make money pet sitting from home. Pet sitting is an excellent flexible job for moms because it's so easy to do while you are home with your kids. It doesn't require you to wait until they're in bed, and you won't need to get up at the crack of dawn to work before they're awake.
If you don't want to commit to a full pet sitting business, you could also offer your services as a dog walker. Many people hate leaving their fur babies at home all day while they're at work. As a stay at home mom, you could put the kids in the stroller and give neighborhood dogs a bit of exercise. Some sunshine and a stretch of the legs are good for the dogs but it's also good for you too!
12. Work as a Photographer
Photography is a flexible job for moms that you could easily use to make money if you have a knack with a camera. Offer packages that cater to the types of photos you want to offer, like weddings or family portraits, and then start advertising in your local area.
If you don't have a strong portfolio yet, photograph friends and family or offer discount services so you can build up a strong client base and help spread the word.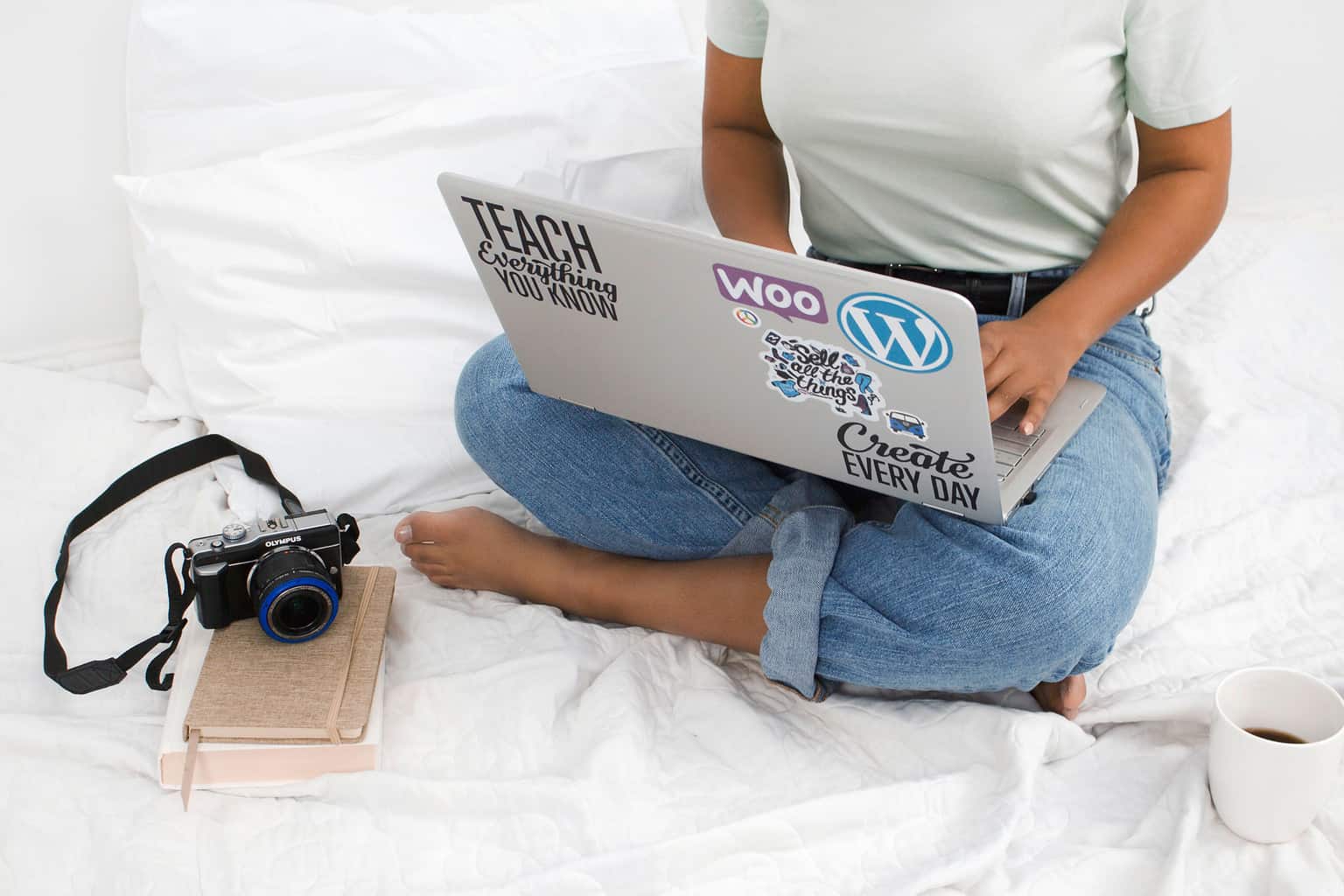 13. Become a Graphic Designer
If you have a background in graphic design or are skilled with software like Adobe Illustrator or Canva, put your creative genius to good use with a job as a graphic designer. Graphic design is an easy job to do from home on a flexible schedule since you can offer piece-meal services or perform specific tasks for anyone who needs graphic design work.
Kara Fidd from Simplifying DIY Design is a graphic designer that makes 6 figures. Check out our interview with Kara Fidd here!
14. Sell Homemade Items
Are you crafty, or do you love to create things? Making and selling items online is a trendy – and flexible – job for moms. There are many different ways you can do this, from relying heavily on Etsy to promote your creations, to setting up your storefront on Shopify. You can even market your crafts in your local area, selling at craft fairs, bazaars, or on the Facebook marketplace.
✅Click here to get a 14 day free trial with Shopify!
15. Start a Blog
Admittedly, blogging is not like the other jobs listed here because you likely won't make money for quite a while after starting. It takes a lot of work – and patience – but it's also extremely flexible. What's more, it has the potential to be extremely rewarding. If you're passionate about something and you like to write, share that passion with the world in the form of a blog.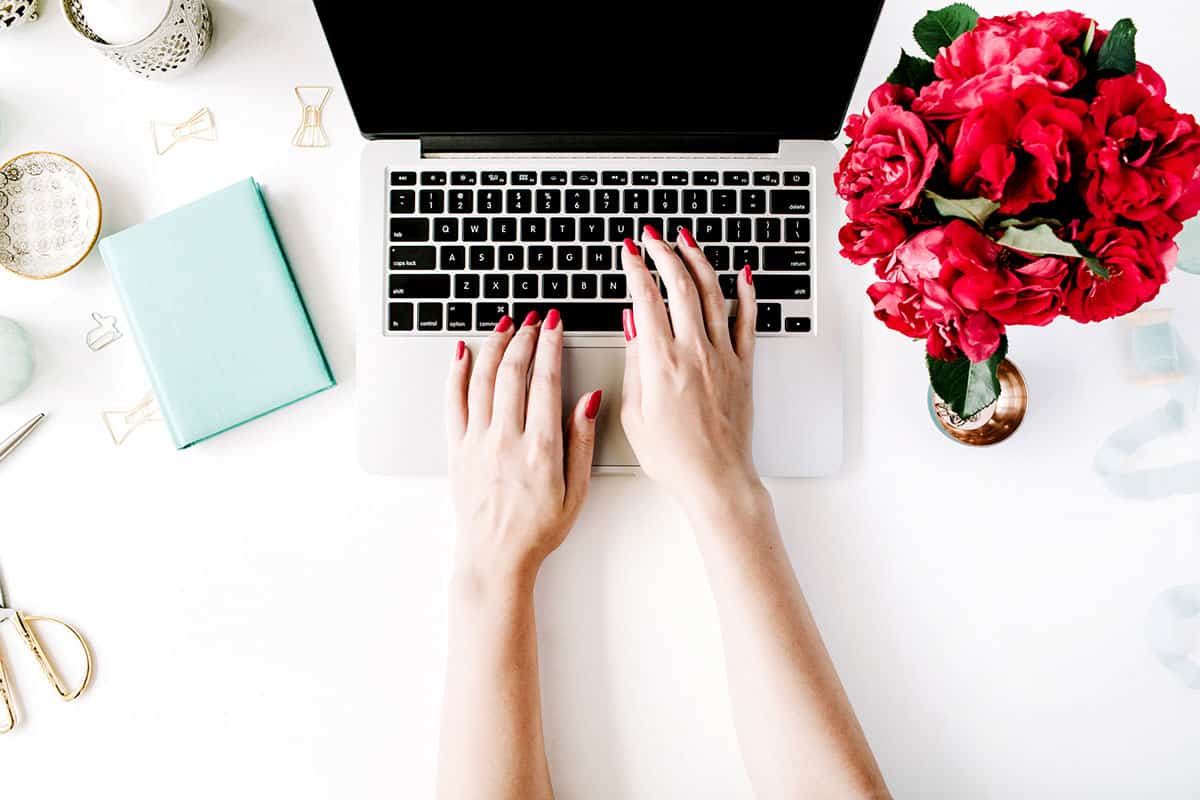 If you need the extra income, I suggest starting a blog as a side project while you're also doing one of these other flexible jobs. That way, you'll have money coming in a while your blog grows. Over time your blog can grow, and ideally, it may start pulling in money for you in the form of ads, affiliate sales, or even sales of your product. This is an amazing flexible job for moms!
✅Check out our in-depth tutorial on how to start a blog now!
Finding Flexible Jobs for Moms
If you're a mom who'd like to work from home, there are so many options. While some of these jobs might be straightforward and easy to find, like grocery delivery or TaskRabbit jobs, others might require a little more work. In some cases, you may even determine that setting up your own freelance business and pitching your services to prospective clients is the best way to start making money.
While a work at home job is just that – work – it is possible, even if you're home with your kids. With the right attitude and a little effort, you will be able to find a flexible job for moms that fits with your family and your lifestyle.
Have you tried these work from home jobs? Let us know in the comments. Click here for 35+ more legit work from home jobs from our friends at the Savvy Couple!
About the author:
Bridget Sielicki is a busy wife and homeschooling mom of 4. She's been juggling working from home as a freelance writer and raising her kids for the past ten years, but she wouldn't have it any other way. She started The Freelancing Mama to offer support and ideas for other women who want to find a way to work from home while raising their children.
Related Posts:
Pin to Pinterest:
Pin to Pinterest so others can find out about these flexible jobs for moms!