When you are a new blogger, it is important to be active in the blogging community. Facebook has a huge community for bloggers with several Facebook groups. I immediately joined all of them that I could last year. A blogger that is very active in the Facebook groups is Debbie Gartner.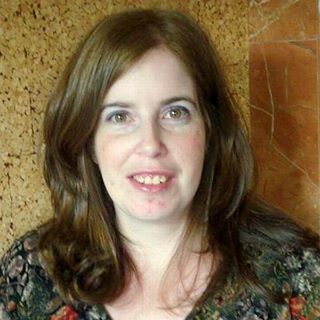 She has had phenomenal success with her blog, The Flooring Girl , and makes $20,000 a month. I would love to be able to reach this milestone with my blog. I currently only make $1,500 a month from blogging myself.
She is the author of "Easy Backlinks for SEO", "Easy On Page SEO", and "45 Not so obvious lessons I learned on the way to making $20,000/month". When Debbie agreed to be interviewed on my blog, I was super excited!
My Interview with Debbie Gartner
While Debbie Gartner is not a mom, her story is still very inspiring for women everywhere. I decided to add her amazing story to my Inspiring Mompreneur series. I will be adding other entrepreneurial women to the series too, even if they are not moms (yet).
The Flooring Girl is such an amazing blog. What gave you the idea to start it?
Thank you. I started the blog for my local flooring business. It was a marketing strategy to find local customers. And, it worked. I was able to get 5 appointments/week just from my blog.
These appointments went very well and closed at a higher rate than my other lead sources. I think this is because these customer chose me based on my flooring knowledge and they trusted me.
Note: I was not monetizing my blog. I didn't even realize that was a possibility until years later.
I know you were in massive debt and was able to pay it off. What advice would you give to someone who is experiencing debt?
So first, let me explain the life took an unexpected turn at the end of 2016. I'm not allowed to go into details (due to a non disclosure agreement). But basically I found myself $238,000 in debt, living in a high cost of living area and without a means of income. I had to put my flooring business on hold for 2 years and figure out how to stay afloat and pay down a lot of debt. That was just 3 years ago.
That is when I decided to try to monetize my blog and see if I could make a living at in and get out of debt.
I was so far in debt that it was emotionally overwhelming. I almost lost everything.
That is when I decided to try to monetize my blog and see if I could make a living at in and get out of debt.
So I had to compartmentalize this in steps. I had an absolute deadline of August 2023 to get everything paid off (that was 5 years and 9 months away. But it felt like an impossible number.
So I chunked it out.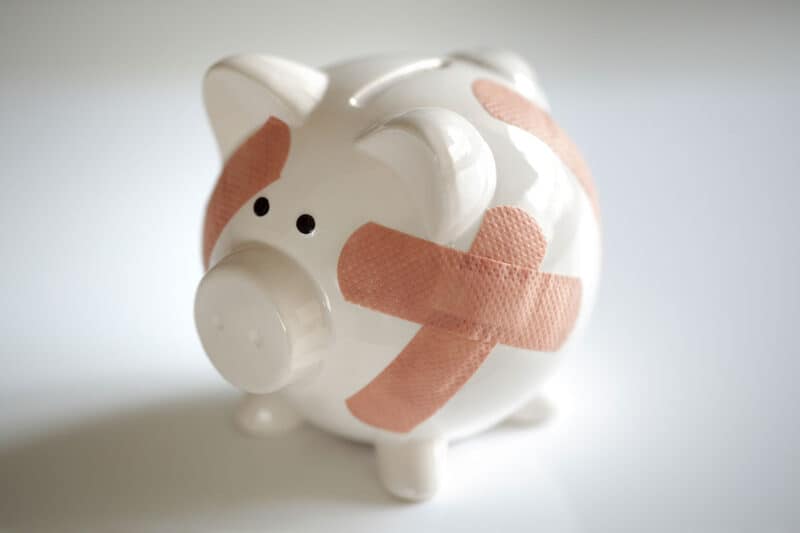 My first goal was to pay off the immediate $68,000 I had in debt. And, I had to teach myself to forget about the other $170,000 I had. I had to pretend it didn't exist…or else I would start to hyperventilate, if you know what I mean. I told myself I would just deal with it later as Step 2.
$68,000 was still a lot, but it was more achievable.
From there, I created a spreadsheet of all the things I owed, item by item. I updated it once a month. I started with the highest interest rates first.
I was lucky that I had a low interest rate credit card from years before. If I paid just 10% of the balance, I only had to pay 7.5% interest, so that helped.
When I found out that I had an unknown bill of $5,000, I negotiated with that vendor. I had a few people (professional services like my CPA that allowed me to pay late without interest. I was lucky that I was a long time customer.
I did not pay my quarterly taxes because my CPA advised me that the interest penalties were less than the interest I was paying on other things I owed.
I went on Medicaid.
I basically cut all non-essential spending. I had a tiny budget for food (and bought everything on sale or private label). I paid my mortgage, my debt, car insurance and some tiny basics (like my hosting fees, gas for the car, etc.). Almost nothing else.
The best way to get out of debt is to make more money.
No TV, No AC (my AC broke), no clothes (yes, I started to get holes in my shoes, socks, no meals out, no fun activities, no haircuts, and lots of things in my home broke and I couldn't replace them (e.g. vacuum, dishwasher, AC).
But I knew this was not nearly enough. And, I knew that it would take a long time to monetize my blog.
The best way to get out of debt is to make more money.
So I took on 2 part-time jobs. I did freelancing (blogging/SEO for local businesses) and I did painting estimates. And, then I blogged and blogged and blogged and learned how to monetize. I needed to buy myself some time, and that's what the 2 part-time jobs did. They paid my bills while I waited for my blog to kick in.
Thankfully, as time went on, my blog started to take off. It was slower than I thought and hoped, but by month 11, I started to see an upward trend. I made $3,000 a month and then continued to grow.
Yes, I had a lot of hiccups and challenges, but I was able to make over $20,000/month at 2 years and 3 months. I then got that $68,000 in debt paid off.
Then, I moved on to the next part of my debt.
I have continued to make over $20,000 every month since (it's been 10 months so far). And so far, I have paid down $146,000 in debt in just 3 years. All thanks to my blog.
What advice would you give to a woman who is looking to start her own blog?
The same advice I'd give to a man, LOL. Pick a niche. If you intent to make money do it right and get a self hosted blog on WordPress. Get good hosting. It's worth it to pay an extra dollar or two a month. Avoid Godaddy, Bluehost or Hostgator. Instead use NameHero or Site Ground.
Treat it like a business, which means invest in it. That does not mean you need to spend a lot. But don't be pennywise pound foolish (as I sometimes was). Be willing to invest a modest amount and take some basic training books/courses as it will speed up your ability to make more money faster.
Maybe spend $100 or so per month for combo of basics and training. And create a budget. Again, treat it like a business. And, this is probably one of the lowest cost businesses you can start. But, you can't do it for free.
Is it possible to be successful at blogging in 2020?
Oh absolutely! I intend to start another niche blog later this year. I wouldn't do that if I thought it wasn't achievable.
How did you get started as an SEO guru? How did you learn?
LOL I don't think I would call myself a guru, but rather an avid learner.
I started learning in 2010. I am self-taught I guess. Between 2010 and 2012 I read everything SEO I could get my hands on.
I read from all the experts – Neil Patel, Rand Fishkin and later Brian Dean.
I was an early user of Google + and that's where these guys congregated (back then). I read, and read and read. And, I implemented and learned and adapted. Many of my friends called me a sponge, because I would suck in all he info and then implement. We learned and shared as a group.
I understood it very well by 2012, but I never stopped reading, learning and implementing. It accounted for a large part of my flooring business, so I made it my business to understand it.
Is it important to focus on SEO if you are a new blogger?
Yes, absolutely. I believe it has been the key to my success. It enables me to scale my business. SEO traffic is much more valuable than social media traffic as you can monetize it much better. It enables me to make over $12,000 a month just on affiliate marketing. As I write more articles, they build on each other and become synergistic.
(SEO) enables me to make over $12,000 a month just on affiliate marketing.
And, SEO is more passive (unlike social media). So while it may be a slower build at first, it lasts much longer and with much less work than social media. So as I write more articles, I get more traffic and more money.
And, I can let my blog go for weeks (or even months) at a time and still make over $20,000 a month. Or said another way, I can let my blog go while I work on another project.
I recommend that new bloggers start to learn SEO by month 3 at the latest. This will enable you to focus on the right types of blog posts and do them better. And, it will enable you to start getting organic by around 6 months.
The longer you wait, the longer it will take you to rank in the search engines. And, the longer you wait, the more rework you will need to do.
The common thing I hear from newer bloggers (i.e. 2 year or less) is I wish I knew about this a long time ago…often 6 months – 1 year sooner. And, it usually takes them back to the 3 month mark…no matter how long they've been blogging.
You readers may find this article helpful: 10 Things I did to double my blog traffic.
How do you advertise or get the word out about your blogging business?
Up until a couple of months ago, I did not really advertise. I leveraged affiliates to help sell my products. So, it's a form a marketing, but it doesn't cost you money up front. It's more like a pay for performance method.
So they recommend your product, you give them 40% commission, you pay some Paypal fees (unavoidable) so maybe you net 55-57%.
As they sell more, they make money and you make money. And, there really isn't a risk as it's pay as you go.
Word of mouth also helped and participation in Facebook groups.
As they sell more, they make money and you make money.
Later, I started an email list. Bloggers can sign up for my FREE SEO course here. That is something I should have done much sooner.
Now, I've started to do some Facebook ad to get even more subscribers.
That is what I do for my SEO ebooks/blogger products.
For my main business, TheFlooringGirl.com I simply do SEO and Pinterest. And, that is it. All of that is free.
What are your business goals for 2020?
I actually only have modest business goals for 2020. I'm hoping to take it easier in my 4th year so I can exercise more, lose weight, have more time to myself and a more balanced life. But, I still have $95,000 left in debt and want to get it paid off quickly, so we'll see.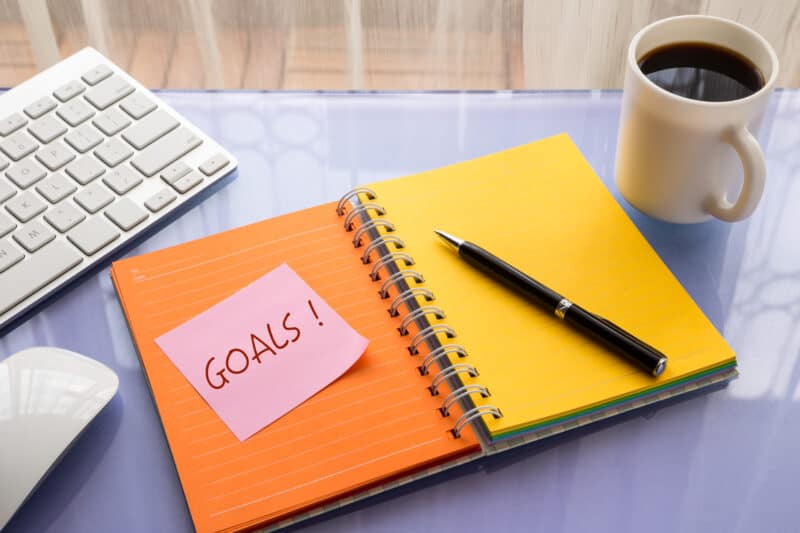 My goal is simply to be at $25,000/month net profit on a regular basis by June. I believe this is achievable (especially as I earned $28K in November and December…these are always my best months) and to hopefully make $20,000/month until them (which is a bit of a stretch for January and February).
I'm just looking for 7% growth in 2020.
What helps you feel inspired and motivates you?
2 things:
1) My debt – so fear I guess. My goal is to have it paid by 2 Thanksgivings from now and feel this is easily achievable. And, I have a stretch goal to get it paid by 1.5 years from now.
2) I'm inspired by many super star bloggers. There are so many. One of my favorites is Jennifer Maker. And, it's not because she makes a ton of money. It's because she breaks new ground. She's an innovator and a creator. She has a strategy and goes for it. And, she makes me think differently. And, she scales.
So I don't want to have a huge team and I don't want to make $100,000 a month. I'll be more than happy at $25K or even 30K so I can live a comfortable life and have money for retirement (and make up for lost time). But I want to get there without a huge team. Just maybe 2-3 people helping out part time. And, I want to get there gradually but consistently cutting back on my time.
What is your best productivity hack?
I don't think I have a real hack. But, I have found that SEO is most efficient use of time, so in a sense, it's a hack. It takes a while, but afterwards, it keeps producing for you and becomes passive. So, in my mind, it is probably the best way to scale your business.
Then, I'd say turn off the distractions (I'm terrible at this) and find out your most productive 2 hours of your day…when you brain is just "on" and be sure to work during those 2 hours and do your highest impact activities then.
If you could travel anywhere in the world, where would you go?
I used to travel a lot and often. I've been to many places in Europe and a safari in South Africa. Would love to go again and maybe Australia and Hawaii. I love beach vacations, too. I know, it's lame. But, I can't wait for the days to travel again…and even moreso for the day I can travel and not be concerned about money.
What do you love about home décor?
Oh it's so much fun because you are transforming a house to a home You are making the space nicer and more functional. And, you can help your customers express their sense of style and create a welcoming area for their family and guests.
Which of your excellent eBooks is your favorite? I have both the SEO and Backlinks books and highly recommend them to everyone.
Oh I go back and forth on it. I suppose "Easy Backlinks for SEO" is more unique, and that's why I launched it first. But, I also love "Easy On Page SEO" because it's perfect for beginner and intermediate bloggers.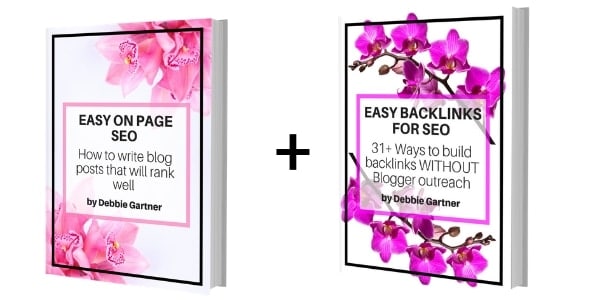 ✅Click here to get both books bundled and save $20!
New bloggers are blown away by it because now they finally get it. They understand that SEO is logical and not difficult. I feel like I'm enabling them to be successful with their blog at an early point, and that feels great.
But, what's also cool and warms my heart is when intermediate bloggers take it and they thought they wouldn't learn much, and they are pleasantly surprised by how much they did. Intermediate bloggers would be those that have blogged 3-7 years. They may be making a decent income, but they haven't broken the code on SEO yet. And, now they get it. I get so many nice notes about this, and it is so rewarding.
I heard you have a new SEO course. Can you share some insight on it?
Easy SEO Revamp may be my new favorite LOL. I mean how can you pick among your kids (or your cats)? Anyway, this course building on both of the ebooks. It teaches how to really use Google Search Console, and how to leverage that data to improve the rankings on your existing articles.
It's much more effective use of your time to improve existing content than to write new content, and bloggers often forget this. Google also prefers content that is updated.
So be sure to weave this into your plans. It can help you get your articles from page 2 to page 1, or move them up a few slots on the first page. It's the method I use to improve my articles for traffic and conversion.
✅Check out Easy SEO Revamp now to improve your SEO and rank high in Google!
My Reviews of Debbie Gartner's SEO Books
I have most of Debbie's ebooks and they are game changers! I will be reviewing 3 of her ebooks, "Easy Backlinks for SEO", "Easy On Page SEO", and "45 Not so obvious lessons I learned on the way to making $20,000/month". You may want to pick up the bundle of SEO ebooks to save money!
Easy Backlinks for SEO Review
My DA (domain authority) went from 10 to 40 after I read "Easy Backlinks for SEO". This ebook shows you how to build backlinks to your blog to increase its authority on Google. I love having a DA 40 because I am getting more people wanting to guest post so I don't have to pay people to write for me. Also, brands are reaching out to me because my blog looks more legit.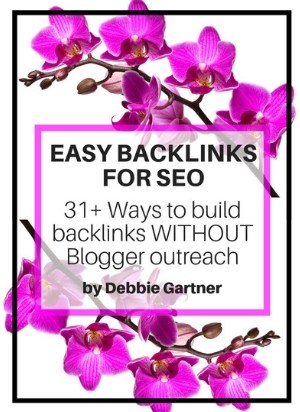 When your blog or website has authority, then it increases in rank on Google. It's a measurement developed by Moz.com to determine which sites rank the highest in Google. DA ranges from 0 to 100 and the higher your number is, the better.
This ebook is all about how to get backlinks without any outreach methods such as guest posting.
I had a horrible guest posting experience so no longer wanted to guest post for awhile. A big blogger promised I could submit a guest post on her blog. I wrote a well-researched 2,000 plus word post and emailed it her.
She ignored me for two weeks so I sent another email. She ignored that one too. I felt like crap! I worked really hard on this post and now it wasn't going to be published. Has this happened to you?
I was ready to throw in the towel on blogging all together. My DA was just 10 and I wasn't ranking in Google at all. Heck, I barely got any Pinterest traffic. I was lucky if I got 50 visitors a day to my fledgling blog.
While browsing Facebook one day, I came across someone saying how great "Easy Backlinks for SEO" was to get backlinks. It piqued my curiosity big time. The ebook promised that you didn't need to do any blogger outreach to build backlinks to your blog.
That night, I read the ebook in one sitting. It had such a gold mine of knowledge that I never even thought of. I started implementing the strategies the very next day.
In two weeks, i was featured on Best Company, a big media site with a DA of 52. They gave a backlink to Mom Beach! A week later, I checked Moz.com and my DA was now a 12. It jumped a whole 2 points with this one mention on Best Company.
I was now hooked on building backlinks to my blog! If you want your blog or website's DA to increase, then be sure to check out "Easy Backlinks for SEO" right now.
✅Click here to get "Easy Backlinks for SEO" right now!
Easy On Page SEO Review
An ebook I have gotten great results with is "Easy On Page SEO". It helped me rank #1 in Google for several high traffic keywords. Debbie explains SEO so it is simple and provides actionable tips.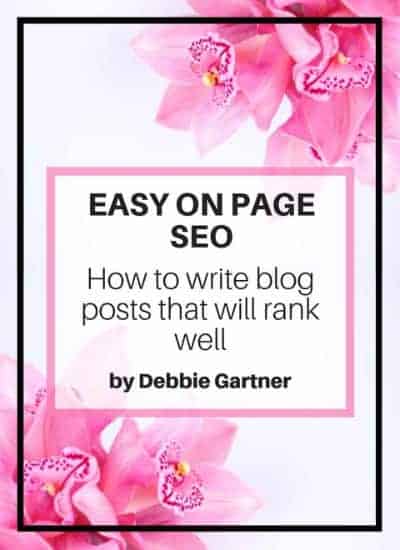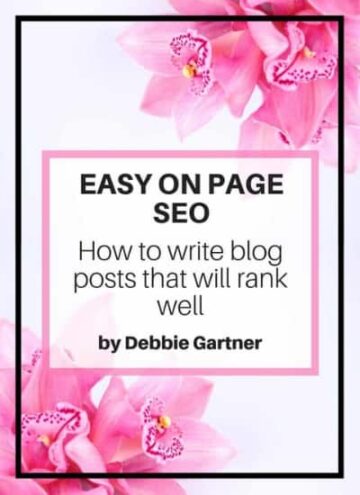 I now get more than 500 organic searches a day from Google, which diversified my traffic.
One time, I was banned from Pinterest for 2 weeks and had no traffic at all come to my blog during that time.
It caused me to lose so much money in ads and affiliates, not to mention all of the subscribers I missed out on.
This was a big eye opener! I decided that I needed to diversify my traffic by using SEO. SEO scared me because I didn't understand what to do. It all seemed too complicated to master.
I put it off for several months because I felt I was too busy to learn SEO!
In the Genius Blogger's Toolkit last year, I saw that "Easy On Page SEO" was included. How could the words "easy" and "SEO" go together? 🤔It sounded like an oxymoron to me.
Nevertheless, I decided to read "Easy On Page SEO" to find out about SEO. To my surprise, it wasn't so difficult at all. Debbie broke down SEO into simple actionable steps that I could take to implement SEO into my blog posts.
She provided a simple checklist for each blog post to make sure you do the steps to SEO optimize.
Before reading "Easy On Page SEO", I thought that Yoast was all that I needed. I made sure to get all green lights, even if I had to cram in the keyword into every headline. Several of my blog posts say "Headline – keyword phrase here" and its cringe-worthy now that I think of it. 😣
The results I have gotten speak for themselves. A review post I wrote got the #1 spot in Google after implementing the steps in "Easy On Page SEO".
This has brought in over 100 visitors to my blog each day with no work. On Pinterest I have to pin 30 times a day and then pray for this kind of traffic.
If you want the same results for your blog or website, then check out "Easy On Page SEO".
✅Click here to get "Easy On Page SEO" right now!
45 Not so obvious lessons I learned on the way to making $20,000/month
"45 Not so obvious lessons I learned on the way to making $20,000/month" is a newer ebook that Debbie has written. I received it in a bundle and decided to read it all in one sitting. The ebook is fascinating!
Debbie reveals her journey to making $20,000 a month. She doesn't leave out anything, not even embarrassing mistakes she had made along the way.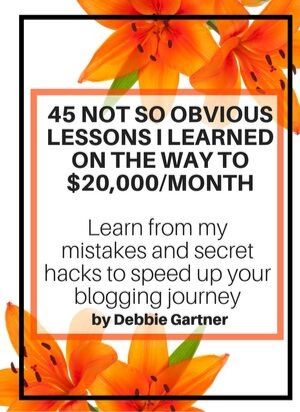 I ended up learning a ton of new tips that I been implementing on my blog. An important takeaway was her affiliate marketing tips, for instance.
Debbie makes $8,000 or more each month just from Amazon Associates. I barely crack $5 a month in Amazon Associates myself so felt very envious of her success.
She reveals what books she has read and what steps she has done in order to make that much. You really need to check out "45 Not so obvious lessons I learned on the way to making $20,000/month" to get all of Debbie's secrets to success.
✅Click here to get "45 Not so obvious lessons I learned on the way to making $20,000/month" right now!
Do you want to learn more about Debbie Gartner?
You should visit Debbie's main blog at the FlooringGirl.com and definitely check out her ebooks, "Easy Backlinks for SEO", "Easy On Page SEO", and "45 Not so obvious lessons I learned on the way to making $20,000/month" too. You may want to pick up the bundle of SEO ebooks to save money!
Comment below if Debbie's story has motivated you to succeed with your own blog or website!
Related Posts:
Pin to Pinterest:
Pin to Pinterest so others can learn about Debbie Gartner too!