Sarah Titus is a strong role model for all women to follow. I first found out about Sarah's success back in March of 2020 when I was struggling to make money selling my own digital products online. This is the first in the series I am doing on inspiring mompreneurs. If you wish to be featured, then fill out the contact form.
Read on to learn more about Sarah Titus in an interview and honest reviews of her courses that I have taken.
Sarah's Million Dollar Shop
Sarah Titus has made more than $7 million from what she calls her "million-dollar shop". You can view her income reports here!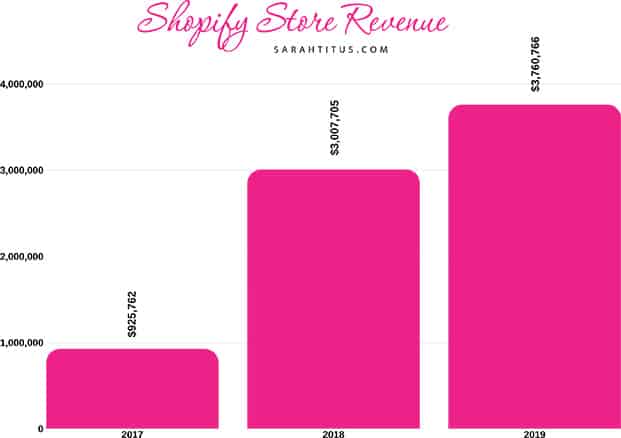 Her story is poignant in that she became homeless after her cheating husband left her and her two kids. Every woman can relate to feeling rejected and hopeless, so Sarah's story hits home.
She rose from the ashes like a phoenix on fire and now is making millions of dollars from her printables.
I decided to purchase Sarah's course, Million Dollar Shop, after seeing countless positive reviews. At first, I was skeptical. Why would someone buy printables when they can get them for free on Pinterest? It didn't make sense to me.
---
Related Posts:
---
A Printable Empire
Sarah's MO is selling gorgeous premium printables that have hundreds of pages. In fact, her top printable with thousands of downloads is her free yearly planner with more than 600 pages.
She currently has over 125 products in her store, which creates a printable empire for herself and her family.
A few months after taking her course, I was making hundreds of dollars in my own printables shop. Sarah's teaching style is outstanding!
I was very fortunate to catch Sarah Titus for an in-depth interview where she sheds light on her jaw-dropping business success!

Sarah Titus Interview
Q: I know you used to be homeless and living in shelters with your kids. That must have been so terrifying! How did you find the strength and motivation to get out of that situation?
I didn't really have a choice. I was being kicked out of the homeless shelter in a week. They can only keep you there for one month, and I was going on 3 weeks. I HAD to get a place and quick or I would be on the street. It was do or die.
Q: What piece of advice would you give another woman who is in a similar difficult situation?
Use absolutely all the free resources there are. There are SOOOO many programs for low income/no income, I was really surprised. Things like the LIHEAP program that pays 3 months of your power bill each year or the low-income telephone discount. There are lists of those kinds of resources, so utilize all the free stuff before paying for anything.
I recall you saying you used to sell Littlest Pet Shop on eBay. How did you get the idea to start selling printables online? It must have been a steep learning curve to go from selling physical to digital products.
After I sold Littlest Pet Shop toys on eBay, I started blogging, so there were a few years there, where I wasn't selling any of my own products (just here and there on eBay) but not the massive store I had before on eBay and not any of my own courses or printables.
I was an affiliate for a blogging planner. It was $4.99 each copy and I got a cut from each copy I sold. I saw that I was getting a LOT of sales for that product and when the new year turned around, I had contacted the blogger for the new link to the new years' planner so I could update links.
She never emailed me back after a couple of times I emailed her, so I thought to myself, "I can make my OWN blogging binder, sell it for a higher price and keep ALL the profits. Then I wouldn't have to worry about changing links or people not emailing me back. It would be MY product so I could control those things myself. It would also be more money than affiliate commissions." Around that time, I saw a different girl post a planner in a Facebook group, she was selling it and I purchased it to give it out as a free opt-in on my blog.
In my very first month on Shopify, I made $52,060 selling printables and I only had a couple of binders in my shop.
Between both of those things, they went really well with my audience and I simply started doing MORE! I became very obsessed with printables as they were organizing my own personal life, my audience loved the planners and so I coined the term "binders" online instead of "planners" in order to differentiate myself and the rest is history.
In my very first month on Shopify, I made $52,060 selling printables and I only had a couple of binders in my shop. It just went like wildfire. No one else was doing binders (only 2-3 online, by different bloggers) so not like a niche or multiples, or anything and I saw this massive hole there and went for it. It exploded from there. 😊
What is one piece of advice you would give to a woman who wants to start selling printables too?
You need to use professional software. You can't just use Canva or website-based programs and expect them to sell. Everyone does that and gives their printables for free. You have to go above and beyond.
You also need to be on Shopify if you want to succeed in a major way. It's just so much better not having to compete with 50 billion OTHER printables and so you have to charge pennies when you can charge $30-$40 for a good binder in your own store. You do have to get your own traffic in your own store but honestly, what does it matter?
If you sell somewhere like Etsy for example, they give you traffic sure, but there are 50 billion other people there too, all competing for the same thing so what does the traffic matter if you're not selling. The sales go to someone else. You need like 50,000 clicks just to make $500 on Etsy. But on your own store, you only need like 1k-3k clicks to make $500.
It's a lot easier taking responsibility for your own traffic, then you're not just waiting around thinking they will do the work and the money never comes. If it's up to you to get traffic, you'll know that and so you'll work on getting traffic and make more sales because you're not competing with anyone else.
I personally HATE areas where you have to compete like that. It just isn't profitable. Do your own thing. Set yourself apart. Go big or go home.
How do you advertise or get the word out about your printables? You had said you never run ads, so how do you get so many sales?
I give free opt-ins to printables on my blog. Here's an example of a free daily planner for 2020: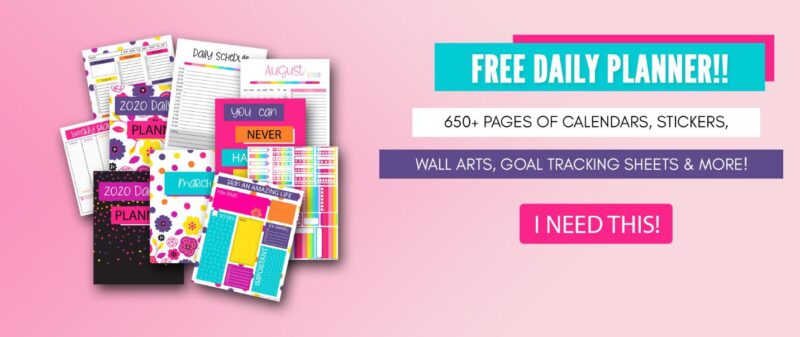 On all social media, you'll see those free opt-ins as well. Here's an example of my Pinterest where I'm promoting the same opt-in currently:



When you are giving out something free that is valuable and awesome (like a 100+ page printable pack), trust me, they will flock to you by the hoards! Marketing becomes super easy. Just build your list, offer regular freebies to your list, and you're good to go! While there's more than that involved, of course, that's the gist of it.
The beautiful part is that you don't have to be a seller or push hard for sales. Just push to give something free, get them to your store to download it, they see other things, buy, leave reviews, others come along, see the reviews and buy, and everyone tells their friends because your stuff rocks. 😊
Also, don't underestimate the power of (free) word of mouth marketing. My Pastor referred me to an auto mechanic in the area. Upon talking to them, they said that 99% of their business is solely by word of mouth marketing. They don't have to advertise. What they focus on is providing the best customer experience possible and always being super honest.
If your car doesn't NEED a repair, they don't tell you to get one. I've never been to a mechanic company like them before in my life! And you know what, I tell all my friends. Hey, you wanna NOT get gouged, go here. They are honest and fair prices.
I focus the majority of my time "marketing" on simply providing the best printables ON the planet.
It's the same with an online business, whether you're blogging or selling something. A lot of teachers will print out my printables and share them with their students. The students bring the papers home, the parents want another sheet like that one, they see my watermark on the printable and come to me.
I focus the majority of my time "marketing" on simply providing the best printables ON the planet.


This works and it's what will set you apart. Whatever you do, be the best at it. Go above and beyond. Walk the extra mile for your customers, both in customer service and in your products and people won't be able to HELP but share your stuff and get you easy sales without your even trying!
What are your business goals for 2020?
I do want to start Facebook ads. I've not tried paid advertising and so I do want to add that layer of things because I have the foundation built, I know I can reach more people with a free opt-in in Facebook ads than what I do now (just free advertising on Pinterest, blog posts, etc.)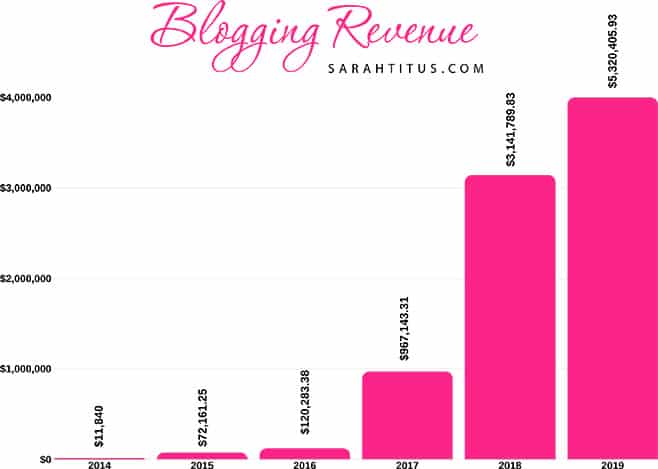 What helps you feel inspired when creating printables? How do you come up with all of your different designs?
Honestly, most of the time I just create whatever *I* want. I love printables. I'm literally my own perfect customer (avatar) and so it's easy for me because I like what I do, I use it, it's helpful to me, and so it's helpful to others.
I also have really perfected my brand with lots of certain colors and styles so it's easy to take templates I've already created and just grab a new pattern and it's basically done. 😊
There are definitely a lot of ways to be inspired though and all that is covered in my course, How to Create Printables. 😊
What is your best productivity hack? You have so many printables that must have taken hours and hours to create. How can you do this when you have a family?
My kids are older so they are in school, so I have a lot of time to just have fun and mess around with printables. It's fun for me, like a hobby. It's my happy place, so for me, it does not work, but more like a fun thing.
I also have a lot of templates now, as I mentioned. When you create them for so long, you can use your same templates of what works and get done faster. I have a TON of time-saving templates in the course, How to Create Printables, as a bonus that I give away free in there.
Lastly, I would say to work on just one thing at a time. I work on one set of printables or one binder until it's complete. When the kids are home, I'm spending time with them, I'm getting my other work done when they are at school or in bed at night, and I can still have time to create products and run my empires because I'm focused on one project at a time (two if I get bored). 😊
Rome wasn't built in a day. My shop has a ton of products because I just focus on one, then another, then another. I do one new binder a month and I've had my store for 2 years, so that's 24+ binders. I definitely don't think you have to have it all done at once. Take it slow because you want to see what your audience and email list that you're building response to and likes. 😊
What do you love about creating printables and which one is your favorite?
I like creating something from nothing. I always have. I feel more comfortable selling something *I* made rather than selling something that someone ELSE made. Feeling more comfortable selling my own stuff, I'm able to sell it better because I believe in it more. I see transformed lives. Printables transformed my life too!
I don't really have a favorite type of printable. Anything that inspires me or I'm excited about creating and that always varies on the project I'm working on. I DO only work on stuff I LOVE though, so I can easily stay motivated because it's more of a hobby and I love it. I'd create printables even if no one paid me for it and that's the best job to have. <3
Which one of your wonderful and valuable courses is your favorite?
I have a couple of favorites. The How to Create Printables course is my favorite because I love the Facebook group and hanging out with other people who love creating printables as much as I do. I can talk about printables all day long- I'm just so in love with them.
My second favorite is the Business Secrets You'll Fall In Love With course. I think it's the foundation for being successful. I take all my best tips and tricks from 23 years of making money online and teach all those foundational principles that lightspeeds people's success ahead in one course.
Those tips are pure gold and eventually, the course will be transformed into a course all about getting people from 6 figures to 7 figures, so it's evolving as I go. 😊 It's also one of my top two favorites because there are several videos (face on camera) and people say they LOVE those videos! They really connect with me and it's such a joy to hear that. <3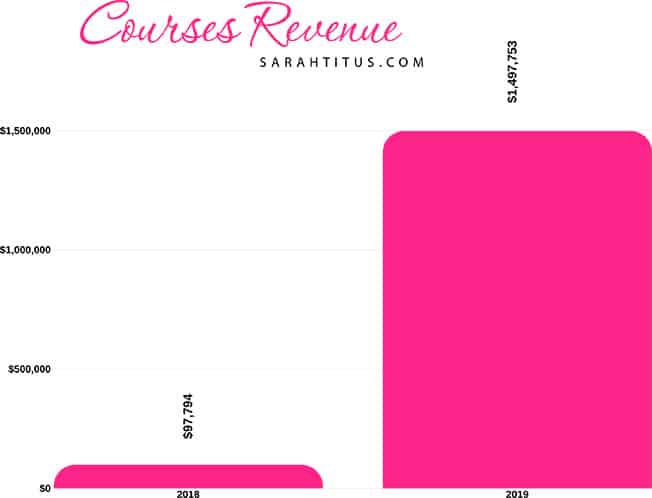 Sarah Titus' Course Review
In this section, you will find my honest review of the courses I have taken from Sarah Titus.
Sarah Titus' Million Dollar Shop
The Million Dollar Shop course was the first course that I have taken from Sarah. It enabled me to get my own printable Shopify store up and running.
I had no experience selling digital products at all, only physical products. I wasn't sure how to sell digital products in Shopify. Sarah's course changed all that.
In about half a day, I was able to set up a digital products Shopify store that customers would buy from. Sarah details how to set up your store so that you look trustworthy and convert customers with ease.
Million Dollar Shop is a very meaty course with 15 modules and even a free course binder.
Over the Christmas holiday, I made hundreds of dollars in my sleep!
In an average month, I make $500 right now. I will update this post as I climb in sales as my blog gets more traffic. Mom Beach is currently getting about 50k visitors a month.
Update! I made over $800 so far in January!

I did not use any paid advertising of any kind to get these sales. Sarah told me how to drive organic traffic to my store from my blog in her Million Dollar Shop course.
Click here to sign up for Million Dollar Shop!
How To Create Printables
I'm a seasoned designer with a Bachelor of Fine Art in Graphic Design, so I wasn't sure if Sarah Titus' How to Create Printables course would benefit me. However, I did not know how to create printables using Photoshop, so decided to sign up.
I learned how to find the best graphics, several Photoshop techniques, how to create coloring pages, and so much more. Sarah provides several templates that you can use to create your own printables such as gift tags, bookmarks, cards, planner layouts, and more.
Within a few hours, I could create my own coloring page such as the one below: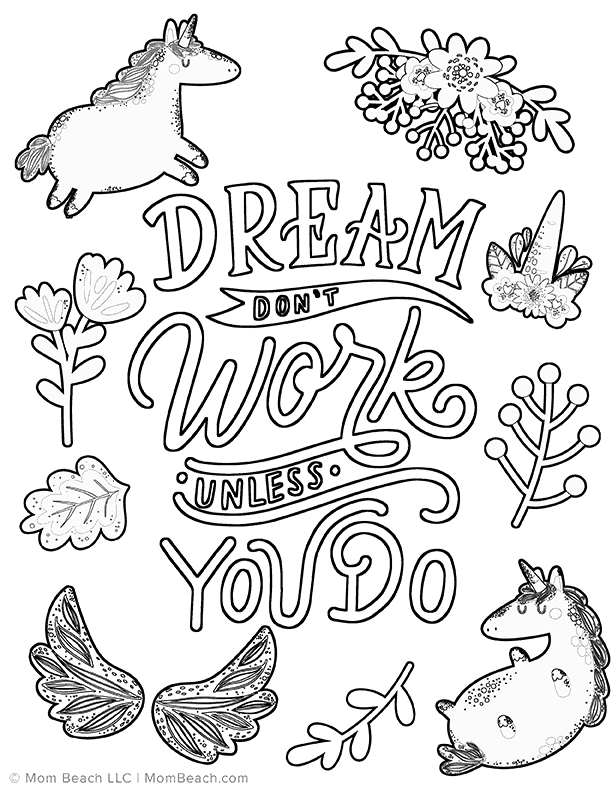 If you'd like to download this coloring page for free, click here.
Photoshop is an excellent program to create printables in!
Click here to so sign for How to Create Printables!

Sarah Titus' Continued Success
The future looks bright for Sarah Titus' business. She creates several new products a month to add to her evergrowing store. Her community is growing rapidly too with over 70k email subscribers as of this article.
If you are struggling to sell your own digital products like I was, I highly recommend that you check out her courses such as How to Create Printables and Million Dollar Shop.
Related Posts:
Pin to Pinterest
Pin to Pinterest so other moms can learn about Sarah Titus too.