Summer is upon us and tons of families are wanting to plan beach trips. However, a fun family beach trip can quickly break the bank if you aren't careful. When you are searching Google for the "closest beach to me", "beach near me" or "beaches near me", you should also take into account the hotel cost and other factors. We also have a zip code search to help you locate the nearest beach to you.
Use This Zip Code Search to Locate a Beach Near You
Input your zip code to search the closest beaches nearest to your location. Please enable popups on your browser.
7 Fantastic Tips on Saving Big at the Beach – Beaches Near Me

#1 Use AirBnB Instead of a Hotel
Hotels on the beach are nefarious for charging an arm and a leg. Whenever my family and I go to South Padre in Texas, we find that hotels run from $120-$200+ a night. It can get super expensive if you have a big family and need multiple rooms.
Consider renting an AirBnB instead of pay for a costly hotel. You can get more bang for your buck! Several AirBnBs are super close to the beach or a short drive away.
We found that an entire home or condo for our big family started at $50 a night with a reduced amount for a week stay or more. Whenever searching, also search on AirBnB!
The home was clean and had a big kitchen where we could cook our own meals, saving more money on food! This leads us to the next money saving tip.
Check out this video to see how AirBnB works:

Click here to check out AirBnB and start saving money!
#2 Cook Your Own Meals
It can get quite costly to eat out every single meal while staying at the beach. Consider renting a condo with a kitchen or a home with AirBnB.
Beach restaurants charge you way more for a seafood dinner than what it costs them. You can buy cheap seafood everywhere at the beach and then cook it yourself in your kitchen. This will save you so much money and you can then enjoy the food outside on the patio with your family.
A family of 4 can run up a bill of $100 or more every time you dine out at a restaurant so this cuts expenses majorly.
If you catch your own fish, even better! You can eat for free or pay a small fee at a restaurant to prepare and cook the fish for you.
Some small children and babies don't do well at restaurants anyways, so this saves you an extra headache.
#3 Buy Beach Toys at the Dollar Store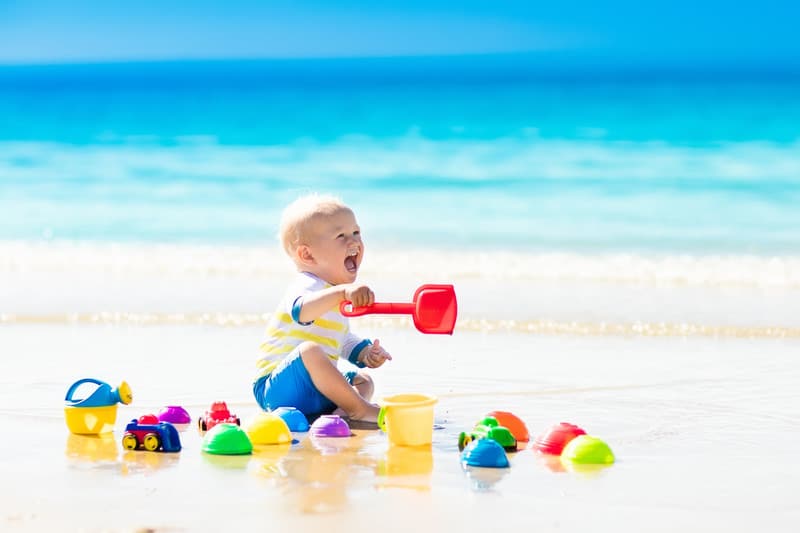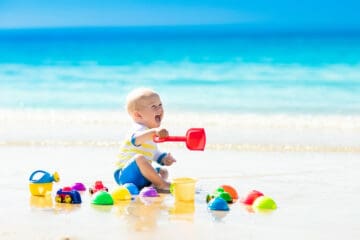 To entertain your little ones while at the beach, Keri over at Flip Flop Weekend has some ideas:
I never get beach toys unless it is at the dollar store. The kids don't care and then I don't feel bad when it gets lost in the ocean.

You can also pick up some great beach shovels at Beachgoer! Check out our review of the best beach shovels here!
When your children get hungry at the beach, that can deplete your budget fast. Check out our next tip.
#4 Bring a Cooler to Avoid Beach Concession Stands
If you thought beach restaurants were expensive, then beach concession stands are worse. They take advantage of tourists by pricing hot dogs and other cheap foods at ridiculous rates.

Anna at Abrazo and Coze has this money saving tip:
Bring a cooler of snacks and drinks so you don't need to buy from the concession stand.
This will save you money while providing your kids healthy snacks in the process. 🙂
#5 Carpool or take an Uber
Many beaches make you buy a beach permit at a gas station, which can be quite costly. You could carpool with another family or take an Uber.
#6 Avoid Beachfront Stores
Stores at the beach are full of junk that you don't need. It is best to shop in nearby towns that are not beach front. Therefore, you will end up paying far less than at stores right on the beach.
#7 Go to the Beach in the Off Season
During Spring break and other high traffic times, hotels and restaurants charge a premium.
If you have taken the other tips on staying at an AirBnB and cooking your own food in your condo or rental house, then you don't need to worry about this.
#8 Do Free or Low-cost Activities
The beach is perfectly fun on its own. However, if you want to go snorkeling then consider bringing a snorkel mask that you bought in a town that was not beach front. This way, it will be less expensive.

South Padre in Texas offers expensive horse back riding, jet-skiing and other costly activities. I tend to avoid these and stick to plain old fun in the sun. I'm really good at building sand castles!
#9 Buy a beach umbrella instead of rent
It is a lot cheaper to buy a beach umbrella instead of rent one. They aren't very expensive if you buy one where you live before coming to the beach.

#10 Buy a swimsuit before coming to the beach
The same goes for swimsuits. These cost a premium at the beach because lots of people forget a swimsuit when coming to the beach.
If you remember to buy a swim suit during the off season, then you can save even more money! Discount stores like Family Dollar and Dollar General sell swim suits for a lot less than department stores.
#11 Buy reusable swim diapers for babies and toddlers
Swim diapers like "Lil Splashers" are so expensive if you expect to go through a lot of them. If you get reusable swim diapers, you save so much more money.
Bryan, my 3 year old, goes through a pack of Lil Splashers at the beach or pool. I heard about reusable swim diapers recently and wished that I had bought some. If you are eco-friendly, then this also makes your carbon footprint smaller.
Save Big at the Beach!
I hope you enjoyed this article on saving money at the beac. Here at Mom Beach, we provide you with great money making and saving ideas.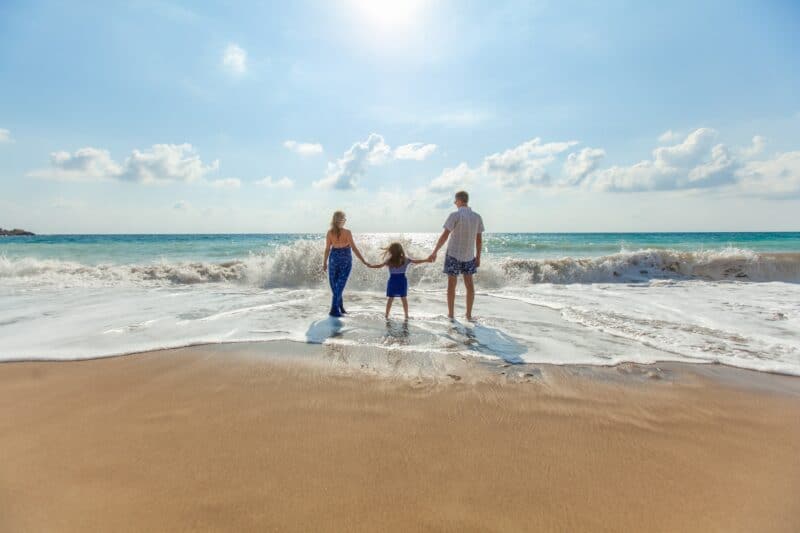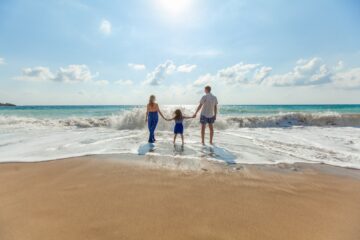 Some more bonus money saving tips are from Kristy at Money Bliss:
Once we arrive (at the beach), we find a grocery store to pack up on snacks and water. Also, we pack spray sunscreen. Sand + rub in sunscreen = meltdown ready to explode. For sand toys, we normally have been lucky enough to get someone's toys who are leaving and we pay it forward when we leave. Typically, we only plan to eat out one meal a day, which lowers our food costs quite a bit. Nothing like fun in the sun!
Consider subscribing to get our Goal Setting Workbook and more freebies!
To your money saving success,
Becky
Related Posts:
Pin to Pinterest: