Marie Kondo started her consulting business for home organization when she was a university student and only 19-years-old. Her book "The Life-Changing Magic of Tidying Up: The Japanese Art of Decluttering and Organizing" came out in the United States in 2014 and was a bestseller. The Netflix series, "Tidying Up", features Marie Kondo teaching her KonMari method of organizing to everyday people and helping them transform their homes. This article includes a KonMari Method checklist to help you keep track. Read on to learn more about Marie Kondo Tips for sparking joy in your everyday life.
Embrace a Mindful Perspective When Looking at And Thinking About Your Home
Marie Kondo was inspired by her experiences with the Shinto religion, and she teaches people a new, mindful way of thinking about their homes and their possessions. It's actually more of a lifestyle than an organization method. For example, Marie Kondo always greets a client's home. You can read about it here on the KonMari blog.
---
Related Posts:
---
If you've watched her Netflix show, you've seen her do it when she comes in and bows to the home as if she were entering a Shinto shrine.
As you learn more about Marie Kondo tips for cleaning your home, you'll get practice and begin to enjoy showing appreciation for your space and thanking your home for taking care of you.

Follow the Six Basic Rules of Tidying
Marie Kondo has six rules for tidying up that you can find on her website. Commit yourself to these rules before you start tidying your home.
Commit yourself to tidying up. – Her methods are a way of life that you'll learn along the way. You and your family will have to dedicate yourselves to cleaning up and keeping things tidy.
Imagine your ideal lifestyle. – Marie Kondo's tips are about creating the ideal home for you and your goals. Having an idea of how you want to live will inspire you as you clean and organize.
Finish discarding first. – Discarding items you no longer need is a huge part of her process.
Tidy by category, not by location. – Rather than cleaning room-by-room, the KonMari method walks people through categories in their homes (like clothes and books).
Follow the right order. – As you can see in her Netflix show, the KonMari method is done in a particular order. I'll go over this in more detail later.
Ask yourself if it sparks joy. – Get used to asking yourself this question! I'll go over this more in the next Marie Kondo tip.
Practice Asking Yourself "Does it Bring You Joy?"
Many of us clutter our homes and keep unused items or clothes that no longer fit. We teeter totter back and forth between keeping items and getting rid of them. What I love about Marie Kondo's method is that it becomes incredibly easy to decide whether or not to get rid of something.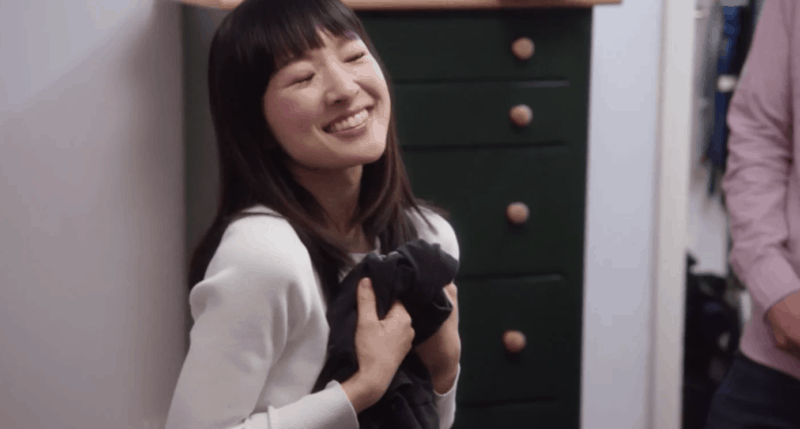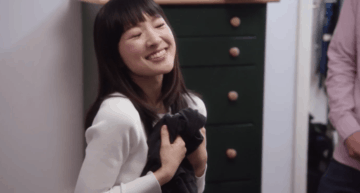 Photo Credit: Netflix
You simply ask yourself, "Does it bring me joy?" I used this reorganize my closet. I parted with five bags of clothes that I wasn't in love with anymore or no longer fit me, and I made room for new clothes.
It can feel weird at first to pick up your belongings one-by-one and ask yourself, "Does this spark joy?" But it gets easier the more you do it!
Learn a New Folding Method for Organizing Your Closet
After getting rid of the clothes I no longer wanted or needed, I didn't really feel like I had more room in my closet or my dresser drawers until I started using the KonMari method of folding clothes. I learned it from watching her Netflix show. Using her method, you fold clothes into little rectangles and store them vertically.

I was able to clear an
entire drawer of clothes
and make space. Now it's so much easier to find the clothes that I want when I need them. I love that I can actually see what's in the drawer just by opening it versus having to go through piles of folded to clothes to figure out what's in there.
Use a Folding Chart While Putting Away Your Laundry
I use folding charts that illustrate Marie Kondo's method for folding your clothes while I am putting away my laundry. It helps remind me how to do it, so I don't get lazy. If I don't fold my clothes properly, then my drawers begin to fill up again, and I won't have enough room for everything.
Here are some examples.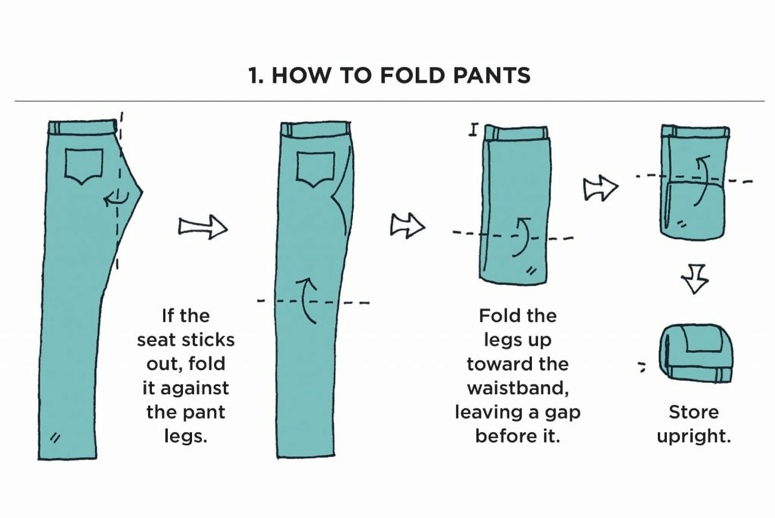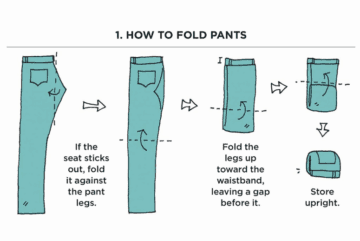 Photo Credit: Reader's Digest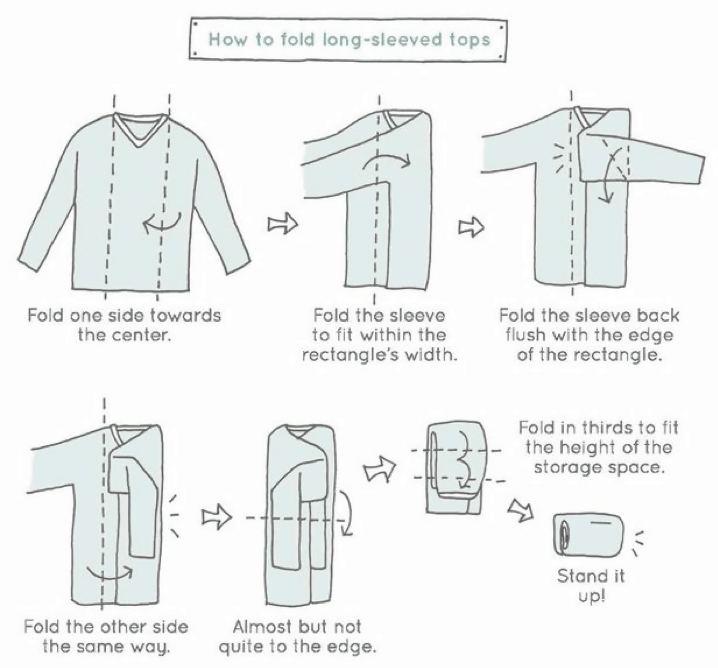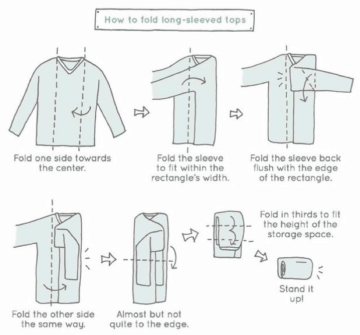 Photo Credit: Pinterest
Remember to place your clothes vertically in the drawer after folding them. This way, you'll be able to see all of your clothes inside of the drawer.
Tidy Up in the Right Order – KonMari Method Checklist
Watching the Netflix show is a fun way to learn about Marie Kondo's different steps to spark joy in your everyday life. You'll watch her go through the right order of how to tidy up with different individuals and families. I'll go through the right order for tidying up here in case you haven't seen it.
First, put all of your clothes into a big pile on your bed. Pick up each item one at a time and ask yourself if it sparks joy. If it doesn't, it goes into the pile of clothes to get rid of. Remember to thank the item before letting it go. If it does spark joy, then you put it into the pile of clothes to keep.
Next, you go through the same process with your books, papers (throw out unnecessary papers), and komono (the miscellaneous items in your home). Last, you go through your sentimental items. These are the most challenging to go through, so you definitely want to do those last. Don't skip categories or go out of order.
As Marie Kondo says, "Keep only those things that speak to the heart, and discard items that no longer spark joy. Thank them for their service – then let them go."
For more Marie Kondo Tips, check out her book "Spark Joy: An Illustrated Master Class on the Art of Organizing and Tidying-Up".

Watch "Tidying Up" to See Marie Kondo in Action
If you're like me, you're a visual learner. I didn't get into the KonMari method of organizing until I watched the Netflix show Tidying Up. It really helps you see Marie Kondo's process from beginning to end, and you learn how her organizing method helps people take control of their homes and their lives.
You'll see a family prepare their home for a baby on the way, married couples learn how to work as a team to keep the house tidy and how to teach their children to tidy with them, a widow going through the emotional process of tidying her husband's closet, and a family with two teenagers learn how to tidy up together, so their mother no longer has to carry the burden of keeping their apartment clean.
I really learned a lot from watching this show, and I highly recommend it for those who want to learn how to keep their houses clean.
Teach Your Children How to Tidy Up Together
One of the best aspects of the show is seeing other people struggling with keeping their homes tidy, especially when it comes to toys. It means we're not alone, and that it is possible to manage the clutter with our KonMari Method Checklist. The KonMari blog has some Marie Kondo tips on the topic of teaching your children how to tidy up with you.
First, show yourself some grace and be forgiving of yourself. You're not the only parent out there struggling with keeping the house clean. It is possible to tidy up as a family. Make tidying up a part of your daily routine with your children.
In her blog, Marie Kondo emphasizes the importance of making tidying up a positive activity for you and your children. When play time is over, make a game out of putting away all of the toys.
All toys should have a place, so it should be easy to put them away. You can also find her book for children, "Kiki & Jax: The Life-Changing Magic of Friendship", on Amazon.

Use Boxes to Organize Drawers
Another Marie Kondo tip that I learned from the Netflix show was how to reuse small boxes, like shoe boxes, to organize drawers. I hate going to find something in a drawer and not being able to see through all of the clutter.
Now you can even buy Marie Kondo boxes called Hikidashi for the purpose of tidying up your drawers. Using her boxes or reusing boxes, you'll be able to get more space out of your drawers by organizing with small boxes.
The photo below is a screen shot from the show. You can see that small boxes are used in the kitchen drawer to make more space and keep it tidy.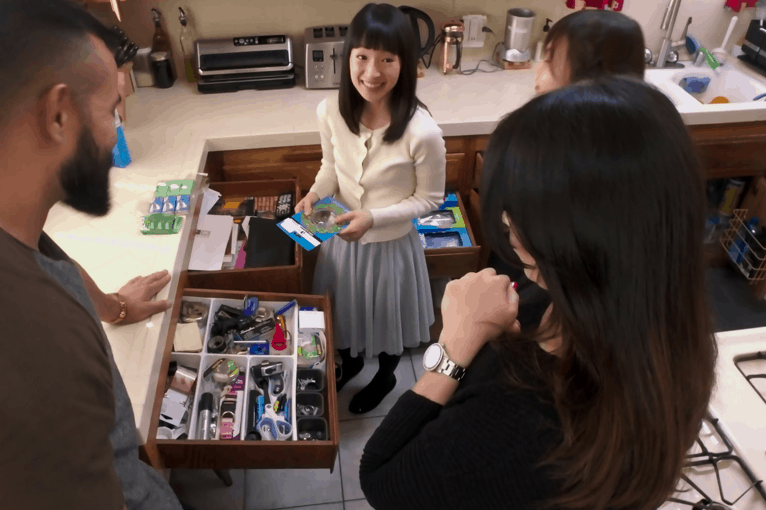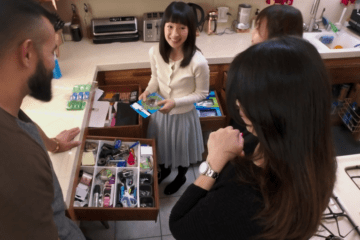 Photo Credit: Eater
You can even use boxes on a shelf to make it function for you like a drawer (see the image below).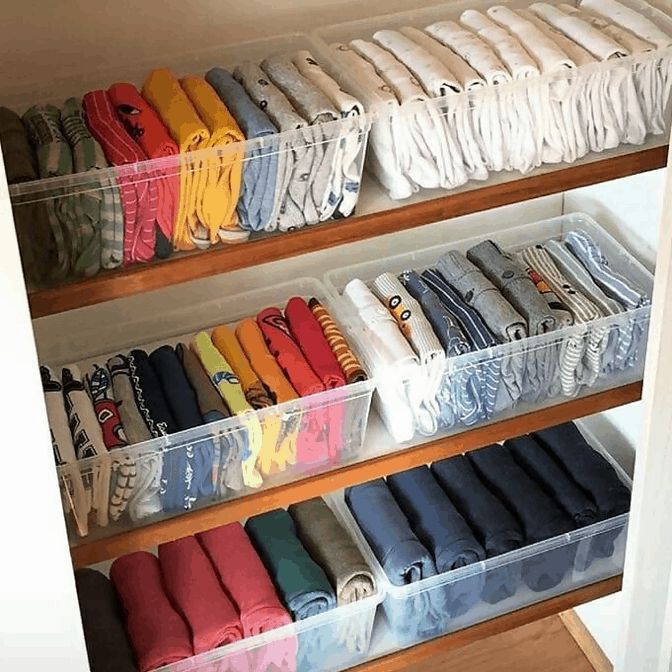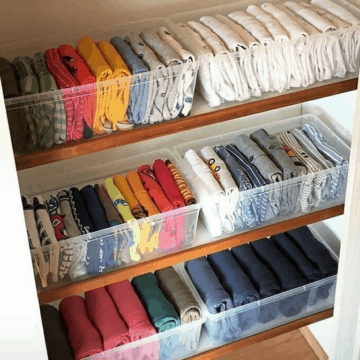 Photo Credit: Pinterest
Use Marie Kondo's Online Guide to Discarding Items
If you're following the KonMari method of organizing and you're overwhelmed by all of the stuff you'll be getting rid of, be sure to check out her Discarding Guide and our KonMari Method Checklist. It goes through the organization categories (clothing, books, paper, and komono) and has suggestions for how to discard, donate, sell, or recycle different types of items.
Give away books you no longer want to local schools, libraries, and hospitals. The guide includes a list of national organizations that take donated books like Books for Africa and Better World Books. It also explains that you can recycle whole paperbacks but not the cover of hardcover books.
The Discarding Guide also includes a list of resale services for clothes that you may benefit from and suggestions for how to discard items like cars, toiletries, mattresses, and electronics.

KonMari Method Checklist and More Tips!
I hope these Marie Kondo tips help you declutter your home and feel more comfortable in your space! Sign up to our newsletter to receive the KonMari Method Checklist. There are more freebies every month on organizing, saving money, cleaning and more and never any spam.
Do you have more KonMari method tips? Let us know in the comments?
Related Posts:
Pin to Pinterest:
Pin to Pinterest to help others learn about the KonMari Method too and be able to get the KonMari Method checklist.