Almost every household has a bottle of hydrogen peroxide under the bathroom sink. It's only for wound care. Nope! Hydrogen peroxide has many uses for just about every room in the household! Discovered in 1799 – wow! – it works as an antiseptic agent to clean our small cuts, a bleaching agent to remove stains, and an antibacterial cleanser for household objects. There are so many hydrogen peroxide hacks that we will discuss!
Safety Note:
Please note that, although your hydrogen peroxide may say "food grade," it is unsafe to consume internally. Some versions are as little as 3% concentration, which can still cause minor health problems if ingested. Do not swallow any hydrogen peroxide.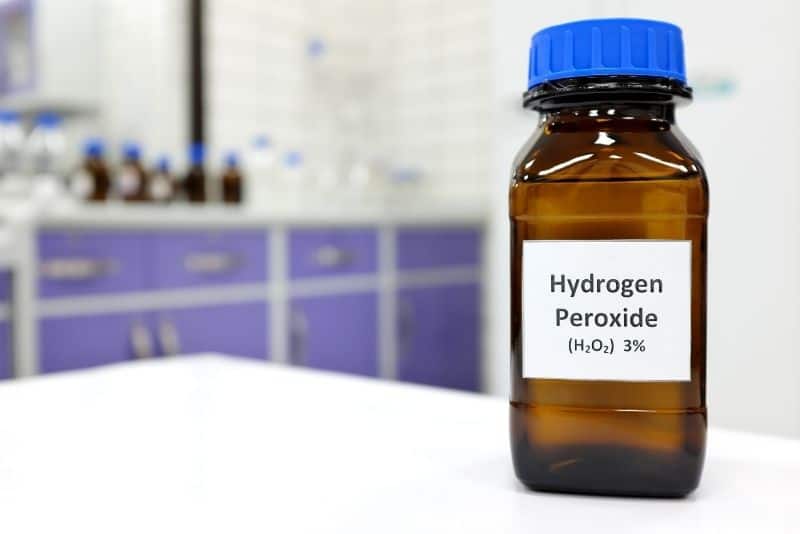 Hydrogen Peroxide Hacks for Cleaning the Home
#1 Sanitize Commonly Used Kitchen Items
Rarely a day goes by in a kitchen without grabbing a cutting board for some fresh veggies then cleaning up with a trusty sponge. Cutting boards often touch raw foods, including vegetables, raw beef, and raw poultry. Bacteria can easily grow on them and breed in the microscopic gaps, potentially causing illness. Yikes! Fortunately, it's easy to clean cutting boards and sponges!
Begin by rinsing off your cutting board with warm water. Soak a paper towel or clean sponge (we'll get to those in a moment!) in hydrogen peroxide and wipe down all parts of your cutting board. After setting for 30 seconds, rinse again with hot water. Finally, dry with a clean towel.
Sponges are essential tools for keeping the kitchen clean, and with their myriad of small spaces, they can harbor bacteria. To clean your sponges and help prevent the spread of germs, simply rinse them with hydrogen peroxide while squeezing and finish with a hot water rinse. This is one of the great hydrogen peroxide hacks!
---
Related Posts:
---
#2 Remove Mold
We've all had that moment: discovering a spot or two of mold in our house. Found in dark, moist places, mildew and fungus can cause various health problems by getting into the air we breathe in our homes. It can make allergy symptoms worse and cause respiratory issues, especially in those with asthma.
Fear not! Hydrogen peroxide to the rescue! If your mold area is small, soak a paper towel and wipe the area until the mold dissolves. For larger areas, fill a spray bottle with hydrogen peroxide, then wipe the area clean with a paper towel. Be sure to dispose of your paper towel right away. Check out our favorite spray bottles for all your kitchen needs!
These Amber Glass Spray Bottles from Amazon do the trick!
#3 Clean the Refrigerator
Refrigerators are one of the essential items in our homes. We touch the handles and the food inside often dozens of times per day in a busy household! It can quickly get dirty – outside and inside – because of touching, small food spills, and food and packaging pieces sticking to the shelves. Working one shelf at a time removes your food and uses a spray bottle to get into all the nooks and crannies of your fridge. This hydrogen peroxide hack will save you money on cleaners.
Allow to sit for 30 seconds, then wipe away any excess liquid with a clean rag or paper towel.
#4 Mop and Shine Your Floor
As every parent knows, kiddos can track in all kinds of dirt, dust, leaves, and general grime on their shoes. We're even guilty of it, too! It's nearly effortless to make your floors clean and shiny using just hydrogen peroxide and water. In 1 gallon of hot water, mix ½ cup of hydrogen peroxide. Use your mop – or our favorite mop! – to keep your floors germ, dust, and dirt-free! Hydrogen peroxide is also great for cleaning up little spills on the floor—no need to rinse.
This O-Cedar ProMist Microfiber Spray Mop would be perfect for your needs!
#5 Wash Your Fruits And Vegetables
Let's be honest: many hands have touched our fruits and veggies before they even make it to the kitchen! It's crucial to make sure all produce is clean and sanitized of any germs before eating or cooking with them.
To properly wash your vegetables and fruits, mix ¼ cup of hydrogen peroxide into a large bowl of cold water. You can go the extra mile by spraying them with white vinegar after the hydrogen peroxide rinse. Whatever you choose, be sure to rinse with cold water afterward and dry with a clean cloth or paper towel.
#6 Conquer Hard-to-get Stains
With many foods, including added coloring, it stands to reason that we'll end up with food stains on kitchen counters at one point or another. Where other cleaning methods fail, hydrogen peroxide succeeds! Add some hydrogen peroxide to a paper towel and place it on top of the stain. Allow sitting for 5-10 minutes, depending on the severity. Lift the towel and wipe the surface. Viola! The stain is gone with this hydrogen peroxide hack!
#7 Remove Sweat Stains
If you live in a state that's always warm or spend a lot of time outdoors in the summer, you probably have some shirts with sweat stains. They're usually difficult to remove and rather unsightly.
As long as your shirt is machine washable and not dry clean only, hydrogen peroxide can help! Begin by combining equal parts water, baking soda, and hydrogen peroxide, ideally 3% concentration, to form a paste. Next, use a toothbrush or other small brush to scrub the stain in a circular motion gently. Allow the pasty mixture to sit on your shirt for approximately 30 minutes.
Afterward, use the same small brush to scrub the area a second time. Finish by washing your shirt on your usual cycle. NOTE: Hydrogen peroxide is a bleaching agent, so this method is best used on lightly colored clothing.
#8 Remove Pet Urine Stains & Smells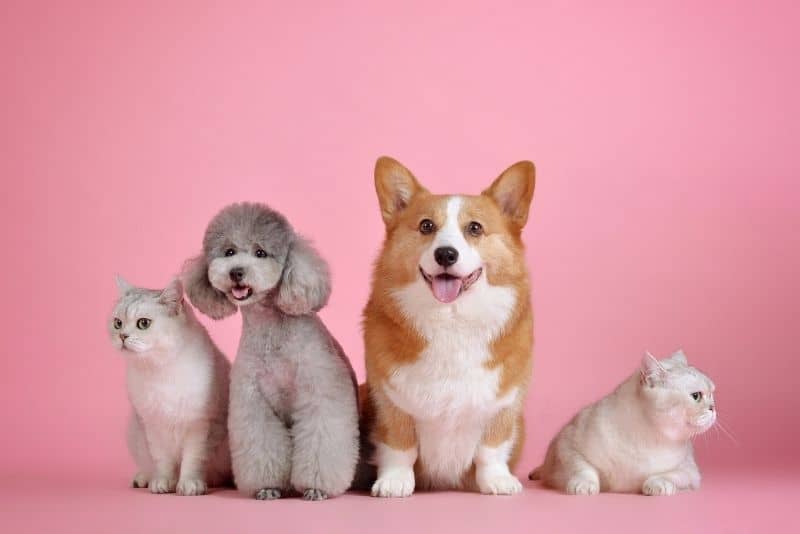 We love our furry friends to the moon and back, but the reality is they sometimes have accidents in the house. If you are potty training a young puppy, it can happen even more often. These stains can be difficult to remove, and the smell is often overpowering. Wet a soft cloth with your hydrogen peroxide and gently rub the troubled area until the stain and odor are no more. So easy and much cheaper than expensive pet cleaning sprays.
#9 Clean the Litter Box
Speaking of our furry friends… cat litter boxes can emanate a powerful and pungent smell! When cleaning the litter box, a trash bag can fill with dirty litter. Be sure to discard it right away! Fill your trusty spray bottle with hydrogen peroxide and set it aside. Before using our favorite liquid, wash the litter box thoroughly with a soapy sponge and warm water.
Rinse your box and use the spray bottle to cover the entire inside and outside. Wait until the hydrogen peroxide dries, then add clean, fresh litter. Your kitty will LOVE having a clean litter box. This is one of the important hydrogen peroxide hacks that will please your pets!
#10 Clean Tiles and Grout
Our showers make us clean every day, and in turn, we need to clean them regularly. Scrubbing with strong bathroom chemicals can be tough on the hands and respiratory system.
Hydrogen peroxide mixed with a small amount of baking soda will form a paste that works fast to remove soap scum and water minerals while whitening your grout. After creating the mixture, spread on the necessary area and sit for 5 minutes. You can scrub the tiles and grout, or you can try these nifty brushes that connect your power drill.
Gone will be the days of using all your elbow grease and energy to clean your shower! This method also works wonders at removing grease from your kitchen backsplash.
This Holikme 30 Piece Drill Brush Attachments Set would be awesome for you!
#11 Sanitize Your Towels & Shower Curtain
In addition to our shower tiles getting scummy, our shower curtains liners do too! They can even become stained from your soap and form mold! Eww! We think of our towels as clean, but they are sloughing off dead skin cells while drying us. They can also begin to smell moldy or musty in warmer months, even after hanging to dry.
Fortunately, you can wash both together in your washing machine with an easy mixture. Combine 1 cup hydrogen peroxide with 1 cup white vinegar and add it and your towels (and curtain liner!) to the washing machine.
Stir the mixture with a long mixing spoon to ensure they're fully covered. Double the mixture if you're washing an enormous load. In just 15 minutes, you'll be ready to wash them as usual. Remember: it is best to do this only for light-colored towels and liners. This hydrogen peroxide hack will save you so much money on cleaners that could contain harmful chemicals.
#12 Clean The Kiddos' Toys
Our little ones are the apples of our eyes! They are sweet, cute, and certainly love their toys. They're also tempted to put them in their mouths, and while that's gross, it's #parentlife.
Toys can be covered in bacteria after being played with on the floor, taken outside, or drooled. They need to be cleaned regularly to protect the health of our children. Hydrogen peroxide will nix all the nasty bacteria in a flash!
Use a sponge soaked in hydrogen peroxide to clean the toys, then wipe them with a water-wet soft rag. No need to use a towel to dry – air drying is excellent! This hydrogen peroxide saves your kids from harmful chemicals found in commercial cleaners.
#13 Clean The Dishwasher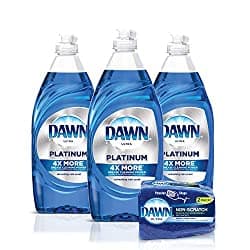 Think, for a moment, about your dishwasher. What does it contain? Dirty dishes covered in food leftovers! It's lovely to have the ease of machine-washing all our dishes. However, it is crucial to clean the dishes and the dishwasher itself! The best recipe for cleaning our helpful friend contains – you guessed it – hydrogen peroxide.
Begin with a medium-sized mixing bowl and add 2 cups of baking soda. After adding ¼ cup hydrogen peroxide, stir the mixture and finally form into a large ball. Let the ball harden in the bowl while preparing the next step. Using a dishwasher safe bowl, add one tablespoon of dishwasher liquid – our favorite is Dawn! – and 2 cups of white vinegar.
The ball will sit on the bottom of the dishwasher, while the bowl's vinegar mixture will rest on the top rack. Set your dishwasher for the hottest cycle and, when it's finished, it will sparkle, and you can rest assured that all remaining food particles were washed away. This is one of the coolest hydrogen peroxide hacks!
Click here to purchase Dawn Platinum Dishwashing Liquid Dish Soap (3x24oz) + Non-Scratch Sponge (2 Count)!
#14 Clean Your Washing Machine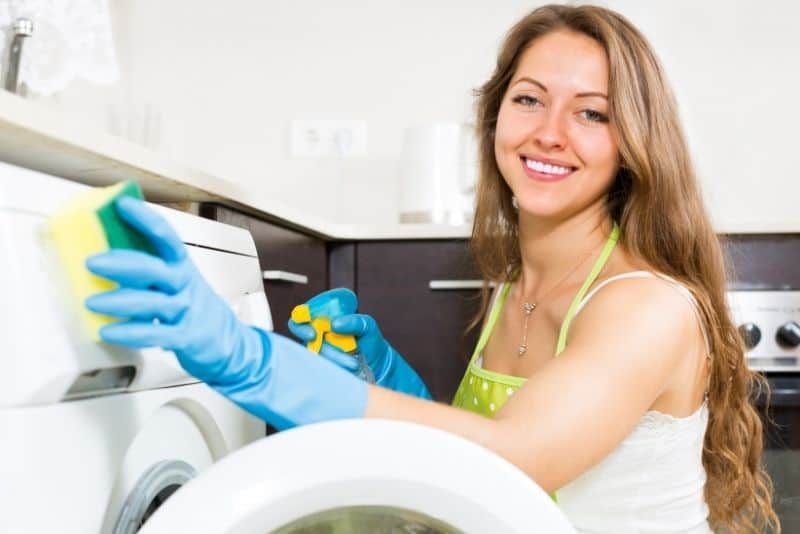 One of our most simple and fast uses for hydrogen peroxide is cleaning your washing machine. Imagine all the dirt our clothes, linens, rags, and towels come into contact with. All that ends up in the washing machine, so it needs to be cleaned. Pour a single cup full of hydrogen peroxide wherever you usually put the detergent. Use your machine's hottest cycle, and when it's finished, you'll know all that grime is gone!
#15 Sanitize Your Toilet AND Toilet Brush
Let's face it: toilets can be soooo gross. Hydrogen peroxide cleans them fast with minimal effort! Pour ½ cup of hydrogen peroxide into the toilet bowl (not the water tank!) and set a timer for half an hour. When your timer finishes, use a toilet brush to scrub around the rim and inside the bowl, being sure to get up under the rim. Flush, and you're done!
But wait…
It's essential for a sanitized bathroom to not only clean your toilet but the brush you clean it with! Most toilet brushes come with a small container used to store the brush. Pour your hydrogen peroxide into the container holding the brush and allow to soak for 30 minutes. Empty the container into the toilet and flush.
Hydrogen Peroxide Hacks for Health and Beauty
#17 Whiten Your Teeth
If you've ever purchased whitening tubes of toothpaste, you know they can be expensive and don't always work as well as we would hope. No need to break the bank to make your pearly whites shine!
Simply combine one tablespoon baking soda with one teaspoon hydrogen peroxide in a small cup and stir to form a paste. Brush your teeth as usual, and enjoy seeing your teeth sparkle!
#18 Swish Around As A Mouthwash
We all know mouthwash is an essential part of an oral hygiene routine. However, buying mouthwash from the store can irritate your mouth because of the mixture's added alcohol. Hydrogen peroxide can help to keep your mouth free of bacteria by killing off any that exists on your teeth and tongue. Bonus: spend just 30 seconds swishing a small amount of hydrogen peroxide in your mouth, and your teeth will gleam!
#19 Soften Your Hand Calluses
Working, exercising, and repetitive tasks can cause calluses on our fingers and palms, and they can often be quite painful. Softening them with hydrogen peroxide is easy to do! In a bowl big enough to cover the affected area, add two parts water to 1 part hydrogen peroxide. Soak for up to 10 minutes and feel the difference!
#20 Soak Your Tired Feet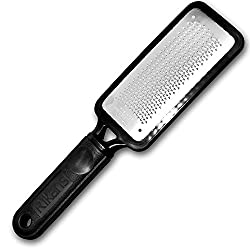 Hydrogen peroxide will not only help soften calluses on your hands but your feet as well! It can also help rid your feet of offensive odors and help with bacteria that could be living under your toenails.
A soak can also prevent developing athletes' foot. Fill a small tub or bucket with warm water, then add one cup of hydrogen peroxide.
Relax tired, aching feet by including ½ cup Epsom salt and a drop or two of your favorite essential oils for a spa-like experience.
For calluses on your heels, go the distance by using a foot file to remove the excess dead skin. Try the best, professional-quality file we've ever used.
#21 Keep Your Makeup Brushes Clean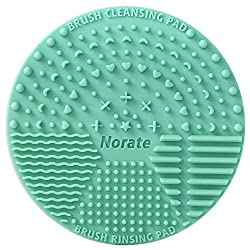 Know that pretty eyeshadow pallet you have? The one that shimmers and shines – your favorite, go-to colors? It needs to be kept clean and free of bacteria. We don't want to put dirty brushes in our pretty pallets, or worse, on our beautiful skin!
Hydrogen peroxide can help clean them almost effortlessly, preventing breakouts caused by germs on the brushes. Begin by swishing your brushes back and forth on your favorite – or our favorite – silicon makeup brush mat to remove loose powders.
Grab a small container and fill it with one 1 cup of water plus two teaspoons of hydrogen peroxide, ideally, a 3% concentration. Allow to soak for one hour, then rinse with water. Your face will thank you due to this hydrogen peroxide hack!
22. Keep Your Toothbrush Clean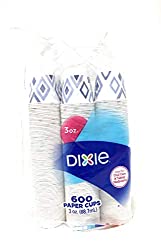 In a family with several members, toothbrushes are likely kept nearby. We typically feel confident in their cleanliness after brushing. However, when one family member becomes ill, the cold or flu often passes to another member. This hydrogen peroxide hack sanitizes against illnesses that could make your family sick.
It's entirely possible that our toothbrushes share part of the blame! Each time you brush your teeth, fill a small cup with enough hydrogen peroxide to cover one inch above the bristles. The toothbrush will soak while you finish your morning routine, and at the end, rinse the brush and shake it dry.
#23 Remove Polish Stains On Your Nails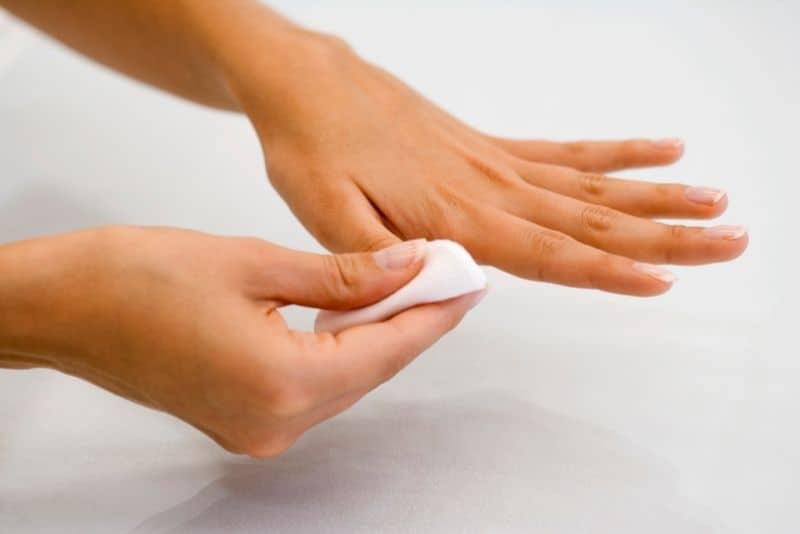 As we've discussed, this hydrogen peroxide hack can work to remove stains. This is not limited to household surfaces! We often use nail polishes that leave stains in the color of the polish – we're looking at you, red! – or they can discolor our nails with a yellow hue.
Nail polish remover doesn't always cut it, and that's where hydrogen peroxide comes in. Make a mixture of ½ cup of water and three tablespoons plus one teaspoon of hydrogen peroxide. Now you have two options. For stains that aren't severe, soak your nails in a small bowl for 3-4 minutes. For tough to remove stains, tear up cotton balls into smaller pieces and wet them with the hydrogen peroxide.
Cut small strips of aluminum foil, place a piece of wet cotton ball on the nail, and wrap with the foil. Remove the foil after 7-8 minutes, discarding it along with the cotton balls.
No matter which method you choose, the next step is scrubbing the nails with a small brush or even another cotton ball saturated with hydrogen peroxide. Rinse and enjoy your stain-free nails!
#24 Treat Ear Wax Buildup
Doctors continue telling us never to stick anything in our ears smaller than an elbow. The temptation to clean our ears with a cotton swab is still there, but there's another way!
Using a small dropper, tilt your head to one side and add 4-5 drops of hydrogen peroxide. You'll know it's working when you begin to feel a bubbling sensation that may almost itch – after about 3 minutes.
Tilt your head to the side and allow it to drain onto a towel. Repeat on the other side for wax-free ears.
#25 For Small Cuts and Scrapes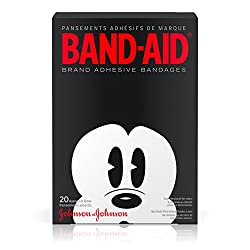 Perhaps the most tried-and-true use for hydrogen peroxide is to treat small cuts and scrapes. Take a cotton ball and soak it in hydrogen peroxide, then apply gently to your small wound. Allow to dry and follow up with a fun Band-Aid to keep the cut free of dirt and debris.
More Hydrogen Peroxide Hacks?
So… did you know all these ways hydrogen peroxide can be used not only in your home but also for health and beauty? From cleaning tiles to sanitizing makeup brushes and even whitening our teeth, this one simple bottle of liquid can help out in nearly every room of the house. It is crazy how many uses hydrogen peroxide has. Wow!
Do you use any of these hydrogen peroxide cleaning hacks? Have they worked for you? Do you have even MORE hydrogen peroxide hacks? Leave us a comment below telling us how you've been able to use hydrogen peroxide!
Related Posts:
Pin to Pinterest: