People aren't joking when they talk about the value of water intake. Water is a substance that's vital for many of the processes of the human body. Human beings need to take in sufficient water for all sorts of things. In this article, we will discuss how to get kids to drink more water.
This is a guest post from Nichelle Smith. Take it away, Nichelle!
Benefits of H20:
manages body temperature regulation duties

sends oxygen to all different parts of the body

clears out body waste

improves complexion
It doesn't matter if you want to keep your weight in check. It doesn't matter if you're going to do something positive for your kidneys, either. You should go above and beyond to drink sufficient water daily. If you're a loving and concerned parent, then you should go above and beyond to motivate your children to consume more water day in and day out, too. You don't necessarily have to worry if your little ones are reluctant about drinking sufficient water, either. That's because there are various things that you can do to change how they feel about it.
How to Get Your Children to Drink Plenty of Water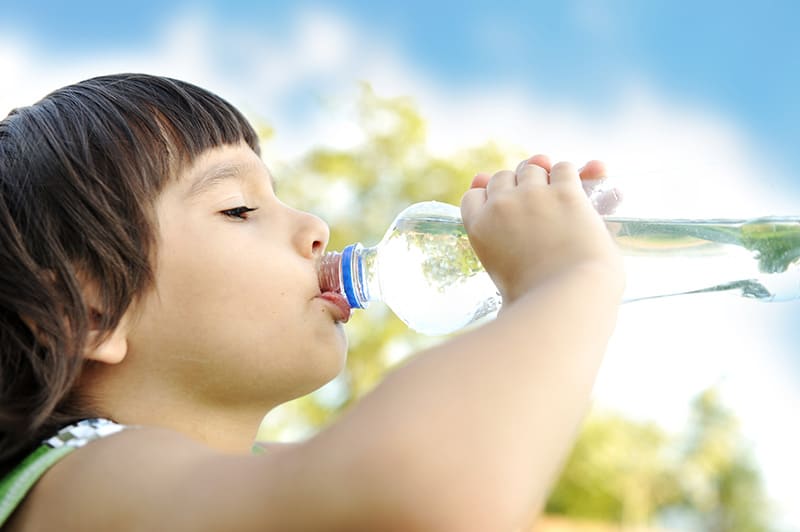 If you're a parent, then it's up to you to provide your kids with sufficient fresh and clean water daily. If you invest in a reliable Berkey Water Filter System, then you're good to go. Getting your kids enthusiastic about drinking adequate amounts of water may be markedly more accessible than you suspect.
#1 Make Sure Water Is Easy to Find in Your Home and Elsewhere
Don't make it tough or time-consuming for your kids to get their hands on H20. The simpler it is to get, the more inclined your kids will be to drink it. Steer clear of making the mistake of making other drink options easier or quicker to acquire. Put out water at breakfast, lunch, dinner, and snack times. Give your kids bottled water whenever they're out and about as well.
---
Related Posts:
---
#2 Make Drinking Water Enjoyable
You should strive to make water drinking as enjoyable and appealing as possible to your kids. If your kids are small, this may be particularly helpful. Allow your children the freedom to select their own straws, cups, or glasses. Once you do that, you can make water consumption a game of sorts. "Dare" your youngster to drink a specific amount of water.
If you want to make cup selection particularly memorable, there are options out there waiting for you. There are all sorts of cups on hand at stores that are sure to pique kids' interest levels. Cups that have cartoon themes and feature eye-catching colors and designs, in general, can work like a charm.
You should do what you can to make water consumption something your kids anticipate each day.
Don't forget for a second about the joys of wacky straws. Straws that feature all sorts of loops can make the process of drinking water a lot more fascinating to kids. You should do what you can to make water consumption something your kids anticipate each day. Don't create any negative associations with it.
How else can you make water drinking enjoyable? You can sit down with your kid with an excellent board game or book in tow. Refrain from changing book pages or tackling any board game moves until your kid has enjoyed a couple of H20 sips or so.
Don't panic if your child refuses to drink any water, either. If he or she is stubborn, then you should hide the board game or book until anything changes. You may have to wait for the following day, and that's completely okay.
#3 Feed Your Kids Plentiful Fresh Vegetables and Fruits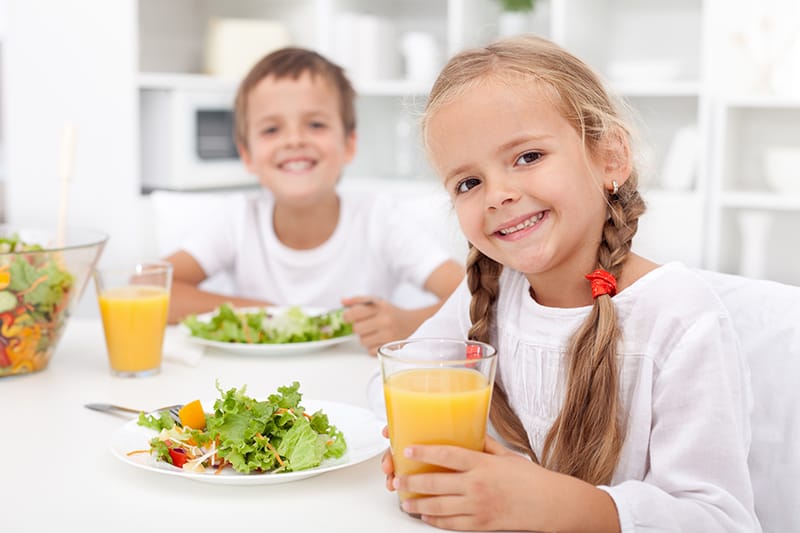 Feeding your children a well-rounded and nutritious diet can be smart for mothers and fathers who have concerns about water intake. Water in liquid form can be tough for rather fussy kids. That's why it may be in your best interest to include an abundance of fresh vegetables and fruit into your kids' day-to-day diets.
What makes doing so a terrific idea? These kinds of food items are primarily composed of water. If your kids are reluctant to drink water as a liquid, it may be smart to feed them yummy carrot sticks, strawberries, blueberries, and apple slices galore.
#4 Introduce a Bit of Flavor to Water
It's no shocker that children are sometimes put off by the "bland" flavor water brings to the table. Parents have an easy fix for that, however. If you want to make water taste a lot more pleasant to your children, then you can put slices of refreshing fruits inside of it.
Including pieces of orange in water may take its flavor up a notch. You don't have to limit yourself to fruits and vegetables, either. That's because fresh mint can also do wonders for kids who don't think that the flavor of water cuts it.
#5 Drink a Lot of Water Yourself
Kids frequently look up to their parents. They often emulate them. If you want to motivate your kids to drink enough water, you should do so yourself. Don't let your kids see you continually drinking sugary sodas, juices, or caffeinated beverages. Allow them to catch you drinking fresh and clean water with great regularity.
Not only can drinking plenty of water prompt your children to do so, but it can also actually help your health status. You cannot go wrong with this tactic. If you raise your children alongside another parent, make sure he or she consumes enough water when they're around, too.
Drinking only water can even slash your calorie intake dramatically.
If you dine out in restaurants, refrain from ordering beverages that aren't water, if at all possible. This can help reduce your expenses. Drinking only water can even slash your calorie intake dramatically.
#6 Give Your Children Incentives to Drink Water With a Water Tracker
Human beings tend to respond well to having incentives in life. Children are certainly no exception to this rule. If you're a parent who wants your children to drink significant amounts of water, then you should give them incentives to do so. If your child drinks the necessary amount of water, it may help you to provide him with a prize of sorts.
Use a fun water tracker and have your child color in the water droplet when they have drunk an 8 oz glass of water. If they get all the droplets colored in a week, you could give them a prize. 5-8-year-olds need at least 5 glasses of water and 9-12-year-olds need at least 7 glasses.
Get this adorable water tracker for your kids for free in my shop. Click here to snag it for free and use code DRINKWATER if necessary.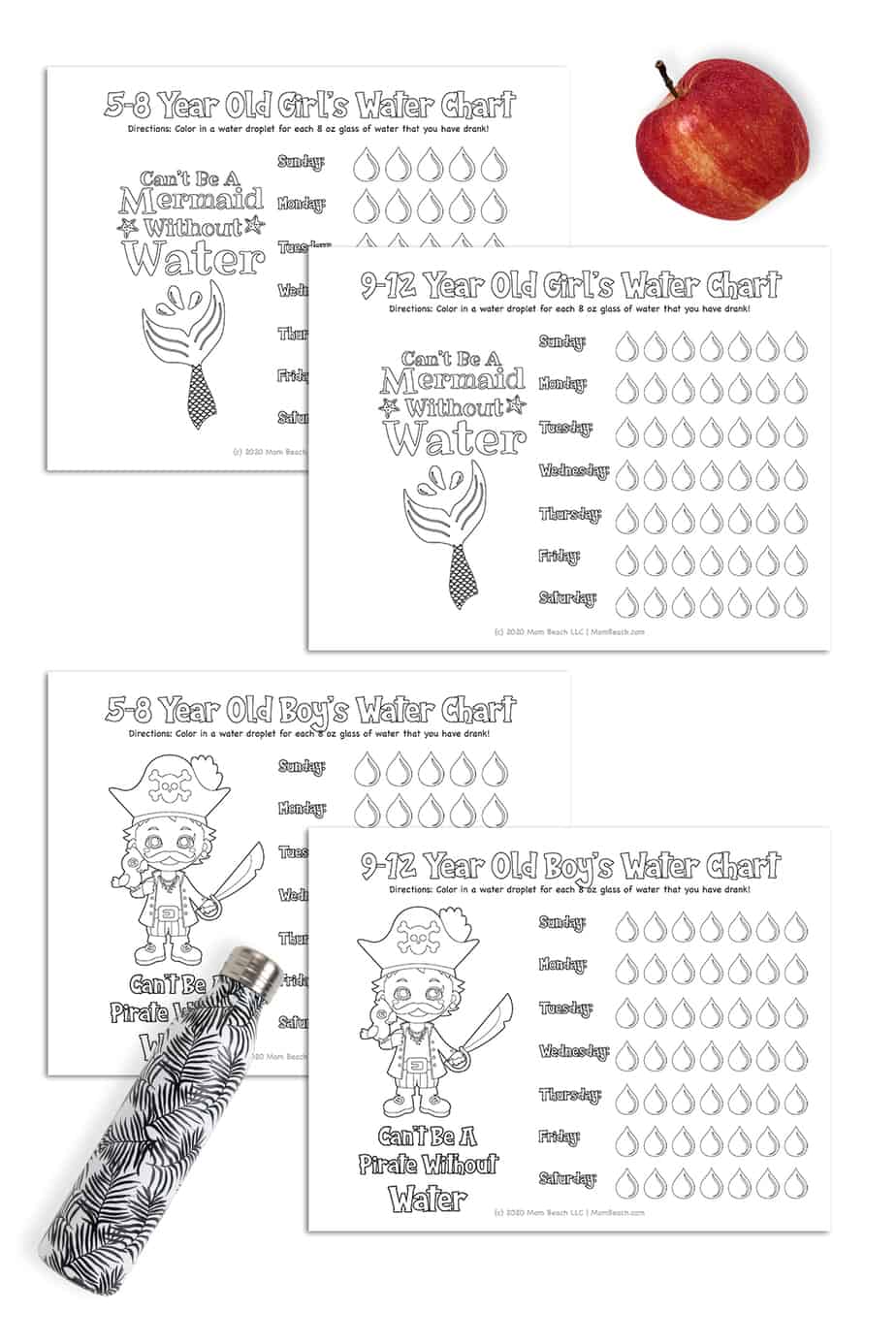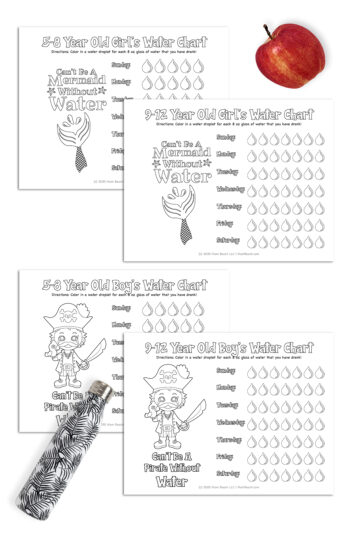 #7 Talk to Your Children Honestly About the Value of Water Consumption
Open communication can do a lot for parents who have any concerns that relate to their kids drinking sufficient water. If you want to motivate your kids to take with enough water for life, then you should have an in-depth discussion with them regarding the subject. Tell your kids about all of the advantages of drinking water. Tell them that it can make their skin look and feel a lot better.
Tell your kids about all of the advantages of drinking water.
Tell them that it can even help them with their digestive processes. Make sure that your kids know all about the indications of possible dehydration. If a human being doesn't get enough water, then he or she may have unusually dark urine.
People who consume adequate water tend to have practically clear urine. It often is light yellow. If you're serious about getting your children excited about drinking water, then telling them about urine color may get them moving in the right direction.
#8 Take Your Children to the Doctor regularly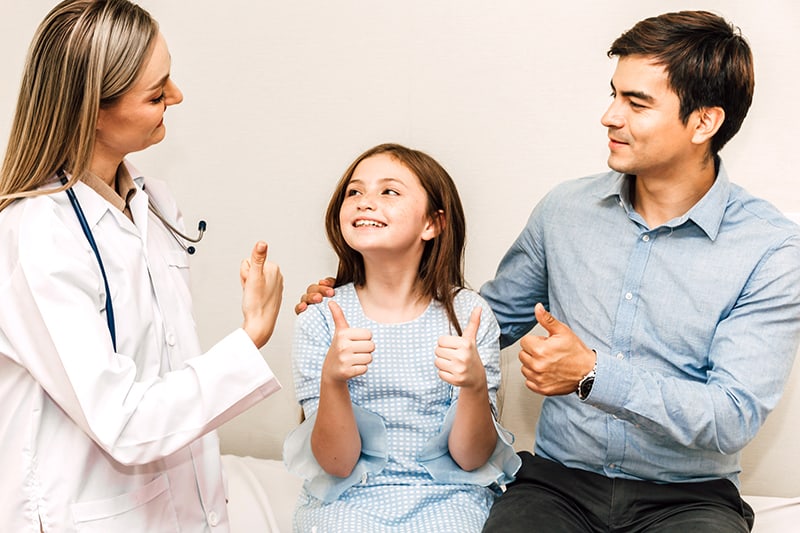 Parents must schedule routine medical appointments for their kids. Children are like anyone else in that they get a lot out of going to the doctor for necessary checkups and examinations a minimum of twice yearly. Visits with pediatricians can do so much for children who are reluctant to drink water.
Ask your pediatrician to talk to your child about the value of water for the body. Ask the doctor to speak to your child about acceptable water amounts, practices, and beyond as well. If your child hears about the importance of water consumption from someone else, it may push him to adjust his drinking habits significantly.
#9 Take Things Slowly
If you have kids who are particularly hesitant to drink water, it can help you to take things slowly. Begin things by trying to motivate them to drink just a tad more than they already do. Once they do that, you can slowly but surely raise the amount that you want them to drink.
#10 Make Drinking Water a Part of Your Family's Day-to-Day Regimen
It can be easy for busy households and families to simply "forget" about drinking sufficient water. If you want to steer clear of forgetting about something so important, you should come up with a regimen. Establish designated water drinking times for all of your family members.
You may want to get your kids to drink water first thing in the morning, at noon, and with their meals in the early evening, too.
#11 Be Prudent Regarding Your Children and Water Consumption
There's no disputing that you should do anything in your capacity to get your children on the path to consuming enough water daily. Despite that, you have to exercise caution for optimal results. Refrain from ever motivating your kid to drink water within 60 minutes of turning in for the night. Doing this may pave the way for problematic habits such as wetting the bed.
Refrain from ever motivating your kid to drink water within 60 minutes of turning in for the night.
If your child has an existing problem that involves wetting the bed, it may even intensify it. Some kids have difficulties that require digestion or their bladders. If you have a child who is part of either of these categories, then you should try your best to motivate him to drink water in the daytime. You should consult with your child's doctor regarding suitable water drinking times.
#12 Think About the Amount of Water That May Be Necessary for Your Children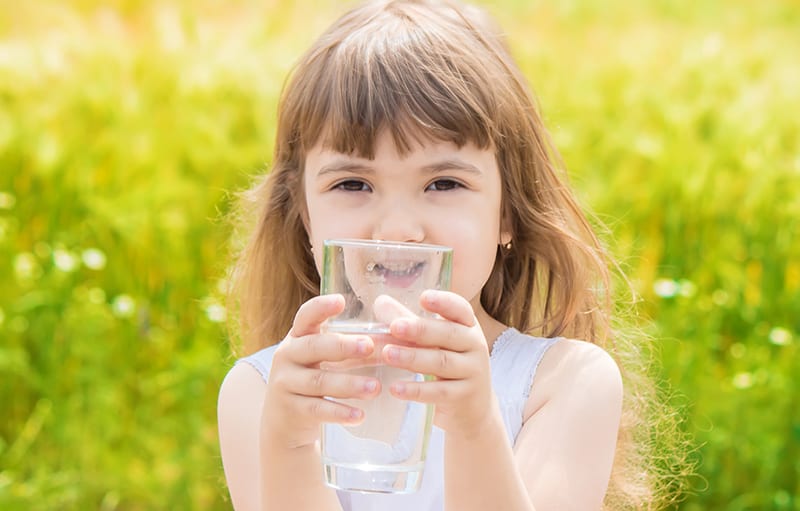 People often say that they have to drink a minimum of eight glasses of H20 daily, but that may not necessarily be true for everyone. All human beings are different. That's why their bodies all have their own distinct water amount requirements. There are so many factors to think about before making any decisions that involve water amounts.
Parents should think about everything from bodyweight to gender and age classifications. Note, though, that children and teenagers overall typically thrive when they consume a minimum of between five and eight water cups daily. Be sure your children take in enough vegetables and fruits as well. As indicated previously, these sorts of food items tend to be brimming with water.
#13 Steer Clear of Purchasing Beverages That Aren't Healthy
If you want to get your children enthusiastic about drinking plenty of water, then you should refrain from keeping other kinds of beverages available to them at home. If your child opens the refrigerator and sees sodas, juices, and anything else similar, then it may be hard for him to want actually to drink water. The good news is that not seeing sugary drinks can go a long way.
If your children forget that unhealthy beverages exist in the first place, then they won't be as enthusiastic about taking them in. If you're passionate about getting your kids on the path to a glowing, healthy lifestyle, you should resist the temptation to buy soda and anything else along those lines.
BONUS: Make Sure Your Kids Know How to Get Water Independently
You can motivate your kids to drink water by making sure they can quickly and rapidly retrieve it independently. The last thing you want is for your kids to have to wait around for you to get it for them. Tell them where you store bottled water inside of your home.
Tell them how to use your water filter system. Make sure your kids know that they can get water as their heart's desire. They should never feel restricted about hydration.
FREE Fun Printable Reward Tracker
Get this adorable water tracker for your kids. Click here to snag it for free and use code DRINKWATER if necessary.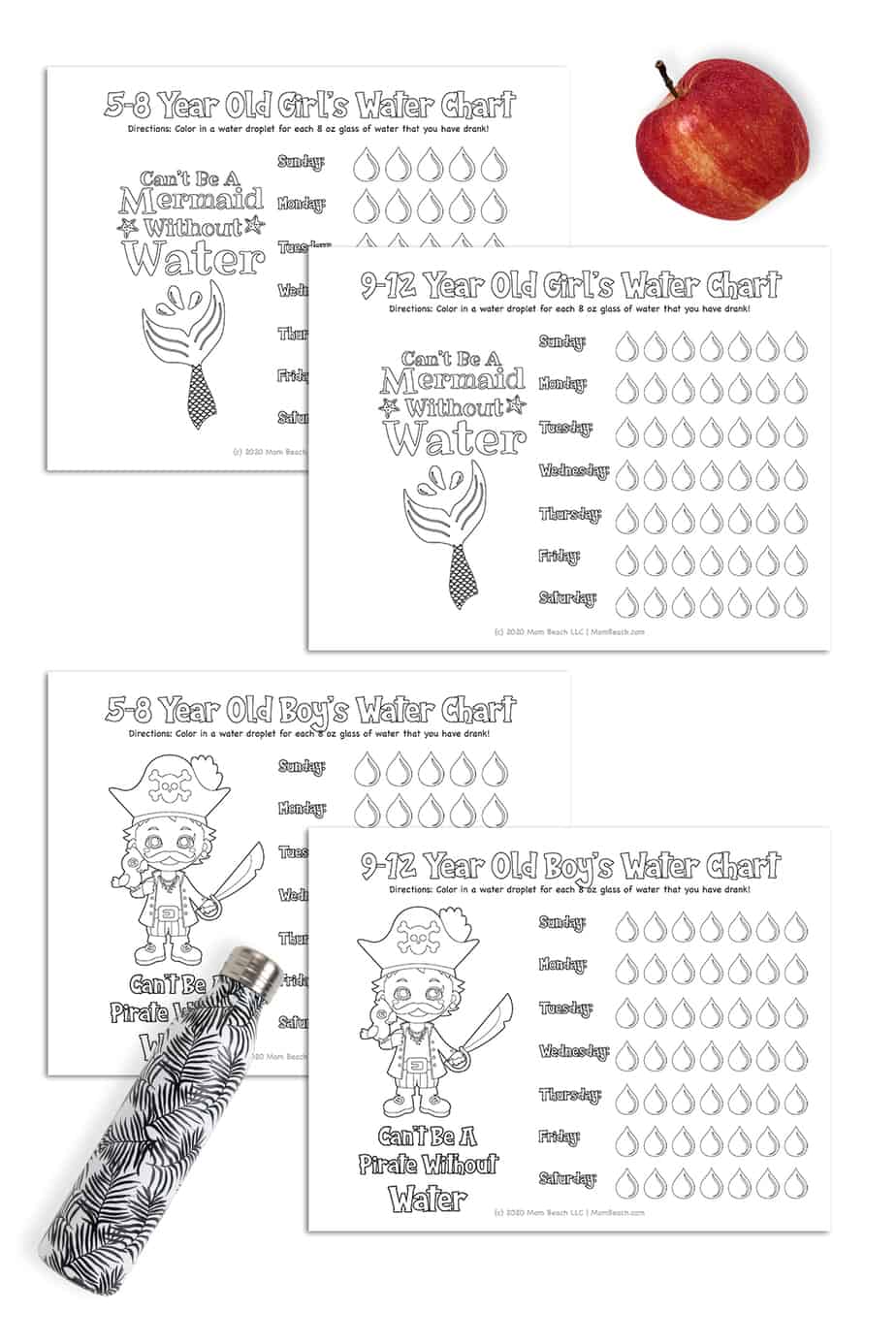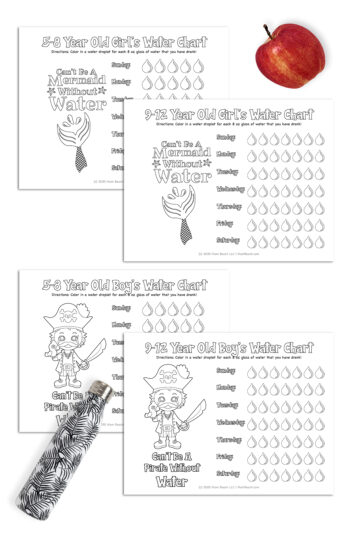 More Ways on How to Get Kids to Drink More Water?
It can be hard to get picky children to drink water initially. If you have patience in droves, however, you should be able to get positive results when all is said and done.
If you have other ways on how to get kids to drink more water, let us know in the comments!
About the Author: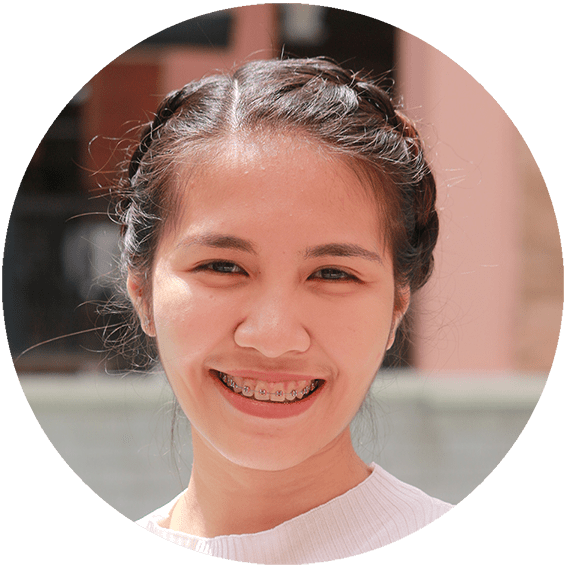 Nichelle is a fitness and travel lifestyle writer. She loves sharing her ideas and personal experiences related to travel and fitness through her writing. She currently writes for Big Berkey Water Filters. Her favorite pastime is working out and reading books together with her cat, Charlie.
Related Posts:
Pin to Pinterest:
Pin to Pinterest so other moms can help their kids drink plenty of water too.