Halloween is one of the happiest moments for most families, especially kids. It is that time of the year when they get to put on amazing costumes, do some tricks, get some treats, and eat a lot of candies. Saying Halloween is an exciting day for children would be an understatement. Putting all the candies aside, children are bouncing with joy and energy to go into the streets and gather up the sweet goods. There are several Halloween tips and tricks that I am doing to keep my 3 year old, Bryan, safe this year. While Halloween offers a lot of make-believe fun, it is also a period where parents need to be very watchful and safety cautious.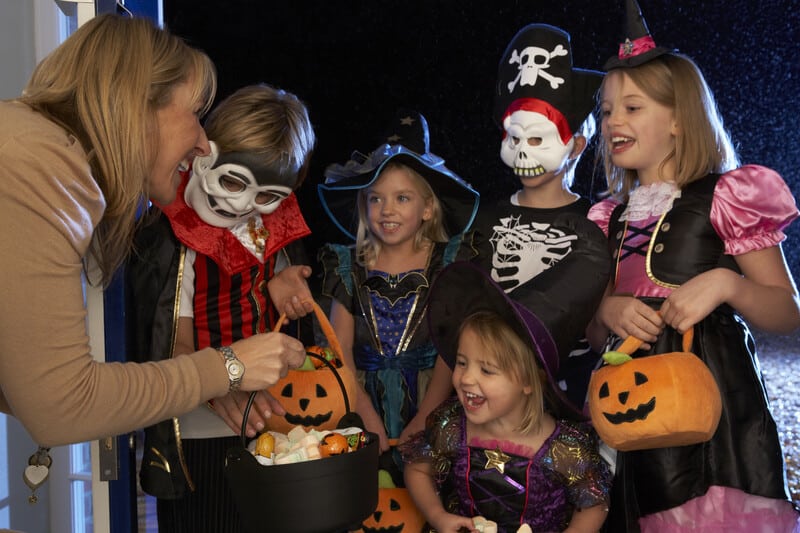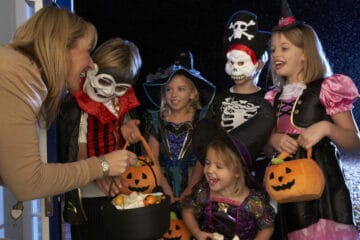 Halloween Safety Risks
With the joy and fun of Halloween comes some real safety risks. This is not meant to scare you, but to be an eye-opener. Safety should be of top priority for every parent, as kids dart across dark streets with their minds fixed on sweets than on cars.

The chances of kids being hit by a car on Halloween nights is two times more than other nights of the year. Other common incidents on Halloween are cuts and burns. There are also chances of your kids eating too much candy on that day.
How Do You Stay Safe on Halloween Night?
You can enjoy Halloween safely with your children, especially when you put in some effort into planning and supervision. You need to have a roundtable discussion with your kids about safety concerns associated with this amazing and fascinating holiday.
You also need to review some do's and don'ts before setting out to catch fun on this wonderful night. As a parent, the safety of your kid is paramount. In this article, you will be exposed to some Halloween tips and tricks and how you can keep your kids safe on Halloween. Here are some tips to ensure your kids are safe during this holiday:
13 Halloween Tips and Tricks to Keep Your Kids Safe on Halloween
#1 Map Out Your Trick-or-Treating Route Ahead of Time
Trick-or-treating is something that could take you a couple of streets away from your home. Your kids could be having fun and explore several streets, taking them far away from home. This can sometimes cause a little frustration and sore legs. However, you can avoid this completely.
To avoid walking long paths with your kids, the best thing to do is to map out a route before you set out. While wandering around on unknown streets, your children can get lost in the process. Using the Next Door is extremely helpful for this. Many neighborhoods have a treat map that you can add your home to so you know what homes are doing Halloween this year.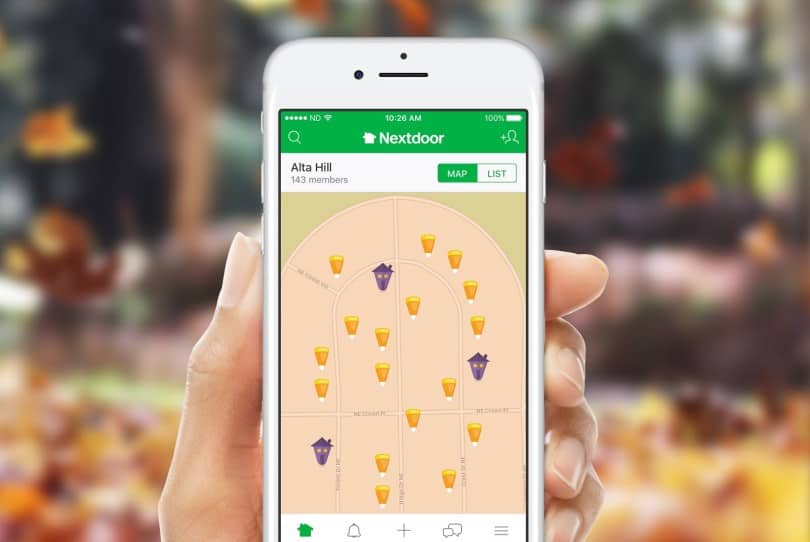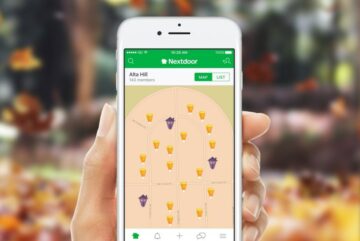 Photo Credit: Next Door
Hence, you need to stick to only routes that you and your children are familiar with in order not to get lost. You should also note which houses are safe to visit and the ones that should not be visited.
---
Related Posts:
---
#2 Make an Adequate Plan for Trick-or-Treating
Halloween usually comes with a lot of logical challenges for parents with little children. You need to plan adequately and guide your children as they tour the streets for candy. My lil guy Bryan tries to wander far from me when he is trick or treating, but I keep him close.
Some parents are usually tempted to send out their kids to trick-or-treat on their own. However, this is not advisable if you have a kid that is below the age of 12, the kid(s) needs to be accompanied by an adult.
If you will not be around to supervise your kids on Halloween, you can hire someone to do that or you can leave them in the hands of a trusted neighbor that is willing to supervise them. However, it would be more fun for you and your kids if you seize that time as a great opportunity to spend time with your children.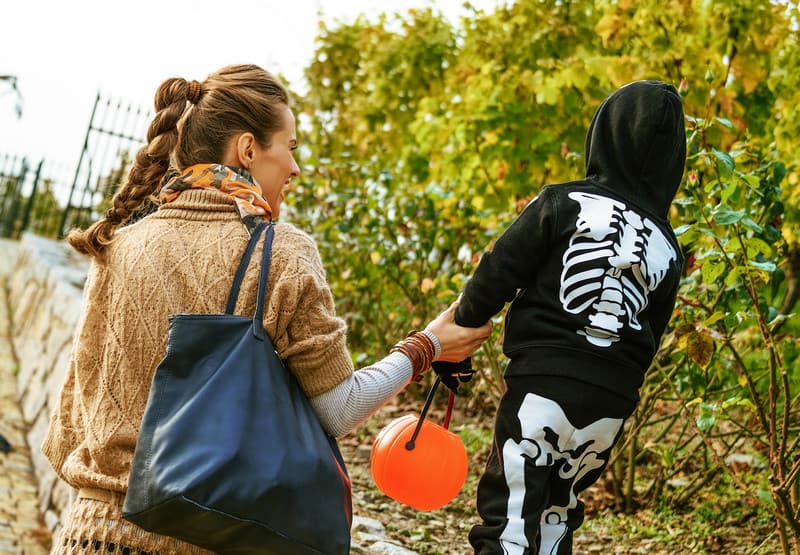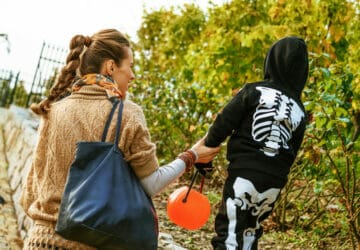 In all, you need to draw an adequate plan prior to the big day and make sure everything goes as planned. Unprecedented events usually lead to unexpected outcomes. Hence, you don't want to leave any stone unturned.
#3 Teach Your Children Road Crossing Techniques
Kids are very excited on Halloween because of the numerous fun coupled with the irresistible sugar rush. As such, even the most careful child often pays less attention when crossing the road.
They forget to look at both sides of the road before crossing the street. To avoid sad news, you need to teach your kids safety skills and road crossing techniques, whether they are exploring the streets alone or you are going out with them.
You also need to educate them on how to make eye contact with drivers whenever they want to cross the street when cars are passing. You need to teach them to obey traffic rules, tell them to cross only at designated crosswalks and adhere to pedestrian signals at traffic lights.
#4 Be Cautious When It Comes to Candy
Halloween treats that have been tampered with are very rare. However, it doesn't take anything from you as a parent to be very careful when it comes to the candy. You need to be cautious and watchful to prevent your kids from snacking while out.
To dissuade your kids from doing this, a healthy, light dinner before heading out of the event would do a whole lot. It would also give you a chance to watch their loot before they jump into it. Do not allow your kids to take candy with holes or tears on the wrappers or candy that looks damaged.
Avoid candy that could choke your child and check the labels of the candy to see if the candy contains ingredients that your child is allergic to. The safety of your child is very important. If you can, it would be a big plus if you can access and evaluate all the candy your kids will take.

#5 Avoid Dark Costumes That Will Make Your Kid Invisible to Drivers
After teaching your kids how to obey traffic rules, pedestrian safety tips, and techniques on how to cross the street when vehicles are approaching, you need to ensure that they are visible to drivers. This is one of the important Halloween tips and tricks.
You need to make sure your kids are seen by drivers on Halloween nights easily. The best way to make them visible to drivers at night is to discourage them from putting on dark costumes. Some of them might not be very okay with this, but it is for their safety. Last Halloween, my boy wanted to be the Black Panther after seeing the Marvel movie. I got him to dress as a white ghost instead!
You can also use reflective tape strips on costumes and bags to make them more visible. To increase their visibility further, you can encourage them to carry a flashlight.

#6 Think Safety When Choosing Their Costumes
You can avoid minor bruises, bumps, or even severe falls by applying a little bit of common sense when choosing costumes for your children. When it comes to Halloweens, children's costumes need to fit properly.
You also need to make sure that the costumes are flame retardant. If the costumes fit very well, you stand a higher chance of preventing trip hazards. It's also important to opt for accessories that will not obstruct the vision of your child. Consider replacing the superhero mask for non-toxic face paint.
Tumbles can be prevented when you avoid oversized or fancy footwear; comfortable sneakers would come in really handy instead. If your child is carrying props such as toy swords or magic wands, then you need to ensure it is pliable and soft to prevent unintentional scratches and pokes.
If you have a lot of costumes you want to take photos with, it is advisable you take the photos before leaving your house so you could leave the extra costumes at home.
#7 Make Sure Your Child Can See Properly
If your child must put on a mask, it is crucial that you ensure your kid can see very well. Ensure the eyeholes on the mask are at least two times bigger than the eyes of your child. Although it is best you avoid using a mask for maximum safety.
If you want to go for face painting, you should use non-toxic face paint and avoid any compromise. Your ultimate goal here should be to make sure that the vision of your child is not obstructed by anything.

#8 Avoid Using Candles to Prevent Fire Accidents
A glowing jack o' lantern can make your home more welcoming and warmer to candy seekers. However, illuminating a pumpkin with a candle can be somewhat dangerous. This is one of the important Halloween tips and tricks.
Candles can easily set your entire decoration ablaze. Paper decorations, ornamental straw, and costumes can easily catch on fire if something goes wrong or if the candle falls off. Rather than using candles to light up your pumpkins, you can use battery-powered candles for your decoration.


This is one of the best ways to prevent a fire outbreak and ensure your kids are safe during the celebration. Some kids might even be tempted to put their fingers in the pumpkin designs, and they might get their fingers burnt if it is traditional candles you used for the decoration.
#9 Avoid Trick-or-Treating in the Dark If Possible
If possible, it is advisable that you take your children out for trick-or-treating early enough. You should go out, have fun, and return before it gets dark. It is better you carry out all your planned activities when visibility is better.
Preventing the dark is one of the best ways you can have a safe and hazard-free Halloween with your kids. Trick-or-treating when it is still bright gives you a better chance to check the candy your kids consume.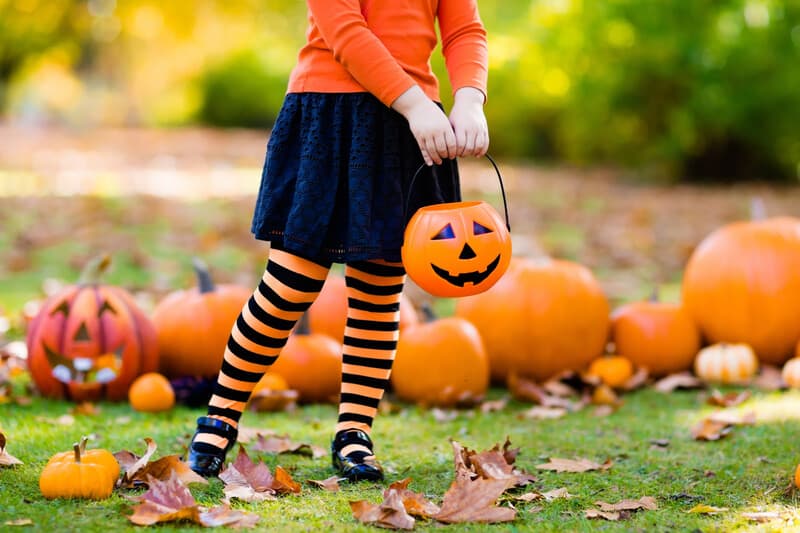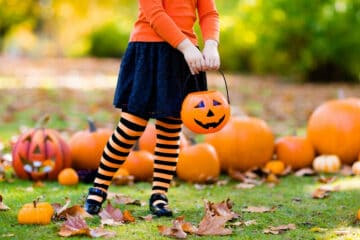 This way, you will be able to check your kid's candy for obvious tampering and if the candy contains any allergic ingredient.
#10 Survey Your Street for Potential Trip and Slip Hazards
Trick-or-treaters are usually too busy counting candy and they pay little or no attention to where they are going. As such, it is vital that you survey your environment for potential trip and slip hazards. You need to make sure that your environment does not have any tripping hazards such as sprinklers and hoses.
You need to ensure walkways of loose gravel is clear and try to clean moss off steps. If you have an irrigation system in your yard, it is advisable you turn it off to give your walkways and lawn a chance to dry before the big night.
In addition, children, as well as their parents or guidance that follow them, would need the support and security of railings while climbing steps. If you have a rickety or bad railing, this is the time you should fix it to ensure the safety of your kids as well as those that would be coming to visit.
#11 Keep Your Yard Illuminated to Prevent Accidents
The spooky mood of Halloween is often enhanced with dimly lit entryways. However, these could boost the chances of an accident. You need to ensure that your exterior lights are working fine. You can opt for floodlights just to make sure all the darkest areas of your yard are illuminated.


Even when you are leaving your home, it is advisable you leave the lights on for the safety of other people and their kids.
#12 Do Not Let Your Kids Stay Far Away from You
This is another vital tip that could help your kids stay safe on Halloween. Whether you are taking them out by yourself or they are accompanied by someone else, you need to make sure your kids don't stay far away from you. You have to stick together at all times.
As earlier mentioned, you need to have a plan and route and you need to stick to it. You should accompany your kids to all the visits. If an adult is not accompanying them, make sure they go in a group and encourage them to stick together. They can also go in a group costume such as The Avengers, as it would help them to stick together.
If you are walking with them at night, hold the hands of the young ones and makes sure that they are safe from obstacles such as stairs or uneven surfaces.

#13 A GPS Tracking Device Could Be of Help
You should talk to your kid on what he or she should do if they get lost. For more precaution, you can put a GPS tracking watch on your child or a Halloween safety tattoo.


With the excitement around Halloween, your kids can easily forget about the pedestrian safety tip and rule you have taught them. Hence, it is crucial you caution them very well and have an alternative plan.
More Halloween Tips and Tricks?
Halloweens are very important and happy moments in the life of many children and families. While all the excitement, enjoyment, and fun is going on, it is of utmost importance that you consider the safety of your child(ren) and family during the season. Following the Halloween tips and tricks above could help you have a safe and fun-filled Halloween with your kids.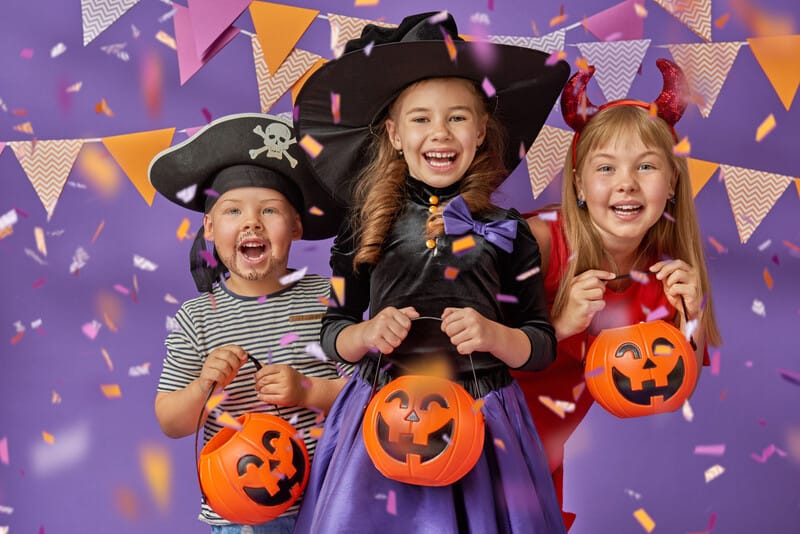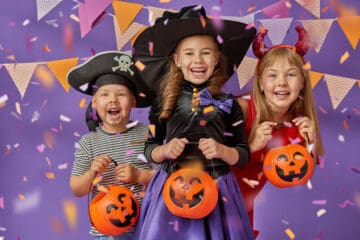 If you have any more Halloween tips and tricks, please leave a comment to help other parents keep their kid's safe.
Have a Happy and Safe Halloween!
~ Becky
Related Posts:
Pin to Pinterest:
Pin to Pinterest so others can find out how to keep their kids safe on Halloween too!