Congrats and welcome to the wonderful adventure of motherhood. And, motherhood starts the day you find out you are pregnant. Here are some foods to avoid during pregnancy to help you have a healthy pregnancy.
This is a guest post by Nancy Baker of Child Mode! Take it away, Nancy!
While you are busy thinking of baby names, buying baby clothes and baby products, planning your baby shower and birth plan, and decorating your baby's nursery, you may forget about some important key things that come with pregnancy.
During pregnancy, your doctor will give you a list of approved medications, exercises, traveling, and even food. And, yes, the one thing you were most excited about was indulging in all your pregnancy cravings, but you have to be careful because there are specific foods and beverages you have to avoid or limit.
Before spending hours researching and wondering what foods to avoid and why to avoid them, we've made an easy to follow list of foods to avoid while being pregnant.

Harmful Infections and Parasites From Food
Before going straight into the foods to avoid, it is important to know what the most prominent infections and parasites that can be found in food and what they can do to you and your unborn baby. The most common and dangerous infections and viruses are Listeria, E. coli, Salmonella, and Toxoplasma.
When it comes to Listeria, pregnant women are 120 times more likely to get infected than any other person. Listeria can make a mom weak and dehydrated.
And, even if mom isn't showing any symptoms, it can still be passed onto an unborn baby through the placenta. It can lead to premature delivery, miscarriage, stillbirth, and health problems.
E. Coli can cause a pregnant woman to have severe stomach cramps, diarrhea, vomiting, and fever. If a pregnant woman is infected with E. coli, it can cause dehydration and miscarriage. If E. Coli is passed through the placenta to the baby, it can cause premature delivery, stillbirth, low birth rate, and birth defects.
Salmonella poisoning can cause pregnant women to have vomiting, abdominal pains, diarrhea, headaches, fevers, and dehydration. Luckily, the chance of an unborn baby getting salmonella is very rare, but there have been a few cases of miscarriage and premature delivery.
Toxoplasma is very dangerous to pregnant women and their unborn babies. If a mother gets infected with toxoplasma, you may have no symptoms or flu-like symptoms. And, if passed to the baby, there won't be any symptoms at birth, but they can develop blindness and or intellectual disabilities later in life.
If you notice that you have any of the symptoms after eating food, please contact your doctor right away or in severe cases head to your closest emergency room.
Now that you understand the most common infections, it's time to dive into the food that you need to avoid or limit during pregnancy.
---
Related Posts:
---
#1 High-Mercury Fish
High-mercury fish are found in polluted waters like oceans, ponds, lakes, and streams. There is no known safe level of mercury to consume. High amounts of mercury can cause serious developmental problems in children and are toxic to the nervous system, immune system, and kidneys.
Large marine fish accumulate high amounts of mercury, so it is best to avoid fish like shark, swordfish, king mackerel, albacore tuna, and tilefish. Low-mercury fish is healthy like canned tuna and can be eaten twice a week.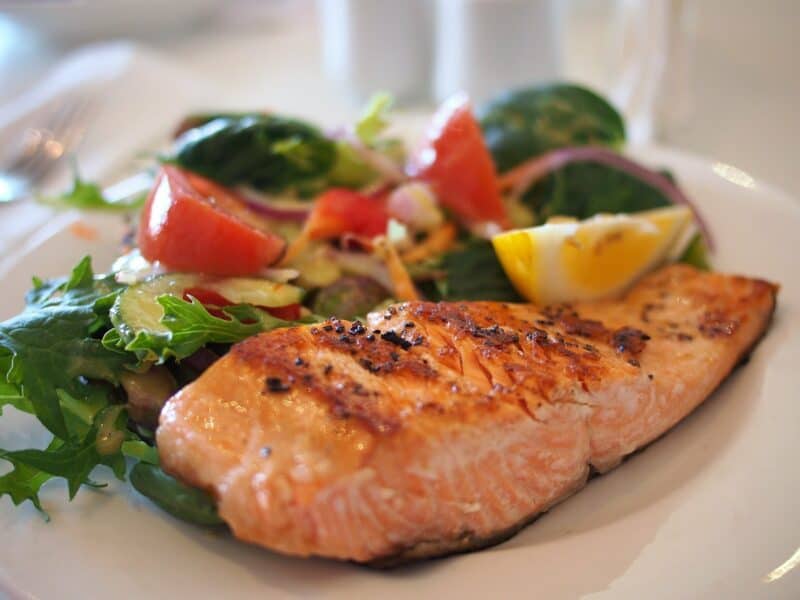 #2 Undercooked or Raw Fish
All the fish you consume needs to be cooked. Raw or uncooked fish can cause serious infections like Vibrio, Salmonella, and Listeria. So, this means saying good-bye to sushi for 9 months. Raw shellfish like oysters, clams, and muscles must be avoided.
Cooking these foods can prevent some of these infections. However, cooking does not prevent algae-related infections from red tides.
#3 Smoked Seafood
During pregnancy avoid refrigerated, smoked seafood like lox, nova-style, kippered, and jerky. These foods can have Listeria.
Before eating smoked seafood, you must cook it. However, canned smoked seafood is safe to consume.
#4 Fish Exposed to Industrial Pollutants
The concern of consuming fish exposed to industrial pollutants is mostly from people who go fishing and eat what they catch. Pregnant women should avoid consuming fish caught from lakes and rivers contaminated with high levels of polychlorinated biphenyls.
Polychlorinated biphenyls are industrial chemicals that are slow to break down in the environment are toxic to young children, fetuses, and the elderly.
Children and unborn babies that have polychlorinated biphenyls in their system have had smaller head sizes, reduced visual recognition, and delayed muscle development. Expected mothers who have been exposed to polychlorinated biphenyls have been linked to their babies having a low birth rate.
Polychlorinated biphenyls are illegal chemicals in the US but are still found in some of the Great Lakes. If located near that area, try to avoid eating fish from there and always check your packaging from the grocery store. Fish that can be exposed to polychlorinated biphenyls include bluefish, striped bass, salmon, pike, trout, and walleye.
Check out our new 188 page Pregnancy Journal for a stress-free pregnancy!
Are you struggling to plan the perfect pregnancy? There is so much to do and it can be overwhelming.

Wouldn't you like a solution to have a stress-free pregnancy?

This pregnancy journal has everything that you need to have a successful pregnancy!
#5 Undercooked, Raw, and Processed Meats
Just like fish, all meats need to be thoroughly cooked before consumption or you can increase the risk of bacterial infections or parasites like Toxoplasma, E. Coli, Listeria, and Salmonella. Processed foods that you need to avoid are hot dogs, lunch meat, and deli meats.
These foods can be infected with various bacteria like Listeria during processing, handling, or storing. You can consume these foods only if they have been reheated until steaming hot.
#6 Organ Meats
Organ meats like liver, kidneys, and heart need to be limited to eating only once a week. These meats do have great nutrients for mom and baby like iron, vitamin B12, vitamin A, and copper, but eating too much is not recommended. Eating too much organ meat can cause vitamin A toxicity and abnormally high copper levels which can lead to birth defects and liver toxicity.
#7 Pate
While you are pregnant, you should avoid refrigerated pate or meat spreads. Even though lowering your refrigerator's temperature to below 40 degrees can slow down the bacteria, it doesn't eliminate them all. They can contain Listeria. Canned pate or shelf-safe meat spreads are safe to consume.
#8 Raw Eggs
Raw eggs can contain Salmonella. In rare cases, salmonella poisoning can cause severe cramps to the uterus leading to premature birth or stillbirth.
Common foods that contain raw eggs are lightly scrambled eggs, poached eggs, hollandaise sauce, homemade mayonnaise, salad dressings, homemade ice cream, raw cookie dough, mousse, tiramisu, meringue, and cake icings.
Don't worry too much at the grocery store though because most commercial products use pasteurized eggs. However, always read the label before purchasing and consuming. This is a highly important food to avoid during pregnancy!
#9 Unpasteurized Milk, Cheese, and Fruit Juice
Consuming anything that is unpasteurized can be dangerous for mom and baby because these foods can contain Listeria, Salmonella, E. Coli, and campylobacter. Pasteurization is the most effective way to kill any of these harmful bacteria. Foods that can contain unpasteurized milk include soft cheeses like brie, camembert, roquefort, feta, gorgonzola, queso blanco, and queso fresco.
Unpasteurized fruit juice can contain harmful bacteria like Listeria. The most common places to find unpasteurized fruit juice are restaurants, farm stands, and juice bars. Always check labels and warnings before consuming these juices.
#10 Processed Junk Food
Processed junk food is cheap, but unhealthy for everyone. It is low in nutrients and high in calories, sugar, and added fats. With everyone, added sugar leads to Type 2 Diabetes and heart disease.
During pregnancy, you want as many nutrients and vitamins that you can get for your baby to grow healthy. Processes junk food can lead to excess weight gain in pregnancy.
You will gain weight during pregnancy, but excess weight can lead to gestational diabetes, pregnancy and birth complications, and an overweight child. Instead stick to fresh foods like vegetables, fruits, and meats.
#11 Unwashed Produce
It isn't safe to consume unwashed produce because it may contain several bacteria and parasites like Toxoplasma, E. coli, Salmonella, and Listeria from the soil, handling, or processing. Before consuming, always wash the vegetables and fruit you would like to enjoy.
#12 Raw Sprouts
Unlike other unwashed produce, it is impossible to wash off bacteria like Salmonella found on raw sprouts. The only way to safely consume raw sprouts during pregnancy is to cook them. Raw sprouts include alfalfa, clover, radish, and mung bean.
#13 Unripened Papaya
Papaya is really great for pregnancy if it is ripe. Unripened papaya contains a latex substance that can cause contractions to the uterus. This latex substance acts like prostaglandin and oxytocin, which makes the body go into labor.
Avoid unripened papaya before 40 weeks of pregnancy to avoid miscarriage and preterm labor. However, if you are over 40 weeks and trying to kickstart labor, this may be a natural way of doing so. Always contact your doctor for any further questions or advice. This is an important food to avoid during pregnancy.
#14 Caffeine
Caffeine was a much-needed boost to get you through your long days, but during pregnancy, you have to limit your caffeine consumption tremendously. The doctor-recommended amount of caffeine intake per day is less than 200 milligrams or 2-3 cups of coffee per day. Food that contains caffeine include coffee, tea, soft drinks, and cacao or black chocolate. This is one of the many foods to avoid during pregnancy.
Caffeine is absorbed quickly and passes easily to an unborn baby. Studies have shown that infants with high levels of caffeine have restricted fetal growth and an increased risk of low birth rate. And, more studies have shown that children born with a low birth rate have higher chances of Type 2 Diabetes, infant death, and heart disease.
#15 Alcohol
During the entire pregnancy, alcohol must be avoided. Drinking alcohol can increase your risk of miscarriage and stillbirth. Alcohol can impact the baby's brain development and cause fetal alcohol syndrome which can cause facial deformities, heart defects, and intellectual disabilities.
Check out our new 188 page Pregnancy Journal for a stress-free pregnancy!
Are you struggling to plan the perfect pregnancy? There is so much to do and it can be overwhelming.

Wouldn't you like a solution to have a stress-free pregnancy?

This pregnancy journal has everything that you need to have a successful pregnancy!
#16 Cooking Raw Foods
Since many foods are safe to consume after cooking, here are a few tips to make sure your food is safe to consume.
For beef, cook it for about five to six minutes or until it reaches 160 degrees. For lamb and pork, cook them for about twenty to thirty minutes or until they reach 170 degrees. Fish should be cooked for twenty minutes or until it reaches 145 degrees.
When it comes to cooking eggs, make sure you cook them over high heat for four to nine minutes. And for vegetables, cook over medium high heat until vegetables are tender or wilted. Buy a food thermometer, to know the exact degrees food is cooked at.
Now that you are aware of what you cannot eat, it's time to enjoy some delicious food. Don't be afraid to try new foods just always remember what you can and cannot eat.
Also, make sure to try to consume as much fresh fruits and vegetables as you can. But, don't worry, you can indulge in some sweets here and there.
Other Foods to Avoid During Pregnancy?
For more information and a quick guide of the foods to avoid during pregnancy, check out this article. Or, contact your doctor if you have any questions or concerns. If you need more information on pregnancy, motherhood, infants, and baby items visit Child Mode.
Do you have any more foods to avoid during pregnancy? Let us know in the comments!
---
Related Posts:
---
Pin to Pinterest:
Pin to Pinterest so other moms know about these foods to avoid during pregnancy.