Money is essential to life, governing everything from our basic needs to our wildest dreams. However, achieving financial goals can be arduous, often requiring meticulous planning and a clear vision. This is where the concept of a money vision board comes into play. A money vision board can be a powerful tool to translate your financial aspirations into a tangible form. This article will explore what a money vision board is, how to create one, and why it might be the key to unlocking your financial success.
What is a Money Vision Board?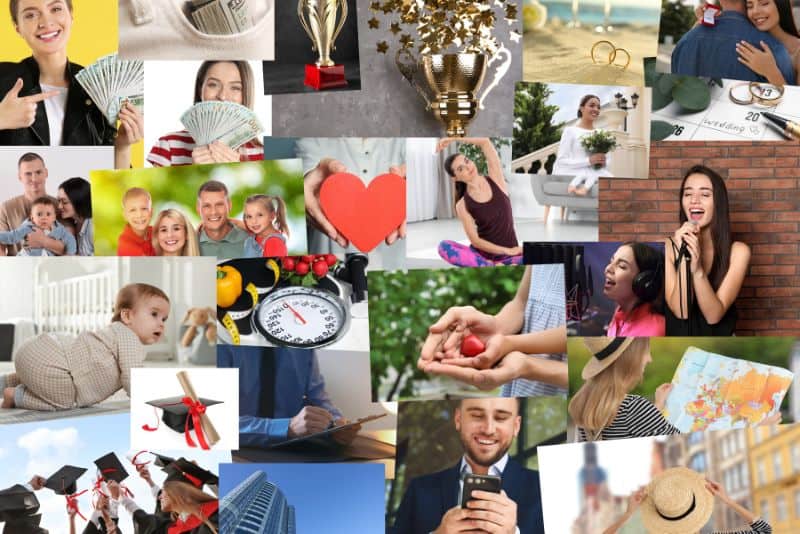 A money vision board is a visual representation of your financial goals. It's a collage of images, affirmations, and phrases that symbolize your goal. Whether saving for a new home, starting a business, or retiring comfortably, a money vision board can help clarify and energize your financial plans.
Unlike wishful thinking, a money vision board is a daily reminder of what you are working towards. By keeping your goals in sight, you'll be more motivated to take consistent actions to reach them.
How to Create a Money Vision Board
Identify Your Financial Goals: Before you start, clarify your financial goals. What do you want to achieve? Whether paying off debt, buying a car, or investing in your future, be specific about what you want.
Gather Inspirational Images and Quotes: Look for images, quotes, or words that resonate with your financial goals. These could include pictures of your dream house, inspirational quotes about financial freedom, or even symbols of wealth and success.
Choose a Medium: You can create a physical money vision board using a corkboard, poster board, or digital one using tools like Pinterest or specialized vision board apps.
Get this cute corkboard on Amazon!

Arrange Your Images: Start arranging the images and words in a way that visually appeals to you. There's no right or wrong way to do this; it's all about what inspires you.
Place It Where You'll See It: Position your money vision board in a place where you'll see it daily, like your bedroom, office, or as wallpaper on your phone or computer.
Reflect and Act: Spend time regularly looking at your money vision board and reflecting on the steps you need to take to achieve those goals. Adjust it as necessary and allow it to guide your financial journey.
---
Related Posts:
---
The Power of a Money Vision Board

A money vision board isn't just a piece of art; it's a psychological tool that taps into the law of attraction. You align your thoughts and actions with your goals by continually focusing on what you want to achieve.
It can also be therapeutic, allowing you to understand and overcome financial fears or limitations. Visualizing success fosters a mindset that helps you make informed and responsible financial decisions.

What do you put on a money vision board?
A money vision board is a personalized representation of your financial goals, aspirations, and the pathway you envision to achieve them. Therefore, what you put on it will depend on your unique financial dreams and priorities. Here are some common elements that you might include on a money vision board:
Images of Financial Goals: Photos or illustrations of what you aim for, such as a new house, car, vacation, or anything else you're saving for.
Inspirational Quotes: Motivational quotes or phrases that resonate with your financial mindset or the goals you're trying to achieve.
Symbols of Wealth and Success: This might include images of money, gold, luxurious items, or other symbols that represent financial abundance and success to you.
Personal Affirmations: Writing out personal affirmations or mantras can remind you of your commitment and ability to reach your financial goals. Examples might be "I am financially free" or "I make wise financial decisions."
Financial Milestones: Break down your goals into smaller, achievable milestones and include them on the board. It could be paying off a specific debt, reaching a savings goal, or investing a particular amount.
Educational Goals or Plans: If part of your financial vision includes furthering your education or taking specific courses that will lead to higher earning potential, include those elements.
Tools and Strategies: If there are particular strategies or tools you plan to use to achieve your financial goals, such as investing in stocks, starting a business, or cutting unnecessary expenses, you may want to represent these visually as well.
Visual Aids for Budgeting: Graphs, charts, or other visual aids representing your budgeting plan can help keep you focused on your financial trajectory.
A Timeline: A clear timeline can help you set and visualize when you hope to achieve certain milestones or your overall financial goal.
Personal Touches: Anything motivating or relevant to your financial journey can be included. It might be images of family, pictures from a dream destination, or symbols of hobbies and interests that align with your financial aspirations.
Remember, a money vision board is highly individual and should reflect what motivates and inspires you. The more aligned it is with your personal goals and values, the more powerful it will guide you toward financial success.
What is a wealth vision board?

A wealth vision board, similar to a money vision board, is a visual tool designed to help you clarify, concentrate on, and maintain focus on specific financial and wealth-building goals. While a money vision board may encompass various financial objectives such as saving, spending, or budgeting, a wealth vision board typically focuses on the bigger picture of accumulating and growing wealth.
Here's a closer look at what a wealth vision board is and what it may include:
Definition of a Wealth Vision Board
A wealth vision board is a collage of images, words, symbols, and affirmations that represent your financial aspirations and the life you want to lead as a result of achieving financial abundance. It serves as a daily inspiration and a reminder of what you strive for, mainly regarding financial freedom, investment, and wealth accumulation.
What to Include in a Wealth Vision Board

Long-term Financial Goals: Images or representations of what wealth means to you, such as financial independence, early retirement, owning multiple properties, or having the freedom to travel.
Investment Strategies: Symbols or visuals representing investment opportunities or strategies that align with your wealth-building objectives, like stocks, bonds, real estate, or starting a business.
Inspirational Quotes and Affirmations: Powerful statements that resonate with your mindset and values about wealth, prosperity, and success.
Lifestyle Images: Pictures that reflect the lifestyle you aspire to once you've achieved your wealth goals, such as locations you want to visit, the type of home you wish to live in, or the hobbies you want to pursue.
Symbols of Success and Wealth: This can include anything representing financial success to you, such as gold bars, luxurious cars, or exclusive memberships.
Education and Personal Development: If your wealth-building strategy includes further education, mentorship, or personal growth, include symbols or images representing those paths.
Charitable Goals: If philanthropy or giving back is part of your wealth vision, include visuals that symbolize the causes or contributions you plan to make.
More on Money Vision Boards or Wealth Vision Boards?
Creating a money vision board or wealth vision board is more than a creative endeavor; it's a step towards making your financial dreams a reality. Whether you're a seasoned investor or just starting your financial journey, a money vision board can act as a guiding light, keeping your goals focused and motivating you to take the necessary steps to achieve them. It's a simple yet powerful tool that aligns your thoughts, emotions, and actions, putting you on a path toward financial success.
Try creating your own money vision board today, and take the first step towards transforming your financial dreams into tangible realities.
Have you created your own money vision board or a wealth vision board? Let us know in the comments!
Related Posts:
Pin to Pinterest:
Pin to Pinterest so other moms can find out about money vision boards and how to create them!