Pregnancy is beautiful for a woman, but it can be challenging to find a suitable job. Pregnancy doesn't mean a woman should stop working because when the baby comes, there will be a lot of associated expenses. For some pregnant women, working tends to be rewarding, which means they will still want to continue doing something during their pregnancy. Although labor and workforce laws have advanced to ensure expectant mothers access equal opportunities, there are still some obstacles. In this article, we will discuss jobs for pregnant women!
Securing a pregnant job can present specific challenges, but it is not something one can address. There are several jobs pregnant women can undertake that are safe. Pregnant women have particular needs that should be accommodated, such as flexible work schedules and leave policies for them to attend doctor's appointments. Being flexible can be a trick for most employers.
Besides permanent employment, there are numerous job options for pregnant women to work remotely and make money online. In this article, we shall discuss pregnancy-friendly jobs women can take to earn extra income while waiting to give birth. Therefore if you are a mom-to-be worried about getting a job, you need not be, as we have compiled a list of jobs for pregnant women. Furthermore, you could continue doing these jobs after giving birth until your maternity leave is over.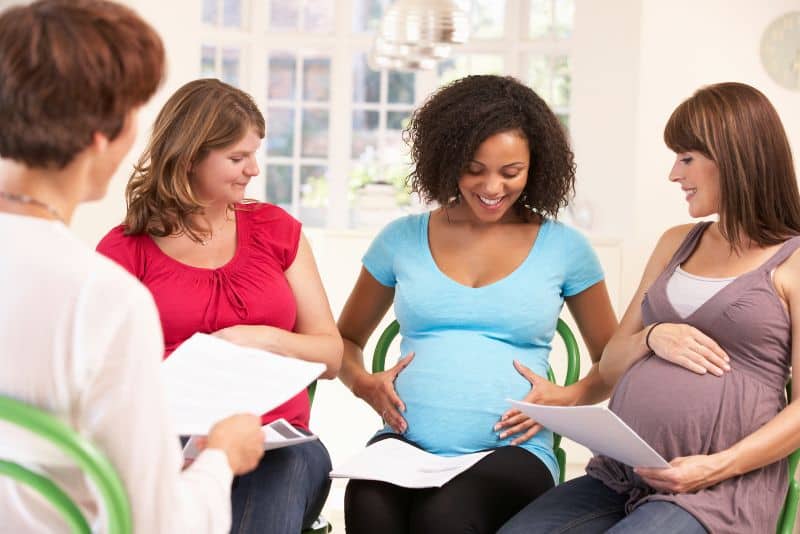 Avoid these kinds of jobs when pregnant
Before we discuss the available jobs for pregnant women, you should know that there are specific jobs you should avoid when pregnant. To begin with, you need to avoid any position that will expose you to toxins for the entire period of pregnancy.
Some chemicals are dangerous when inhaled. They are commonly present in car exhaust fumes, paint, pesticides, and cleaning agents. The substances are primarily present in cleaning products, so pregnant women should avoid cleaning jobs. If it is impossible to avoid exposure, you can seek other employment or temporary role change.
The other categories of jobs that doctors advise against are jobs that will strain the body. In the latter stages of pregnancy, doctors recommend women avoid any heavy lifting or jobs that require standing for an extended period.
Although the activities are unlikely to harm the baby, they could cause serious health problems to the mother. Most importantly, staying away or considering pregnancy-friendly jobs would be nice if you are not feeling well when doing your work.
Pregnancy friendly jobs
For pregnant women, the best job to do when pregnant will be low-stress desk duties that provide flexibility. With job flexibility, you can easily schedule doctor's appointments and ensure you are in good health.
#1 Become a virtual assistant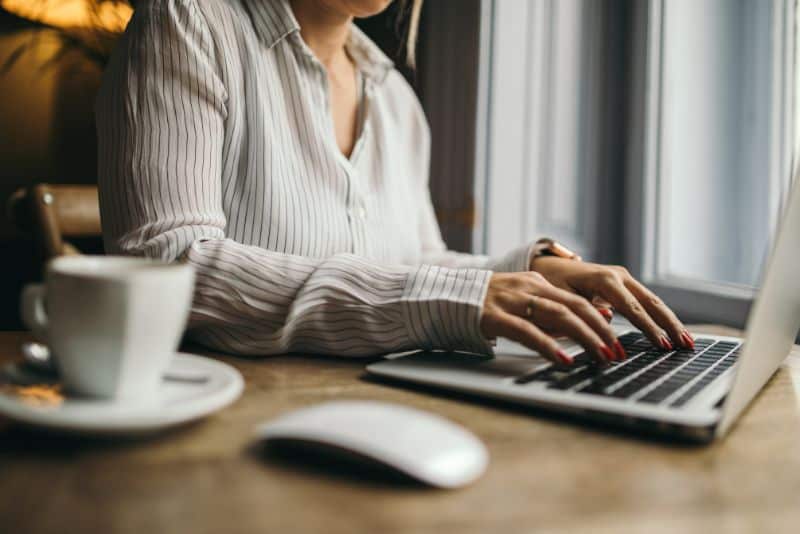 Most companies have moved operations online, and as a result, there is high demand for virtual assistants to assist in completing daily duties. A virtual assistant performs the duties of an administrative assistant in typical working conditions.
You will work remotely to support a company or business lead by completing various office-related responsibilities such as data entry, appointment scheduling, replying to emails, and taking phone calls.
With this kind of job, there is no experience necessary, and to help you, there are agencies such as Fancy Hands that help link job seekers with potential clients. Also, you can offer virtual assistant services on Upwork and Fiverr. The average hourly pay is around $18.68
---
Related Posts:
---
#2 Freelance writing
Freelance writing is among the top-rated pregnancy-friendly jobs that are flexible and pay well. The exciting part of freelance writing is that you have numerous options, like writing for business owners, websites, bloggers, and others looking for writing services. Interestingly there is no requirement like a bachelor's degree to be a writer.
You are at liberty to choose the kind of writing project you wish to take based on your knowledge and skills. You can do copywriting, resume writing, freelance blogging, grant writing, content writing, and press release writing. You can get plenty of freelance writing jobs at FlexJobs, Indeed.com, Writers Work, and ProBlogger.
#3 Proofreading
Proofreading is one of the best pregnancy-friendly jobs for expectant mothers since it offers a lot of o flexibility. The job requires someone good at grammar and responsible for editing documents, resumes, books and blogs. The most important aspect is that you don't have to pick a niche, which implies many opportunities.
Additionally, to hone your skills, you can sign up for the Proofread Anywhere webinar to learn about the basics of becoming a proofreader. Finally, you can make up to $40,000 as a part-time proofreader.
Another job related to proofreading is editing, where you can get paid for reviewing a website or blog content or any written text for tone and style. For example, an editor polishes a writer's work before publication. Proofreading jobs can be found on FlexJobs and job boards such as Indeed.com.
#4 Transcription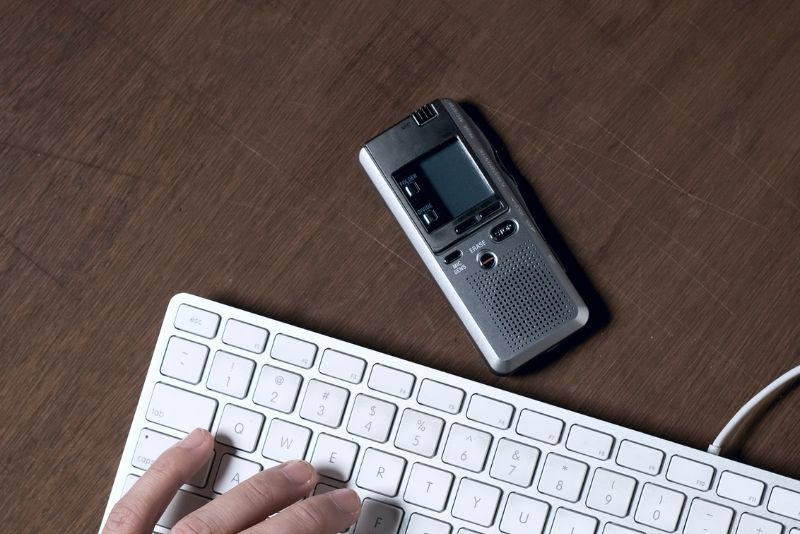 You can make money through transcription. This kind of work offers flexibility, and there is no experience required. As a transcriptionist, you earn cash for converting video and audio content into written text. The job entails listening to the recording and typing the content into written text.
Interestingly transcription jobs can be on general or specialized services. For example, you could work as a medical or legal transcriptionist. If you want to enhance your transcription skills, sign up for Janet Shaughnessy's free online transcription webinar.
#5 Selling Printables online
One of the best ways to make money on the side is by selling printables, and pregnant women should take advantage of this opportunity. Printables are digital downloads that you can sell online as a side hustle.
Interestingly printables entail anything that someone can print and frame, including:
birthday invitations

wedding invitations

greeting cards

art prints

wall art

posters

journals

planners
You can sell these on Teachers Pay Teachers, Etsy, or your Shopify store. The good news is that there is little investment required to start the business and earn income over the years. Research various resources about starting a printable business and how to make it lucrative.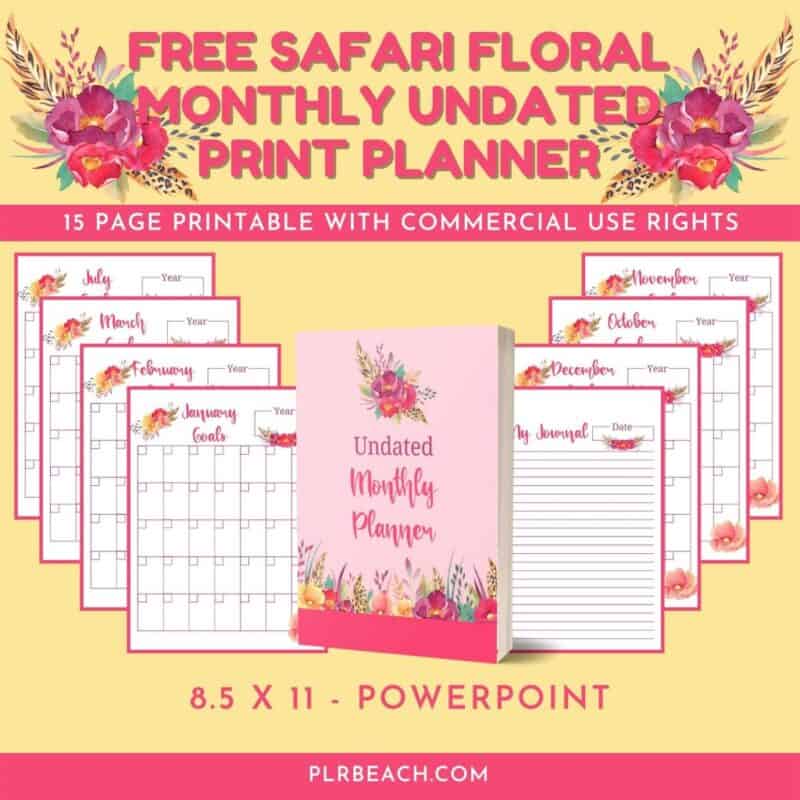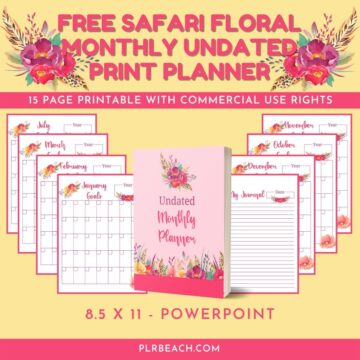 Get a free commercial use printable at my store, PLR Beach, here that you can resell as your own!
#6 Become a social media manager
Nowadays, businesses maintain social media presence and constantly look for people to manage their social media content and accounts. This job is an excellent option for expectant mothers conversing on social media. Social Media is a gig for you if you like being social.
#7 Teaching or tutoring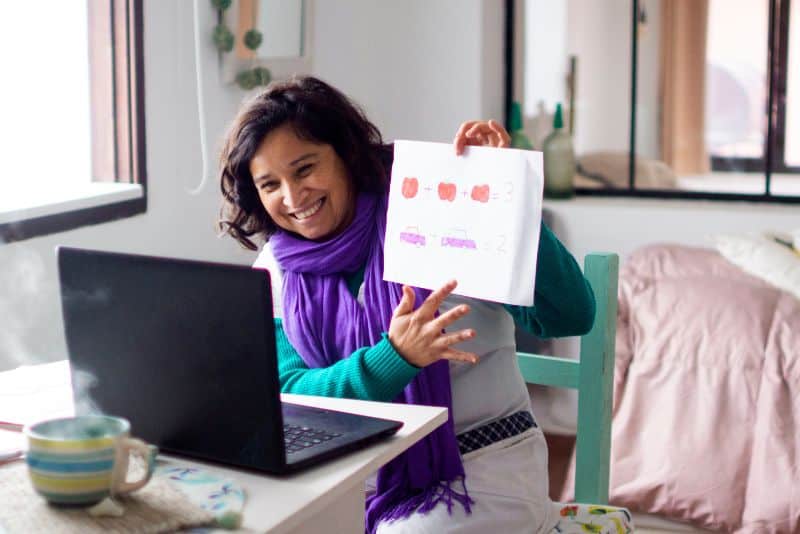 If you are a teacher or excel in a given subject, you can tutor students and make money on the side. Academic tutors are essential in helping students understand a given topic better. However, it would help if you had instructional experience or a bachelor's degree.
You will need to undergo an interview plus a background check because the job requires interaction with minors and teens. You can prepare lessons or work directly with the students, and as an online tutor, you can complete your work while sitting in front of a computer.
You could even compile your videos and convert them into a course for profit. If you are a teacher, this could be a way of practicing what you love without straining in a classroom environment.
There are several opportunities online to teach English and other subjects. If you are a native English speaker or teacher, you can teach English as a second language to kids and adults learning English. Several ESL firms such as VIP Kid are looking to hire native English teachers to teach English for a median hourly pay of $18-$21. You could earn around $29,350 per year tutoring if you work full time.
#8 Taking online surveys
Although taking online surveys might not replace permanent employment, it can be an excellent way to make money when pregnant. Surveys are easy to take, and there is no straining. You can do them even when you are on bed rest.
Creating an email specifically for surveys is vital; you can visit the site whenever you are ready to conduct surveys.
Some legit survey firms include
Each of these companies offers a signup bonus, and then you can make more money answering questions, playing games, reading emails, and entering into sweepstakes.
#9 Become a bookkeeper
Another excellent job for pregnant women is becoming an online bookkeeper. Bookkeeping could be the perfect gig if you are tech-savvy and good with numbers. As an online bookkeeper, you will be working from home to help business owners maintain accounts and keep track of finances.
You may wonder why this job may not be for you since you are not an accountant. There is no reason for concern since no previous experience is needed to be a bookkeeper. Bookkeepers.com offers a free online course to help you learn how to be a bookkeeper. Start looking for online bookkeeping jobs at FlexJobs.
#10 Selling stickers
Stickers can earn you a significant amount of money. You can design stickers and sell them to customers online. There is no limit on what you can create, ranging from planner stickers, packaging stickers, or anything else, depending on what you like.
Selling stickers is an exciting job, and it enhances creativity while at the same time generating cash. Interestingly you could outsource or print the stickers on your own.
#11 Blogging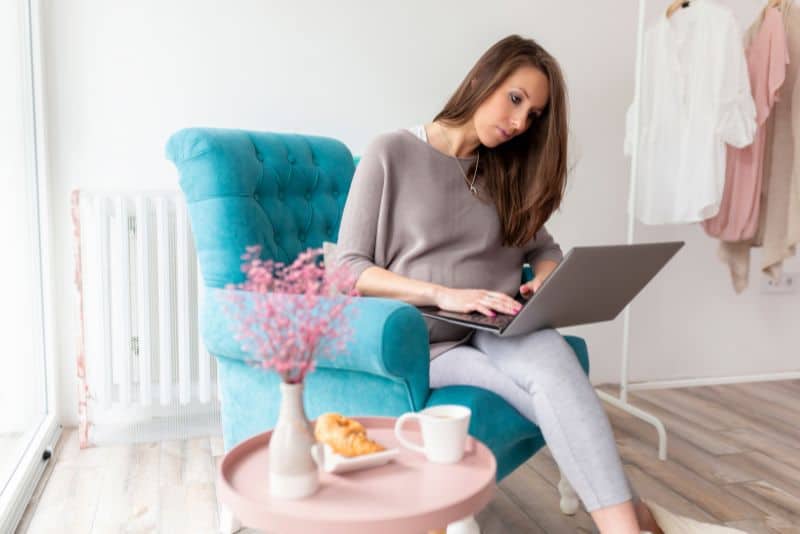 As an expectant mother, you can start your blog and write stuff about an area that interests you. For instance, you may begin a mom blog and generate cash from your ideas. However, blogging is not something to do if you want quick money. It is a process that takes time to create traffic before you start earning.
Examples of blog posts you can do include newborn care, pregnancy, and baby planning, travel, kids' activities, budgeting, fashion, or life o a work-from-home mom. As traffic to your site grows, you can monetize that through affiliate marketing, ads, sponsored posts, digital products, and services.
Click here to check out our detailed post on blogging!
Get a free Blogging Planner here!
#12 Create a YouTube Channel
Besides writing or blogging, you can create videos and share them on YouTube. First, you must establish a niche under which you will be Vlogging. Then, you only need a secure internet connection, a computer, and a camera. Create content if you are comfortable with a camera and then share it on YouTube.
Like blogging, you should grow your channel, and once you get around 1,000 subscribers and 4,000 hours of viewership, you can monetize the channel and create passive income.
#13 Become a travel or reservation agent
The hospitality sector has a host of opportunities, and if you have experience in the industry, you can turn your knowledge into a revenue source. For example, you can work as a travel or hotel reservations agent from home.
Your work will be to book reservations for airlines, car rentals, airlines, and more, plus handling customer inquiries. Being a travel agent is an ideal job for pregnant women since they can do it from home.
#14 Data entry job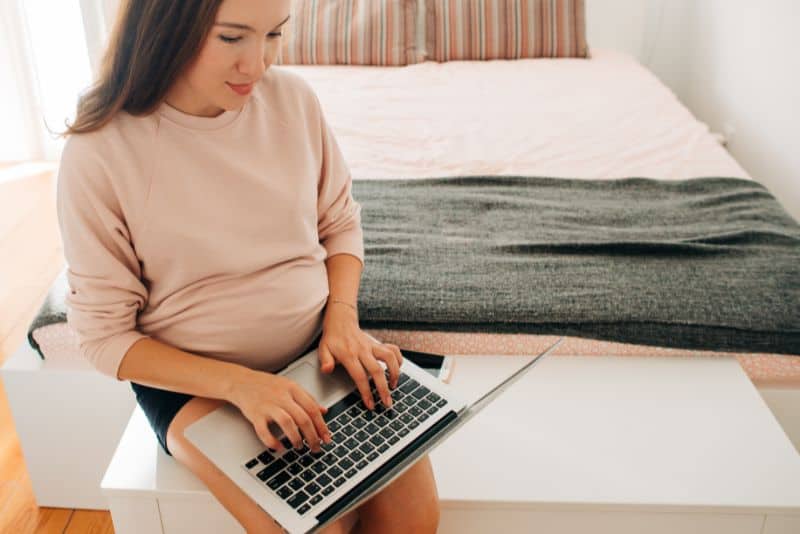 Data entry is among the most popular jobs that can be done remotely. Your work will take data from one source and record it in another. Interestingly data entry doesn't need experience or a specific skill set. All you need is to have good typing speed and accuracy.
#15 Online sales representative/customer service agent
Several businesses are looking for people who can work remotely, taking customer calls or answering online inquiries. You can work as an online customer service agent or sales representative for these companies. Your responsibility will be to assist customers with their queries and help solve any issues raised.
All you need is a computer with a reliable and secure internet connection. You can schedule the hours you will be working, which makes this job the easiest that pregnant women can take.
More jobs for pregnant women?
As you can see, there are several jobs for pregnant women who wish to stay at home or want light work. Do you have more ideas for jobs for pregnant women or have done these jobs? If so, please comment below!
Related Posts:
Pin to Pinterest:
Pin to Pinterest so other moms can find out about these jobs for pregnant women!