It isn't everyday that I am able to interview someone as talented as Jen Slezia. She has created an amazing printables store called Journals to Freedom. Each printable is beautifully handmade by Jen. I'm very fortunate to be able to sit down with Jen today and share her story for the Inspiring Mompreneur series.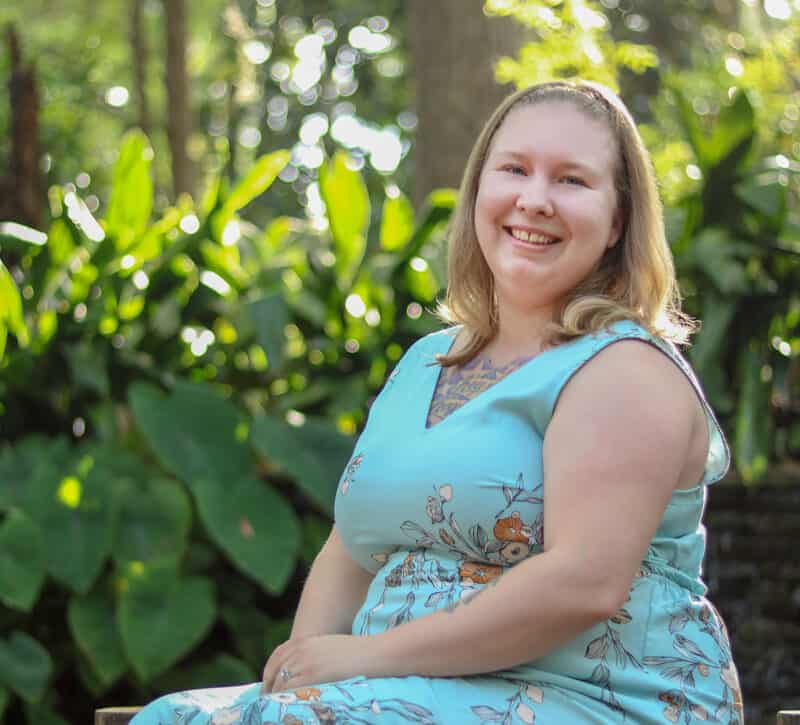 Tell me a little bit about yourself
Jen Slezia: Well, my name is Jen, and it's really nice to meet you! I am married to my best friend and we have two children 🙂 I think I come off as reserved when I first meet people or in new situations, but once I'm comfortable I'm actually really goofy and fun-loving!
I love creating printables for my shop, Journals to Freedom. Oh, and my favorite color is purple!
---
Other Inspiring Mompreneurs:
---
How would you describe your job?
Jen Slezia: I work in IT as an Information Security Analyst. I think it's cool work. But my passion lay with my small business creating printables.
I've really dug into a creative side of me that I didn't know was there and at a time in my life where I really needed something that was just mine. I am a Pisces though, so it makes sense!
How did you get the idea for your business & blog?
Jen Slezia: My printables shop, Journals to Freedom, stems from my un-officially-diagnosed ADHD. I have been a big fan of lists for a long time. There is something magical about putting pen to paper.
I feel so accomplished when I get to cross things off my list. I started designing more unique lists that meet my needs and to curb the massive amounts of post-it notes that were strewn about, and trust me, they were just as disorganized as my brain.
My lists morphed into these awesome, fun and unique printables that I can organize neatly into binders! This is how I chose my business name, Journals to Freedom! I hope that my printables bring as much mental clarity, serenity and the freedom that follows into the lives of my customers as they do for me.
What is one piece of advice you would give to a new entrepreneur?
Jen Slezia: Don't quit on a bad day!
How do you advertise or get the word out about your business?
Jen Slezia: For now, I rely on all organic traffic. I use Pinterest, Facebook, blog posts, and guest posts like this one to tell the world about Journals to Freedom Printables. 🙂
What are your goals for 2020?
Jen Slezia: My top goal for 2020 is for my printables shop, JournalstoFreedom.com, to replace my full-time income. I want to have more time to spend at home with my family. I love creating printables and running my shop, so when I do "work" from home, it won't feel like work at all! It's going to be amazing!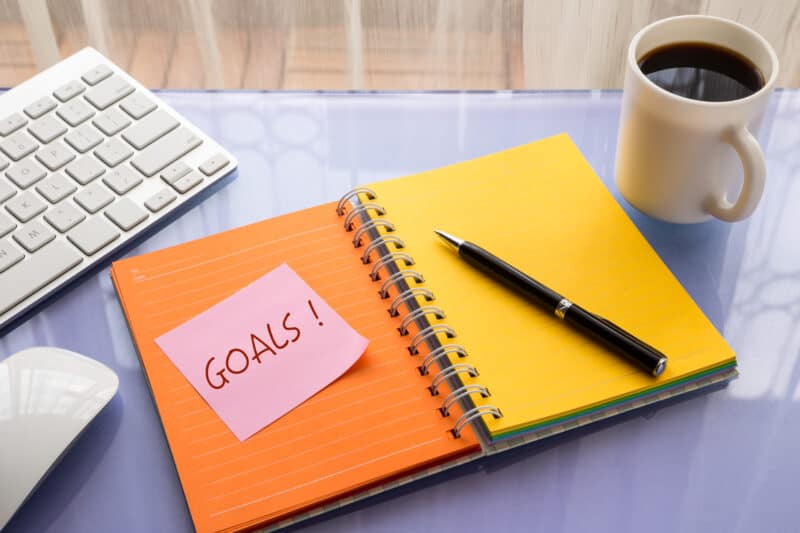 What helps you feel inspired?
Jen Slezia: I love looking at other notebooks in stores. I always go down the stationery aisle and I am constantly taking pictures. I look at the fonts that are used, colors, patterns. I always chuckle to myself when I recognize a font and know it by name.
Also, I pull inspiration from my own needs, for a lot of my printables I've thought, "if this can help me surely it can help others!"
What is your best productivity hack?
Jen Slezia: To put the phone away! Like in a completely different room! Technology is great, but it is so distracting when I need to focus and get some tasks crossed off my list.
While I'm designing, writing, or researching on my laptop I also close out all the extra Chrome tabs. I only keep open what I am actively using.
If you could travel anywhere in the world, where would you go?
Jen Slezia: Ah, this is hard to pick only one! I really would love to visit Sweden, Germany, and Australia.
What do you love about printables?
Jen Slezia: Two things. I love how completely unique and how convenient they are! Each designer has their own style, so even two grocery shopping lists are completely different. I love it! They're fun and quirky. And it is so convenient to just print what I need, when I need it, right at home! Beautiful printable little problem solvers LOL!
Which of your printables is your favorite?
Jen Slezia: Although I love all of my creations, my favorite will always be my Postpartum Wellness Binder because it means so much to me and so many of my mom friends ❤️ I saw a need for this specific type of mental health printable and I created it.
I had so much love and encouragement from my family and friends during this project, it was really emotional for me. I definitely could not have done it without them.
Favorite Journals to Freedom Printables
I decided to check out Jen's store and list a few of my favorite printables from her store, Journals to Freedom.
Small Business Planner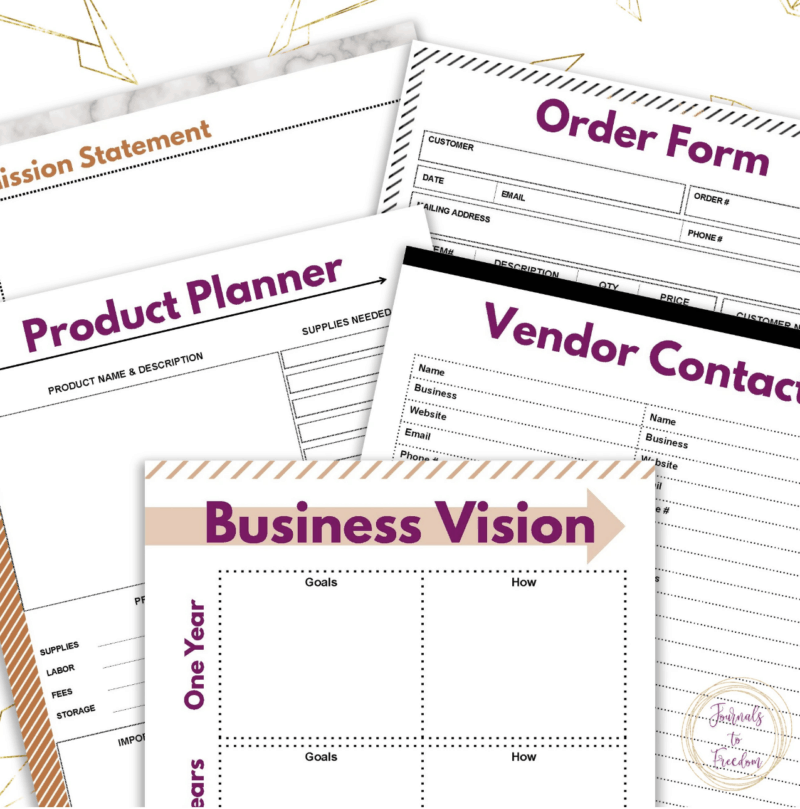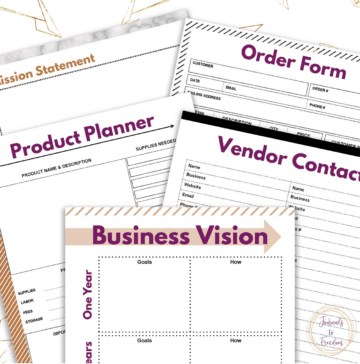 The Small Business Planner has everything a mom's new business would need. It is both beautiful and highly functional.
Check out the Small Business Planner now!
Postpartum Wellness Binder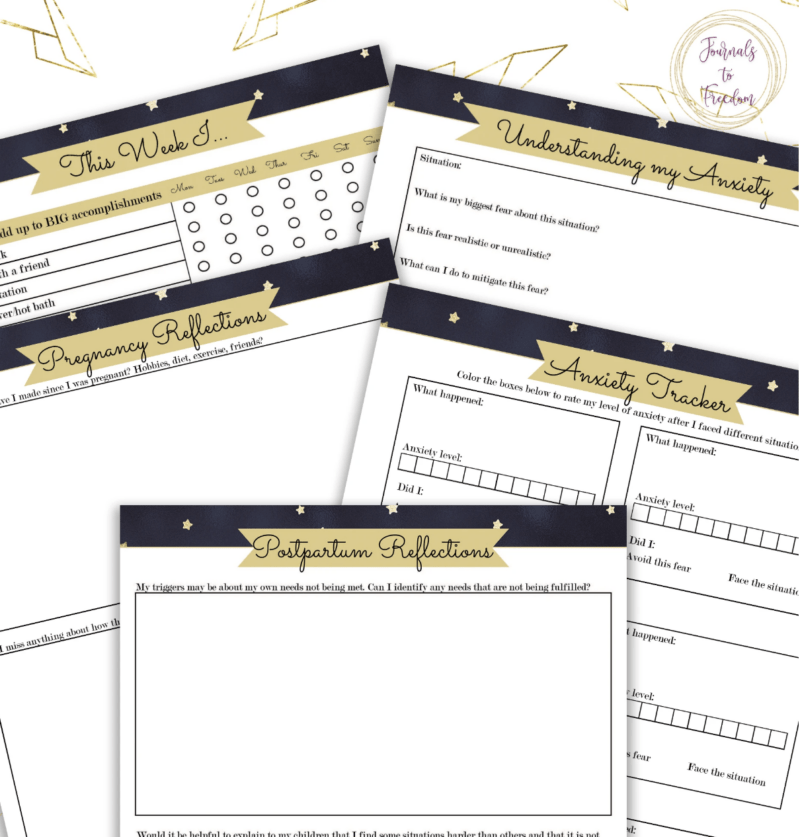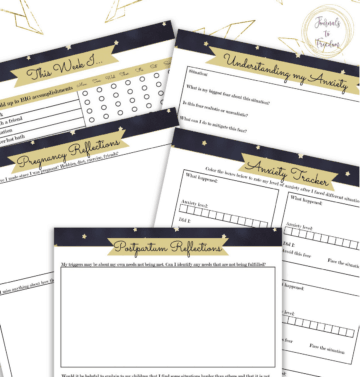 The Postpartum Wellness binder helps moms who are experiencing postpartum. If you struggle with overwhelm and racing thoughts due to postpartum, then you must check out this binder now.
Check out the Postpartum Wellness Binder now!
Other Inspiring Mompreneurs:
Pin to Pinterest:
Pin to Pinterest so other moms can be inspired by Jen too!