Welcome to a world of delightful and nutritious culinary adventures, specially curated for those little ones known as "toddler picky eaters." We understand that feeding finicky toddlers can sometimes feel like a daunting task, but fear not! Our collection of healthy meal ideas for toddler picky eaters is here to the rescue. From sneaky veggie-filled creations to playful twists on familiar favorites, we've got you covered with a variety of mouthwatering options that are sure to win over even the most discerning taste buds. So, put on your chef hats and get ready to transform mealtime into a fun and nourishing experience, where healthy and happy go hand in hand!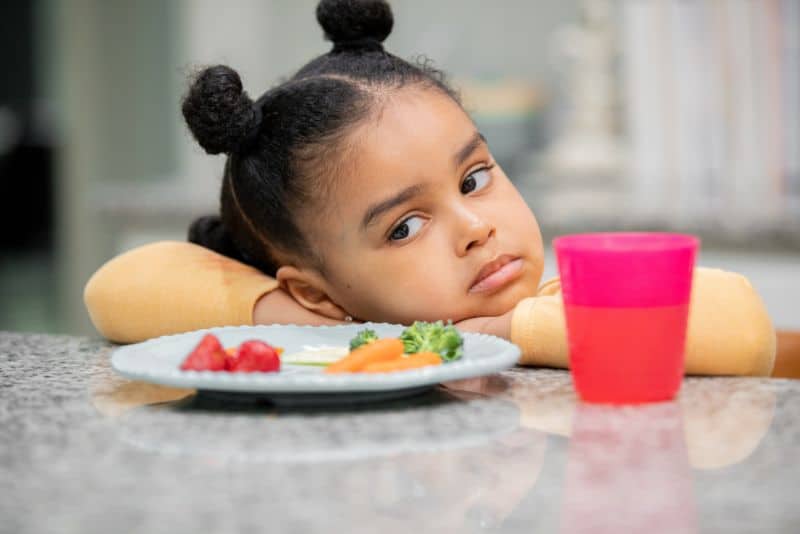 I added links to the recipes that were complex for your convenience!
45 Healthy Meal Ideas for Toddler Picky Eaters List
Mini turkey and cheese quesadillas: Tiny and simple quesadillas filled with lean turkey and melted cheese.
Sweet potato and apple muffins: Soft and delicious muffins made with sweet potatoes and apples for a nutritious snack.
Broccoli and cheese omelet: Sneak in some broccoli with this cheesy omelet for a nutrient-packed breakfast.
Carrot and zucchini fritters: Veggie-packed fritters that are crispy on the outside and tender on the inside.
Creamy avocado pasta: A creamy and nutritious pasta sauce made with avocados.
Apple and peanut butter sandwiches: A fun twist on a classic sandwich with apple slices and peanut butter.
Cauliflower tots: Healthy tots made with cauliflower, perfect for little fingers.
Cheese and spinach stuffed chicken: A tasty and nutritious chicken dish with hidden spinach. This is a great healthy meal idea for toddlers!
Banana and oat pancakes: Soft and fluffy pancakes made with mashed bananas and oats.
Mini vegetable pizzas: Tiny pizzas with a variety of colorful veggies for a fun meal.
Peanut butter and banana wraps: A simple wrap with peanut butter and banana slices.
Sneaky veggie tomato sauce: A tomato sauce packed with hidden vegetables to serve over pasta.
Cheese and vegetable quesadilla triangles: Bite-sized quesadillas filled with cheese and veggies.
Cucumber and cream cheese sandwiches: Refreshing sandwiches with sliced cucumber and cream cheese. This is a fun healthy meal idea for toddlers!
Mini turkey meatloaf muffins: Flavorful meatloaf made in muffin tins for easy portion control.
Spinach and cheese stuffed pasta: Pasta stuffed with spinach and cheese for a tasty treat.
Yogurt parfaits with berries: Layered yogurt with fresh berries for a colorful and healthy dessert.
Turkey and cheese pinwheels: Rolled-up tortillas filled with turkey and cheese for a fun snack.
Hidden veggie smoothies: Delicious smoothies with hidden vegetables for a nutritious boost.
Bell pepper and hummus dippers: Sliced bell peppers served with hummus for dipping.
Crispy baked chicken tenders: Baked chicken tenders coated in a crispy coating for a healthier version.
Zucchini and carrot muffins: Muffins filled with grated zucchini and carrots for added veggies.
Creamy cauliflower mac and cheese: A creamy mac and cheese sauce made with cauliflower.
Turkey and cheese sliders: Mini sandwiches filled with turkey and cheese.
Cauliflower and cheese bites: Bite-sized snacks made with cauliflower and cheese. This is a yummy toddler meal idea.
Carrot and apple muffins: Muffins made with shredded carrots and apples for a naturally sweet treat.
Mini vegetable frittatas: Mini frittatas filled with veggies for a nutritious breakfast or snack.
Chicken and vegetable fried rice: Flavorful fried rice with hidden veggies and lean chicken.
Cheesy broccoli bites: Baked cheesy bites with hidden broccoli.
Apple and cinnamon oatmeal: Warm oatmeal with sliced apples and a dash of cinnamon.
Pea and cheese pasta: Pasta with peas and melted cheese for a tasty twist.
Sweet potato fries with ketchup: Baked sweet potato fries served with ketchup for dipping.
Carrot and cheese waffles: Waffles made with shredded carrots and cheese for a savory breakfast.
Bell pepper and cream cheese dippers: Sliced bell peppers served with cream cheese.
Cauliflower and cheese macaroni: A healthier version of macaroni and cheese made with cauliflower.
Banana and spinach smoothies: Nutritious smoothies with hidden spinach and bananas.
Cheesy cauliflower rice: Cauliflower rice mixed with melted cheese for a tasty side dish.
Pumpkin and oat muffins: Muffins made with pumpkin puree and oats for a delicious treat.
Mini turkey and vegetable sliders: Mini sliders filled with lean turkey and hidden veggies.
Sweet potato and black bean quesadillas: Quesadillas filled with mashed sweet potatoes and black beans. Your toddler will love this meal idea!
Cheesy broccoli pasta: Pasta with cheesy broccoli sauce for a comforting meal.
Carrot and apple salad: Shredded carrots and apples tossed in a light dressing.
Hidden veggie tomato soup: Tomato soup with hidden vegetables for added nutrition.
Cauliflower and cheese tots: Baked tots made with cauliflower and cheese.
Pea and cheese quesadillas: Quesadillas filled with peas and cheese for a nutritious snack.
Why is sugar and fast food bad for toddlers?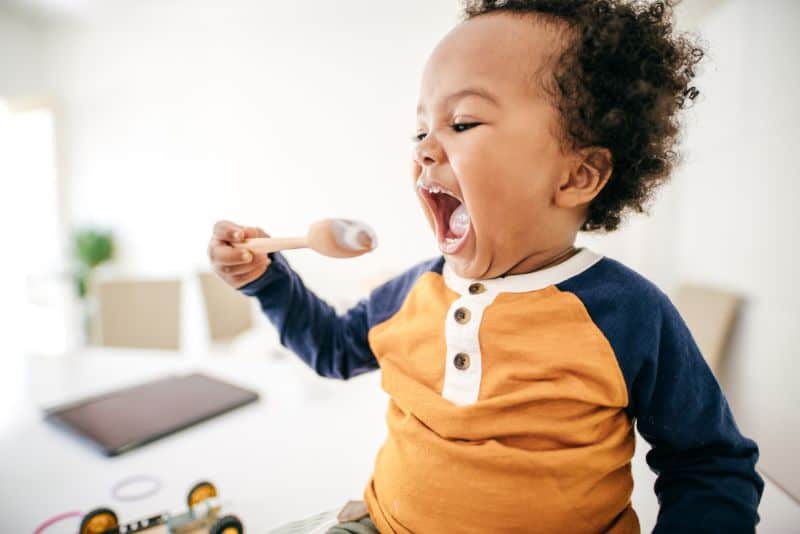 Sugar and fast food can harm toddlers' health and well-being, making it crucial to minimize their consumption. Excessive sugar intake can lead to various issues, including dental problems, weight gain, and an increased risk of developing chronic diseases later in life. Consuming sugary foods and drinks can also contribute to energy spikes and crashes, leading to mood swings and difficulty concentrating.
Fast food, often high in unhealthy fats, sodium, and calories, provides little nutritional value while promoting poor eating habits. Regular fast food consumption can lead to weight gain, nutrient deficiencies, and an increased risk of obesity-related diseases.
Furthermore, establishing a reliance on sugar and fast food at an early age may create long-lasting preferences for unhealthy, processed foods, making it more challenging to develop a balanced and nutritious diet. It is crucial to prioritize whole, unprocessed foods and limit sugar and fast food intake to safeguard the health and well-being of toddlers.
Why is it important for toddlers to eat healthy foods?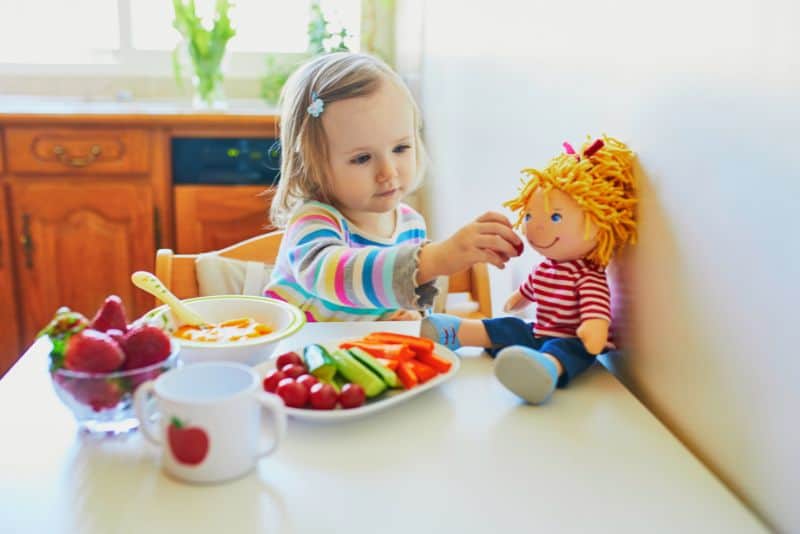 Toddlers must eat healthy foods as it directly impacts their growth, development, and well-being. During this critical stage of life, their bodies are rapidly growing, and their brains are developing at an incredible rate. Nutritious meals ensure they receive the essential vitamins, minerals, and nutrients for optimal physical and cognitive development.
Healthy foods support their immune system, promote healthy bone and muscle growth and aid in maintaining a healthy weight. Additionally, exposing toddlers to various fruits, vegetables, whole grains, and lean proteins sets the stage for developing a diverse and balanced diet in the future.
By instilling healthy eating habits early on, we empower them to make nutritious choices as they age, reducing the risk of chronic illnesses such as obesity, diabetes, and heart disease. Ultimately, prioritizing healthy foods for toddlers contributes to their immediate well-being and establishes a solid foundation for a lifetime of good health.
How much food should a toddler eat each day?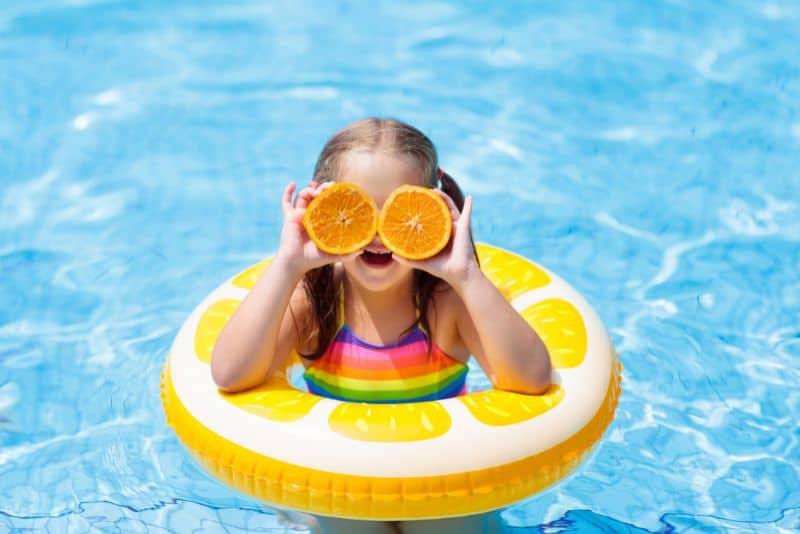 The amount of food a toddler should eat daily varies based on age, size, activity level, and individual appetite. As a general guideline, the American Academy of Pediatrics (AAP) provides the following daily serving recommendations for toddlers between the ages of 1 and 3 years:
Grains: 3-5 servings
Vegetables: 2-4 servings
Fruits: 1-2 servings
Dairy: 2-3 servings
Protein (meat, poultry, fish, eggs, beans): 2-4 servings
Remember that serving sizes may vary depending on the specific food, and offering a variety of nutrient-rich foods to meet a toddler's nutritional needs is essential. Additionally, toddlers have small stomachs, so they may prefer to eat smaller, more frequent meals and snacks throughout the day rather than three large meals.
It's crucial to observe your toddler's hunger and fullness cues, encourage them to eat until they feel satisfied, and avoid pressuring them to finish their plates. As long as they are growing and developing appropriately, have regular energy levels, and show interest in trying new foods, they are likely getting the right amount of food for their needs.
If you have concerns about your toddler's eating habits or growth, it's always best to consult a pediatrician or a registered dietitian for personalized guidance.
More Healthy Meal Ideas for Toddler Picky Eaters?
In conclusion, incorporating healthy meal ideas for toddlers is a beautiful way to nourish their growing bodies and cultivate lifelong healthy eating habits. Introducing a wide variety of colorful fruits, vegetables, lean proteins, and whole grains can lay the foundation for a lifetime of good health.
The key is to be patient, stay creative, and make mealtime a positive and enjoyable experience. We can turn picky eaters into enthusiastic little food explorers with the right balance of nutrition and flavors.
So, let's embark on this journey of providing our little ones with wholesome and tasty meals, fostering their well-being, and setting them up for a lifetime of vitality and happiness.
If you know more meal ideas for toddler picky eaters, let us know in the comments!
Related Posts:
Pin to Pinterest:
Pin to Pinterest so other moms can find out about these healthy meal ideas for toddler picky eaters!