Welcome to the world of glamping, where luxury meets nature! If you're planning a glamping trip, you must have the essentials to ensure a comfortable and enjoyable experience. Glamping, short for glamorous camping, combines the thrill of outdoor adventure with the indulgence of modern comforts. From spacious tents and cozy sleeping bags to portable grills and lanterns, these essentials will elevate your glamping experience to new heights. In this article, we are discussing the essentials to bring on a glamping trip.
Whether embarking on a serene getaway amidst breathtaking landscapes or seeking thrilling outdoor activities, having the right gear and supplies is crucial. So, pack your bags and get ready to immerse yourself in the beauty of nature while enjoying the convenience and luxury of these essential items on your glamping adventure.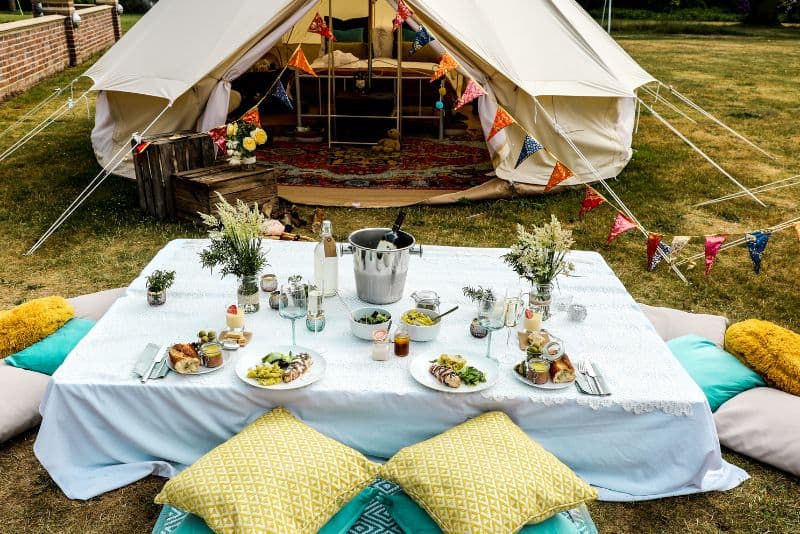 Top 31 Essentials to Bring on a Glamping Trip
Tent: A spacious and sturdy tent is essential for a glamping trip. Look for one with enough room to accommodate your group comfortably. A tent with proper ventilation and waterproof features will protect you from the elements and ensure a good night's sleep.

Get this 4 person glamping tent on Amazon now!

Sleeping Bags: Ensure you have cozy and warm sleeping bags to provide a good night's sleep amidst nature's beauty. Look for ones that offer insulation and are suitable for the expected temperature range of your camping destination.

Get this luxury sleeping bag on Amazon!

Air Mattress: For added comfort, an air mattress will make your glamping experience more luxurious and help you wake up refreshed. Look for one with built-in inflation and deflation capabilities for convenience. This is one of the great essentials to bring on a glamping trip.

Get this air mattress from Amazon!
Pillows: Remember to bring pillows for extra comfort and support while you sleep. Look for compact and easily transportable pillows that still provide sufficient cushioning.
Camping Chairs: Relax and unwind in comfortable camping chairs, perfect for lounging around the campsite. Look for chairs that are lightweight, foldable, and provide adequate back support.
Portable Grill: Enjoy delicious meals by bringing a portable grill to cook your favorite foods in the great outdoors. Look for a compact, lightweight grill that is easy to set up and clean.

Get this portable grill from Amazon!
Cooking Utensils: Pack a set of cooking utensils, including pots, pans, and utensils, to make meal preparation a breeze. Look for durable and lightweight utensils that are easy to clean and store.
Cooler: Keep your food and drinks fresh by bringing a cooler filled with ice. Look for a cooler with insulation properties and a secure lid to prevent leakage.
Lanterns: Illuminate your campsite at night with lanterns or portable lights to create a warm and cozy ambiance. Look for lanterns that provide bright LED lighting and have adjustable brightness settings.
Firewood and Matches: Remember to bring firewood and matches for bonfires and roasting marshmallows. Look for dry and seasoned firewood that burns quickly and waterproof matches.
Camping Stove: In case you prefer cooking indoors, a camping stove is an excellent alternative to the fire pit. Look for a compact, portable stove with reliable heat output and fuel efficiency.

Get this camping stove on Amazon!
First Aid Kit: Safety should always be a priority. Carry a fully stocked first aid kit with band-aids, antiseptic wipes, and pain relievers. Ensure it includes items to address common camping injuries. This is one of the most important essentials to bring on a glamping trip.
Insect Repellent: Keep pesky bugs at bay with insect repellent to enjoy the outdoors without interruptions. Look for repellents with long-lasting effectiveness and consider options that are safe for the environment.
Sunscreen: Protect your skin from harmful UV rays by packing sunscreen with a high SPF rating. Choose a broad-spectrum sunscreen that is water-resistant and suitable for outdoor activities.
Hats and Sunglasses: Shield your face and eyes from the sun's glare by bringing hats and sunglasses. Opt for wide-brimmed hats and sunglasses with UV protection for maximum sun shielding.
Rain Gear: Pack waterproof jackets and pants for unexpected rain showers. Look for lightweight and packable rain gear that can easily be stored in your backpack.
Extra Clothing Layers: Weather can change quickly, so bring additional clothing layers to adapt to varying temperatures. Include items like lightweight jackets, sweaters, and versatile clothing options.
Hiking Boots: Sturdy and comfortable hiking boots are a must if you plan to explore nearby trails. Look for boots with good traction, ankle support, and waterproof features.
Water Bottles: Bring reusable water bottles to stay hydrated during your glamping adventure. Look for insulated bottles that keep liquids cold or hot for extended periods.
Camping Table: Set up a convenient table to enjoy meals and outdoor activities. Look for lightweight, foldable tables that provide a stable surface for dining and playing games.

Get this camping table on Amazon!
Portable Bluetooth Speaker: Create a relaxing atmosphere by playing your favorite music with a portable Bluetooth speaker. Look for speakers that are compact, waterproof, and have long battery life.
Campsite Decorations: Add a personal touch to your glamping experience with fairy lights or bunting decorations. Look for decorations that are easy to hang, weather-resistant, and create a cozy ambiance. This is a beautiful way to add ambiance and one of the great essentials to bring on a glamping trip.
Picnic Blanket: Spread a picnic blanket to sit on or enjoy a scenic outdoor meal. Look for lightweight, water-resistant blankets, and easy to fold and carry. This is an easy to find essentials to bring on a glamping trip.
Books and Magazines: Unplug from technology and indulge in leisurely reading with your favorite books and magazines. Choose reading materials that suit your interests and provide relaxation.
Board Games or Cards: Keep entertained during downtime with board games or a deck of cards. Bring games that are compact, easy to play, and suitable for various group sizes. This is one of the fun essentials to bring on a glamping trip.
Camera: Capture beautiful moments and stunning scenery with a camera to cherish memories. Choose a camera that suits your photography preferences and has good image quality.
Portable Power Bank: Ensure you have a portable power bank to charge your electronic devices in case of emergencies. Look for power banks with high capacity and multiple charging ports.

Get this portable power bank on Amazon!
Toiletries: Pack toiletries such as toothbrushes, toothpaste, soap, and towels for personal hygiene. Opt for travel-sized toiletries and consider eco-friendly options. This is one the necessary essentials to bring on a glamping trip.
Trash Bags: Keep your campsite clean and leave no trace by bringing trash bags to dispose of waste properly. Look for sturdy and environmentally friendly trash bags.
Extra Batteries: Don't let your flashlight or other battery-powered devices run out of power. Pack extra batteries for backup. Ensure you have the correct sizes for your devices.
Outdoor Activities Gear: Bring the necessary gear and equipment if you have specific outdoor activities planned, such as fishing or kayaking. Research the equipment needed for your chosen activities to ensure a successful and enjoyable experience.
What Do I Wear on a Glamping Trip?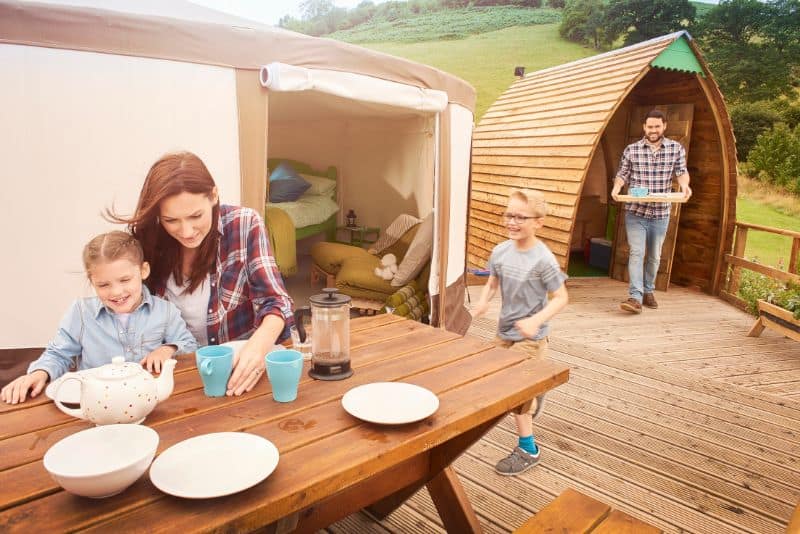 Regarding what to wear for glamping, comfort, and practicality are key. Glamping combines the joys of camping with a touch of luxury, so you'll want to balance functional outdoor attire and stylish comfort. Here are some recommendations for different aspects of your glamping wardrobe:
Daytime Outfits: During the day, opt for comfortable and breathable clothing suitable for your planned activities. Consider wearing lightweight and moisture-wicking fabrics such as cotton or linen. Choose shorts, leggings, or comfortable pants paired with t-shirts, tank tops, or lightweight blouses. Remember to pack a light sweater or a long-sleeved shirt for cooler mornings or evenings.
Footwear: For glamping, it's essential to have comfortable footwear that can handle different terrains. Pack a sturdy pair of hiking boots or trail shoes for outdoor activities and exploring nature trails. If you plan to spend more time relaxing at the campsite, opt for comfortable sandals or slip-on shoes that are easy to slip on and off.
Layering: Weather conditions can change throughout the day, so layering is essential. Pack a mix of lightweight and warmer layers to accommodate temperature fluctuations. Consider bringing a light jacket or fleece for cooler evenings, and a waterproof or windproof outer layer in case of rain or wind.
Nighttime Attire: You might want to dress up a bit more for evenings. Bring comfortable yet stylish outfits that suit your style and the ambiance of your glamping destination. Think casual dresses, skirts, or trousers paired with comfortable tops or blouses. Consider bringing a light sweater or cardigan for added warmth.
Sleepwear: Don't forget to pack comfortable sleepwear for a restful night's sleep. Opt for lightweight pajamas or soft loungewear that allows easy movement and breathability.
Accessories: Bring a wide-brimmed hat or a cap to shield yourself from the sun during daytime activities. Sunglasses and sunscreen are also essential to protect your eyes and skin from harmful UV rays. Consider packing a lightweight scarf or bandana that can double as a headband, face covering, or even a fashion accessory.
Swimwear: If your glamping destination offers swimming opportunities, pack your favorite swimwear. Whether it's a swimsuit for lounging by the pool or a wetsuit for water activities, having appropriate swimwear allows you to make the most of any aquatic adventures.
How Do I Prepare for a Glamping Trip?
Preparing for a glamping trip involves planning, packing, and organizing. Here are some essential steps to help you prepare for your glamping adventure:
Choose a Glamping Destination: Research and select a glamping site that aligns with your preferences and interests. Consider location, scenery, amenities, and activities available at the site.
Make Reservations: Once you've chosen your glamping destination, make reservations in advance to secure your spot. Check availability, book your accommodation, and inquire about specific requirements or restrictions.
Plan Your Activities: Decide on the activities you want to engage in during your glamping trip. Whether hiking, fishing, wildlife spotting, or simply relaxing by the campfire, having a rough itinerary will help you pack and prepare accordingly.
Check the Weather: Stay updated on the weather forecast for your glamping location. This will help you pack appropriate clothing and gear for the anticipated conditions.
Create a Packing List: Make a comprehensive packing list that includes all the essentials you'll need for your glamping adventure. Consider items such as clothing, footwear, toiletries, camping gear, cooking utensils, and any specific equipment required for your planned activities.
Gather Camping Gear: Gather all the necessary camping gear, such as tents, sleeping bags, air mattresses, lanterns, and cooking equipment. Check that everything is in working condition, and make any necessary repairs or replacements if needed.
Plan Meals and Food: Decide your meal plan and make a shopping list accordingly. If you cook at the campsite, gather non-perishable food items, spices, and cooking essentials. Consider any dietary restrictions or special requirements.
Organize Essentials: Organize your glamping essentials in separate bags or containers for easy access. Keep items like toiletries, cooking utensils, and camping gear neatly packed and labeled.
Prepare Entertainment: Pack books, magazines, board games, or other forms of entertainment for downtime at the campsite. Consider activities that you and your companions can enjoy together.
Charge Devices and Pack Power Banks: Ensure your electronic devices, such as cameras and phones, are fully charged before departing. Additionally, pack portable power banks to keep your devices powered throughout your trip.
Arrange Transportation: Determine how you'll be reaching the glamping site and make necessary transportation arrangements. If you are driving, ensure your vehicle is in good condition and has sufficient fuel for the journey.
Inform Others: Let a trusted person know about your glamping plans, including the location, duration, and emergency contact details. Share your itinerary and an estimated return date with them for safety purposes.
Familiarize Yourself with the Site: Take some time to familiarize yourself with the glamping site's rules, regulations, and any specific guidelines they have in place. This will ensure you have a smooth and respectful experience during your stay.
What Time of Year is Best to Go Glamping?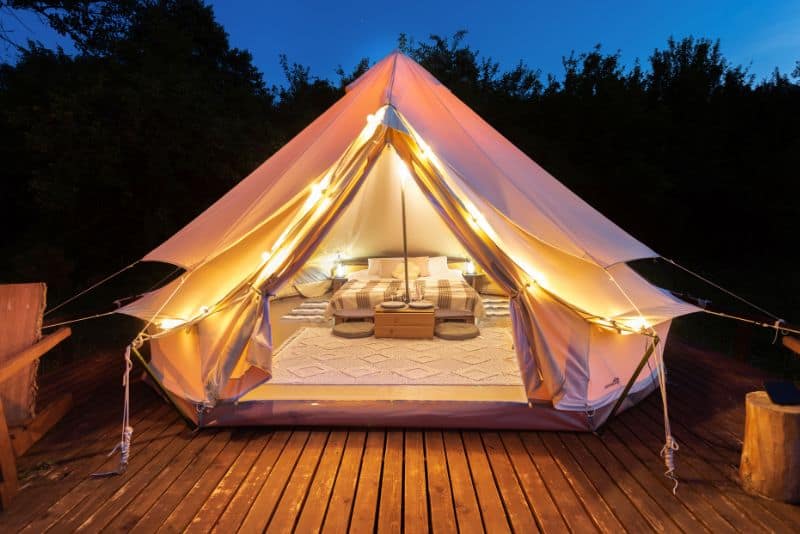 The best time of year to go glamping depends on several factors, including your preferred climate, activities, and the region you plan to visit. Here are a few considerations to help you determine the ideal time for your glamping adventure:
Weather: Consider the weather conditions during different seasons in your chosen glamping destination. Some prefer mild temperatures and clear skies, while others enjoy cooler or snowy landscapes. Research the typical weather patterns for the area and select a time that aligns with your preferences.
Peak Season vs. Off-Season: Glamping destinations often have peak seasons when the weather is most favorable, and the demand is high. While peak season can offer optimal conditions, it may also mean more crowds and higher prices. If you prefer a quieter experience, consider visiting during the off-season with fewer visitors and potentially lower rates.
Activities: Determine the activities you plan to engage in during your glamping trip. Certain activities, such as hiking, fishing, or wildlife spotting, maybe more enjoyable during specific seasons. For example, springtime may bring blooming flowers and vibrant wildlife, while autumn may offer stunning foliage colors.
Availability and Accessibility: Check the availability and accessibility of the glamping site during different times of the year. Some locations may have limited access or operate on a seasonal basis. Ensure your desired area and amenities are open and accessible during your preferred time.
Personal Preferences: Consider your personal preferences and comfort levels. Summer might be ideal if you enjoy warmer temperatures and longer daylight hours. On the other hand, if you prefer cooler weather and a more tranquil atmosphere, spring or fall could be a better fit.
Ultimately, the best time to go glamping is subjective and depends on your preferences and your specific destination. Researching your desired location's weather, activities, and availability will help you determine the optimal time to embark on your adventure.
By following these steps, you'll be well-prepared and ready to embark on a memorable glamping trip. Enjoy the perfect blend of nature, luxury, and relaxation that glamping offers!
Remember to check the weather forecast for your glamping location and consider the activities you'll participate in. By packing a mix of functional, comfortable, and stylish clothing, you'll be well-prepared to enjoy your glamping experience while looking and feeling great.
More Essentials to Bring on a Glamping Trip?
In conclusion, a glamping trip offers the perfect blend of adventure and luxury, allowing you to immerse yourself in the beauty of nature without sacrificing comfort. By packing the essential items for your glamping excursion, you can create a memorable experience filled with relaxation, exploration, and indulgence.
From cozy sleeping bags and comfortable camping chairs to portable grills and lanterns, these essentials will ensure you have everything you need to enjoy your time outdoors.
So, remember to bring these must-have items on your glamping trip, whether gazing at starlit skies, savoring delicious meals by the campfire, or embarking on thrilling outdoor activities.
With the right essentials in tow, you're ready to embark on a remarkable glamping adventure that combines the best of both worlds: nature and luxury.
Do you have more essentials to bring on a glamping trip? Let us know in the comments.
Related Posts:
Pin to Pinterest:
Pin to Pinterest so other moms know what to bring on a glamping trip too!