Camping remains among the best ways of exploring nature and having outdoor fun, although it can be scary for beginners. Camping is an excellent way to clear your thoughts, explore nature, and adventure. However, getting it right the first time is difficult. Here are some camping tricks and tips to help you have a great time the next time you go camping. Those experiencing tent camping for the first time have a list of camping gear you need to be confident about what you should carry to get the best out of the trip. In this article, you will find cool camping ideas on a budget.
Good planning is crucial
To have the best camping experience, you must start with proper planning. Camping is not just entering your car and off you got to the camping destination. You should take into consideration the season of the year and the weather.
Also, you need to know about the campground beforehand and book it if you are not planning for backcountry camping. Proper planning will make the camping trip less stressful and fun.
Do you need help planning your camping or RV trip?

Get the Mom Beach Camping Planner to plan your camping and RV vacation trip.

Save $10 off now with coupon, CAMPING10, for being a loyal Mom Beach reader!

Click here to get the Mom Beach Camping Planner for $10 off now!
To get started:
#1 Know the type of camping you want
There are various camping styles; some prefer roughing while others want some comfort in the trip. If you know the camping style you want, it will be much easier. The types of camping you can consider include:
Car camping:

This form entails driving your car to the site and setting it up quickly. You could pitch a tent on the campsite or the vehicle's top. Alternatively, you could use a blow-up mattress on the back of your SUV.

Tent camping:

This is a form of camping that involves sleeping in a tent pitched on the camping site. The campsite has amenities like water and bathrooms. Tent camping is the most common camping form in North America.

Camper or trailer:

This type of camping involves the use of campervan travel. It requires you to tow a camper or campervan that has all amenities you need inside.

Background Camping

: Backcountry camping is ideal for hikers and hardcore campers. You carry your water, food, and camping gear, and there will be no amenities where you camp. However, this kind of camping requires some experience.
#2 Choosing the ideal campsite
When choosing a campground, you need to do so ahead of time. When picking a campground ideal for your needs, there are various aspects to consider. Here is what to consider:
When is the ideal time to go camping? Is it better to go during the peak season or the low season?

What services and facilities are available? For example, should you consider whether there are restrooms, fire pits, and running water, or should you bring your camp stove and picnic table?

What are the rules and restrictions at the campsite? Check if there is a no-fire restriction, any closures, and whether pets are allowed, among other things.

How far in advance would you need to make a reservation for a campsite?
Picking the best campsite will make a difference in your camping experience. You should select a site close to water or with a great view away from other campers with some privacy. For shared campsites, choose a spot away from bathrooms, especially if you are an earlier sleeper. During summer, pick a site with trees for shade to avoid the scorching sun.
#3 Pack the right camping gear
When packing camping gear, you should consider your budget and the comfort level you want. Here are the camping essentials you need: a sleeping bag, tent, and sleeping pad.
#4 Try camping in your backyard before you set out.
You need to try and set camp in your backyard to ensure everything works. You don't want surprises when you get to the campsite. For new campers, this is the time to check out what you need, and it will remind you of things you could have forgotten.
#5 Practice setting up the tent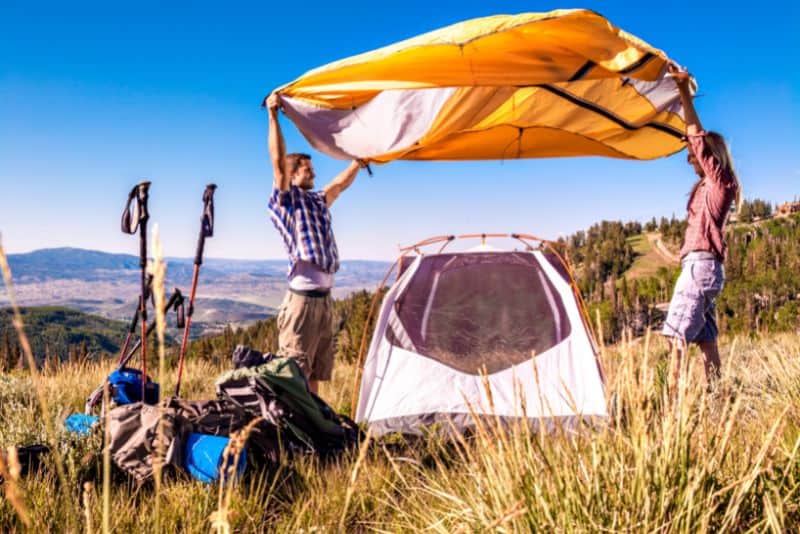 It would help if you practiced pitching the tent beforehand since it can be a frustrating exercise. Try setting it a few times ahead of the camp trip. After pitching, you can get inside to see whether it fits and put your stuff inside to see if you have enough space.
#6 Try using your camping stove
You should also try your camp stove to see if it is working. Follow instructions and try cooking in your backyard to figure out how it works. It will be frustrating to come off a trail, and when you want to cook, you can't figure out how the stove works.
Check out this awesome camping stove on Amazon!
#7 Test lantern and headlamp
You should check the batteries of the lantern and headlamp to see if they are working. You can go for rechargeable headlamps so that if they run out, you can recharge them. Ensure you test the lantern and headlamp at night to see how they use their batteries.
#8 Have a meal plan
You need to prepare your food ahead of time and plan how you will go about it. Luckily there are meals you can purchase for camping ranging from pre-cooked vegetable lasagna to chicken gumbo. You could pick gourmet meals ta MEC stores or REI or prepare yours and pack them in ziplock bags.
#9 Carry camping chairs
You will not spend all your time in the tent, and you might want a sitting area where you take your meals. Carry a foldable camp chair. Don't always assume you will get picnic tables at the campground.
Check out this comfy camping chair on Amazon!
#10 Be prepared to deal with bugs
You can have a screened gazebo to sit in if you go car camping. You could set it around the picnic table and eat without worrying about bugs. However, in places where there are blackflies and mosquitoes, you should carry bug jackets.
Cool Camping on Budget Ideas
Camping used to be a cheap way of getting away during the weekend. Still, with outdoor recreation growing in popularity, campsite prices have increased with camping gear also increasing in price. Despite the rise in the cost of camping, there are many ways of reducing the cost of camping.
Here are tips on how to camp on a budget:
#1 Borrow or rent camping gear
To be a seasoned camper, you must invest in camping gear. It might be expensive in the short term, but in a long time, it is worth it. However, you don't have to invest in camping equipment and some stuff you don't need to buy at once.
Buying camping gear upfront can be costly. However, borrowing from family and friends could get all the equipment you want. Alternatively, if you are going camping once in a while, you could rent or borrow camping gear to save on some costs. Also, you could consider rental options from companies such as Xscape Pod and Outdoor Geek.
#2 Check REI Garage sales and Thrift stores for second-hand gear
You can check out garage sales or thrift stores for gears you can't borrow, and you can get some bargains. You can get deals on sleeping bags, camp stoves, and other camping gear. REI operates quarterly garage exhibitions where you can get discounted offers for camping gear.
#3 Use available stuff at home.
You can have an adventurous camping experience with what you readily have at home. For example, you can use home blankets instead of a sleeping bag. Also, you could look at a thrift store for some who don't want to use yours. Equally, you can choose kitchenware from homes like old pans or those you are not used to. Finally, if you wish to for car camping, you don't need to worry about carrying heavy stuffy or camping cutlery.
#4 Camp near your home
If you want to cut the cost of gas, you should consider camping near your home. For instance, if you are hauling a tuck camper, motorhome, or trailer, it will be better to travel a few miles from home. With rising gas prices saving on some cash can make a difference. Most importantly, camping from home eases the hustle for weekend gateways.
You could also find where you can fuel at low prices to save on gas. Use the GasBuddy app to see pumps offering the lowest prices.
#5 Have a meal plan and cook on a campfire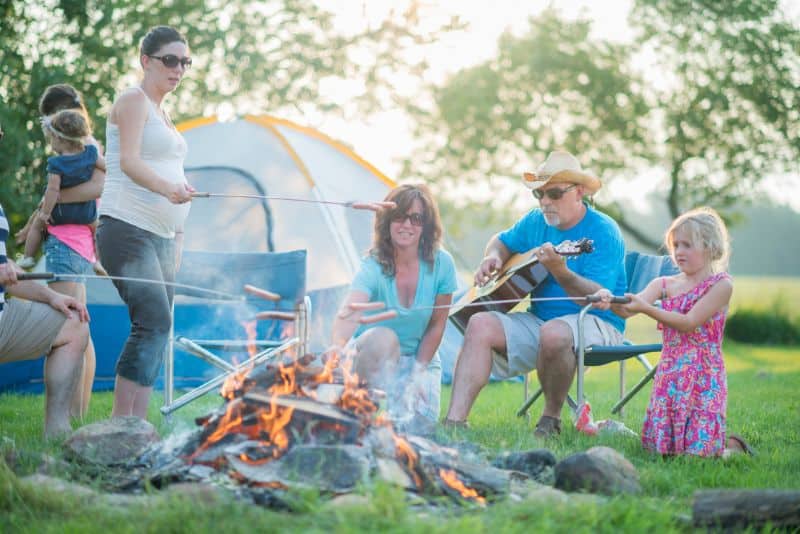 You don't need to buy a camp stove that uses propane when cooking on the campfire. Usually, a grate over a campsite fire pit makes it easy to cook, with some even having charcoal for BBQ. Since there will be a campfire, you don't have to worry about having a camping stove.
Suppose you will be using the campfire for cooking, trying, and having a meal plan for meals that are easy to make. Always stick to foods that you can easily prepare. Some foil recipes you can make include mac & cheese, Philly cheesesteak, and nachos. You can try making hotdogs and kebabs at the campfire if you have a family.
#6 Share stuff with friends
If you are camping with friends, you shouldn't duplicate camping equipment. Instead, you can share cool boxes, aluminum foil, ketchup, and washing liquid. If you are comfortable enough, you can share as a group one tent to make some savings.
#7 Carry your firewood
In most camps, firewood is charged, and it adds up to preparing your meal on the campfire. You can bring your firewood or go out to collect firewood. If you plan for several camping trips, it's advisable to consider a cord of wood costing around $100 to $150. This will ensure you have adequate firewood for your camping needs.
#8 Go for a state-run or free campground
You can locate state-run or local free campgrounds through The Dyrt. Usually, the site costs around $25 per night, which is affordable relative to a hotel. At times they can run for as low as $10 per night, but you will be fewer facilities like no showers and pit toilets. You can get a free campground in the public facility to avoid costs.
More Cool Camping Ideas on a Budget?
If you have more cool camping ideas on a budget then let us know in the comments!
Do you need help planning your camping or RV trip?

Get the Mom Beach Camping Planner to plan your camping and RV vacation trip.

Save $10 off now with coupon, CAMPING10, for being a loyal Mom Beach reader!

Click here to get the Mom Beach Camping Planner for $10 off now!
Related Posts:
Pin to Pinterest:
Pin to Pinterest so other moms can find out about these cool camping ideas on a budget too!