Weddings can be expensive affairs and can lead to major debt. As a result, most couples are always looking for ways to cut back on spending. You can reduce your wedding budget by implementing a few DIY ideas. This means that instead of buying things, you could make or plan some of your own. In this article, we will explore several DIY wedding ideas on a budget.
The best thing about DIY weddings is that they make your experience more personal for you and your partner. Moreover, involving your family and friends in your plans can be an excellent way to bond and have fun. I had a DIY wedding myself so am happy to share my ideas with you.
Why try DIY wedding ideas?
There are many advantages to doing a DIY wedding. The most important is saving money. Depending on what you buy, these weddings can be much cheaper than a wedding package. This is an essential factor as weddings are usually costly. Saving money could give you an even better honeymoon or put more money away for your lives together.
Another advantage of a DIY wedding is that it allows you to tailor things according to your preferences. This option doesn't come with many wedding packages, and it can make your day feel impersonal. A DIY wedding could also be a way to let your creative juices flow. This is even more vital if you are a crafty person.
Below are a few budget DIY ideas for your wedding;
#1 Make your wedding dress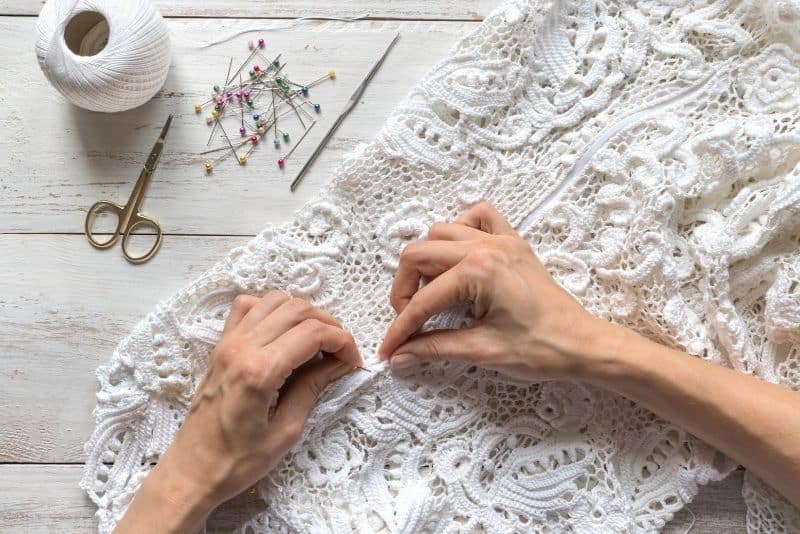 This idea might not be for everyone as it takes a lot of skill to create a dress you could walk down the aisle in. If you have any crafting skills, you could try crocheting or sewing your wedding dress. Not only will this save you more money, but it will also give you a greater connection to your dress and make it more unique.
If you decide a dress might be too taxing for you, you could always make your veil. While this is a minor job, it could still have the same effect as making your dress. Fortunately, there are many websites where you can find inspiration for a dress or a veil. By doing this, you could finally make your dream dress at a fraction of the cost.
However, if you think this will be too much pressure for you or if you don't have the skills to pull it off, there are many other ways to save money on your wedding.
#2 DIY wedding invitations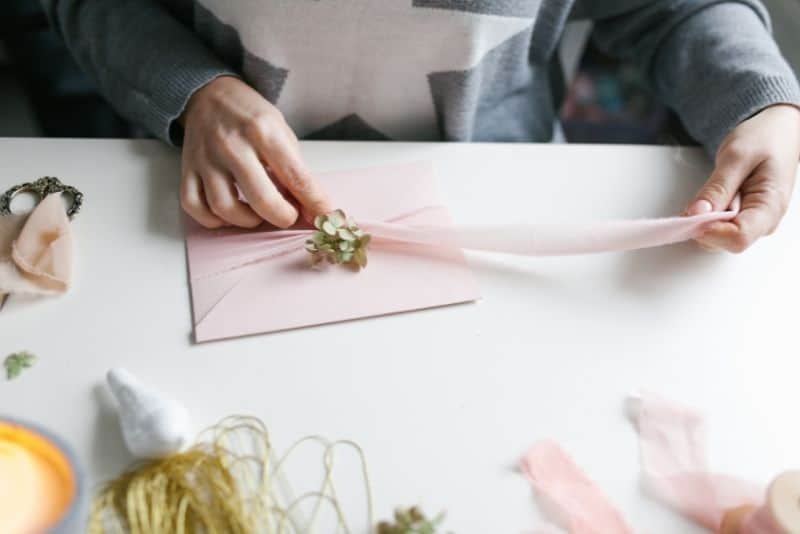 Sending out invitations is one of the most integral parts of your wedding, yet it can be so expensive, especially when part of a wedding package deal. An excellent way to cut back is by making your invitations.
Making invitations is very simple. You can save money by making something simple yet elegant. One way to do this is by using special stamp cutters to make beautiful edgings on your cards. You could also use a ribbon to make your invitations more elegant.
If you are a more creative soul, trying calligraphy or watercolor could also work. You could also find the edges, use a personalized stamp, tie them with twine or seal them with envelope wax to make them more elegant.
During my own wedding, I designed my own wedding invitations using Canva.
---
Related Posts:
---
#3 Make paper flowers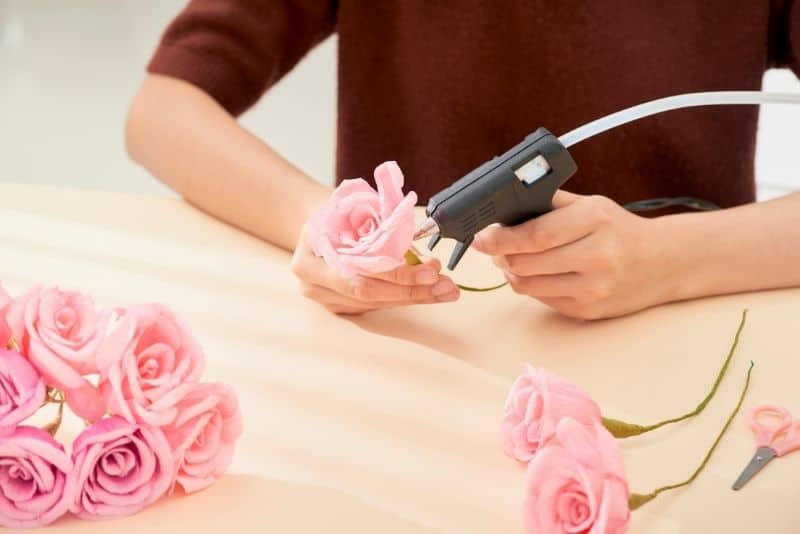 Getting lovely flowers for a wedding could be expensive, yet it is a must-have for most brides. If you think you can use an alternative, maybe making paper flowers might be the thing for you. While this might seem tacky, paper flowers can look as good as the real deal if done well.
There are plenty of online tutorials on making paper flowers, so it shouldn't be hard. Additionally, it can be an excellent activity for you, your bridesmaids, and flower girls to do together. These flowers often come in many varieties giving you plenty of ideas to choose from. You could also select the kind of paper that fits your theme.
Moreover, you could use paper to make other items like chandeliers and garlands. If you'd rather not use flowers, try making paper butterflies.
Get this pack of pastel cardstock on Amazon to create paper flowers and butterflies with! A Cricut cutting machine is also handy for creating paper crafts.
#4 Use macramé decor
Macramé can be a great alternative to flowers, especially if you are good with crafts. This decor can be used on virtually anything giving your wedding a boho feel. They could work as table runners, arch decor, or wall decor. You could even use the craft to make your jewelry.
You could incorporate the two if you are unwilling to give up on flowers. For example, you could use a macramé piece to tie your bouquet together.
Get this inspiring macramé decor kit here on Amazon!
#5 Make your aisle runners
As you walk down the aisle, all eyes are on you. For this reason, you want your surrounding to look just as good as you do on your big day. Unfortunately, getting aisle runners at your wedding can be expensive, especially if part of a wedding package.
Fortunately, there are cheaper options for brides. For example, you could get a simple plain aisle runner and then monogram it with your and your husband-to-be's initials. You could also make a burlap runner if your wedding is rustic. Another simple option is to spread petals on your floor.
This aisle runner here is very inexpensive and you could use a Cricut cutting machine to monogram it.
#6 Decorate your pews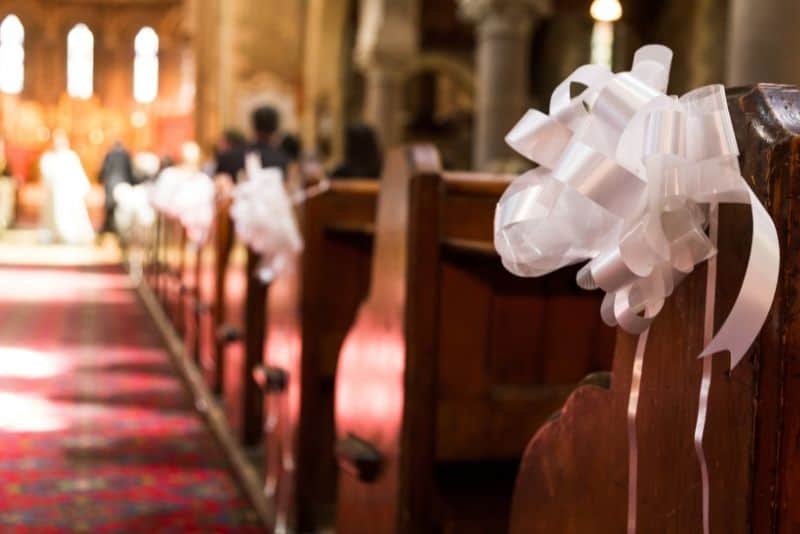 Decorating pews goes a long way toward making your location stand out. While this is an integral part of your decor, there is no reason you should spend too much money to make it work. Simple decor ideas will suffice.
If you are going for a more rustic look, you could try filling Mason jars with waxflower, thistle,
or other flowers of your choice. Your flowers won't have to be sophisticated, so you can use cheaper options. You could also tie flowers together with burlap and attach them to the end of your pews.
If you'd instead not use flowers, having wooden signs at the end of your pews with love messages could be an alternative. You could also drape tulle over the seats.
As the bride or groom, you need time to prepare for the wedding. If you choose to use flowers, don't take part in setting them up. On the other hand, fresh flowers need to be set up at the last minute. To avoid the pressure, have someone else do the work.
#7 Make your wedding arch
The wedding arch is an integral part of your decor. Although you can create it by yourself, there is no reason why it shouldn't look great. There are many ideas for how to make your arch for the wedding theme, and many of them are affordable.
One cheap idea is using a clothing rail. You could paint over the railing to make it fit your theme, then decorate it with flowers or tulle. Instead of a clothing rail, a wooden beam might do the trick. This could work incredibly well for a rustic theme. Other couples have even opted for doors instead of the traditional arch.
Arches can even come in different shapes. The couple could choose circular, hexagonal, or triangle arches. Consider decorating your arch with lights in case of an evening wedding. This is one of the great DIY wedding ideas on a budget.
I went to Michaels and bought fabric sunflowers to decorate the arch at my own wedding!
#8 Wedding favors
Getting wedding favors for your guests could cost a lot of money. Fortunately, there are ways to spend less while ensuring they feel appreciated. For example, you could offer edible wedding favors—this could range anywhere from cookies and honey to a simple drink.
Some couples even opt for something more direct. After all, nothing says thank you more than a note to appreciate your guests for showing up to your event and being good friends to you. You could also try handing out DIY key chains.
#9 Do you own makeup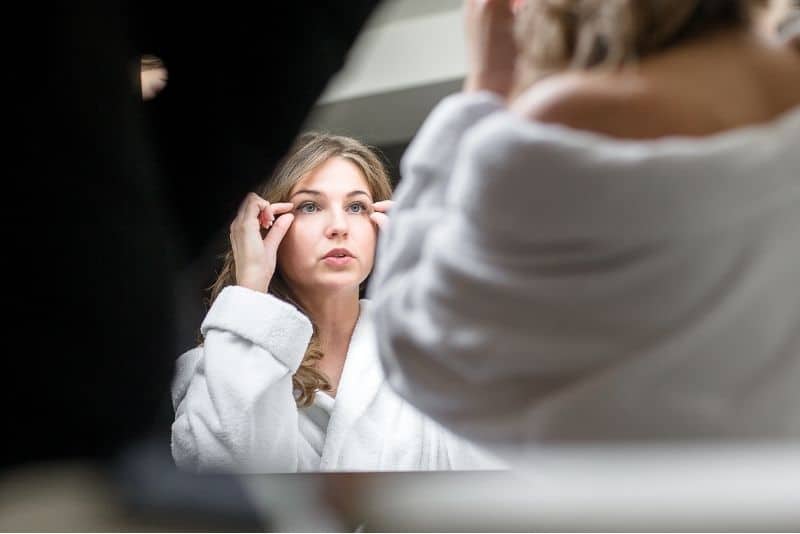 Getting a makeup artist for you and your bridesmaids can be incredibly expensive. Any mistake could have unpleasant results for your wedding photos. As an alternative, you could choose to do your makeup. However, taking this route could add a lot of pressure to your big day.
Fortunately, there are a few tips for brides who choose to do their makeup. First, the bride should practice for weeks leading up to the wedding to sharpen their skills. Furthermore, this could help them try out numerous looks before deciding what works best. With enough practice, you could end up with a glamourous look.
Check out this all-in-one makeup set in a handy carrying case here!
#10 Do your hair
As with makeup, getting someone to do your hair could be expensive. Fortunately, doing your hair could be cheaper. Like you have to practice with your makeup, trying out a few hairstyles before the wedding is the best thing to do. This could give you an idea of what style works best with your hair texture, face shape, wedding aesthetic, and veil.
An elegant knot could do the trick if you are looking for a more straightforward style. Other options are loose waves, a side part, fishtail braids, or afros. You could add a simple accessory like a ribbon or a flower to your hair to tie the look together.
Check out this DIY wedding hair accessories kit!
#11 Do your nails
For brides feeling adventurous, doing your nails could be a fun and affordable activity for your wedding. Furthermore, you could do this with your bridesmaids to bond with friends.
While it could help if you have skills, doing your nails is easy to learn. In no time, you could have the perfect nail color and look to fit your aesthetic.
Get this set to do your own gel nails at home!
#12 Decorating your tables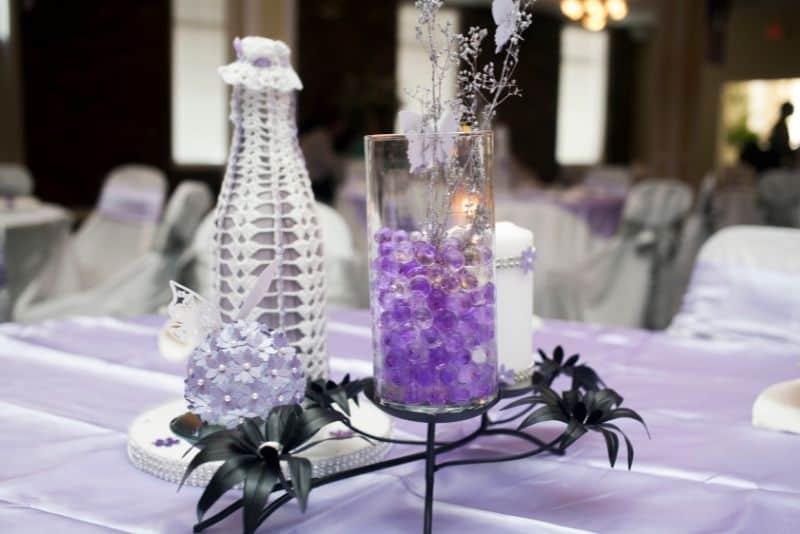 The reception is an integral part of the wedding. Here you get to interact with your guests and share a meal. For this reason, your location must look the part. Luckily, decorating your table doesn't have to be complex or expensive.
You could use a fabric table runner that goes with your wedding colors on your centerpiece. If you prefer not to, you can use greenery or fruit, giving your table a more natural look.
For centerpieces, you could try using items like painted wine bottles, small wooden crates with flowers, or placing wildflowers in tiny jam jars. Some couples choose to do something different and put a pile of vintage books at the center. This idea is excellent if you are known to be an avid reader.
Sometimes, simpler details could go a long way to give your decor an elegant feel. For instance, you could use simple tapered candles.
#13 Make your wedding programs
Every couple hopes that their wedding will flow perfectly with minimal interruptions. To make this happen, they make a wedding program to let guests know where to be and when.
Having your program made as part of your wedding package could be very costly. Fortunately, they are easy to create by yourself. Before going all out to make a beautiful program, a couple must first know the essential information to add to the program. This includes clues about their names, the bridal party's names, venue, wedding date, and order of events.
Afterward, you could choose the style you want to go with. You could use calligraphy, envelope-style programs, origami, stitched, or laced wedding programs. The type you choose will depend on your budget and taste.
Get this DIY calligraphy set here to learn how to do your own calligraphy and SAVE!
More DIY Wedding Ideas on a Budget?
While a DIY wedding could help you save money, couples should be aware of the challenges that come with it. While doing a DIY wedding gives you much control, it can also be incredibly stressful. For this reason, couples shouldn't be afraid to ask for help whenever they feel overwhelmed.
Additionally, DIY weddings could also be expensive. It all depends on the materials you get and where you get them from. As a result, you should always have a fixed budget and a plan before making any moves to ensure you don't spend more than you intended.
The couple should also accept that they can't do everything independently. Some things are better done by a professional. This includes things such as catering. As the day is already stressful, it is best not to concern yourself with what food your guest will be eating and whether it will be enough.
Another thing you should leave to professionals is photography. Don't fool yourself into thinking you can get professional-looking pictures from your inexperienced friend. Don't be afraid to spend on a good photographer who will help you remember this important day. You can always use Pinterest and Google images to find more ideas!
Do you have more DIY wedding ideas or have tried these ideas? Let us know in the comments.
Related Posts:
Pin to Pinterest:
Pin to Pinterest so other brides can find out about these tips for planning a wedding on a budget!