A budget for the Christmas holiday is a financial planning tool that allows you to plan for how your money will be spent over the holiday season. By creating a budget for a holiday, you can spend money within your means to have fun during the festive season. It is highly important to celebrate Christmas on a budget to avoid going into debt come New Year's Eve.
Planning for the holidays should start as early as possible, so you have time to save money. The earlier you start, the more in control over your finances will you be. Even though the holiday season is only a few weeks away, yet you can create a budget for the upcoming festive season and start preparing for the next Christmas holidays.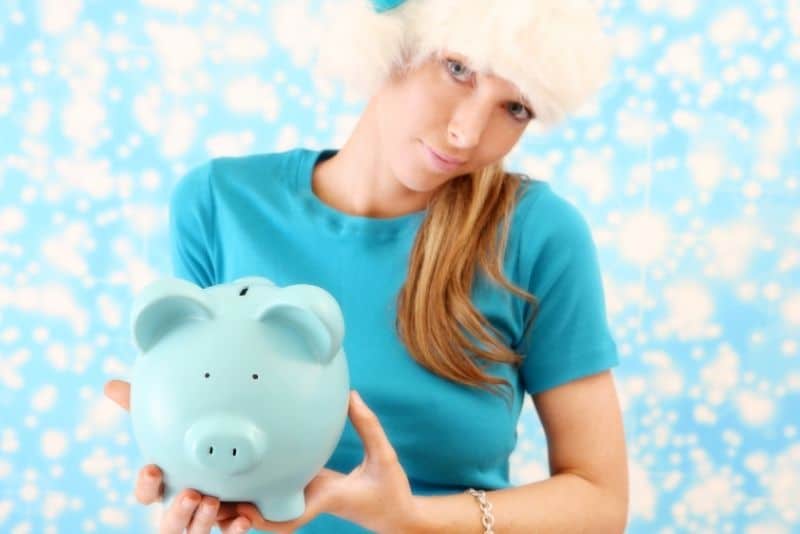 A holiday budget is what you need no matter what your financial situation is to take control of your holiday spending. A holiday budget helps you avoid overspending and credit card debt. If you start saving early and put a small amount aside each month in a savings account for holiday savings, you will have collected all the money you will need before the next holiday season rolls around. If you are wondering how to create a budget for a holiday, read on.
#1 Determine a Spending Limit
You should be able to set a spending limit to cover those holiday expenses without turning to your credit cards. As of today, there are just a few weeks left until this year comes to an end. If you have set aside funds to pay for the holiday season, you know that you would have saved all the money you will need for your holiday budget.
But if you have not planned and saved yet, then figure out how much you can realistically save for this holiday season. Once you decide on a spending amount, you need to come up with ways to save that amount.
#2 Determine Where That Money for Your Holiday Spending Will Come from
Now that you have set a spending limit, you want to save that amount so that you do not have to rely on your credit cards.
Here are a few ways that may help if you have not started saving yet:
---
Related Posts:
---
Set a Regular Budget
Create a regular monthly budget to see if you can set aside some money each month for the holidays. If you cannot get a lot any amount for holiday savings, you may be able to cut out some expenses or cut back on some costs. What you save will go toward your holiday spending account.
As there are only a few weeks left until this year comes to an end, save as much as possible from your paychecks. If it is lower than your skills and planned spending limit, there are other ways to save.
Save on Budget Items
Take a look at various expense categories to see what you can cut out or cut back on to save some serious cash for this holiday season. Can you reduce food costs? How about canceling those monthly subscriptions you do not use often? What you save will go toward paying for the holidays.
Sell Unwanted Items
You can make some extra cash by selling your unwanted items lying around. Sell things like clothes, games, electronics, etc. that you no longer need.
Get a Side Job
There are tons of part-time side jobs that can help you make extra money. Pick up a side gig or more depending on your skills to earn extra cash for the holidays.
Many stores and restaurants hire extra staff during the holiday season. If you own a car, becoming an Uber driver can be a great side gig to earn extra money.
You could also do odd jobs like doing household chores, babysitting, pet sitting, and more.
Make Money Online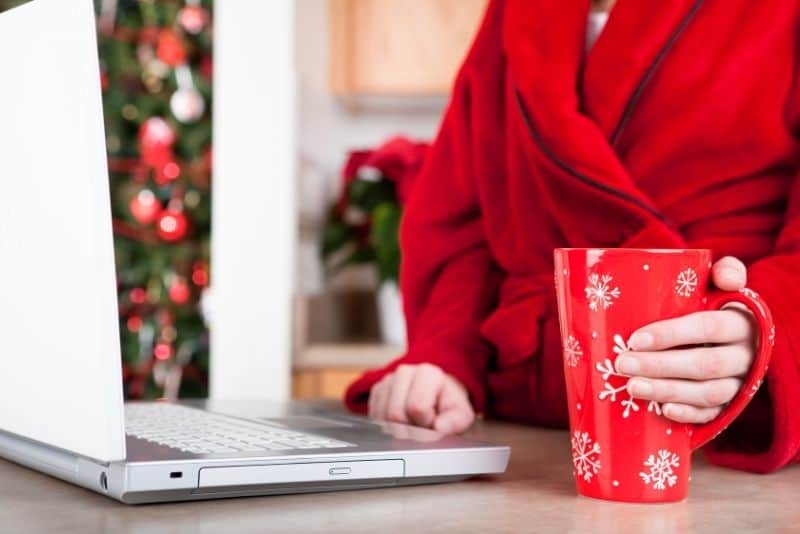 If you have any marketable skills you can use online, then you can make money online. You can take paid surveys online for making extra money with Survey Junkie. I have made over $1,500 with Survey Junkie as you can see here. You can become a freelancer if you have skills in writing, editing, graphic design, web design, or some other area. Check out sites like Fiverr, and more to find freelance jobs online.
Earn Cashback Online
There are some cashback apps and sites that will give you cashback on purchases you are going to make anyway. Rakuten (formerly Ebates), Ibotta, etc. are top cashback apps that will help you to save money and make money.
If you open a Chase Rewards account, you can earn a free $200.
#3 Make a List of Categories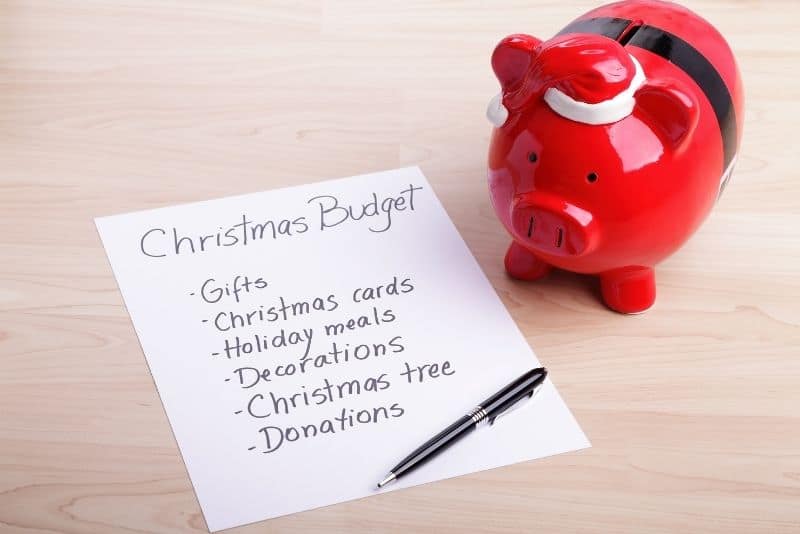 Once you have determined your holiday spending limit, you will want to make a list of categories you will spend money on during the holiday season.
Make a list of everyone who you will need to buy a gift for. If you know what you want to buy for everyone on the list, write it down next to their name.
Include categories like:
gifts
food
entertainment
decorations
holiday cards
Setting up each type will help you to build the budget for a holiday.
Make sure you are realistic about what you can afford to spend for each category when setting up your budget for the holidays, keeping in mind your total spending limit.
Figure out how much spent on the holiday season last year. If you buy pretty much the same things from year to year, your previous year's shopping list can be useful.
#4 Set Up Your Holiday Budget
Now that you know how much you can spend in the festive season, and have made a list of everyone and everything you will spend money on, it is time to break your expected expenses down into categories.
First of all, choose a budgeting tool to create a budget for all your holiday expenses. After you write down all the expense categories on your holiday budget worksheets, enter the amount you plan to spend on each category next to their name.
Common expenses include:
Gifts
Cards
Food
Wrapping supplies
Holiday outfits
Entertainment
Decorations
Giving
If your total holiday budget is $1000, you will need to assign an amount to each of the holiday expense categories, keeping in mind your overall budget.
Holiday gifts are generally the biggest category in a holiday budget. Write the maximum amount you would like to spend on each person on the list next to their name. When it comes to gift-giving, you will probably pay more on a family member than you would for a friend. Add it up, so you get a total amount for your gift expense category.
Set an amount for all other expenses, like groceries, entertainment, etc. Add up all your potential holiday expense category amounts.
#5 Figure Out Your Total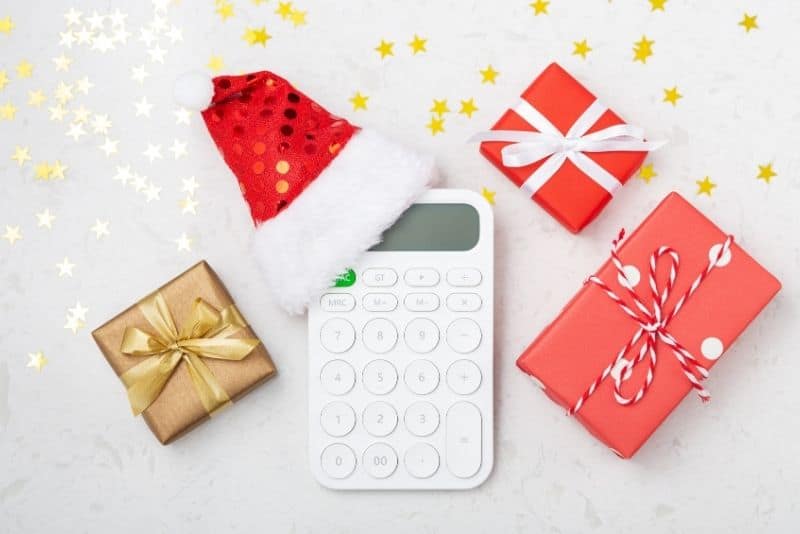 Subtract your total potential expense amount from your planned projected holiday expenses. If your potential holiday expenses exceed your planned holiday budget, you will need to revise your budget for the upcoming holiday. Or else, you will not need to take out a loan or use your credit cards to fund your holiday expenses.
If you do not want to take out any loans or use credit cards to fund your holiday expenses, you will need to revise your budget for a holiday.
#6 Revise Your Budget for the Holiday
If you find that your expected expenses exceed your planned projected costs, go through your list and revise it, so you do not bust your holiday budget and get into debt. Prioritize the costs that are important this holiday season.
You have a few options to lessen your total expense so that you can keep it within your means. Maybe you can choose to purchase gifts only for the kids. If you are crafty, then perhaps you can make something for family members.
You can cut some things that are not that important on the list. If you are willing to stop sending holiday cards, you can save a lot of money on your holiday expenses.
#7 Track Your Purchases/Spending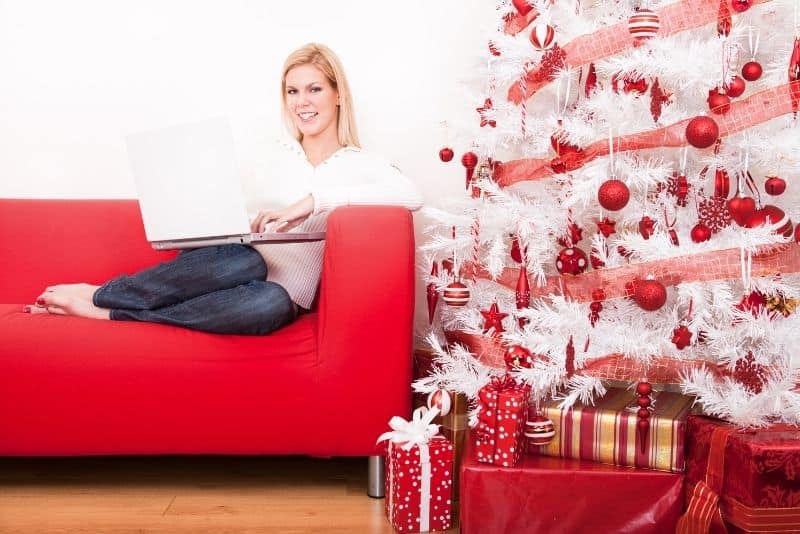 Your potential expense amount cannot exceed the amount you set for your holiday budget. So every time you make a purchase, make sure to compare your actual amount spent on that purchase to your budgeted amount for that expense.
Tracking your purchases will let you know if you are sticking to your budget or if you need to make adjustments.
If you overspent in one category, you need to make adjustments in another category or more than one category.
More Tips on Celebrating Christmas on a Budget?
The season is meant to be a joyous time spent with family, but it will only bring you joy if you are able to spend money within your means and still have fun. With a holiday budget, you can stay within your spending limit, avoid getting into new debt come January.
To stay out of holiday debt, do not spend more money than you have available for the holidays.
If you have more tips on celebrating Christmas on a budget, let us know in the comments. Did you find any of these tips useful? Let us know.
Check out this Christmas Planner and Kid/Toddler Activity Bundle!
This Christmas printable comes with 150 pages in all to keep kids and toddlers entertained during the holidays. Only $7 for you today!
Click here to get the Christmas Planner and Kid/Toddler Activity bundle now!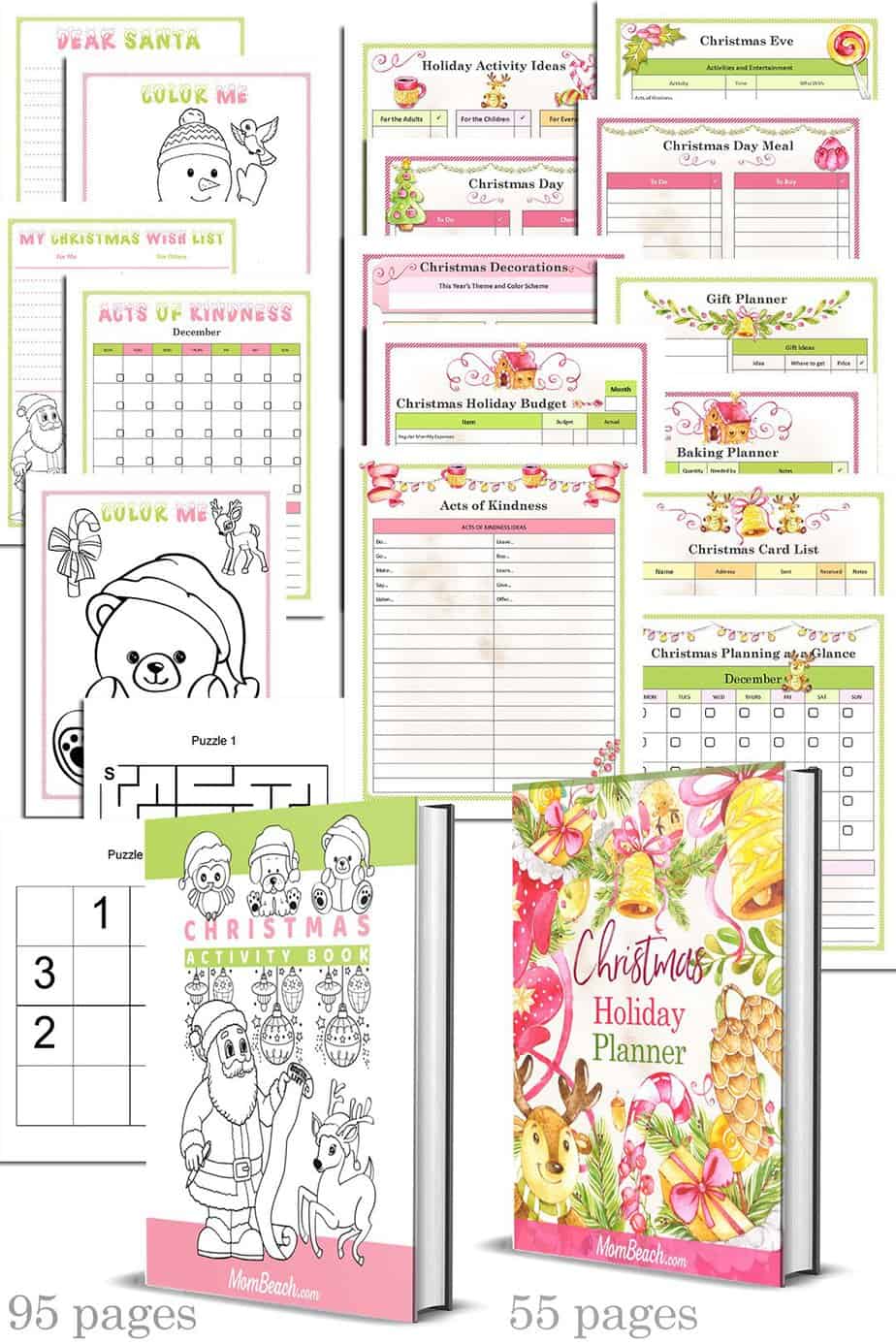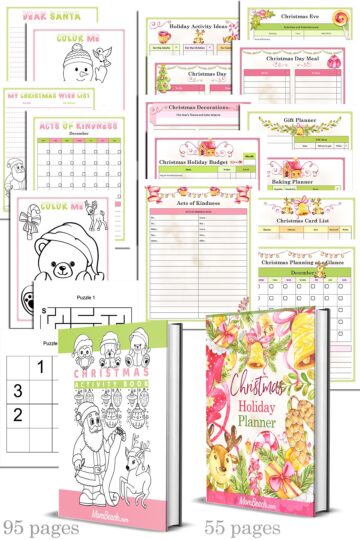 Related Posts:
Pin to Pinterest!
Help others celebrate Christmas on a budget too by sharing this article on Pinterest!