While we search for a career of our dreams, we sometimes overlook the obvious and perfect opportunity that we can take. There are several profitable and, at the same time, convenient career options. One of them — working as a home tutor.
This is a guest post by Eliza Medley. Take it away, Eliza!
In today's post, we're going to review the key benefits of tutoring and why tutoring can be your most significant success this year (2020 is here, it's time to act!).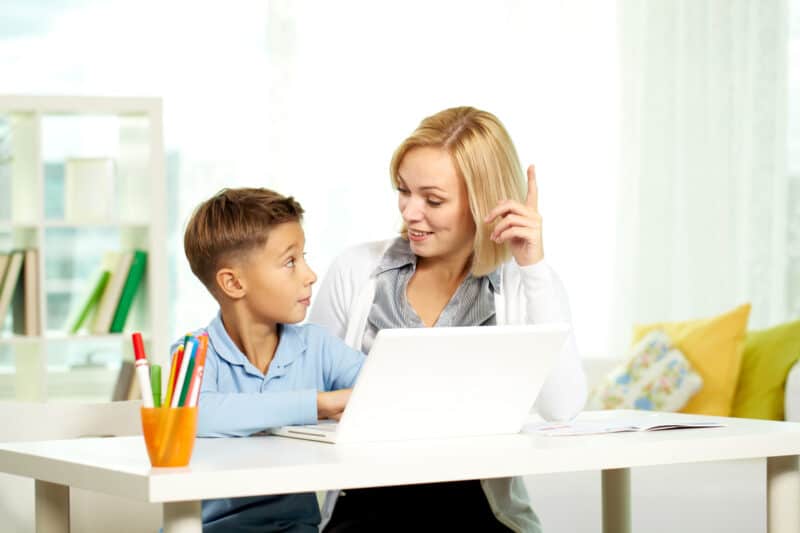 What are the types of home tutoring?
Tutoring students is a complicated job, yet if you master it — you can get yourself such things as a flexible schedule, quite good cash flow, and a bunch of young students. These kids will not only delight you with their accomplishments but help you remember the purpose of tutoring in general.
So this is like a potent engine that will help you keep your tutoring machine running. But what are the types of education tutoring? Today, we decided to talk about the online approach to make sure every mom gets an opportunity to become a teacher while being a master of her household.
There are two types of digital child tutoring:
That is when you're tutoring children or grown-ups in real-time. For example, via Skype or other software. Statistically, this is one of the most convenient ways to teach languages or anything else. Whenever the real-time conversation is involved — people are more engaged in the learning process.
Asynchronous
That is when you're recording video lessons and distribute them through specialized learning platforms or your channels of distribution. Thanks to the growth of internet presence in our life, it's easy even for a mom to create her blog or Instagram page to share lessons.
However, we genuinely believe that the most convenient, profitable, and only rewarding is the synchronous home tutoring. If you invest your time in this — you'll be happy with your professional growth and results.
---
Related Posts:
---
Where can I find work as a home tutor?
There are many online platforms where you may be tutoring for children or grown-ups nowadays. Today we decided to highlight the most prominent websites that encapsulate all the benefits of being a tutor.
Preply
Currently, Preply is one of the most trusted platforms that provide anyone a chance to become a professional teacher. Since they provide you with an opportunity to adjust your working hours and set your price tag, you're entirely in control of your career.
To become a teacher, you'll have to shoot a short video (you can do it with your smartphone, it's not about the quality). This video is your chance to showcase our skills and put yourself in a spotlight among the other teachers.
Since users of this online tutoring platform can select what they're looking for in their teacher — your additional information on skills like spoken or written language will help a lot.
Make sure you put all the information on the profile and prepare to start your language learning journey. Try it yourself and experience all the benefits of tutoring without borders.
Upwork
Another option that may work for some of you is Upwork. Upwork is an independent freelance platform where professionals connect with job providers. You can search for tutoring opportunities on Upwork, but make sure you note the pros and cons of this option.
Upwork is easy to use, but:
They have quite high fees
Their payments have a 5-day security period

Chegg Tutors
Formerly InstaEDU (has been acquired by Chegg in 2014), Chegg Tutors is a renowned tutoring platform that focuses on academic and school tuition. Whereas Preply and its competitors focus on language learning and conversational classes, Chegg tutors help students with SAT, ACT, algebra, chemistry, and more. The platform offers:
Massive variety of subjects to teach.
Regular weekly payments.
Students are sent to your inbox.
Flexible schedule.
Chegg does not have lots of disadvantages. However, the process of registration and approval on the platform is quite complicated.
Care Tutors
Care is a global platform that hosts a variety of caregiving services, from pet care to housekeeping. As part of their services, they offer tutoring jobs in the majority of US cities. Online tutoring is also available on the platform. There are currently the following tutoring options available:
Pre-K Tutors, who work with 4- and 5-year-olds
Elementary Tutors, who guide elementary students through their first tests. They usually teach maths and languages.
General Tutors, who work with middle and high school students.
Special Education Tutors, who adapt the lessons to their students who have dyslexia, autism, and speech disorders.
Specialty Subject Tutors are the professionals of a particular subject (chemistry, biology, advanced languages).
Test Prep Tutors focus exclusively on preparing their students for exams and tests.
Homework Helpers assist tutors with their school assignments.
Benefits of Being a Home Tutor
So, what are the tutoring benefits, after all? Below, you will find the list of essential advantages that you will find attractive. After reading those, you won't be able to resist, so let's roll.
#1 Flexible hours
So when someone asks why working as a home tutor is beneficial, the first answer that pops up is — flexible schedule. And that's because it's super-convenient and we all strive to achieve that.
First and foremost, let face it — we, the moms, can struggle with free time and complicated schedules. That's the reason why office hours can be inconvenient when you're trying to stay the queen of your household and raise your kids without stealing your attention from them.
When it comes to online education, both tutors and students enjoy the benefit of a flexible schedule and an opportunity to learn or work remotely anytime from anywhere.
All you'll need is a stable internet connection, a computer, and enough motivation to work, educate, and grow as a professional. All the other things will be provided by educational platforms like Preply and other ones that we've mentioned above.
So, let's realize it once again — tutoring helps you find the ideal combination of work, relaxation and minding your own business.
#2 More teaching opportunities
One of the widely-recognized benefits of online tutoring is the number of students who you can connect with.
It's 2020; everybody is online. We're watching movies on the streaming platforms, we educate ourselves online and even listen to e-books online. Everything is here and, numbers state that more students are in search of an excellent and understanding tutor online.
So how is working as a home tutor beneficial for a mom like you? It's way easier to find yourself a student online than offline nowadays. So get online and start offering your home tutoring services to students who seek a functional language mentor. You can do this!
#3 Better student engagement
Let's be honest, when you're a tutor who works with the whole class full of people, it's merely impossible to keep everyone engaged and involved. Someone will have attention problems or just won't be interested, cause she is into drawing right now and she doesn't care.
So when you are working as a home tutor — you can devote more time to the learning process with one particular student. Plus, if a student came to the online platform seeking help with her or his language skills — he/she will definitely be involved enough to make sure it gives desired results. They understand the importance of these tutoring classes.
Engagement is crucial, and this is one of the things that keep you motivated, cause it's about seeing real results that you accomplish together with your student.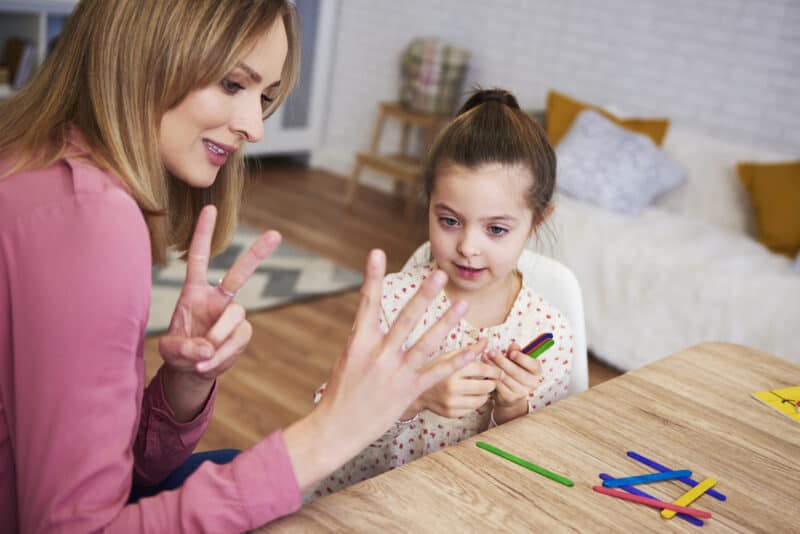 #4 Ability to use technology to power your learning techniques
When you work online and have your laptop with you — you already have the most epic tool for education.
You can provide your students with additional interactive tests, quizzes, and vocabularies to support your education process. And don't get me started about the digital board where you can control the displayed content or show movie clips with subtitles showcasing specific accents.
Working online means having no creative boundaries; you're not in full control of the content that you provide.
#5 Working as a home tutor cuts your travel expenses
Some people prefer to perform children tutoring offline, visit the kid, and work with her at her home. There is no point in doing that when we have an opportunity to do it online. First and foremost, Skype can help you communicate. It's not necessary to go somewhere nowadays to be able to talk with a person, see him/her and say what you've got to say.
With that in mind, you know, understand that you don't need to lose time and money on the everyday commute. Now you save money, have a flexible schedule, and you're simply your own boss.
#6 You define your price tag
One of the essential tutoring facts that you've got to keep in mind when you choose this career is the ability to set your own price tag yourself.
When you work in a company or at college — you come and get paid the average market salary, and you do not have a chance to get more by working more.
Now it's entirely fair — you earn as much as you want to receive. Need more money this month? Add some more lessons to your schedule or find yourself one more student.
Decided to go for a short vacation? Well, first of all — you can still work, it's remote work. But if you want to have more time for your kid while being on a trip — just adjust your hours, and that is all.
When you sign up on a language learning platform — you set your price tag and work with students whose budget fits your price tag.
#7 You're your own boss
As we've mentioned above, working as a home tutor means being your own boss, and that's very important to realize.
So when people ask why tutoring is so popular among moms like us, the answer becomes more and more apparent. It's about being in control of your career and life. It's about being your own boss and building your own brand.
Cause, after all, you work under your name, and you build a trustworthy brand among students from all over the world online.
Here is our expert tip for today: start with a learning platform like we've mentioned above, build yourself a loyal customer base and start your own educational business. Cause when you build up a customer base, you will be able to use your personal brand to empower your new business opportunities. True story.
#8 You choose the learning pace
And that is one of the things, among others' be your own boss's advantages.
When you work as an online tutor, you are not obliged to follow the learning plan set by your manager. You're fully in control of the learning pace at which you work with each student.
Tutoring younger students influence your understanding of how fast people can learn. So if you're working with both youngsters and adults, you should remember that there must be different educational pace here.
Grown-ups will require more of your attention, and sometimes you'll have to revise the material that you've already learned. On the other hand, the learning pace for a child should not be too fast as well, cause kids can get distracted.
Finding this balance is a part of your job. But only you decide how you work with this balance. You're free to create the learning plan for every student you teach. This is why working as home tutor is so awesome.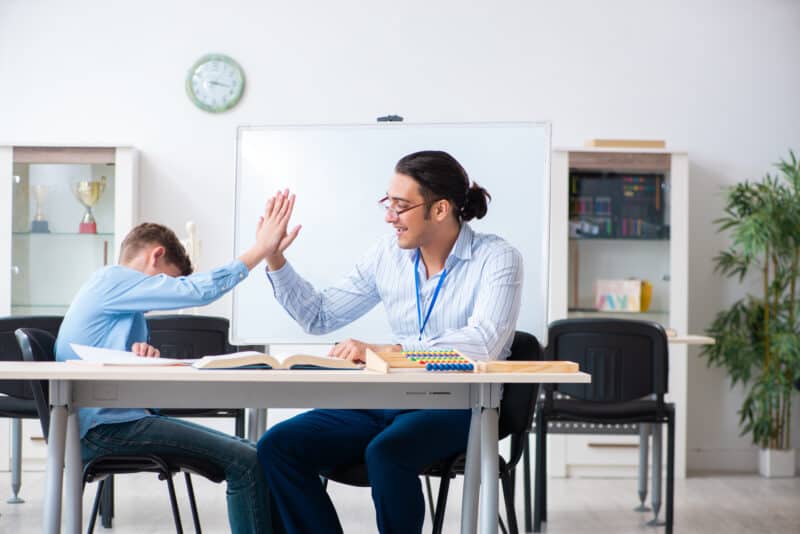 #9 Track the progress of every student
Since you're not working with a big group of students at the same time, it's way easier to track their progress and enjoy their accomplishments.
You can build a relationship with every student in a different way and find a personal approach to everyone you teach. This creative educational freedom is breathtaking.
#10 And again… Flexible hours!
So what are the benefits of working as a home tutor? Now you know. But we'd like to revise the most important thing that we've learned today — flexible hours rock. And now, you can have a more convenient schedule if you are working as a home tutor.
Need more time in the morning to spend with your kid? Simply adjust your working hours and work more in the evening when the kid is asleep. Yes, it's that easy.

Working as a Home Tutor – Summary
Home tutoring may not be for everyone, but it sure is an excellent opportunity to stay on top of your career and keep raising your kids in a happy & loving environment.
Stay at home, work as a home tutor, and love your kids. That's what it's all about!
About the Author:
Eliza Medley is an experienced tutor, educator, and psychologist. Eliza is fond of blogging, motivation articles, and education tips.
Follow @Eliza_Medley on Twitter.
Related Posts:
Pin to Pinterest:
Pin to Pinterest so others can find out how to work as a home tutor too!