Teaching kids about money can be very difficult. My toddler, Bryan, sometimes will ask me for expensive stuff at the store now. It is getting out of hand, because sometimes he will cause a huge scene by having a tantrum in the aisle.
When that happens, I get menacing glares from other people and that makes me feel like a bad mother. I'm sure they are thinking, "can't you control your own child?"
Sorry folks, but Bryan is a toddler and can't control himself. I let the tantrum pan out and I don't give Bryan any attention while he is in this state.
I recall seeing a You Tube video of a woman having a tantrum like a kid in front of her kids. They looked at her like she was crazy! It was super funny! I wish I had the courage to do this and give Bryan a taste of his own medicine. Maybe inside the house only.
Teaching Kids About Money
#1 Have Kids do Chores Around the House
As a 3 year old, Bryan, is quite strong so I have him help me with chores around the house for money.
Assist with emptying the dishwasher
Assist with emptying the clothes washer and dryer
Weed the garden
Tidy his room and pick up toys around the house
Fold laundry
Throw away trash
Carry in small bags of groceries
Help with preparing meals
Vacuum with his working Dyson little vacuum
If your kid is older than Bryan, then they could do a lot more chores than this to help you out. You don't want your child to be lazy and never help you with anything. It is important to get a child used to working in order to earn a living as a teenager and adult in the future.
Don't go out and have your child spend the money they earned immediately, they need to save some of it.

#2 Save the Money Earned in a Glass Mason Jar
After Bryan has done his chores for the day, I deposit a coin into a glass mason jar under his supervision.
Here is the type of jar that I got for him. He uses the one with the kiwi lid:

I tell him the value of the coin and for what chore he got it for.
It is best to give young kids the money close to the time of the completed chore so they understand why they got it. If the child is older, then you could do a weekly allowance from doing the chores.
The jar is clear so that he can see how much money he has earned. When it gets to the top, we will count it all together with a calculator.
We then write down the total of money that Bryan collected for the week and subtract the amount he has spent. At 3, Bryan knows the value of pennies, nickels, dimes and quarters because of this activity.
#3 Open a 529 College Savings Account
Whenever Bryan gets bills instead of coins for his birthday or holiday, then I will take him to the bank with me to deposit them into his 529 college savings account. We also contribute some of the money he has earned from chores.
Opening a 529 College Savings Account now while kids are very young will enable the money to grow more into the future. $10 could grow into $100 or $1,000 with enough time. Right now, Bryan has about $3,000 in his savings account and I try to contribute money every year.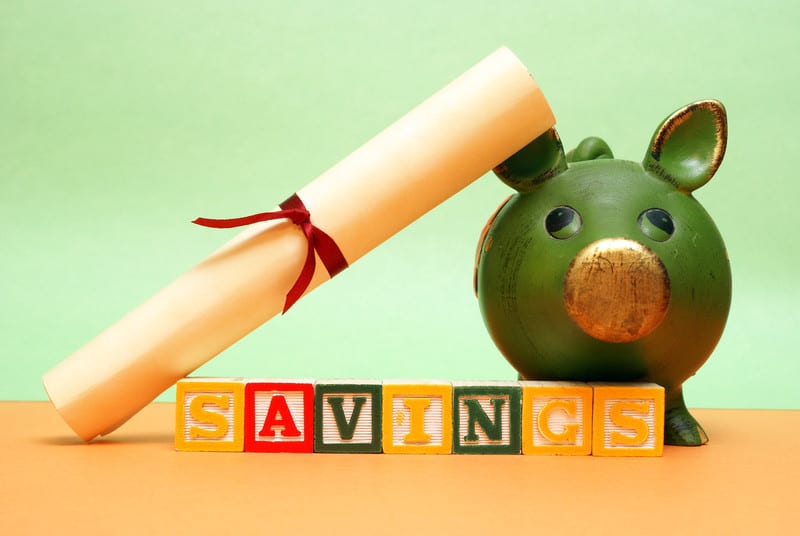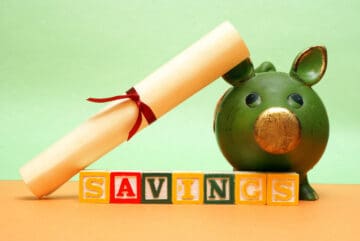 I go into the bank and I have him give the money to the banker for deposit into his account. He knows what the money is going for because I say, "Bryan, when you are older, you will be going to a school that costs money. This money is for that school."
By being clear and concise with kids, it allows them to understand what is going on with the money.
It's the same when I give Bryan money for donation in the collection plate at church. I say, "Bryan, this money is going to help people in need."
#4 Have Kids Donate Some of the Money They Earned
It's important to teach kids about donating to others instead of selfishly keeping everything for themselves. If you have older kids, then consider volunteering at soup kitchens together or other charity work.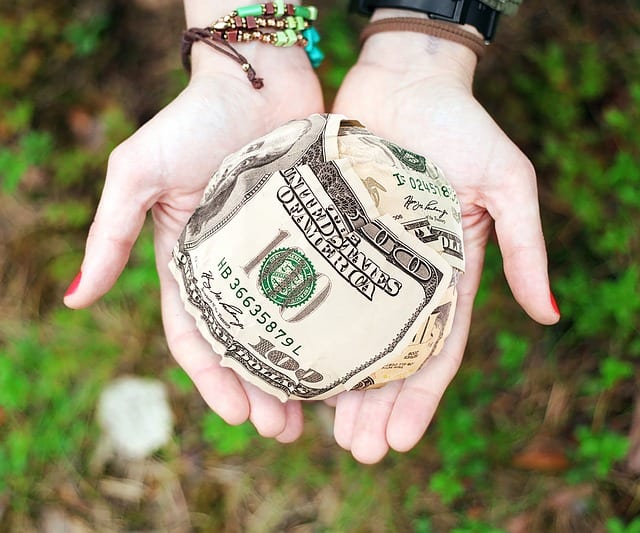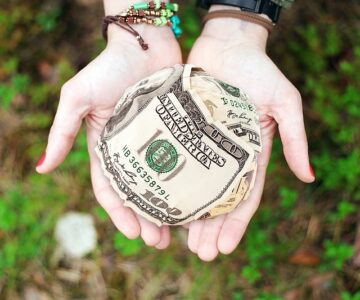 We have "care bags" that we keep in the backseat of the car and give those out to homeless people we see on the side of the road. Bryan has put some coins in each bag from the money he has earned. I contribute $5, bottles of water, snacks and necessities like soap, tooth paste and a tooth brush in the bag as well.
When we go to the store, Bryan will take his little jar of money with him to help contribute for his own necessities.
#5 Have Kids Help Purchase Items at the Store
When Bryan asks for something like a toy in the store, I now say "do you have enough money for that?" If the answer is yes, then we can get it. If he doesn't, then we don't get it.
By doing this system, I helped cut down on his tantrums! He isn't a perfect toddler, so will have one every once in a while.
At the cashier, Bryan will pay for some of the food he requested such as his favorite Pop Tarts or Little Bites muffins.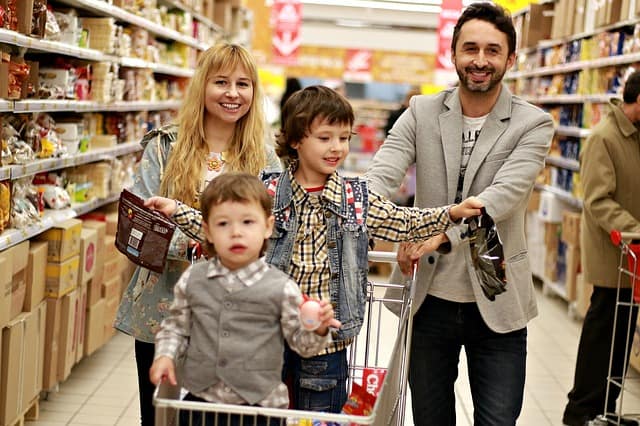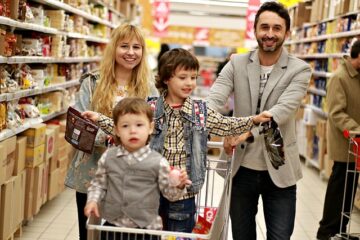 I have him avoid impulse buying by saying "do you really need that?" if he sees a toy that he has enough to purchase.
It helps to switch to cash when buying groceries so that you and your child can see how much you are spending. If you use a credit card or debit card to pay for everything, then you are more likely to overspend and buy things you don't need.
Be prepared before stepping into the store. I like to use a money saving app called Ibotta before I go grocery shopping. You can read my review here!
Further Action on Teaching Kids About Money
To help parents educate kids about money, Matt Matheson of MethodtoYourMoney.com has created a course.
In total, there are 17 videos with 8 modules. There are also handouts for some of the lessons like a budget chart.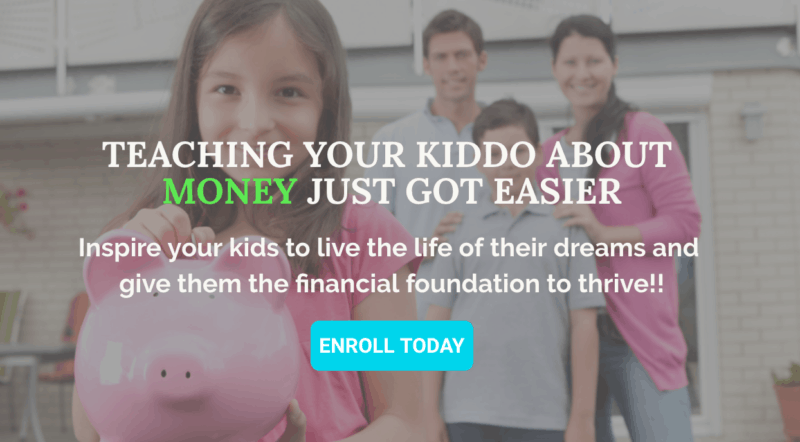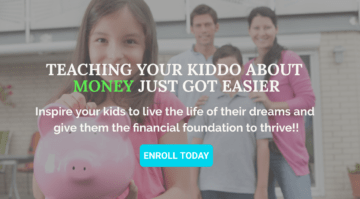 The topics include:
What to Teach
When to Teach it
How to Work
How to Save
How to Spend
How to Give
Money Isn't Everything
Check out this course today to help assist you on teaching kids about money!
Are There More Ways To Teach Kids About Money?
There are more ways to teach kids about money, this is just what I do to help my own child. Get creative and think of ways to teach your kids the value of money.
It can be a rewarding experience to have children who understand how money works and that it doesn't appear magically from your wallet. Explain to them how you get the money, such as by working or investing.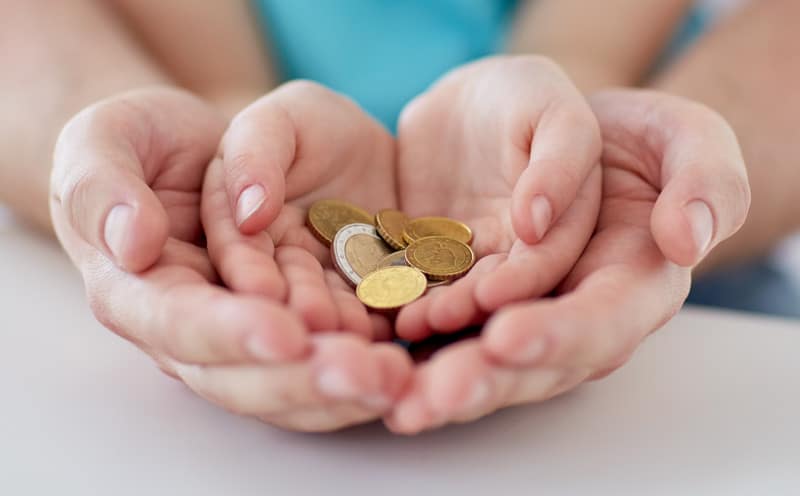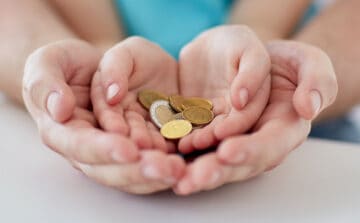 I hope this article helps you with your journey in teaching kids about money!
Check out some of these related articles:
Pin on Pinterest!