Halloween season is finally upon us and one of the best ways to celebrate is to decorate your home. Skeletons, signs, spooky decorations, and frightful ghosts will adorn the homes of your neighbors. Seasonal decor can be expensive, but you can save big by shopping exclusively at Dollar Tree this year! Your local store offers many treasures to make your home look it's very best. Have your Happiest Halloween with these special Dollar Tree Halloween decor ideas!
#1 SMALL WOODEN SIGNS
These wooden witch's brew and spells & potions signs are made of thick wood with accents of a soft jute bow and hammered metal plate. At 5 inches high, they would be perfect to sit along a window sill below your blinds or on the back of your stove.
Have a kitchen window? These would be great to sit behind your sink as well. Their countryside vibe can complement a home with existing rustic decor. Want to get a little more spooky? Purchase a few of each design and alternate them along your chosen space.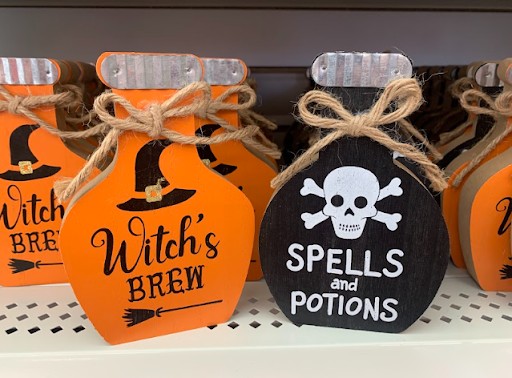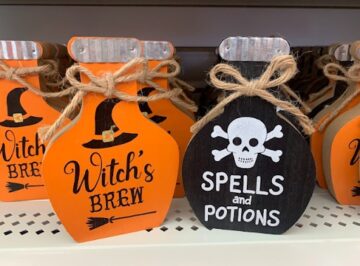 #2 COSTUMED BIRDIES

One of the cutest offerings at Dollar Tree this holiday season are these little costumed birds. They come in a variety of styles including a mummy, Frankenstein's monster, a pumpkin, and more. Sweet and ever so slightly spooky, children will love decorating their rooms with them.
Help get your kids excited for the season by decorating your home together. The birds could be placed on a window sill, a dresser, or even a bedside table.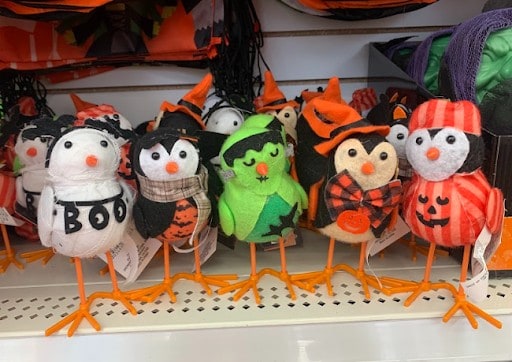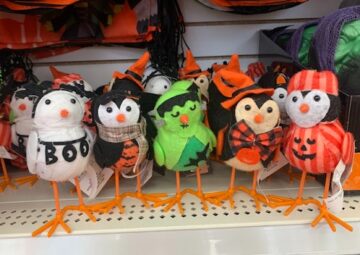 #3 SPOOKY METALLIC SKULLS
Alas, poor Yorick! If you and your family are more inclined to have a super spooky Halloween, perhaps consider these vibrant metallic skulls. The skulls are available in two stunning colors – pink & orange and purple & green.
Each skull can be placed individually or together as a centerpiece on your coffee table or dining table. They are of a high quality and will last year after year. Enhance your display by adding Dollar Tree's black and purple flowers around the skulls.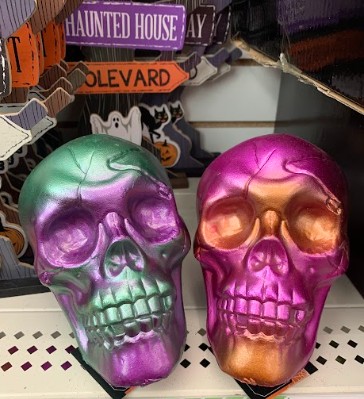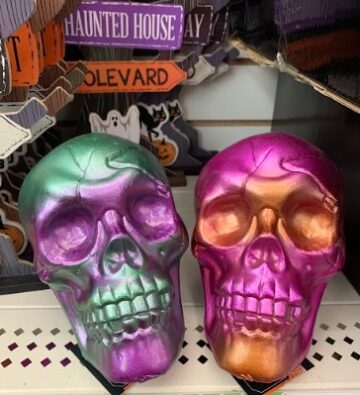 ---
Related Posts:
---
#4 CREEPY SKELETON HANDS AND FEET
If you've ever enjoyed The Addams Family movies and TV programs, these skeleton hands and feet might just be for you! Channel the beloved character Thing with the bony hands.
For a bit of Halloween humor, these could be placed partially under a coffee table to give the appearance that they are crawling out from under it. Another fun idea is to purchase several and place them in a circle around the metallic skulls in the center of your dining table.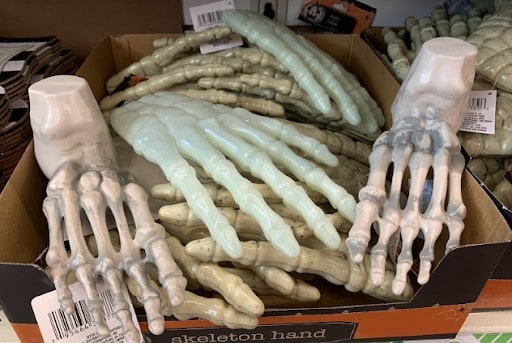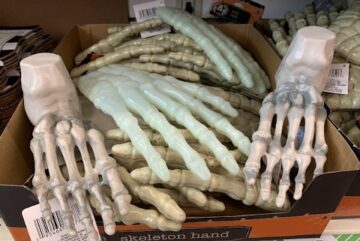 #5 EASY PUMPKIN DECORATING
A fantastic way to get your children excited about Halloween is to engage with them in holiday crafts. It is a tradition for many to carve pumpkins, but it can be a lot of work to clean them, cut them open, dig out the centers, and use sharp knives to create a design. Additionally, carving can often be reserved for only older children and adults for safety reasons. Save yourself the hassle of carving pumpkins and purchase a decorating kit!
Young children will be delighted to decorate their very own pumpkin. This pre-made kit has all the items necessary to make their pumpkin look like Frankenstein's monster. The pieces in the pack include eyes, a nose, bolts, a smile, and even a purple bowtie. Take this craft to the next level and spend an afternoon at a pumpkin patch with the whole family!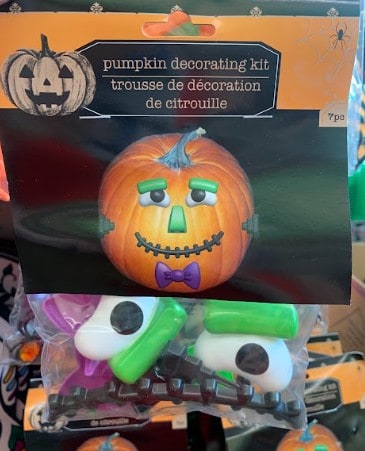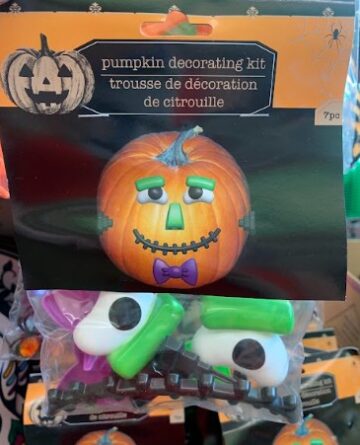 #6 SPECIALTY GNOMES
Gnomes are all the rage these days and you can get in on the fun with these adorable Halloween gnomes. They are available in three styles including Frankenstein's monster and two charming witches. Each gnome is made of a soft fabric with a weighted bottom and stands around nine to ten inches tall.
The very best part? Dollar Tree sells similar gnomes for other holidays including fall, Thanksgiving, and Christmas! Start building your collection now and continue throughout the remaining months of the year.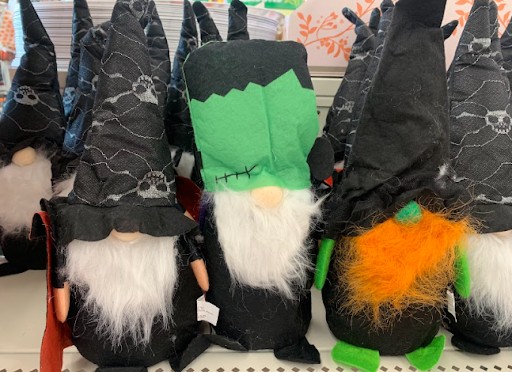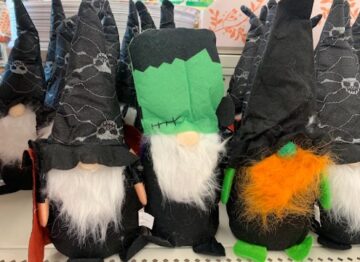 #7 A WITCHY CRAFT
If you have shopped at Dollar Tree for wreath supplies in the past, you may already know they carry deco mesh as well as frames. For the first time this Halloween, they are selling a frame in the shape of a witch hat! There are two simple ways to decorate these frames for the holiday.
One is to learn to use deco mesh with pipe cleaners to secure it to the frame. However, a much easier way to create this fabulous decoration is with Halloween garland strands.
Found with other seasonal decor in the store are multiple types of garland to suit your decorating style. Simply secure one end of the garland to the frame with a pipe cleaner or rubber band. Then wrap it in circles around the frame until you get to the end, at which time, you'll secure it again.
What a perfectly simple craft to hang on your front door to welcome friends and family! Don't forget that Dollar Tree also sells over-the-door hangers and store-brand hook stick-ons.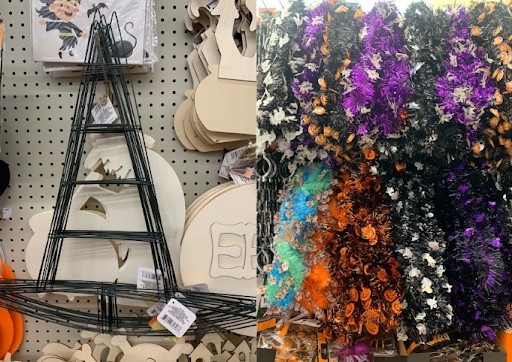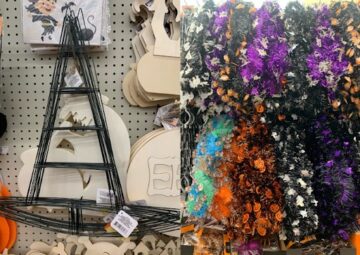 #8 STUNNING HOUSEHOLD SIGNS
One of the easiest ways to make your home Halloween-ready is to purchase some of the delightful signs Dollar Tree has to offer. Whether you choose "Boo Spooky," "Happy Halloween," or "RIP Beware!", you're certain to invoke some Halloween cheer.
These signs are an excellent way to spruce up your home with a variety of places to hang them. Use clear push pins to decorate your porch or entryway, hang them above your fireplace, or disperse them throughout your home to have the spookiest feelings.
The best part of these signs? They are made of high-quality wood and can withstand the elements outdoors and can be used every year inside your home.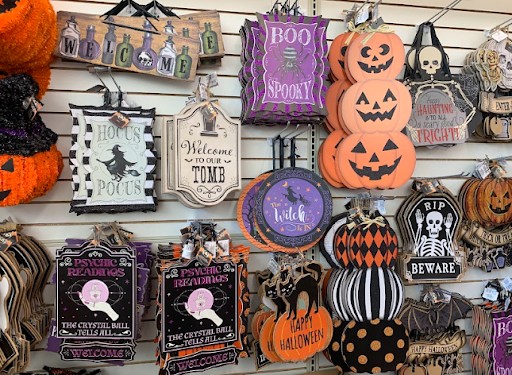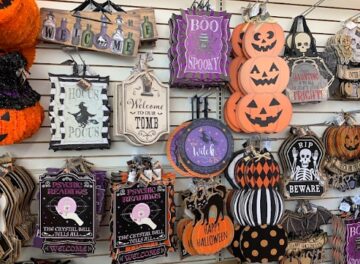 #9 CRAFTY SKULLS
Finally, here is another craft for adults and children to round out your Halloween decorating season. These craft foam skulls come in a plain white style that is just itching to be painted. Gather your children and have a skull for each child.
Worried about spending a lot on paint? No fear, Dollar Tree is here! Each store has an ever-growing craft section and nearly all sell acrylic and washable paints. Need brushes? Dollar Tree has your back. Check both the crafting aisle and the tool aisle to find exactly what you need.
These skulls can be customized with not only paint, but also glitter, buttons, rhinestones, and stickers. All of these items can be found in the craft aisle for a great price!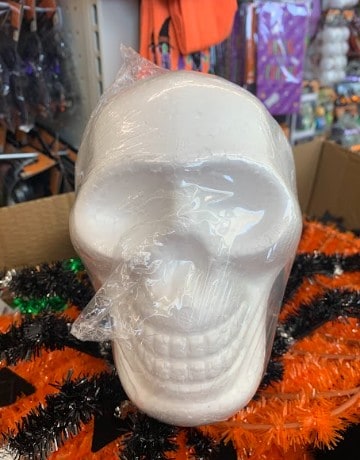 More Dollar Tree Halloween Decor Ideas?
These fun Dollar Tree decorating tips can help you make the most out of your ghostly season. From gnomes to skulls to pumpkins, Dollar Tree has everything you need to make your home silly and spooky this year.
We at MomBeach hope you have the Happiest of Halloween Holidays!
Do you have more Dollar Tree Halloween decor ideas? Let us know in the comments.
Related Posts: