Like many moms, I am trying to keep healthy so I can keep up with my kids. I have lost 20 lbs. recently by sticking to the keto diet. The keto diet requires lots of protein to keep yourself full. You can only have 30-50 carbs a day to stay in ketosis so you can burn fat. I have been looking for healthy treats like the best protein cookie to keep on my diet. I have a huge sweet tooth!
I have tried several different protein cookies but found them dry and tasteless. I had given up on finding the best protein cookie! Maybe it would never be invented. When I think of the best protein cookie, I want it to be moist, flavorful, and best of all, sweet!
What is Naked Cookie?
When Naked Nutrition reached out to me about their new Naked Cookie product, I was really excited. Maybe this cookie will be a game changer so I can have a sweet treat and not ruin my diet.
The sales page reads:
"Chocolate Chip Naked Cookie is a quick, healthy, and delicious protein treat for any time of the day. Freshly baked in the USA, gluten-free Naked Cookie is made with defatted almond flour instead of traditional wheat. With 10g of grass-fed whey protein, only 190 calories, and only 1g of sugar in each cookie, now you can satisfy your sweet tooth without feeding your waistline. Soy-fee, GMO-free, no high fructose corn syrup. At Naked Nutrition, we are committed to shortening the steps between our farms and you."
My Naked Cookie Review
Naked Nutrition sent me a big box with their chocolate chip cookie flavor. The other flavors are oatmeal raisin and sugar cookie.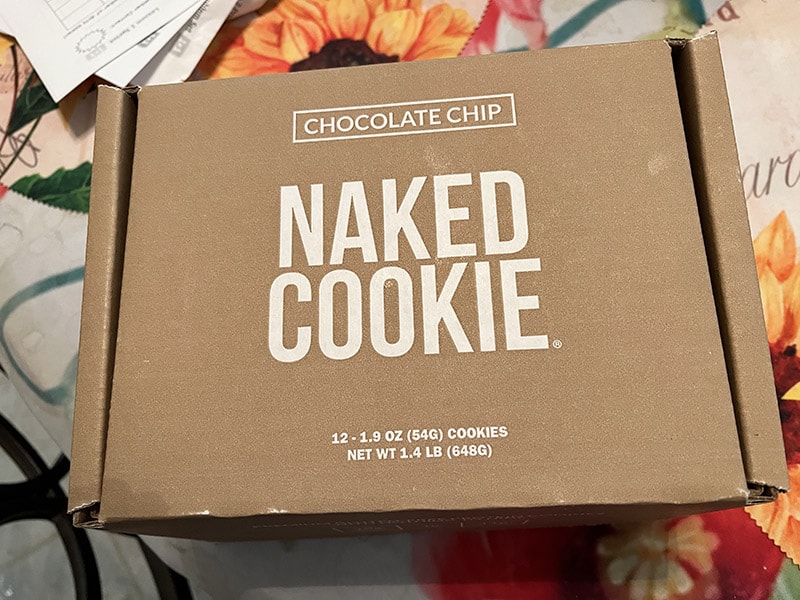 When I opened the box, I saw 12 individually wrapped cookies. That way, I can take them on the go with me in my purse. The wrappers are made out of paper but are very sturdy. I don't have to worry about the cookie crumbs leaking out.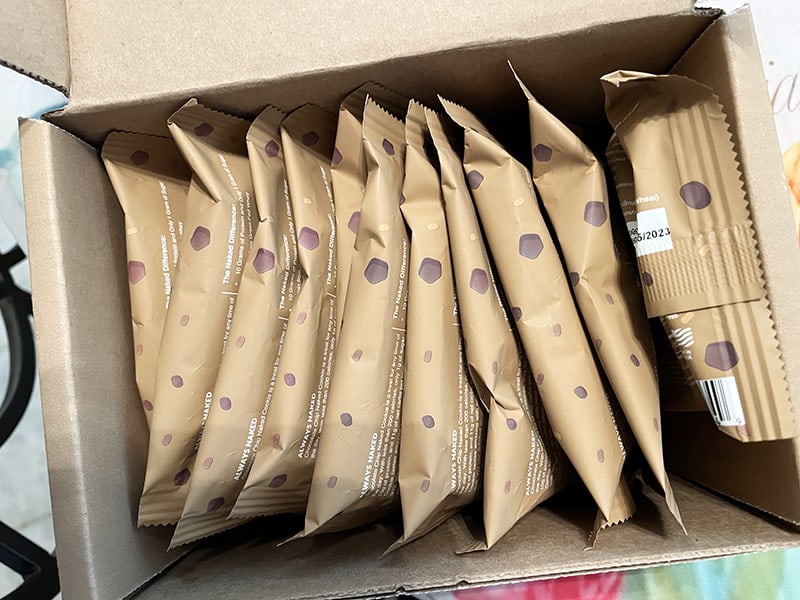 Nutrition Information in Naked Cookie
The nutrition information is clearly shown on each cookie:
There is 1 serving per container (54g) so this is a pretty big cookie with 11 net carbs.
Calories: 190
Total Fat: 13g
Saturated Fat: 7g
Trans Fat: 0g
Cholesterol: 0mg
Sodium: 60mg
Total Carb: 26g
Fiber: 6g
Total Sugars: 1g
Protein: 10g
Vitamin D: 0%
Calcium: 6%
Iron: 6%
Potassium: 0%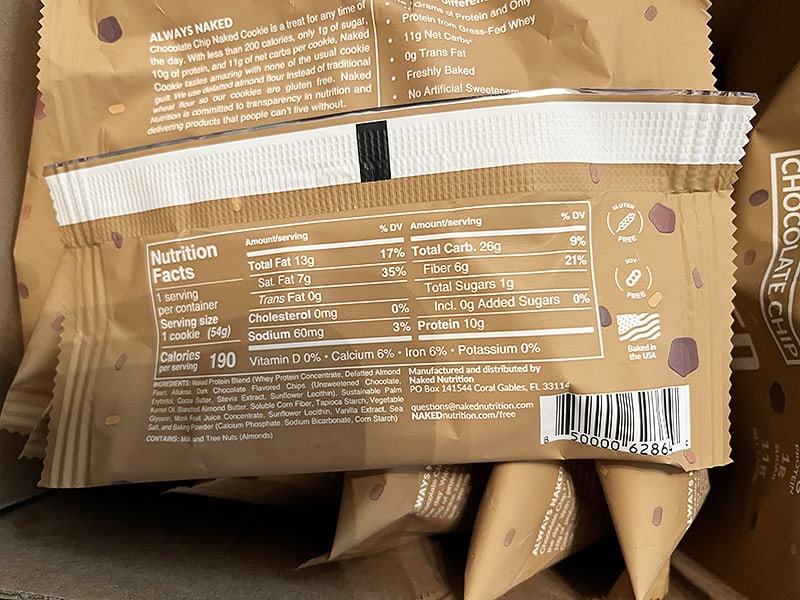 Ingredients in Naked Cookie
The ingredients are Naked Protein Blend (Whey protein concentrate, defatted almond flour, allulose, dark chocolate flavored chips (unsweetened chocolate, erythritol, cocoa butter, stevia extract, sunflower lecithin), sustainable palm kernel oil, blanched almond butter, soluble corn fiber, tapioca starch, vegetable glycerin, monk fruit juice concentrate, sunflower lecithin, vanilla extract, sea salt, and baking powder (calcium phosphate, sodium bicarbonate, corn starch).
It also contains milk and tree nuts (almonds).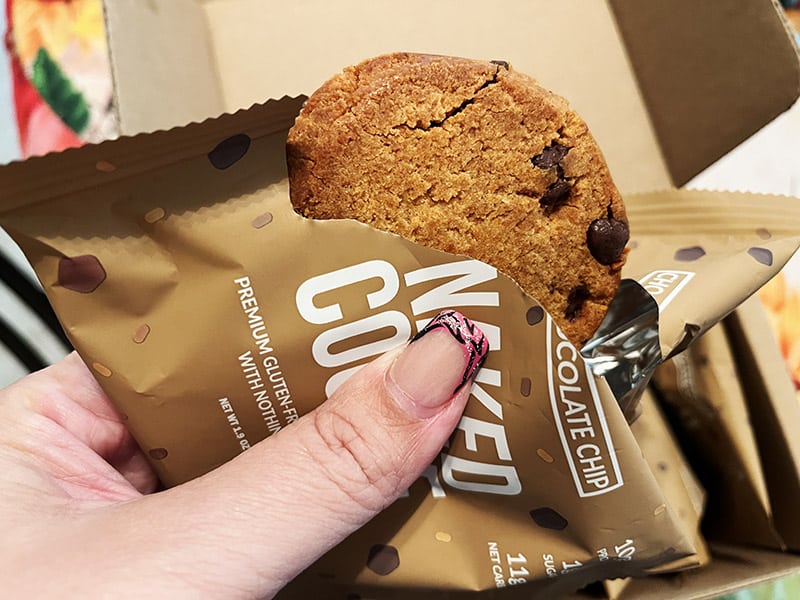 How does Naked Cookie Look?
When I opened up one of the cookies by tearing the paper wrapping, it looked just like a cookie my grandma used to make. The coloring was golden brown with huge chunks of dark chocolate semi-sweet chips.
The texture was soft, but it held together really well. It isn't a crumbly or crunchy cookie.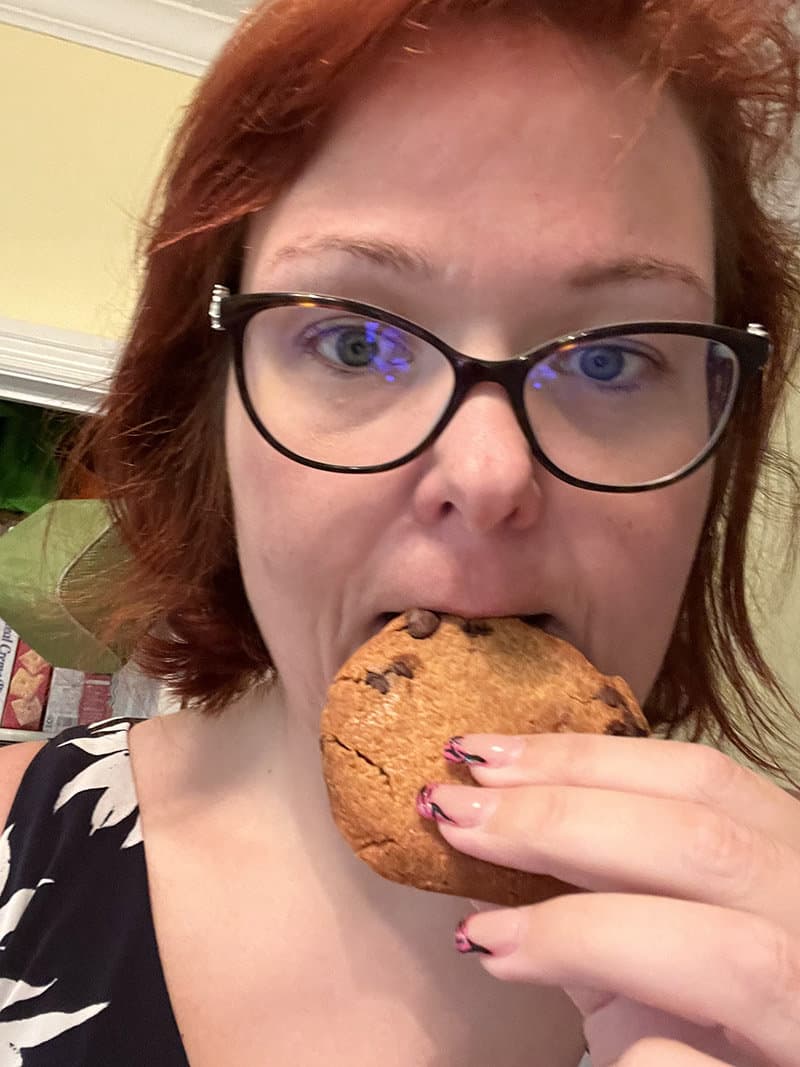 How does Naked Cookie Taste?
I gave it a taste and found it very moist and sweet, but not too sweet. The Naked Cookie definitely curbed my craving for something sweet. I could taste vanilla and dark chocolate in the flavor. It tasted really delicious so I ate more of the cookie.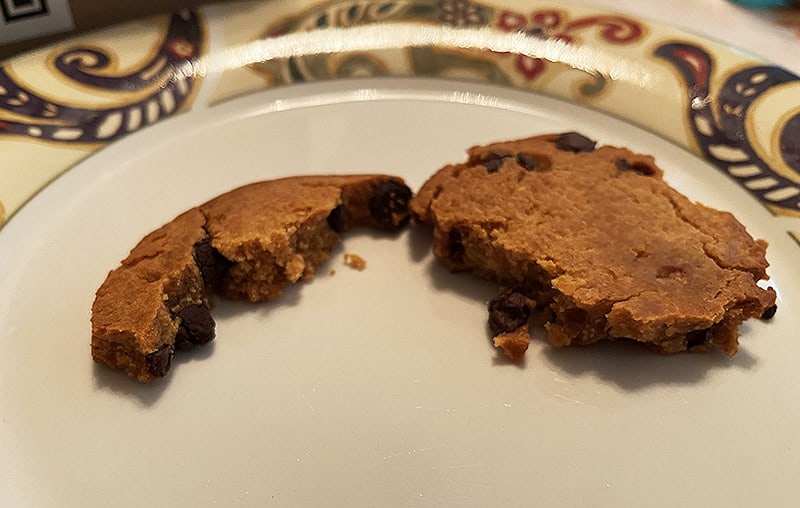 I broke the cookie in half so you can see the thickness and consistency of it. It is a pretty big cookie that will fill you up. You can also break it in half and eat the rest later after tucking it away in the paper wrapping that it comes with.
Is Naked Cookie the Best Protein Cookie?
Naked Cookie is certainly the best protein cookie that I have ever eaten, to be honest. It is delicious, flavorful, and a very good size that will fill you up. If you are looking for a protein cookie that is similar in texture and taste to Mrs. Field's Soft Baked Cookies, then give Naked Cookie a try.
Click here to order Naked Cookie now!
With Naked Cookie, you can have a cookie and eat it too! Have you tried Naked Cookie or other best protein cookies? Let us know in the comments!
This post has been sponsored by Naked Nutrition, but all thoughts and feelings are my own.
Related Posts: