Our diet has a key role to play in our overall health. There are many different diet plans that can help you maintain and improve your health. Though we should always maintain a healthy diet, with all the essential nutrients in moderation, but when you are trying to lose weight, specific diet plans have to be implemented. These keto diet snacks will help your weight loss fast!
This is a guest post from Line Arias from Nonna Box! Take it away, Line!
There are many different weight loss diet plans, but none of them is as popular as the ketogenic or keto diet these days. This amazing diet has gained a lot of popularity recently, and it is also very effective for many people.
Is weight loss one of your goals? Then check out our 2020 Goal Getting Planner!
Now, many people have heard the buzz word keto, but very few people actually know what this diet actually is? And how it works? So, today we are going to discuss this excellent and effective diet plan in detail, and we will also be mentioning some of the best snacks and foods you can eat on a ketogenic diet.
What is a keto diet?
The ketogenic diet is actually a high-fat and low carb diet. It can have a lot of amazing health benefits for the people who use it, and it is especially effective for people who are trying to lose weight.
Many studies have also been done to study the effectiveness of this keto diet, and in recent years over 20 studies have proved the potential of the keto diet in assisting weight loss and improving overall health.
Some studies have also proved that the ketogenic diet can actually aid in the prevention of some very serious diseases like diabetes, epilepsy and Alzheimer's. Some studies also prove that the keto diet can assist in the avoidance of cancer.
---
Related Posts:
---
How does the keto diet work?
The ketogenic diet works by drastically reducing one's carbohydrate intake and increasing the intake of healthy fats. This decrease in the carbs puts your body in a metabolic state known as ketosis.
Ketosis is a metabolic state in which your body doesn't have the required amount of glucose for conversion into energy. In this state, the body has to resort to burning fat to create energy.
In the state of ketosis, the body also builds certain acids called ketones. These acids are very advantageous for the body and especially for the brain.
The state of ketosis can be dangerous for the body if you aren't getting any alternative nutrients, but if it is done properly, your body will become super effective in burning fat, and you will have a lot of energy as well. This is why the ketogenic diet is especially useful for diabetes patients.
Here is a list of some of the best store-bought keto snacks that you can munch on when you are on a keto diet.
#1 High Key Mini Chocolate Chip Cookies
High Key is very famous and one of the leading brands in the healthy food market. This amazing brand actually specializes in the manufacturing of diet snacks. Recently high key has also started making some amazing keto-approved snacks, and their mini chocolate chip cookies are one of the best-selling products.
These delicious and nutritious cookies are made to have a very small amount of carbs, which makes them an appropriate snack for a keto diet. The cookies are also gluten-free, and they only have natural sweeteners in them.
One serving of these delicious mini cookies have only about 2 grams of carbs. On the other hand, a single serving can actually give you up to 13 grams of healthy fats and 3 grams of protein.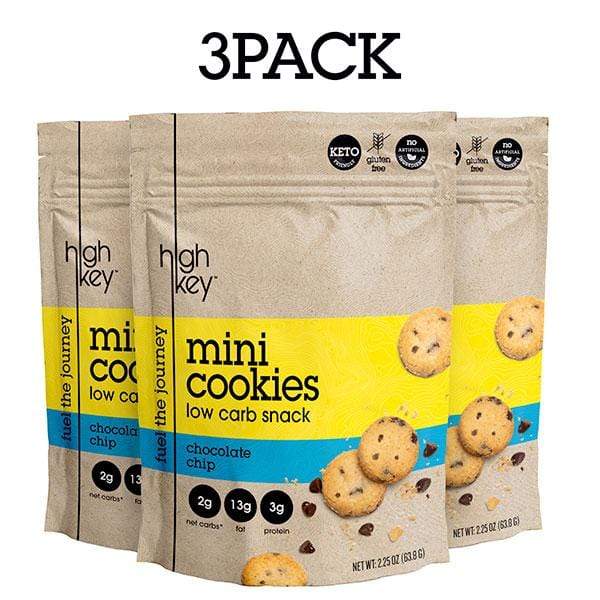 Photo Credit: High Key
#2 Think! Chocolate Peanut Butter Pie Bar
Think! It is a very popular brand when it comes to alternative and healthy snacks. After the immense increase in the popularity of keto diets, "think!" is also investing in this amazing market. They recently released a new and delicious chocolate and peanut butter energy bar that is great for a keto diet.
This energy bar is the perfect snack for when you are on a ketogenic diet, and every serving has a decent amount of fats and proteins and very little amount of carbs. One serving of this amazing energy bar has around 10 grams of protein and only 4 grams of carbohydrates.
The Think! Keto chocolate and peanut butter bar is also gluten-free and GMO-free, which makes it even more healthy, and as the protein bar does not have any artificial sweeteners, it is also good for diabetes patients. The actual amount of sugar that you can get from a single serving is less than 4 grams.
This amazing snack is one of my favorites because it tastes almost exactly like a Reese's peanut butter cup, and it is also healthy. Try it once, and I'm pretty sure that you will become a fan as well.
#3 EatingEvolved Keto Cups
EatingEvolved is another popular food brand that specializes in making healthy and keto-approved snacks. The brand is more commonly known as "Evolved", and they have a wide range of amazing snacks, but the snack that really makes this brand popular is their super nutritious keto cups.
These keto cups are a very healthy keto diet snack, but I can't say that they will be delicious for everyone. These snacks use 100 percent pure cacao in them without any added artificial sugars, so it is more of an acquired taste.
The original flavor has a coconut butter filling, which does take away some of the bitterness and adds to the taste. The other flavors of these cups are coffee and stevia.
The stevia flavor is the least bitter, and it is actually quite delicious, stevia is a naturally occurring sugar alternative that is way healthier than processed sugar. The sweetness of stevia complements the bitterness of the 100% pure chocolate.
As far as nutritional facts are concerned, one serving of this snack has about 13 grams of healthy fats and only 2 grams of carbohydrates. Each serving except the stevia flavor has less than a gram of sugar. These keto cups are perfect for diabetes patients who are trying to lose weight, as it has almost no sugar and a lot of healthy nutrients.
So, next time you go snack shopping, get yourself a pack of Evolved keto cups in your preferred flavor. The original and coffee flavors are my favorites, and you should definitely give them a try.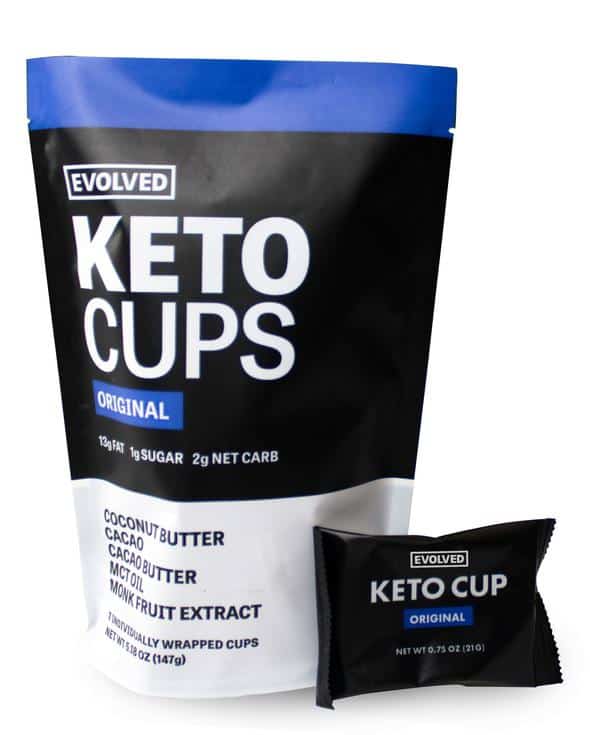 Photo Credit: Eating Evolved
#4 Keto-Approved Trail Mix
It is very hard to find a diet that doesn't incorporate nuts into it. Nuts and dried fruits have a lot of healthy fats that are great for a keto diet as well. Most nuts are naturally perfect for keto diets as they have the correct balance of nutrients.
The nutrient composition of most nuts is 75% fats, 20% proteins, and 5% carbs. This makes them perfect for a keto diet, but the nuts that you need to avoid are cashew nuts. Cashew nuts actually have a large number of carbohydrates.
There are many brands in the market that make keto-approved trail mixes, with the right blend of nuts and dried fruits. You can buy any of these trail mix packs or you can even buy nuts and dried fruits to build your own trail mix, in the way that you like.
#5 Keto Suitable Fruits
Fruits are a staple of every healthy diet, they provide a lot of minerals and nutrients in a healthy and delicious package, but many people have a misconception that fruits are not allowed in a keto diet because they have very high glucose and carbohydrate levels. Fruits are a healthy keto diet snack.
In reality, you need to know which types of fruits are actually suitable for a keto diet. Avocados are a very healthy fruit that you can add to your keto diet. Avocados can also be used to make many amazing dishes like guacamole.
Certain berries like strawberries, blackberries, and raspberries are also very useful for a keto diet. You can also eat grape tomatoes and olives, which make a great addition to salads.
So if you want a completely organic snack that hasn't been processed in any way, you should go for these fruits.
#6 Super Snack Time's Pizza in a Bag
When you are on any diet, you are bound to have some cravings. Especially when you are on a keto diet, and you aren't getting enough carbs, you will want to eat some delicious junk foods. For me the ultimate craving was pizza, but of course, the bread of the pizza and the cheese has a lot of carbs, so I couldn't really eat it.
Then I discovered Super Snack Time's pizza in a bag. This amazing snack tastes exactly like an actual pizza and believe it or not, it is also keto-approved. This snack is perfect for getting rid of your midnight pizza cravings. Personally, it is one of my favorite snacks when it comes to a keto diet.
The pizza in a bag has a very balanced nutritional chart for keto-approved food. One serving contains about 8 grams of fat, 4 grams of protein and only a couple of grams of carbohydrates. This is one of the healthiest keto diet snacks.
Super Snack Time also makes a taco in a bag, which is also very delicious and amazing.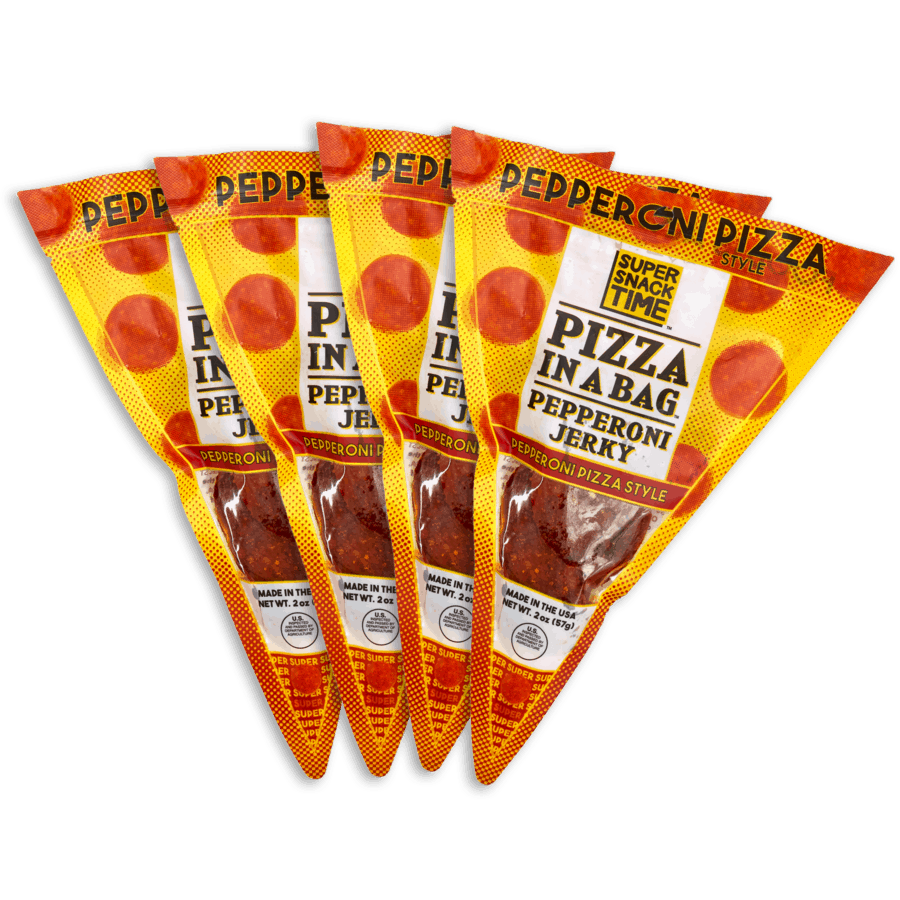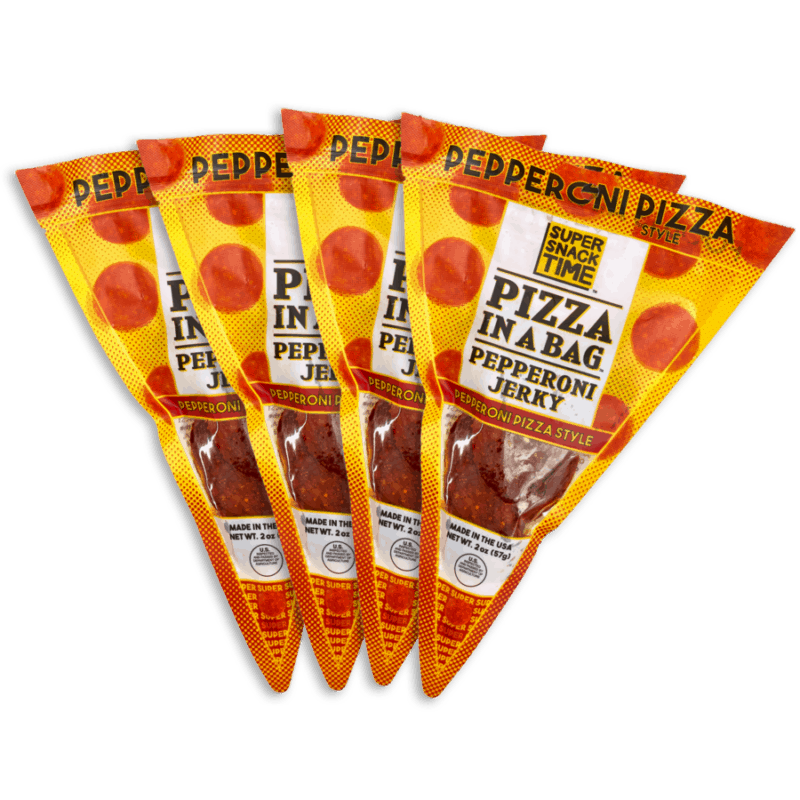 Photo Credit: Super Snack Time
#7 Beef Biltong
Biltong is another super delicious snack that can help you get over your cravings when you are on a keto diet. Biltong is actually a kind of dried and cured meat that is super delicious and keto-approved.
Though it looks almost the same as beef jerky, biltong shouldn't be confused with it. Biltong originated from South Africa and is a great way to fulfill your body's protein needs without any carbs.
A single serving of biltong can have up to 16 grams of protein and a very small and almost insignificant amount of carbohydrates.
Beef Biltong is a great way to fulfill your protein needs as well. A single serving of this nutritious snack can have 16 grams of protein and a very little amount of carbs.
Kalahari Beef Biltong is one of the best products in the market. They have some amazing flavors like garlic, peri-peri, and original.
#8 Quest's Protein Cookies
Quest is a well-known brand when it comes to healthy snacks. And they make some of the best keto-approved snacks in the market. Their new protein cookies are a must-have in your keto diet pantry.
The amazing and delicious cookies have a whopping 15 grams of protein along with some healthy fats in a single serving, while the carbs are less than 4 grams.
These amazing cookies are also available in three different flavors. You can get them in the classic chocolate chip flavor, or you could go for peanut butter of double chocolate flavors.
Quest also makes some other keto snacks like potato chips. Their super delicious chips are actually baked instead of fried, so they are healthier, and they are also filled with protein and healthy fats. The chips have a lot of different flavors, but the sour cream and onion flavor is actually my personal favorites.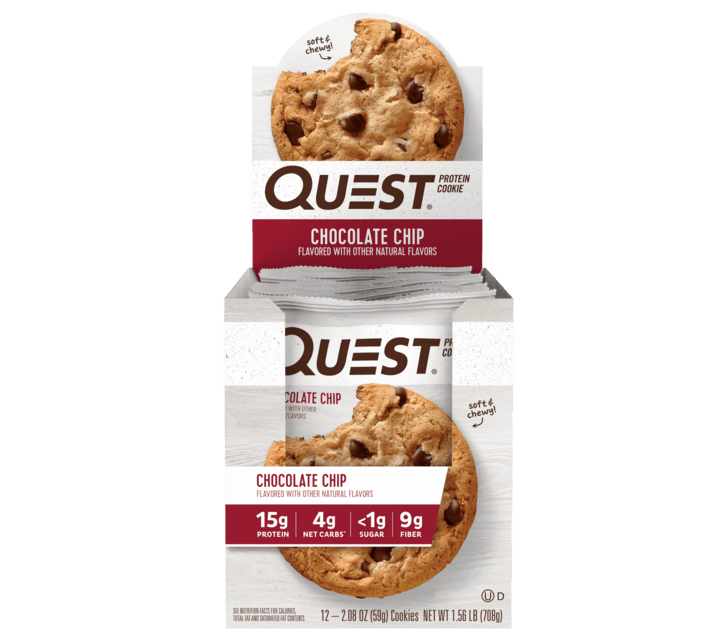 Photo Credit: Quest Nutrition
#9 Miracle Shirataki Noodles
Noodles are always avoided when it comes to a keto diet because they are filled with carbs. But if you are feeling the craving for some delicious noodles, then you can definitely have Miracle's keto-approved shirataki noodles.
These noodles aren't bad for keto diet snacks, because instead of flour they are made from glucomannan, which is a kind of fiber obtained from the roots of the konjac plant. These plants are native to China, Japan, and Southeast Asia.
These low carb and super low-calorie noodles make for an amazing and instant snack, you can also throw some veggies with them in a little olive oil and soy sauce, and use non-stick cookware to have a quick keto-approved stir fry ready to go.
Is weight loss one of your goals? Then check out our 2020 Goal Getting Planner! Get it, girl!
#10 Dang Plant-Based Keto Bars
Dang is a snack brand that specializes in keto foods. Their new keto diet snack bars are an amazing snack for when you are trying to lose weight. All of their delicious bars are plant-based and gluten-free.
The bars come in many different flavors. The popular flavors that you can choose from are almond vanilla, chocolate sea salt, and lemon matcha. One bar contains about 10 grams of protein and only 4 grams of carbs.
More Keto Diet Snacks?
So, here was a small list of some amazing keto foods, give them a try, and you will definitely see a lot of improvement in your health, and it will be easier for you to continue your keto diet.
Do you have more keto diet snack ideas? Let us know in the comments!
---
Related Posts:
---
Author Bio:
This post is written by Line Arias who has been working as a nutritionist for ten years now. She recently collaborated with health and fitness spa, NYC, and since then, she has been working on weight loss' meal prep plans.
Pin to Pinterest:
Pin to Pinterest so other moms can find out about these keto diet snacks too!