Each year, Apple releases a new iPhone model to consumers. Several of them will upgrade to the newest phone. What happens to their old phone? They either sell it or give it away. What about those people who can't afford to buy the latest and greatest phone? They will usually buy used phones, but it can be difficult and dangerous. If you are wondering what the best place to buy used phones is, then read on.
When I used to flip phones in the early 2000's I would have to wait in a dark parking lot for someone I met on Craigslist to sell a low-cost phone to me. I put myself in danger, I know! It would have been much safer if I bought the used phones online.
However, it can be more expensive to buy your used phone online. Many sellers such as Amazon charge a premium price. You can't test your used phone either to see if it really works. It may also be stolen.
There has to be a better way!
Glyde Marketplace is the Best Place to Buy Used Phones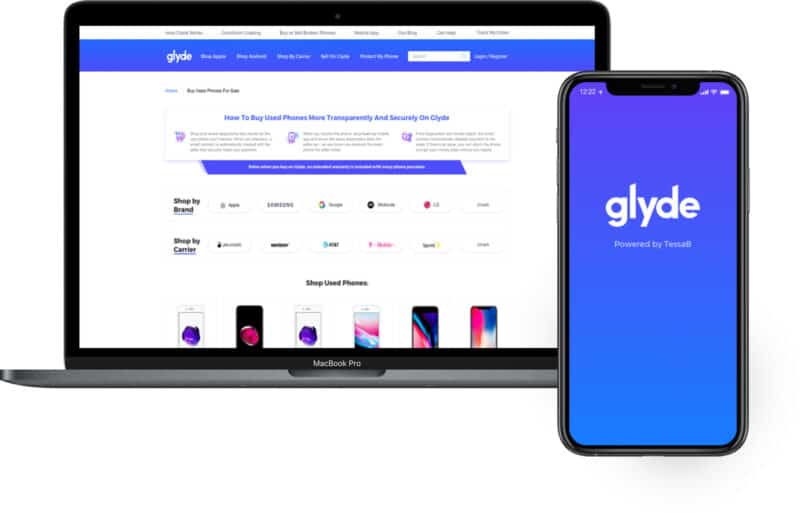 Glyde Marketplace launched in early December and is the revolutionary way to buy and sell used phones.
What the seller does is simply download the Glyde app on the phone that they want to sell to you. The app then tests the phone to make sure it is in working order and isn't stolen. If they don't run the diagnostic test, then they can't sell the phone.
This protects you, as a buyer, from receiving a broken or stolen phone. Now, someone may try to send you a phone other than the one they tested, but Glyde protects you from that too.
"We are delighted for the official launch of The Glyde Marketplace to solve issues within the used mobile phone market. Right now, there is an average of seven middlemen between a customer who trades in a phone and its next owner. Our goal is to eliminate these inefficiencies and also instill trust between buyers and sellers. The biggest barrier to purchasing a used phone is lack of confidence in the condition of the phone the buyer will receive. That is why we have selected blockchain and other innovative technologies to create a more transparent, secure, and efficient marketplace for used phones."

– CEO of TessaB, Flavio Mansi
Now, you may be wondering how to buy phones on Glyde Marketplace! If you want to learn how to sell phones on Glyde, click here.
Related Posts:
How to Use the Glyde Marketplace to Buy Used Phones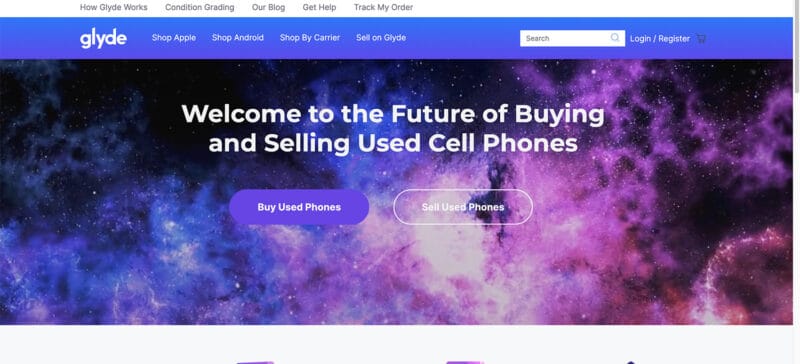 When you head on over to Glyde.com, you are welcomed with a beautiful site in purples. I love purple myself! It's my favorite color. You will see two buttons to choose from. If you are wanting to buy used phones, click on the purple "Buy Used Phones" button at the left.

Step #1: Select the brand or carrier of used phone you wish to purchase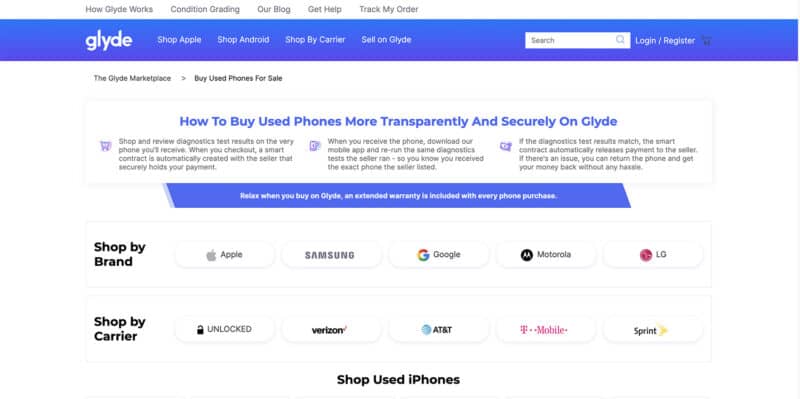 Once you have clicked "Buy Used Phones", you then have to decide if you want to shop by brand or shop by the carrier.
You may prefer a certain brand of phone, so you may wish to shop by the brand. I prefer iPhones myself because they are more profitable to flip.
If you are already using a certain carrier yourself, then you may want to shop by the carrier. That way, it isn't difficult to get your used phone transferred over to a new carrier.
I decided to select iPhone as the brand I wish to shop for. Because iPhones are so popular, they are the default selection. I simply have to scroll down and look at all the iPhone models for sale today.
Step #2: Select the model of used phone you wish to buy
I am going to select iPhone 8 Plus, which looks like a great deal for only $270. I have seen this phone listed for much more on other sites.
I am then met by the following screen: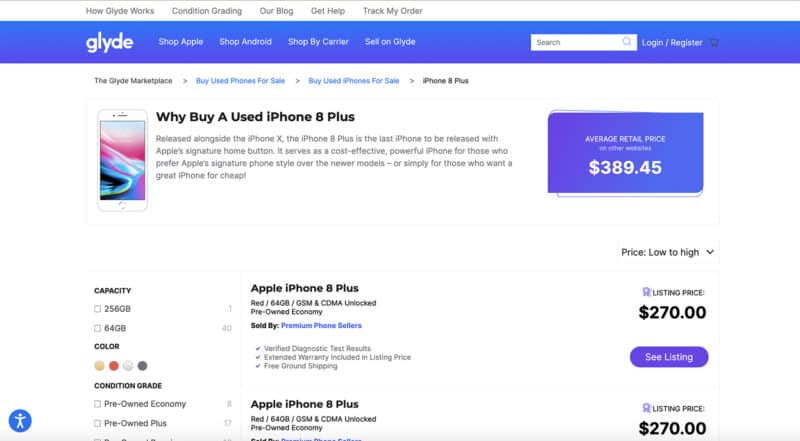 I am able to learn why I should purchase an iPhone 8 Plus and the average retail price on other sites. It sure does sell for a lot more elsewhere! I'm able to see all the listings from verified sellers who have run the diagnostic test on their used phones.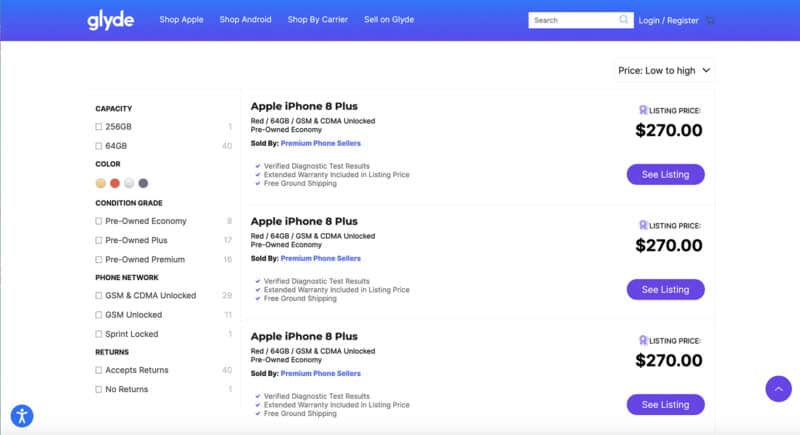 Step #3: Select the listing of the used phone you wish to buy
I decided to pick the first listing to see more information and possibly purchase the phone. I can be assured that this phone has been tested or else it could not have been listed on the Glyde Marketplace. All of the doubt that I used to have when buying a phone online is now removed.
I can now view the listing to see more information and pictures of the phone. The diagnostic score can also be viewed. I can see that this phone is in good working order. I can also see what carriers the phone works with too.
This looks like a great purchase, so I'm going to hit the "Buy Now" button at the bottom of the page.
Step #4: Buy your used phone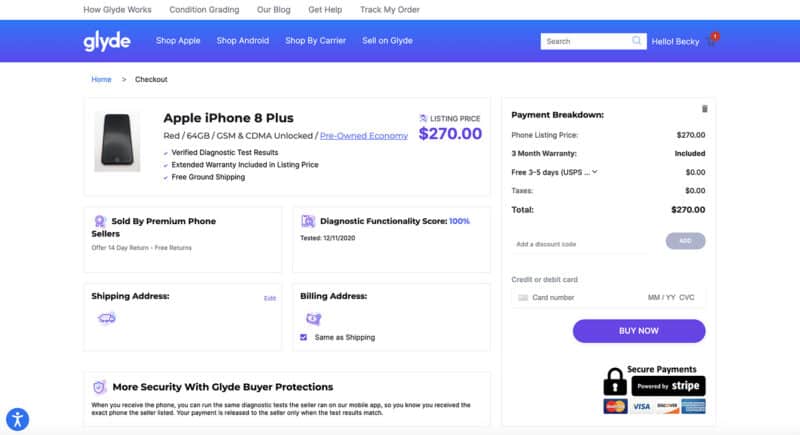 On this screen, I can see that I get a 3-month warranty that included at no extra cost to me. I also get free shipping, which is comparable to buying a used phone on Amazon, but this listing is much cheaper. Once you are ready to buy, enter your credit card information and click "Buy Now".
Step #5: Wait for your used phone to arrive and enjoy it!
This is my favorite part of the process! I'm now 100% confident that I will be receiving a working, non-stolen used phone. There are not multiple middlemen between this process, so I was able to get the lowest possible price.
If I want to track my order, I can visit the link above on the header.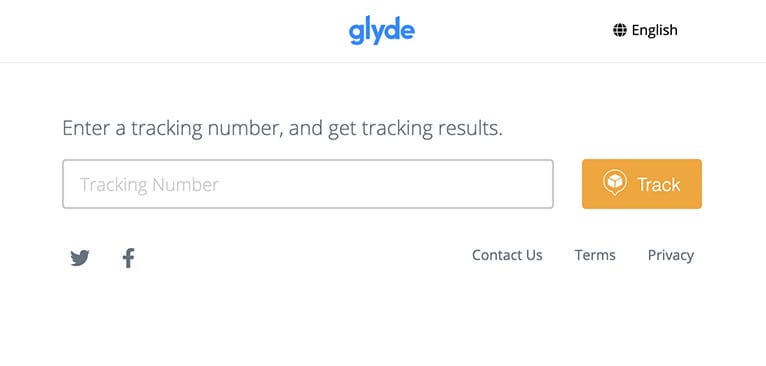 I can now get updated information about my order any time I'd like. Once the used phone arrives, I can do whatever I would like such as keep it or resell it for more money.
Best Place to Buy Used Phones: The Conclusion
As you have seen, I believe that Glyde Marketplace is the best place to buy used phones. You can only purchase used phones that have been tested and verified. There is a 3-month guarantee on your order, so if you did not receive the right phone, you can return it. Glyde has provided a no-hassle way to buy used phones online.
This is a sponsored post by Glyde Marketplace.
Related Posts:
Pin to Pinterest:
Pin to Pinterest so others can learn where the best place to buy used phones is too.