Have you ever been in a grocery store or toy store and witnessed an epic tantrum caused by a child who was told that dreaded little word…no? I have. It is embarrassing for the parent and awkward for everyone around. Just go online and search for children throwing fits in stores. In this post, I will go over how to discipline your child.
This is a guest post by Christine Duff, a child expert with a Masters in Education. Take it away, Christine!
Child Tantrums
One fit that I saw at a store was a little girl about 5 screaming at her Mom. She was opening up several toys in the aisle and throwing stuff at her. She kept saying in a soft, gentle voice that she could not afford those toys and she would get her one next time.
This only infuriated her more. I could not understand why this child was treating her mother so poorly. She should punish her. Didn't this mom know how to discipline her child correctly?
---
Related Posts:
---
What if that child had known that no means no and throwing a fit wouldn't get them their way? It is possible, but you have to begin discipline as soon as they are able to walk! But they are just a baby, you may protest.
Trust me, if they are old enough to unlatch the child-proof gate at 18 months like mine was, they can understand what boundaries are.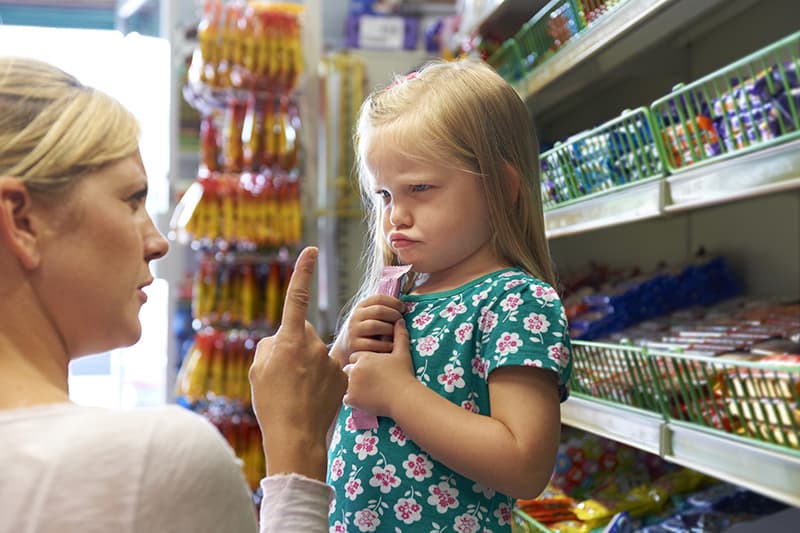 My Story
When I first saw my sweet little red baby with her squished up little nose from across the hospital, I fell in love. I could not believe this little 7 pound 8-ounce person filled me with so much love. It was like I never really smiled without thinking about it in my life.
I was in a lot of pain, but the sheer happiness that swept over me melted it all away. The whole time I was pregnant, I thought about all the stuff this little baby would need and what I would do to be healthy for her. I never really stopped to think about what kind of person I can help her become.
We love our children and want what's best for them, but do we always do what's best for them? I thought about it for months until she was old enough for her first epic tantrum. She was 18 months old and had barely started walking.
Every child hits their milestones at different times but my Dad said I held her too much. She was only seven months when he passed away unexpectedly. I poured all of my love for my late father into my daughter and stayed strong to raise her.
I took her with me everywhere, every day. On one shopping trip, she saw a little pink plastic pony and she was drawn over to it.
The first tantrum
I decided that $3 for a plastic pony with real hair was a good choice. I said ok. She stomped up to the register with her toy and extremely adorable face. The man at the checkout counter put his hand out to get the pony to scan.
She held it tighter and started whining. I explained that he has to scan it with my most simple language. He took it from her gently and she freaked out!
She was screaming and throwing herself on the floor in front of the whole store! I paused and thought "What can I do to show her that this is not acceptable behavior?" It hit me…don't buy the toy.
I know what you're thinking. She's just a baby, give her the toy so she will stop crying, etc. No. I decided that this was the perfect opportunity to teach her what no means right now at the tender age of 18 months.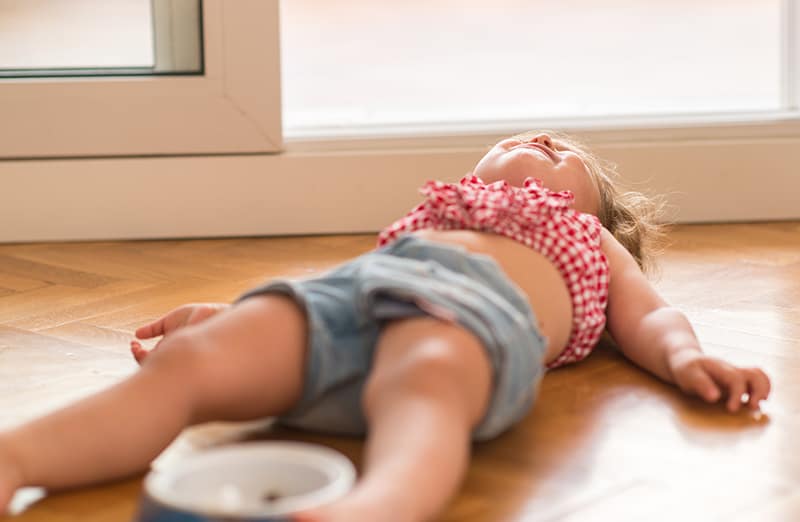 I put on my most brave Mom face and looked her in the eye. I said, "Stop or I won't get the toy, stop." She screamed even louder and was kicking me laying on the ground. "Ok", I said "No toy!" More screaming.
I ignored her fit and told the man that we are putting the toy back. He set it aside and continued scanning everything else. I paid and picked my (still screaming) child up off the floor.
We got to the car and she was frantically looking in the bags for the pony toy. I told her "I no get a pony. You yell at the store, no pony." I then began a whole lecture all the way home about being polite.
People who work at the store deserve our respect. She must learn to say please and thank you. She was not interested in my thoughts and continued her fit at home.
I told her to get in the corner. I picked her up and held her upright in the corner. I counted to 10 slowly and started over every time she turned around or started whining again.
This process was extremely difficult and it broke my heart to see her so upset. I had the future in mind and decided that it was much easier to force a small toddler to count to 10 than it was for a large 10-year-old. I even had to close my eyes so I didn't see how cute she was.
I was determined to stand my ground and not give in no matter what. This kid is super adorable, so this was one of the hardest experiences of my life. After about 10 minutes of this war of the wills, she stopped fighting and stood in the corner by herself.
I stepped back in shock! Did I just win? Yes! I did it! I stood my ground and didn't give in no matter what.
She was making little noises like she was trying to count. I said each number and waited for her to repeat with a sound in her own way. We finally got to ten and I sat her in my lap.
She was looking into my eyes with her puffy little tear-streaked red face and I almost started crying. No, I told myself. I have to stay tough.
I told her: "No means no. If the baby screams at the store, no toy." She hugged me and said what sounded like "Sorry."
I told her to say please and she said "Peese," I told her to say "thank you" and she said "tank oo," I told her to say those things to the cashier at the store next time. We role-played with a book for a few minutes and I tried to make her understand that she would get the toy back after it was scanned.
She fell asleep and had a long nap because she was so tired from the tantrum. I took a nap too because I was really tired too.
Moral of the story: No matter how hard they fight, fight harder! Don't let a baby win. If you give in when they are this age, they will always expect you to give in.
When they are much older, and you have not laid the groundwork for discipline training, it will be much harder. Their size at an older age will make it more difficult and they will scream even longer because they are so used to getting their way. During her fit, I even left the room to hide.
I heard her stop crying. She walked around the house and as soon as she saw me, she started crying again.
They cry to get what they want. They know it might work. Don't let your feelings for your kid get in the way of shaping them into a good person.
Fast-forward to a few days later. We went to the store again. My daughter asked for a small toy again and said "peese" I told her yes and reminded her how to act when we got to the checkout.
Don't let your feelings for your kid get in the way of shaping them into a good person.
After getting what we needed, she put her toy up to the counter and looked at me. The lady took it. I held my breath waiting to see what would happen this time.
Even though she had a really worried look on her face, she only said "peese" before it was back in her hand. Seeing her proud face open that toy made everything we went through previously worth it because she learned a lesson.
The second tantrum
Getting the whole family on board can very difficult. My own husband got grounded a few months later! I had my yearly upper respiratory infection, and we were at a drug store getting my prescription.
While waiting in line, my daughter noticed a pony toy dressed as a nurse. Her eyes lit up. "peese?" She asks us. "Yes, that's fine" I replied.
But by this point in her discipline education, we had a new rule: Don't open a toy until we buy it. Now that she was 3 years old, this concept was understood and I had not had any epic meltdowns over it. There's still two people in front of us and the process of waiting in line was getting to be too much for the kid.
She looked right at me and began tearing the packaging. "No" I scolded. Out to see what she could get away with this time, she continued tearing the plastic from the toy.
Since I needed my medicine and there was only 1 person ahead of us now, I gently said: "I'll hold it for you." Well, she didn't like that and as before, throws a huge fit. She was wearing a giant pink tutu at the time so imagine a fluffy pink blob on the floor thrashing all-around at your feet.
My husband says "Give it back to her." She actually paused mid-scream to see if I would give it back. I whispered to him a few choice words that I will not include in the article.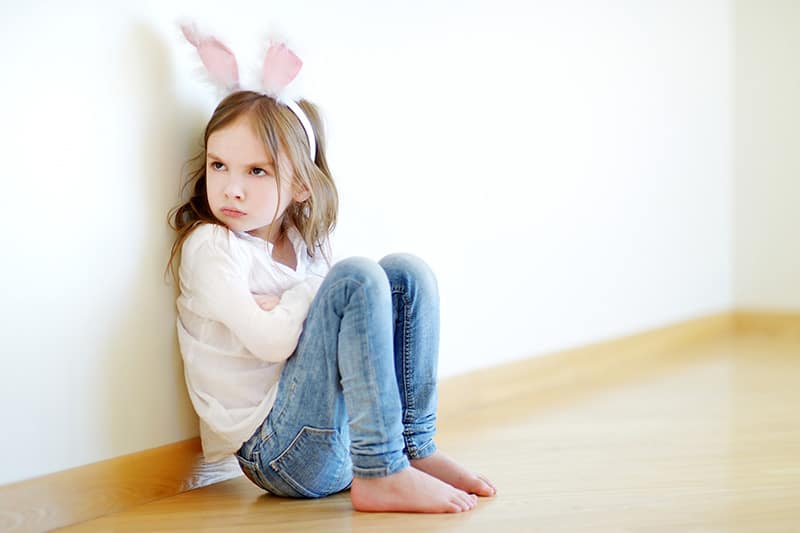 She realized she wasn't getting it back, so she started up again. I picked her up off the floor and just held my screaming pink tutu kid.
She had managed to tear the toy all the way open, so I felt like I had to buy it but planned to give it to her another day after talking about her fit. After it was finally my turn, I paid and told my husband to go ahead and take her to the car. I put my card up and reached for the bag of stuff and it was gone.
The cashier said my husband had taken it. I got to the car and guess what I saw? My child holding the nurse's pony.
I was infuriated! How could he do that and undermine my hard work teaching her at a young age how to act. He just didn't understand.
I quickly snatched it from her and glared at him. We withstood getting kicked and listening to screaming all the way home, but when we got there something happened. She went straight to the corner and began counting all on her own without us telling her to.
This was followed by a shower of compliments and cuddles. Was she just buttering us up, you ask? Of course, she was! Did we give in? No.
After talking to her about her fit, I told her that if she was good at her learning center until Friday, she would get the toy. She was good until the end of the week and got her toy.
The point is, every time you try to teach your child a new way to be a good person, they will push back. All the hard work you put in when they are 3 and younger will pay off. Their tantrums will become less frequent and the screaming fits will be shorter.
Knowing that screaming and crying won't get them their way will also help their behavior when they go to school. Behavior training starts at home.
Don't wait until your child is 5 years old in Kindergarten and expect the teacher to solve all of your discipline problems. If children do not respect their parents, they will have a lot of difficulty respecting anyone else.
Did you find this post helpful or have any other tips? Let us know in the comments!
---
Related Posts:
---
Pin to Pinterest:
Pin to Pinterest so other moms can help discipline their child too!