Assigning age-appropriate chores is an excellent way to start if you want to instill a sense of responsibility in your child. This can be especially pivotal for kids in the age group of 7, 8, and 9-year-olds, who are at a developmental stage where they can handle more complex tasks while still needing guidance. Below is a list of 25 chores that are perfect for 7-year-olds, and many of these chores can also be adapted for 8 and 9-year-olds.
1. Making the Bed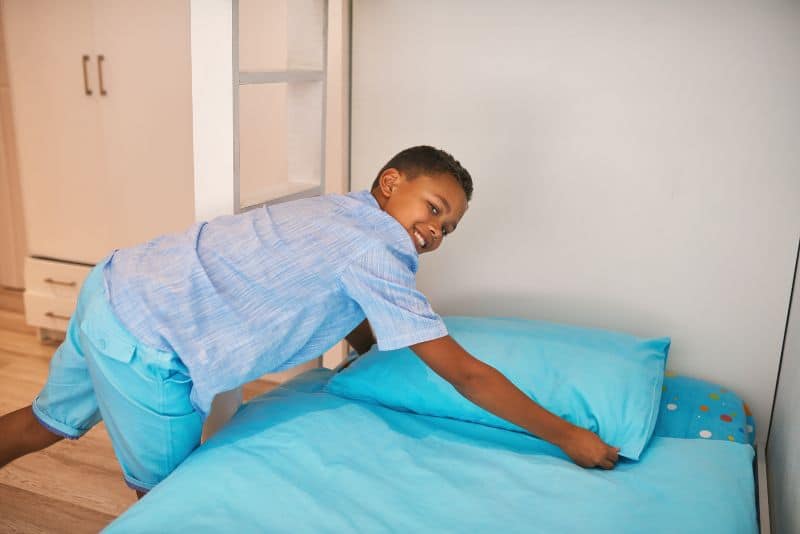 Making the bed is one of those fundamental chores for 7, 8, and 9-year-olds that teach tidiness and personal responsibility. Not only does this task provide a sense of accomplishment, but it also sets a positive tone for the rest of the day. It's a small but impactful way to foster self-discipline.
2. Sorting Laundry
By age 7, kids can understand the basic categories for sorting laundry, like whites, colors, and delicates. This is a great chore for teaching organizational skills and attention to detail. Plus, it's a task that has real-world applications for 8 and 9-year-olds as well.
3. Sweeping Floors
Sweeping may seem simple, but it can be challenging yet rewarding for kids. This task helps develop motor skills and can be a practical introduction to maintaining a clean living environment. It's a chore that can be easily managed by 7, 8, and 9-year-olds alike.
4. Dusting Furniture
Dusting is another easy but necessary chore that 7-year-olds can manage. By handling a duster, children can help keep the house allergen-free and gleaming. This is one of those chores for 7, 8, and 9-year-olds that teach them about regular household maintenance.
5. Setting the Table
Setting the table can be a wonderful family-oriented chore. It teaches children about teamwork and the importance of mealtime as a family occasion. This task can be expanded for 7, 8, and 9-year-olds to include more intricate table settings for special occasions.
---
Related Posts:
---
6. Clearing the Table
Just like setting the table, clearing it off after a meal teaches respect for shared spaces. It's an easy-to-manage task that encourages kids to contribute to family life. Plus, it sets the stage for more advanced chores for 8 and 9-year-olds like washing dishes.
7. Watering Plants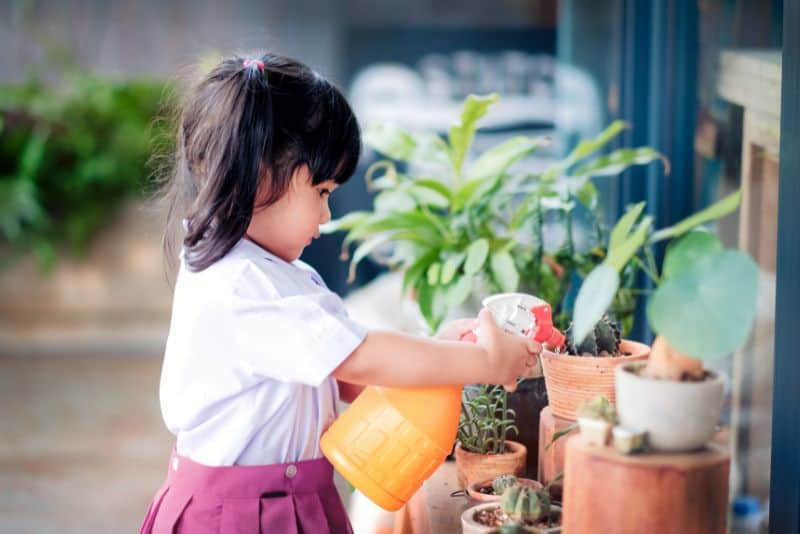 Watering the plants introduces kids to the basics of caring for living things. It can be a peaceful and rewarding chore for 7-year-olds. As they grow older, 8 and 9-year-olds can take on the responsibility of more plants or even a small garden.
8. Feeding Pets
Another chore that teaches empathy and care for living beings is feeding pets. This daily task instills a sense of responsibility and routine. It's also a chore that can continue to be managed well by 8 and 9-year-olds.
9. Wiping Countertops
Cleaning countertops might not be glamorous, but it's essential for maintaining a hygienic home. This task lets kids become aware of cleanliness and how it contributes to health. For 7, 8, and 9-year-olds, it can be the first step towards learning how to clean a kitchen properly.
10. Emptying Small Trash Cans
Emptying smaller trash cans in rooms like the bathroom or office is a simple but crucial task. It gives children an understanding of waste management and its importance. This is an easy chore that can be done by 7, 8, and 9-year-olds.
11. Raking Leaves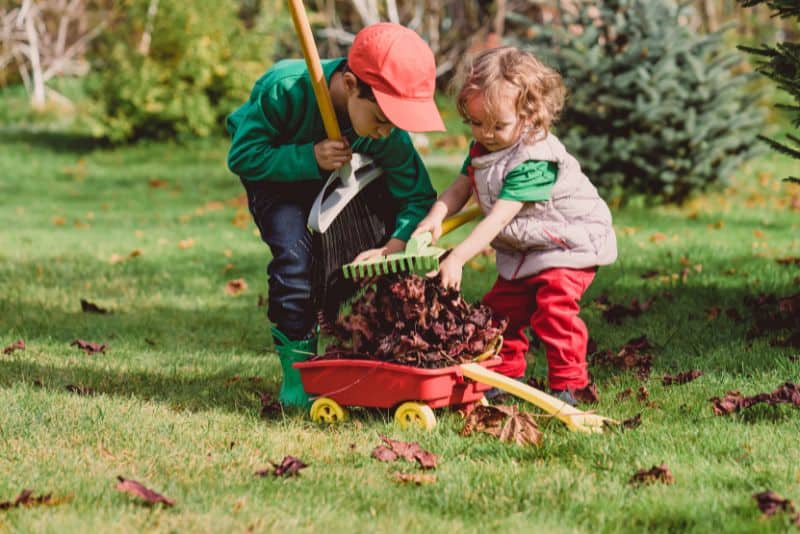 For 7-year-olds, the act of raking leaves in the yard can feel more like fun than a chore. This task introduces them to the idea of yard maintenance and seasonal chores. By the time they're 8 and 9 year olds, they could even help with more complex yard tasks like planting or weeding.
12. Mopping Floors
While sweeping is a good starter task, mopping floors is the next logical step in learning how to maintain a clean home. It's a more complex chore suitable for 7, 8, and 9-year-olds and teaches the value of thorough cleaning.
13. Basic Cooking Tasks
Teaching basic cooking skills like stirring or measuring ingredients can be both fun and educational. For 7-year-olds, it's a great introduction to the kitchen; 8 and 9-year-olds can take on slightly more complicated tasks like chopping with supervision.
14. Folding Laundry
Folding laundry is an excellent way for children to contribute to keeping the home tidy. It's a logical follow-up to sorting laundry and a chore that can easily be handled by 7, 8, and 9 year olds.
15. Washing Dishes
Under supervision, 7-year-olds can wash simpler items like plastic dishes or cups. This chore prepares them for more comprehensive kitchen responsibilities that can be assumed by 8 and 9 year olds, like washing sharp knives or handling glassware.
16. Cleaning Windows
Cleaning windows—especially those at lower levels—can be an enjoyable task for children. Armed with a spray bottle and a cloth, this is a chore that can be suitable for 7, 8, and 9-year-olds as it involves both skill and a bit of fun.
17. Sorting Recycling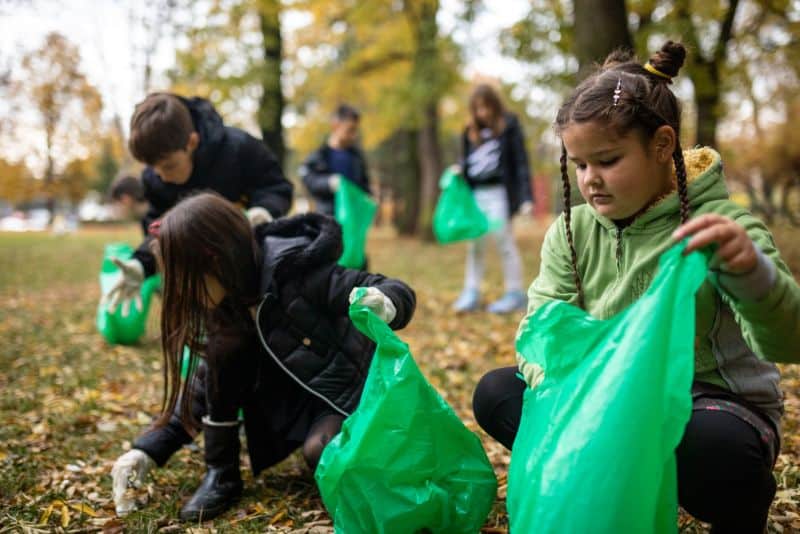 Understanding the importance of recycling is crucial for young children. Sorting recyclables can be an educational and environmentally responsible chore for 7, 8, and 9-year-olds.
18. Packing Lunch
By age 7, kids can start to pack their own lunches with some guidance. This teaches them about nutrition and meal planning and is a task that 8 and 9-year-olds can excel at.
19. Vacuuming
Vacuuming can be exciting for kids, given the machine involved. It's a chore that 7-year-olds can perform with supervision and that 8 and 9-year-olds can usually handle independently.
20. Grocery Shopping Help
While they can't go shopping alone, 7-year-olds can help by holding the shopping list and identifying items on shelves. This task becomes more complex and engaging for 8 and 9-year-olds who can compare prices or read labels.

21. Replacing Toilet Paper Roll
It's a simple chore but teaches the importance of restocking essential items. Suitable for 7, 8, and 9-year-olds, this chore instills a sense of accountability and courtesy toward others.
22. Cleaning Their Room
While younger children may struggle with this task, by age 7, kids can generally clean their rooms with moderate supervision. As they progress to 8 and 9 years old, they can take on this chore with increasing independence.
23. Washing the Car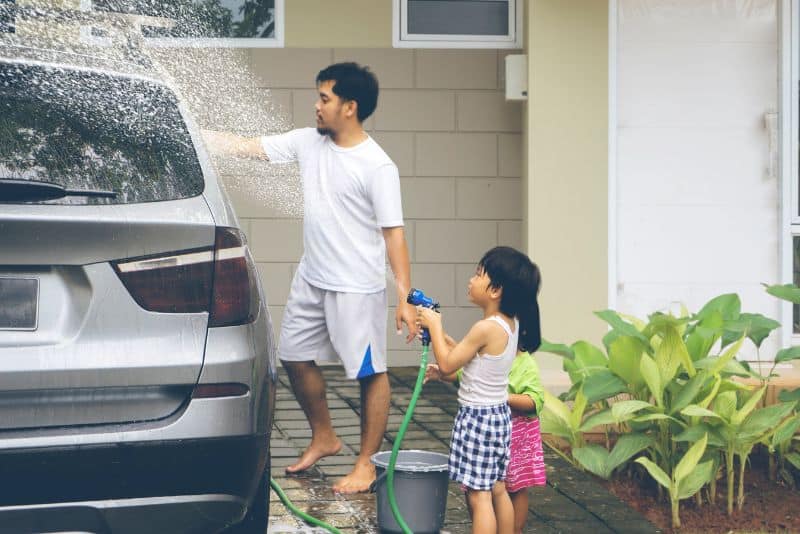 With supervision, washing the car can be a fun and rewarding chore for 7-year-olds. The task can be even more thorough and effective when done by 8 and 9-year-olds, making it a family-friendly activity that also instills a work ethic.
24. Emptying the Dishwasher
Emptying a dishwasher teaches kids about organization and care for delicate items. It's a chore that can be handled cautiously by 7-year-olds and with more efficiency by 8 and 9-year-olds.
25. Organizing Bookshelves or Toy Storage
Organizing their own belongings can be a rewarding task for children. It teaches them about categorization and care for their possessions. As one of those chores suitable for 7, 8, and 9-year-olds, it combines learning with ownership.
How many chores should a 7, 8, and 9-year-old do?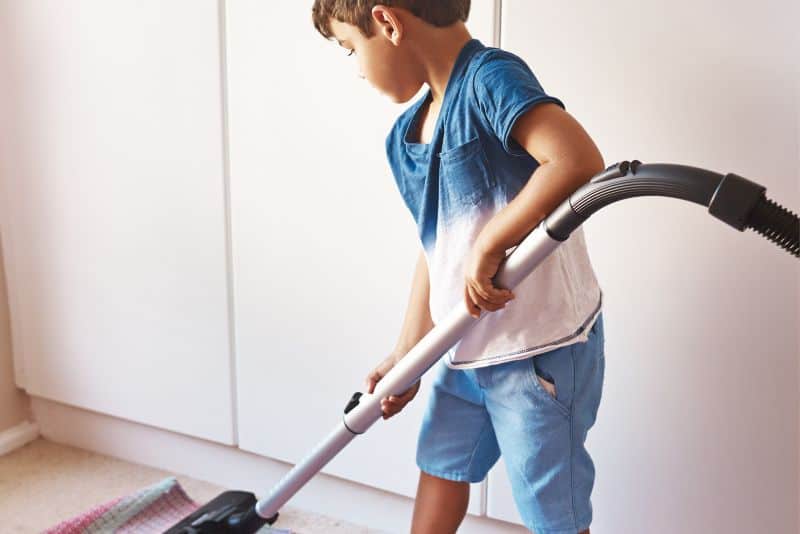 The number of chores a child should do can vary greatly depending on factors such as family needs, the child's schedule, and their capability. However, setting reasonable expectations is crucial for the child and the family. Here are some general guidelines based on age:
For 7-Year-Olds:
At age 7, children are generally capable of handling two to four chores per day. These should be simpler tasks that they can complete independently or with minimal supervision, such as making their bed, sorting laundry, or feeding pets.
For 8-Year-Olds:
An 8-year-old could be expected to do three to five chores per day. The chores could be a bit more complex, including sweeping and mopping floors or even helping with cooking under supervision.
For 9-Year-Olds:
By age 9, children can often manage up to five or even more daily chores, depending on the complexity of the tasks. They can usually handle chores like vacuuming, washing dishes, and even helping with grocery shopping.
General Tips:
Quality Over Quantity

: Focus on how well the chores are done rather than how many. It's more beneficial for the child to do fewer chores but to complete them thoroughly.

Consistency is Key

: Try to make chores a regular routine rather than a sporadic activity. Consistency helps children understand that chores are a regular responsibility.

Balance with Free Time

: While chores are necessary, children also need time for homework, extracurricular activities, and to be kids. Make sure chores don't overwhelm their schedule.

Involve Them in the Process

: Allow kids to have some say in which chores they do. They're more likely to complete tasks willingly if they feel they have a choice.

Make it a Family Affair

: Make chores a family activity whenever possible. This gets the chores done faster and makes it a less tedious task for children.

Praise and Rewards

: Positive reinforcement can go a long way in making chores a less daunting task. While some families use an allowance as a reward, verbal praise and encouragement can be just as effective.
The chores for 7, 8, and 9-year-olds are not just tasks to keep them occupied; they are learning opportunities. The goal is to make them understand the value of contribution and the essence of teamwork, skills they'll carry into adulthood.
What are the responsibilities of a 7, 8, and 9-year-old child?
The responsibilities of a child change with each year, reflecting their growing capabilities and need for more challenges to help them develop. At the ages of 7, 8, and 9, children are generally still dependent on their parents or caregivers for basic needs but can increasingly take on more responsibilities, both within the family and in their broader social contexts like school. Here's a general breakdown:
7-Year-Olds
Personal Responsibilities
Dressing themselves: Most 7-year-olds can choose their clothes and dress themselves.

Basic hygiene: Brushing teeth, washing hands, and bathing should be within their skill set.

Homework: They should start to take on the responsibility for remembering and completing homework assignments.
Family Responsibilities
Chores: Simple household chores like making the bed, setting the table, and cleaning their room can be expected.

Pet care: Basic pet care, like feeding the fish or giving water to the dog, can be a good responsibility.
Social Responsibilities
Basic manners: Saying "please," "thank you," and understanding the basics of turn-taking.

Friendships: Starting to build and maintain friendships includes learning how to resolve minor disputes.
8-Year-Olds
Personal Responsibilities
Increased hygiene: They may be able to shower independently and should know when to wash their hands without being told.

Homework: More involved homework projects might appear at this age, requiring better time management.
Family Responsibilities
More complex chores: You can move on to more complex chores like sweeping and mopping or even basic cooking tasks.

Assisting siblings: If there are younger siblings, an 8-year-old can often help them with simpler tasks.
Social Responsibilities
Teamwork: Understanding how to work in a team, often learned through group activities or sports.

Communication: They should be able to express their own needs and understand the perspectives of others to some degree.
9-Year-Olds
Personal Responsibilities
Self-management: Beginning to be responsible for their own belongings and possibly even managing a small allowance.

Academic Responsibilities: Should be fairly independent in completing homework and might even have long-term projects.
Family Responsibilities
Advanced chores: Capable of more advanced chores like laundry or simple meal preparation.

Care for others: They may be able to look after themselves for short periods and possibly care for younger siblings with adult supervision.
Social Responsibilities
Complex social interactions: Developing deeper friendships may even start encountering social challenges like cliques or bullying, requiring a more nuanced understanding of social rules.

Civic awareness: Might begin to show an understanding of broader social issues, like basic environmental responsibility.
These responsibilities are general milestones and may not apply to every child. Individual development varies, and it's always best to adapt expectations to fit your child's unique abilities and needs.
Should a 7, 8, and 9-year-old have chores?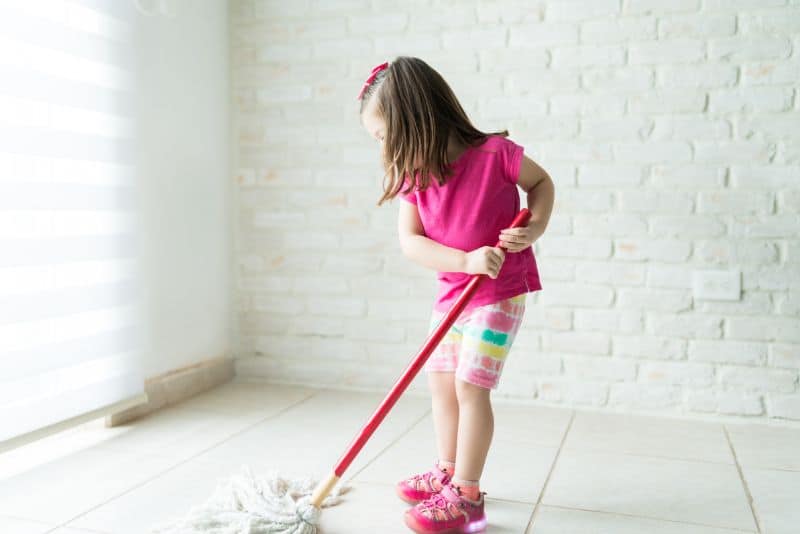 Chores can be an essential part of a child's upbringing for several reasons, and children as young as 7, 8, and 9 years old are often capable of handling a variety of tasks around the home. Assigning age-appropriate chores helps distribute responsibilities within the household and contributes significantly to a child's personal development. Here's why chores can be beneficial:
Teaches Life Skills
Children learn essential skills they will use throughout their lives by participating in household chores like cleaning, cooking, and laundry. The sooner they start, the more proficient they will become.
Instills a Work Ethic
Chores teach children the importance of contributing to a collective effort, and that work is an integral part of life. This sets the foundation for a strong work ethic, a quality that will serve them well in academic and professional settings.
Builds Responsibility
Having chores to complete regularly helps children build a sense of responsibility and accountability. It can also teach them about time management and the importance of completing tasks promptly.
Fosters Family Bonding
Working together to keep the home tidy and functional can foster a sense of teamwork and collective responsibility. This is particularly useful for enhancing family bonds and giving children a sense of belonging and contribution.
Boosts Self-Esteem
Completing tasks can be a significant self-esteem booster for kids. It makes them feel competent, reinforcing that they are valuable contributors to their family unit.
Provides an Avenue for Rewards
Whether through allowances, extra playtime, or simple words of affirmation, chores provide a basis for learning about rewards for hard work. This can be an excellent lesson in delayed gratification, where effort can lead to later rewards.
Increases Awareness and Empathy
Understanding the work of maintaining a home can increase children's awareness and appreciation for what their parents and caregivers do. This awareness can foster empathy and kindness.
Prepares Them for the Future
As children grow, the skills and work habits they've learned from doing chores will serve them in many other facets of life, including school, work, and, eventually, their households.
Assigning chores suitable for 7, 8, and 9-year-olds can vary in complexity, but the foundational principles they teach are constant. It's never too early to instill these essential life skills and values. Remember, the goal is to get help around the house and prepare your children for successful, independent lives.
More Chores for 7, 8, and 9 year olds?
Assigning age-appropriate chores to your child helps you around the house and aids in their personal development. The list of chores for 7, 8, and 9-year-olds above is designed to offer a blend of achievable and gradually challenging tasks. So go ahead and empower your young ones to contribute in meaningful ways to the household. Happy parenting!
If you have more ideas on chores for 7, 8, and 9-year-olds, then let us know in the comments!
Related Posts:
Pin to Pinterest:
Pin to Pinterest so other moms can find out about these chores for 7, 8, and 9 year olds too!