There are so many cash back credit cards on the market. What if you just use your debit card like I do? How can you get cashback? I've prayed for a way to earn cashback with my debit card for many years. I use my debit card for all purchases and bill payments. Credit cards can lead to debt, so it is wiser to use your debit card. My prayers have been answered with the
Bridge Money App
! In this post, I will give you a Bridge Money App review so read on!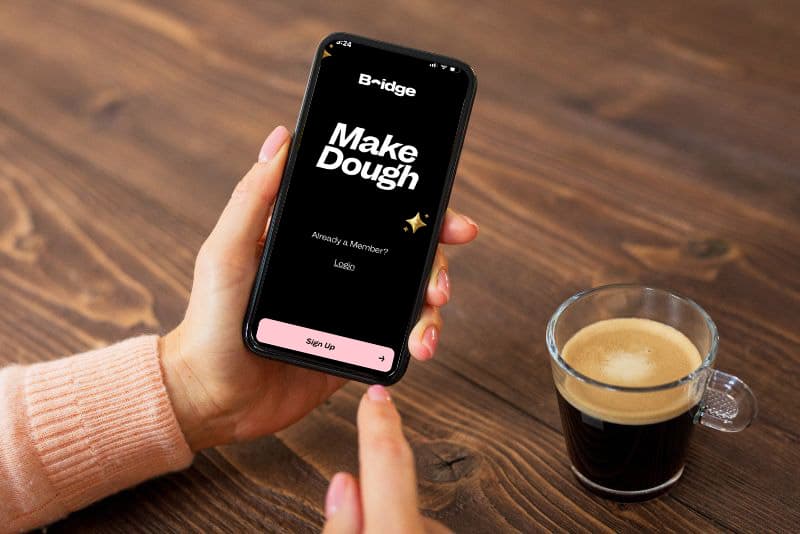 What is the Bridge Money App?


The Bridge Money app is the easiest, free way to earn cash back with your debit card. With over 100,000+ members and growing, the Bridge app gives you automatic cash back on everything you buy, including instant cashback on your last two weeks' purchases as soon as you link your debit card.
How do you earn money with the Bridge Money App?
Members earn extra money through various ways within the app, including automatic and receipt-free cash back, sponsored surveys, ads watching, referring friends, playing games, and more. Beyond the ability to earn extra money, Bridge Money members seem to love how simple and easy it is to use the Bridge Money app.
Unlike other rewards apps, you'll never need to scan a receipt to earn your cash back, and when you cash out your earnings, you cash out for real money directly to your linked bank account. No gift cards and no waiting weeks to receive your rewards.
What is Earn+?
Bridge's mission is to put more money into their members' pockets. They can afford to do this through various partner-sponsored earn activities in the app and an optional, pay-what-you-feel-is-fair subscription service, Earn+.
Earn+ members receive increased earning opportunities, higher amounts of cash back on their purchases, and the option to open a high-yield savings account that earns a best-in-class 5% APY. With Earn+ you also get instant cash outs, meaning as soon as you earn as little as $1 you can instantly deposit your money to your linked bank account.
Who can use the Bridge Money App?
Android & iOS users
US only at this time
Anyone who uses a debit card (or credit card)
Bridge Money App Review Walkthrough
I'm an iOS user so I downloaded the
Bridge Money App
with my iPhone in the Apple Store. It was quick and easy to install as the app is small.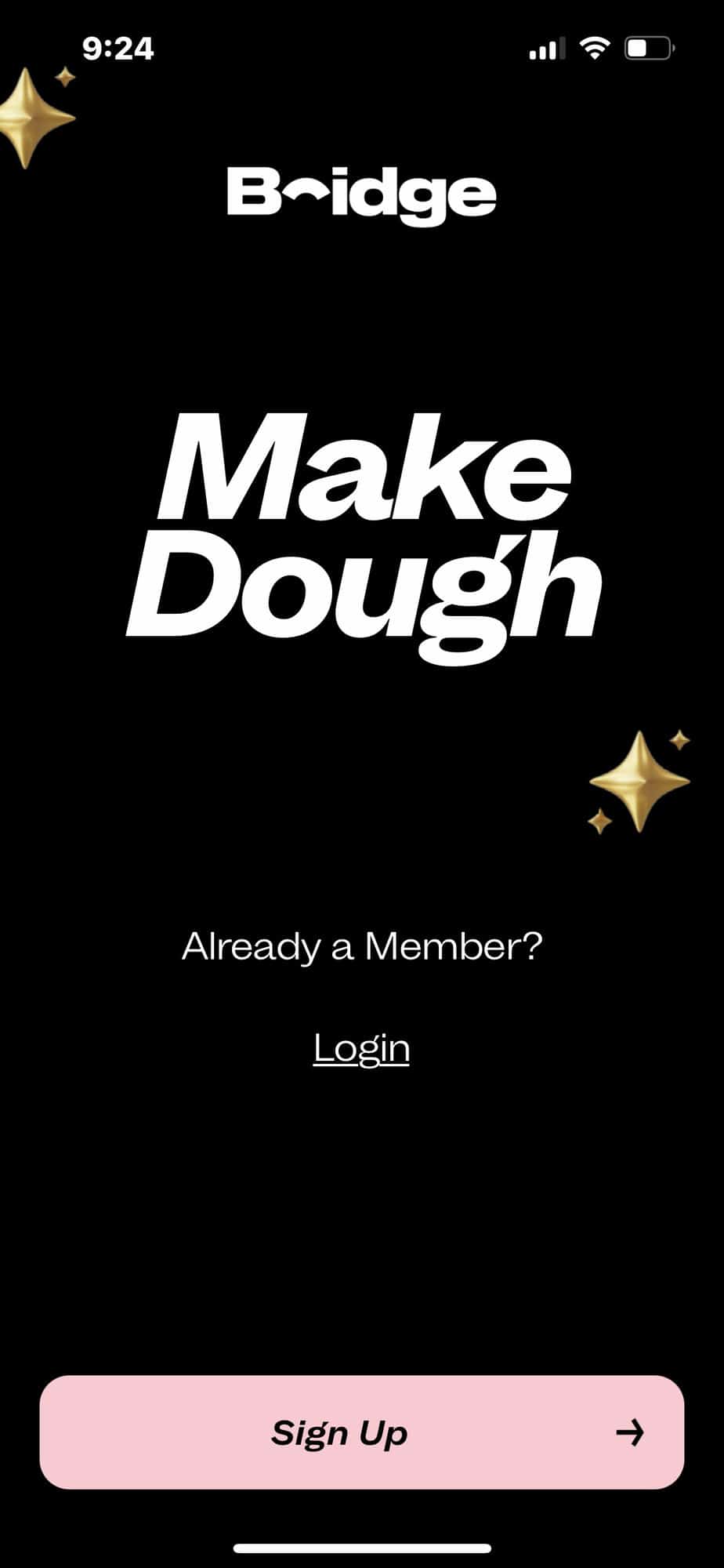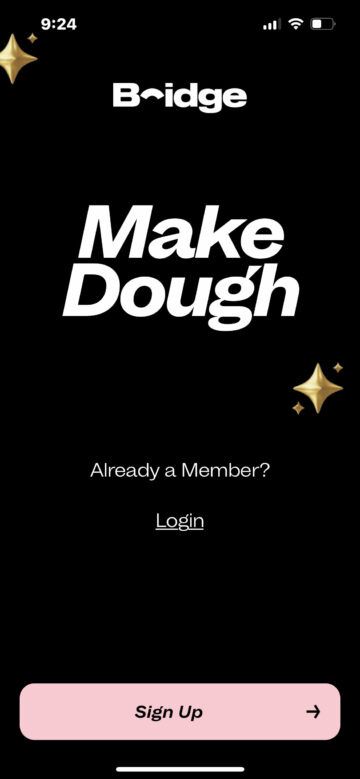 I then signed up and had to verify my phone number.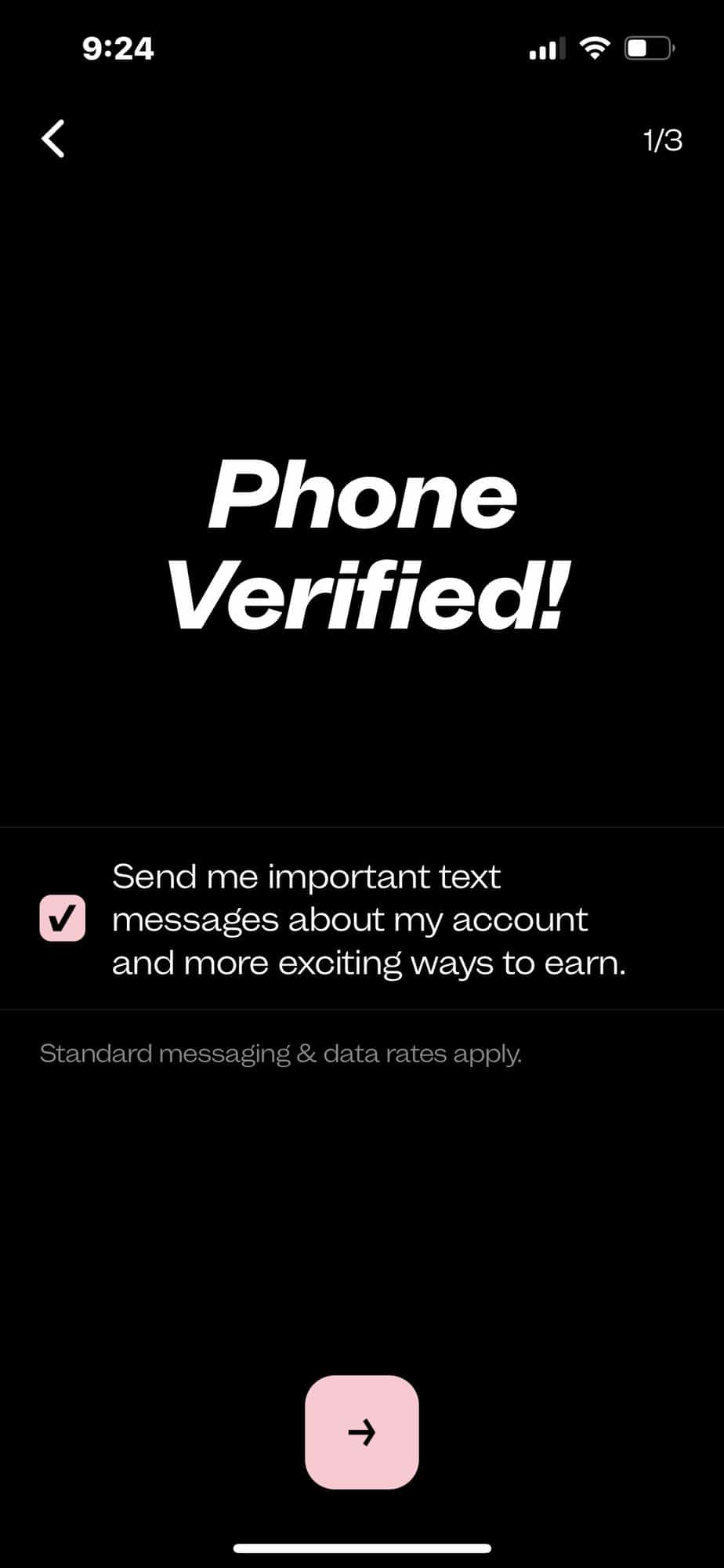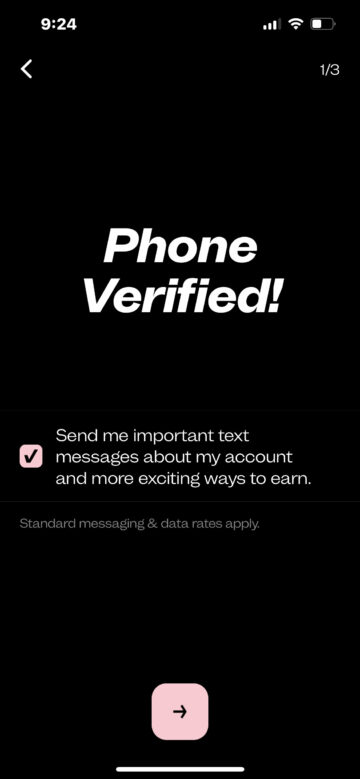 I then scrolled through the simple instructions.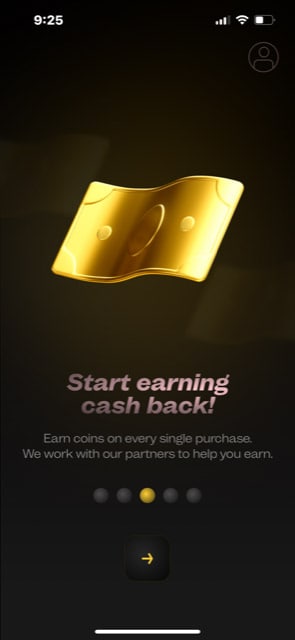 I quickly started earning coins as I answered questions, surveys, invited friends, and more!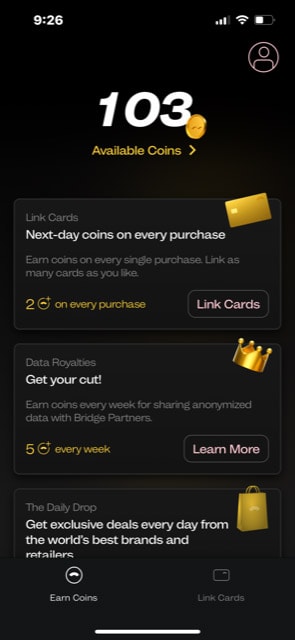 The easiest way to earn coins is to automatically link your debit card so that you can start earning on purchases. Your debit card is linked securely with
Plaid
. Plaid is a service that assists several other apps with encrypted linking to your bank account.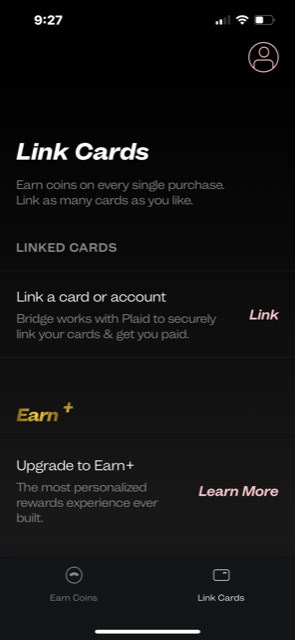 When you link your debit card, you earn cashback on everyday purchases and bill payments! When you get to 400 coins (400 coins = $4), you can cash out in 2-3 business days. The money is directly deposited into your bank account.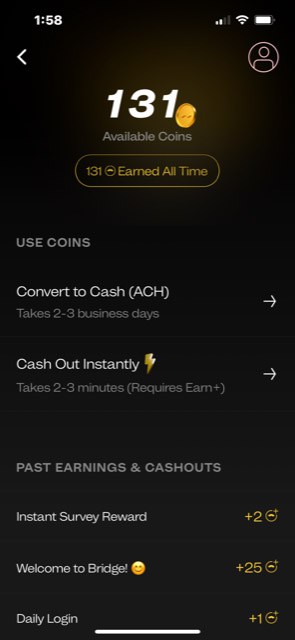 If you subscribe to Earn+, you can cash out once you earn as little as 100 coins ($1), and you can deposit your cash instantly to your bank account. Earn+ is a subscription service where you can pay a minimum of $1/week.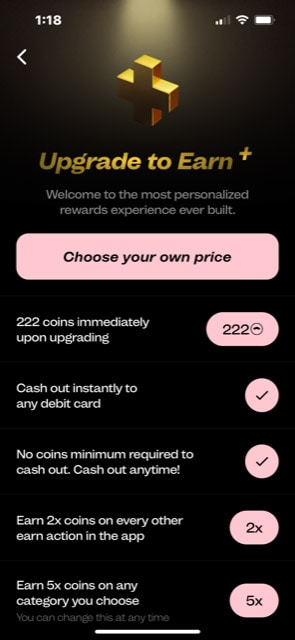 Why is it better to use your debit card instead of a credit card?
Using a debit card instead of a credit card can be a prudent financial choice for several reasons. Firstly, a debit card helps you stay within your budget by allowing you to spend only the funds you have available in your bank account, discouraging impulsive purchases, and promoting responsible spending habits. With a credit card, on the other hand, it is tempting to accumulate debt by spending beyond your means and paying it off later, potentially leading to interest charges and financial strain.
Secondly, using a debit card eliminates the risk of debt or accruing interest payments since you essentially use your own money. You can save a significant amount of money in the long run by avoiding interest charges.
Furthermore, using a debit card can help you maintain a better credit score, demonstrating your ability to manage your finances responsibly and avoid debt. This can have a positive impact when applying for loans or other financial opportunities in the future.
Lastly, debit cards provide greater security as they are directly linked to your bank account. In case of fraudulent activity, your liability is often limited, and resolving such issues is usually quicker than credit card fraud. By opting for a debit card, you can cultivate disciplined spending habits, avoid accumulating debt, protect your credit score, and enjoy enhanced security, making it a preferable choice for many individuals.
In the past, a con of debit cards was that it was impossible to earn cash back. Not anymore with Bridge Money!
Bridge Money App Review Thoughts and Feelings
As you can see, the Bridge Money App is an amazing way to use your debit card to obtain cashback. This is excellent for those who have cut up all of their credit cards, yet still want to earn rewards on everyday purchases and bill payments. Earn + is the best way to earn even more and get your cash back within minutes. Otherwise, you will have to wait 2-3 business days to get your cash back.
Have you used the Bridge Money App? What other questions do you have about the app? Leave us a comment!
Download the Bridge Money App here and use referral code BEACHY for a sign up bonus!
Related Posts:
Disclaimer: This is a sponsored post by Bridge Money, but all thoughts and feelings are my own.